Thick and hearty grilled cheese sandwiches pair perfectly with garden fresh DOLE Roasted Garlic Tomato Basil Garden Soup. Comfort food at its very best!
This is a sponsored post on behalf of DOLE Garden Soups and the Mom It Forward Blogger Network.
Well, it's officially cold weather season here in Ohio, you guys. We didn't even take Elle trick-or-treating on Halloween night because it snowed. SNOWED. As in, frozen wet stuff falling from the sky. I call ridiculous, Mother Nature.
What does all this mean? It means it's official ALL-UGGS-ALL-THE-TIME at my house, and that we are immersing ourselves completely in all available comfort food. Beef Stew, Mac and Cheese with Roasted Chicken and Goat Cheese, and our latest obsession, this hearty Grilled Cheese with crispy bacon, melty American cheese, and the best thing ever – a velvety fried egg.
When paired with bright and bountiful Roasted Garlic Tomato Basil Garden Soup from DOLE? Maybe this winter thing isn't so bad after all. I mean, a girl can get into leggings, comfy sweaters, Uggs and a delectable fresh soup to dip her grilled cheese in, is all I'm saying.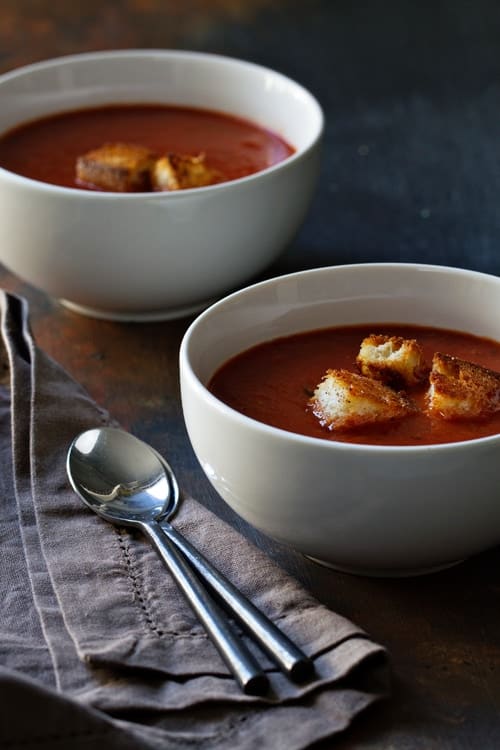 Elle's getting more and more into "real" food, as we like to call it. Stuff with texture. Stuff with flavor. Stuff that doesn't necessarily come in a slurp-able pouch. Recently we decided to give her a little taste of soup for the first time, and it just happened to be one of the DOLE garden soups. We had received a few packages from DOLE for this post, and went through them in record speed.
Have you seen these DOLE Garden Soups yet? They're brand new – a line of ready-to-serve soups with fantastic ingredients. You'll find sun-ripened tomatoes, sweet corn, and even roasted poblano peppers.
These soups are super vibrant. DOLE has a gentle cooking method that protects and locks in the fresh flavors. Just one look at the bright colors in each soup tells you it's garden-fresh. I'm also a huge fan of the smooth texture, especially for Elle.
I was really happy to have this Roasted Garlic Tomato Basil soup be one of Elle's first foodie forays because the entire line is GMO-free, has no preservatives or MSG, and the packaging is BPA free. We're not watching cholesterol, fat, or gluten around these parts, but these vegetarian soups are also free of all three. It's a perfect choice for lunch that you can feel good about everyone in the family eating.
You guys should have seen Elle's little face the first time she tasted a bite of gooey grilled cheese dipped in a bit of soup. Cutest. Thing. Ever. Our girl, she's an eater. And she is definitely down with all the vibrant flavors packed into a soup that boasts garlic, tomato, and basil. Definitely my kid, is what I'm saying.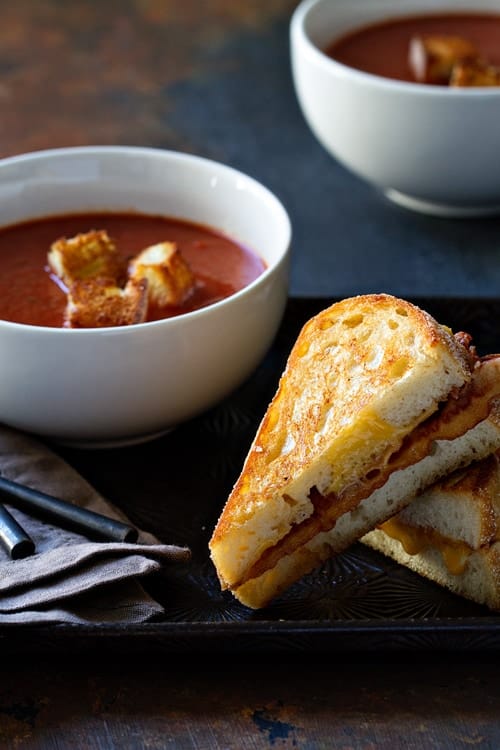 So let's talk a little bit more about this decadent grilled cheese. It's inspired by a sandwich Eric indulged in at Melt Bar and Grilled, a small chain of grilled cheese restaurants here in Ohio. That's right, a chain of grilled cheese restaurants. Life, man. It's good. And if I'm being honest, my grilled cheese sandwiches don't compare to Eric's. They just don't – he's a master.
Rustic, thick-cut Italian bread piled high with crispy bacon, velvety fried eggs and American cheese. The whole thing is slathered in melted butter and grilled to melty perfection. When sliced into, the yolks burst, and every bite is absolute perfection. Especially when dipped in flavorful soup. The bright tomato and basil cut right through the richness of this grilled cheese, making every dipped bite better than the last.
This is a dinner for a blustery day, friends. It's easy to put together, especially when you leave the soup prep to DOLE. It's the kind of meal that comes together in 20 minutes. Something we all need when it's nasty outside and cozy inside, and all you want is to sit on your couch in front of the television with a blanket and a book – once you've satisfied your comfort food cravings, that is.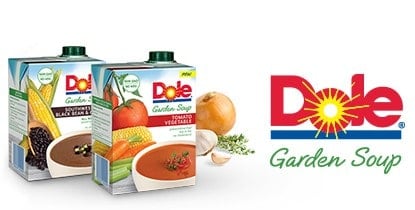 If you'd like to learn more, you can Like DOLE Packaged Foods on Facebook and follow them on Twitter.
Bacon and Egg Grilled Cheese Sandwiches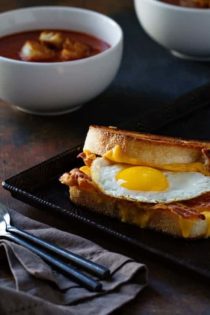 Ingredients:
3 tablespoons butter, melted (we use a butter and canola oil spread)
4 slices (3/4 inch thick) rustic Italian bread
4 slices American cheese
6 slices bacon, fried until crispy
2 eggs, fried
Directions:
1. Heat cast iron skillet over medium-low heat.
2. Use a pastry brush to apply a layer of melted butter all over one side of each slice of bread. Place two slices of bread, buttered side down into the skillet.
3. Add two slices of cheese to one piece of bread (or add cheese to both sides - no judgement here), placing the cheese slices right up to the edges.
4. Allow the cheese to melt for a few minutes. If you are using thicker slices of cheese, you can cover the pan to get the cheese to melt a little quicker.
5. Add three slices of bacon and the fried egg directly on top of the melted cheese.
6. Top the sandwich with the other slice of toasted bread (toasted side out). Press down gently, so the melted cheese adheres to the bread and the yolk breaks.
7. Repeat steps to make an additional sandwich.
All images and text ©
Follow Jamie on Instagram. We love to see what you're baking from MBA! Be sure to tag @jamiemba and use the hashtag #mbarecipes!
Disclosure: This post is sponsored by DOLE; however, the views and opinions expressed on My Baking Addiction are my own, and based upon my experiences with DOLE Garden Soups. Thank you for supporting DOLE and the brands that continue to make My Baking Addiction possible.