TwD Rugelach…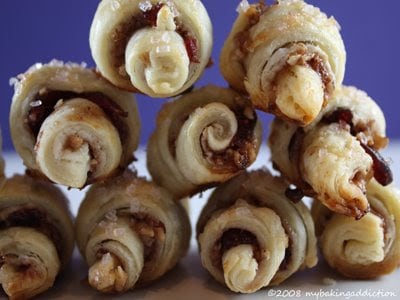 When I discovered this week's Tuesdays with Dorie recipe I was a little baffled and thought, "what the hell is rugelach?" After pondering this dessert for about 2 seconds I decided to bust out Dorie's book, Baking: from My Home to Yours so I could enlighten myself. I immediately thought of the nut horns that I used to munch on as a child during the holidays. After skimming the ingredients, I was pleased to find out that I did not have to make my ceremonial grocery store run prior to my Sunday bake fest. I did not have any apricot preserves, so I used the raspberry that I had on hand from a previous recipe. I also added pecans, dried cranberries, and grated chocolate. Although I was not a huge fan of these, I thought they were fun to make and it was great to broaden my horizons to try something new. The boyfriend proclaimed them to be "bland" and not my best work! Eh to each their own, I am sure some TwD bloggers found these to be delicious! For this recipe head over to Piggy's Cooking Journal, you can also check out more rugelach by visiting the TwD blogroll!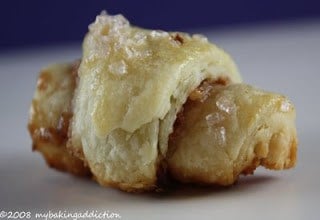 Up next…Election Day Bake Sale Treats!
This post may contain affiliate links. We are a participant in the Amazon Services LLC Associates Program, an affiliate advertising program designed to provide a means for us to earn fees by linking to Amazon.com and affiliated sites.