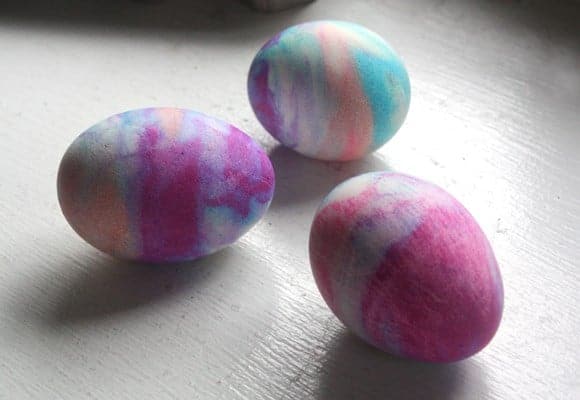 How to dye Easter eggs with whipped cream – a fun and easy Easter craft.

One of my favorite Easter traditions is dyeing eggs. Of course the baskets full of chocolate and jelly beans are right up there as well, but I love how dyeing eggs is a creative and fun way to make memories with your family.
Last year I silk dyed Easter eggs and although they turned out AMAZING, I was a little disappointed that I had to boil a separate batch of eggs to eat. This year, I was set on finding a cool way of egg dyeing that was safe for eating! Pinterest is full of great egg decorating and dyeing ideas, and when I came across this one I knew,  I just had to try it!
Dyeing eggs with whipped cream sounds pretty weird and honestly I didn't expect it to work very well.  But, the results were a surprisingly beautiful tie-dyed effect. Some eggs picked up more dye and were bold and bright, and some ended up being lighter pastel shades. What I loved most about this method of dyeing eggs is that you can use hard boiled eggs and they are safe to eat afterwards, which you cannot do using the similar "shaving cream method".
Much thanks to SpendwithPennies.com for the great idea!
 
What You Will Need:
Hard Boiled Eggs
Food Coloring (I used gel colors but I think any kind will work)
Large Can of Extra Creamy Whipped Cream, a tub of whipped topping, or you can make your own whipped cream using 3-4 cups heavy whipping cream (I did this)
Disposable Gloves
Large Glass Baking Dish
Paper Towel
Toothpick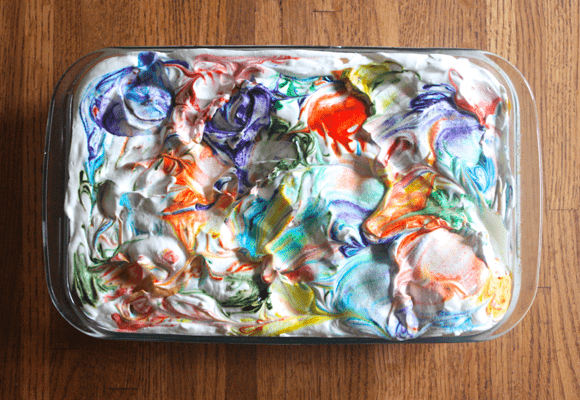 How to Assemble:
Hard boil eggs

Let eggs cool completely
Transfer whipped cream or whipped topping to glass baking dish
Generously dot food coloring all over the whipped cream
Using the toothpick swirl the food coloring dots together to combine the colors slightly
Place the eggs in the whipped cream and gently roll so the entire egg is covered
Let sit for 30-45 minutes depending on how bold you would like the colors…if you remove an egg and it isn't as colored as you'd like, rinse, pat dry, add a little more dye to the mix and let it sit for a few more minutes.
Remove from the whipped cream and rinse eggs
Let them dry on a paper towel to catch any dye that is still on the eggs
Admire your artwork!
We hope you enjoy this craft as much as we do. If you decide to create either of this craft or any of the craft projects that we shared with you, please feel free to share your finished product!
Snap a picture and share it on our Facebook page! Have a craft idea you'd love to share? We'd love to mingle with you on Pinterest!
36 Responses to "Whipped Cream Dyed Eggs"