Whipped Cream Dyed Eggs are super simple and so much fun. This is a project you can get even the littlest hands involved in, and everyone will have a blast. I promise!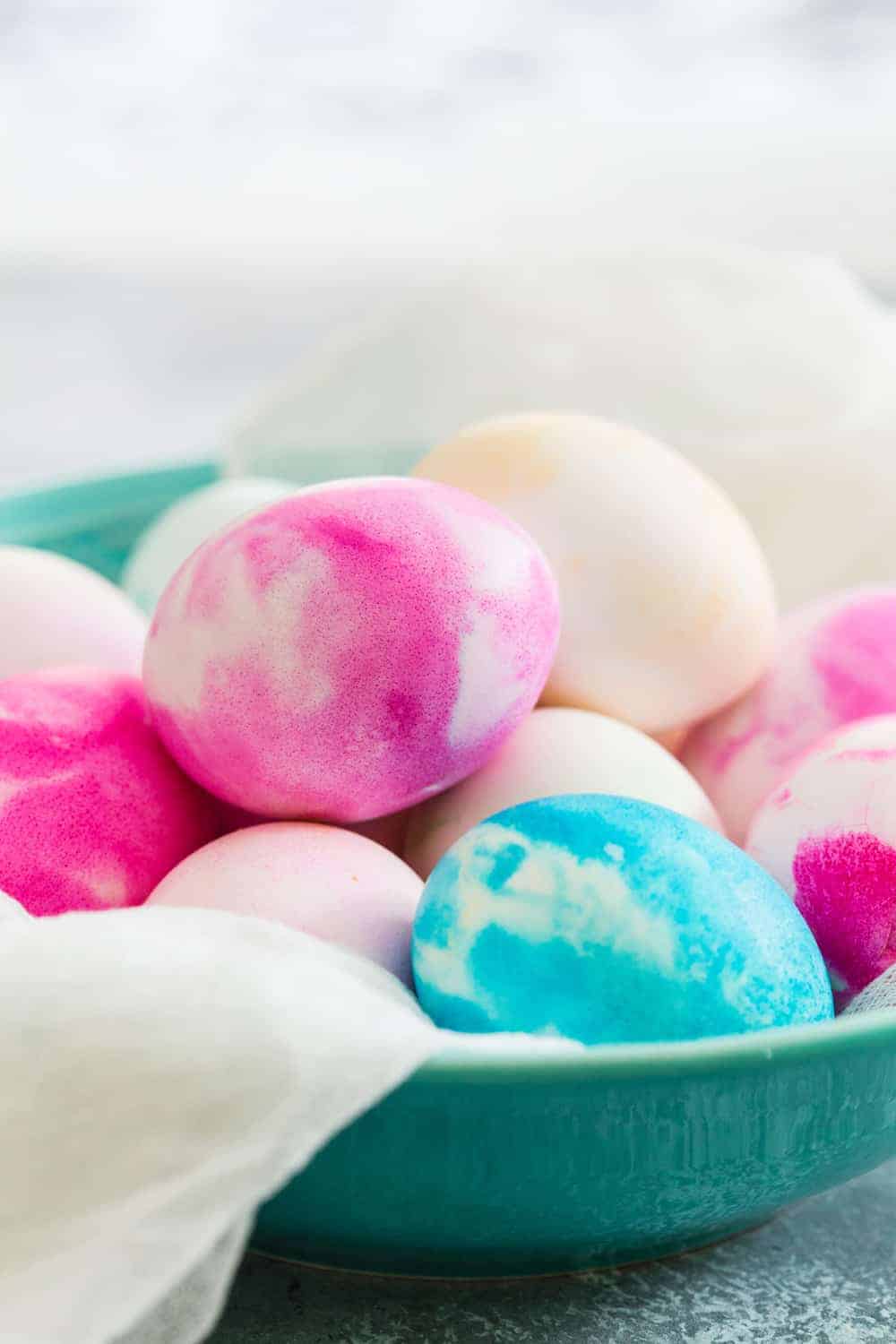 You guys, I seriously can't deal with preschool germs anymore.
I swear, every single time we get over something (umm, hello strep throat!) something else takes us out.
By us, I mean Elle and me, because my husband apparently has the best immune system in all the land. I seriously don't think he's been sick in over five years.
Being sick is obviously for the birds, but it's even worse when the weather is actually decent enough to go outside.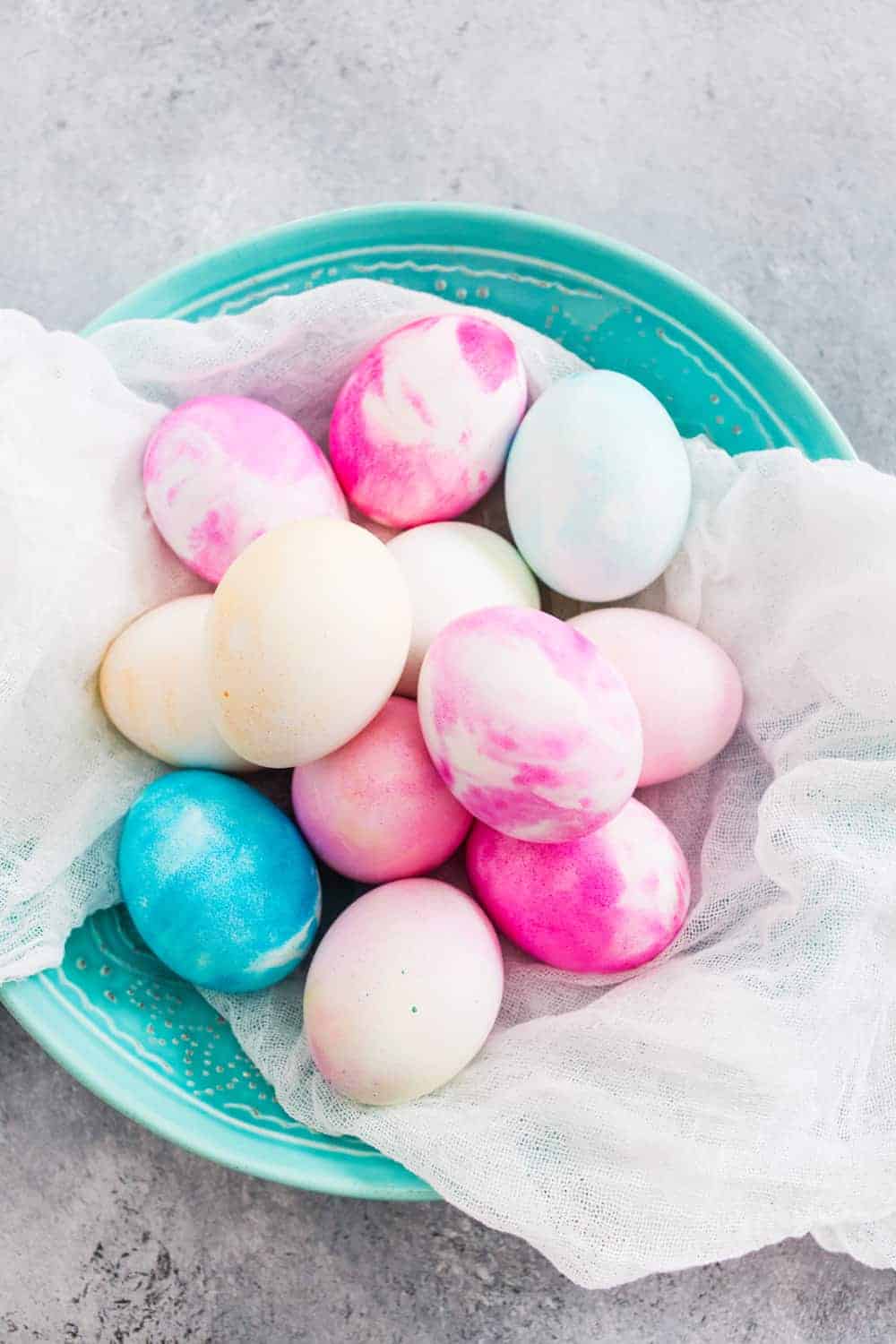 I'm talking sunny blue skies and 45+ degree temps. Which may not seem very warm to you, but to many Ohioans, it equals shorts and flip flops weather.
Unfortunately, Elle had to watch all of her neighborhood buddies play outside this weekend while she was stuck indoors making clay crafts and watching way too many episodes of Daniel Tiger.
You seriously know you've seen one too many episodes of Daniel Tiger when you start singing about your feelings in the car when someone cuts you off.
Mind you, I was alone in said car. So I totally could have yelled a few choice words, but nope, I sang DT – TO MYSELF.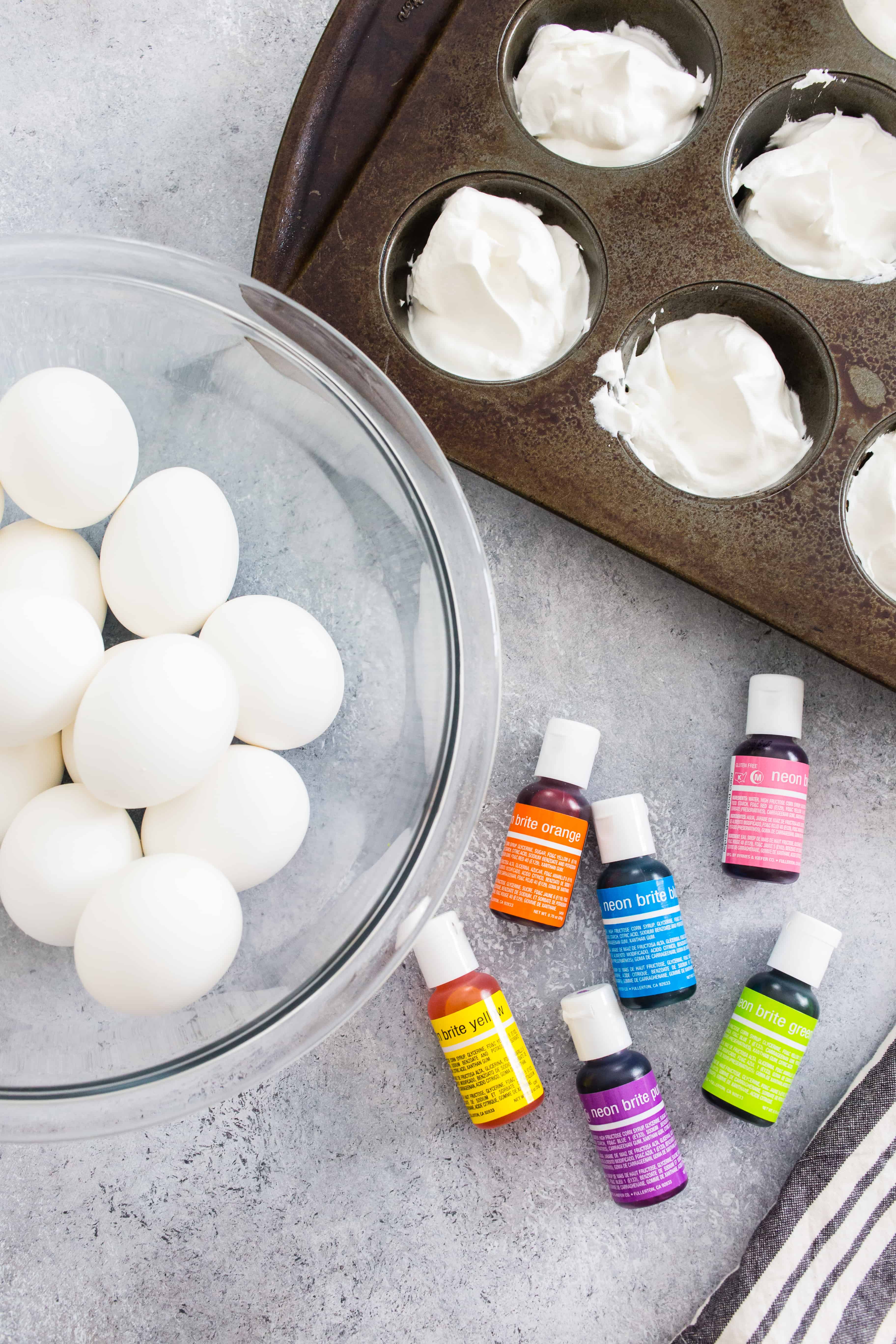 And since I tend to cuss quite a bit, I feel like this is a total win in the parenting department – if only she'd been there to hear my good behavior!
Going crazy, you guys. I'm going. Crazy.
I haven't been baking or cooking very much, aside from a delicious loaf of chocolate chip banana bread that I'll be sharing later this week. Blackening bananas were the driving force there, otherwise it wouldn't have happened.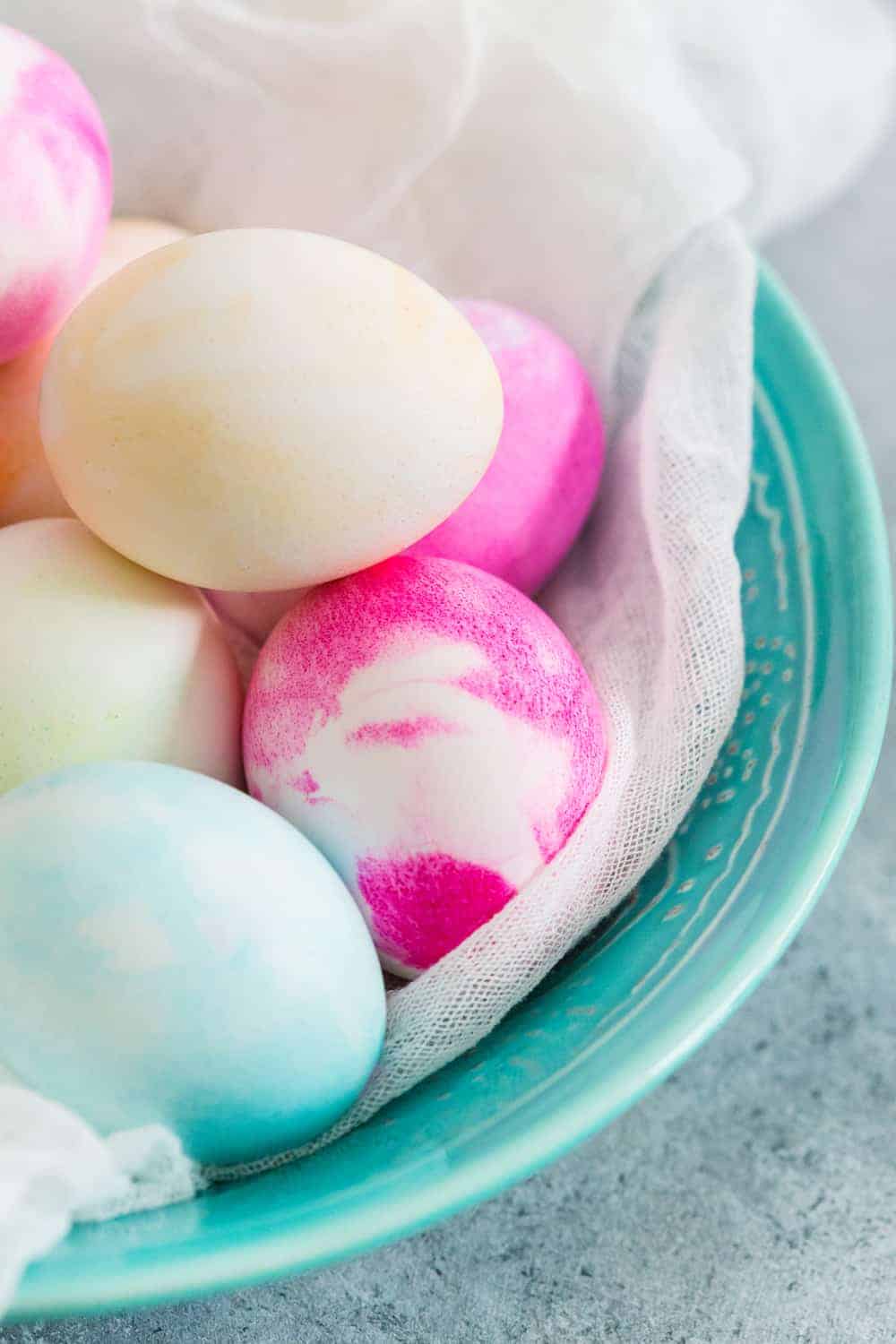 We did, however, manage to unearth the Easter decor bin from the depths of the storage room, so I feel somewhat accomplished by hanging a festive wreath on my door and replacing my welcome mat.
Ever since we pulled out the decorations, Elle's been wearing her bunny ears headband and asking about dyeing Easter eggs.
Every year we end up picking up one of the adorable kits from Target, of course.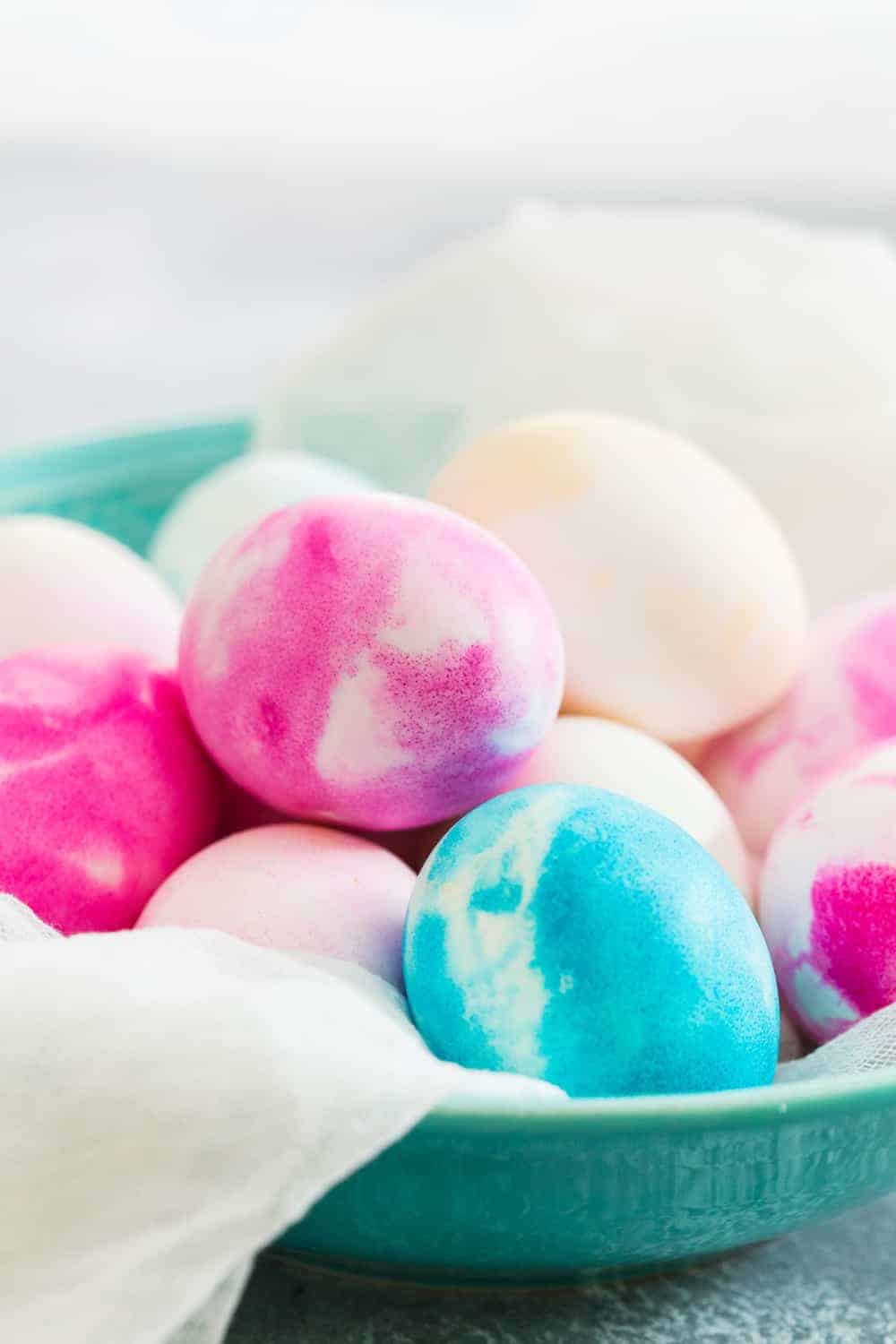 They're typically complete with the cute stickers to transform the hard boiled eggs into animals or very odd looking human characters and little dye tablets that you mix with water and vinegar.
But we also like to make a batch of whipped cream dyed eggs because they are easy peasy, and so fun to make. And they're SO beautiful!
You've probably seen this same technique around the internet, but using shaving cream instead of whipped cream.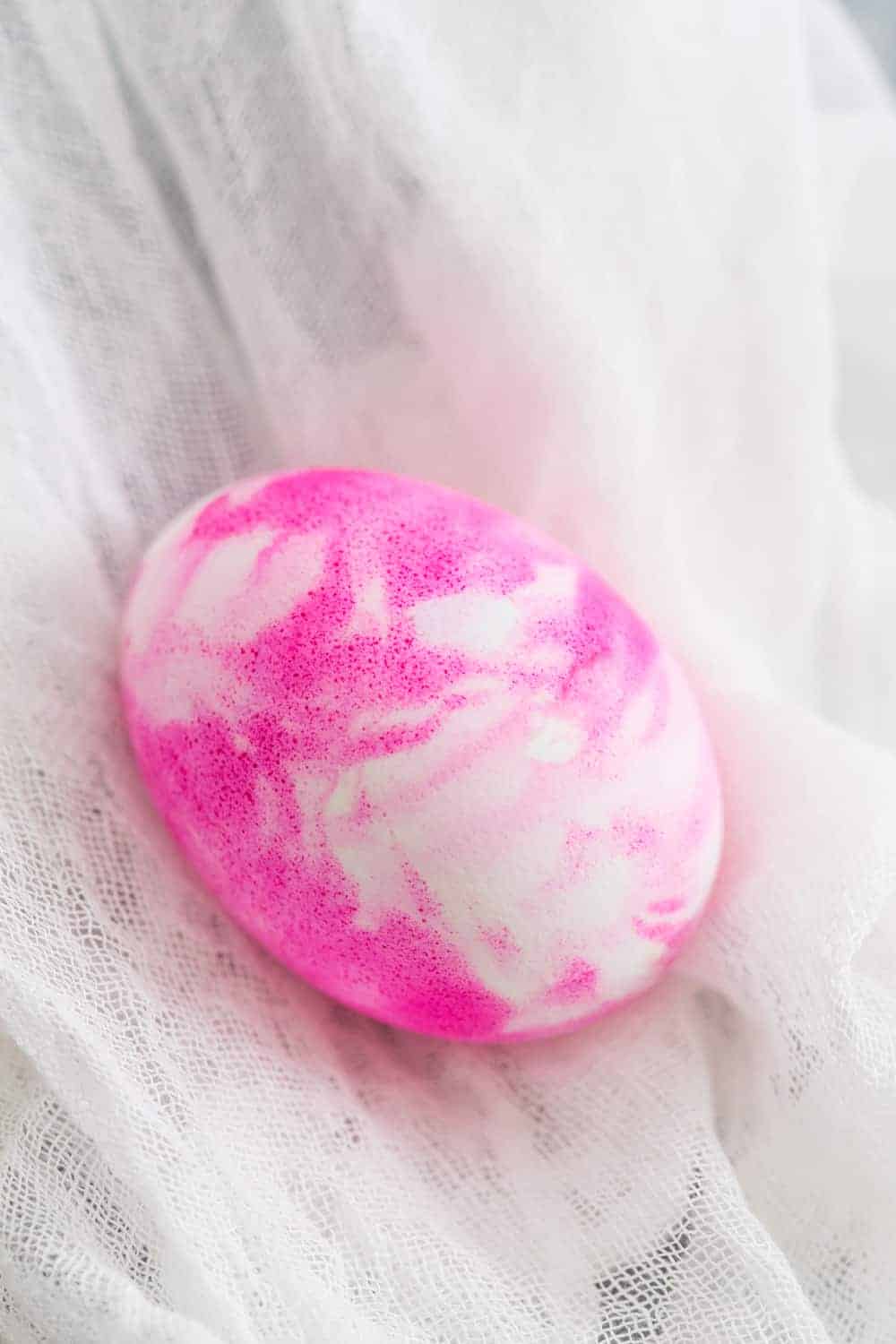 And while that definitely works, we actually eat our eggs, and the thought of consuming something that rolled around in a bowl of Barbasol just doesn't sound all that amazing.
I mean, can you even eat those? I certainly wouldn't want to. Eggshells are porous!
The great thing about these whipped cream dyed eggs is that they only require a few ingredients: hard boiled eggs, whipped cream and food dye. Gel or liquid works just fine.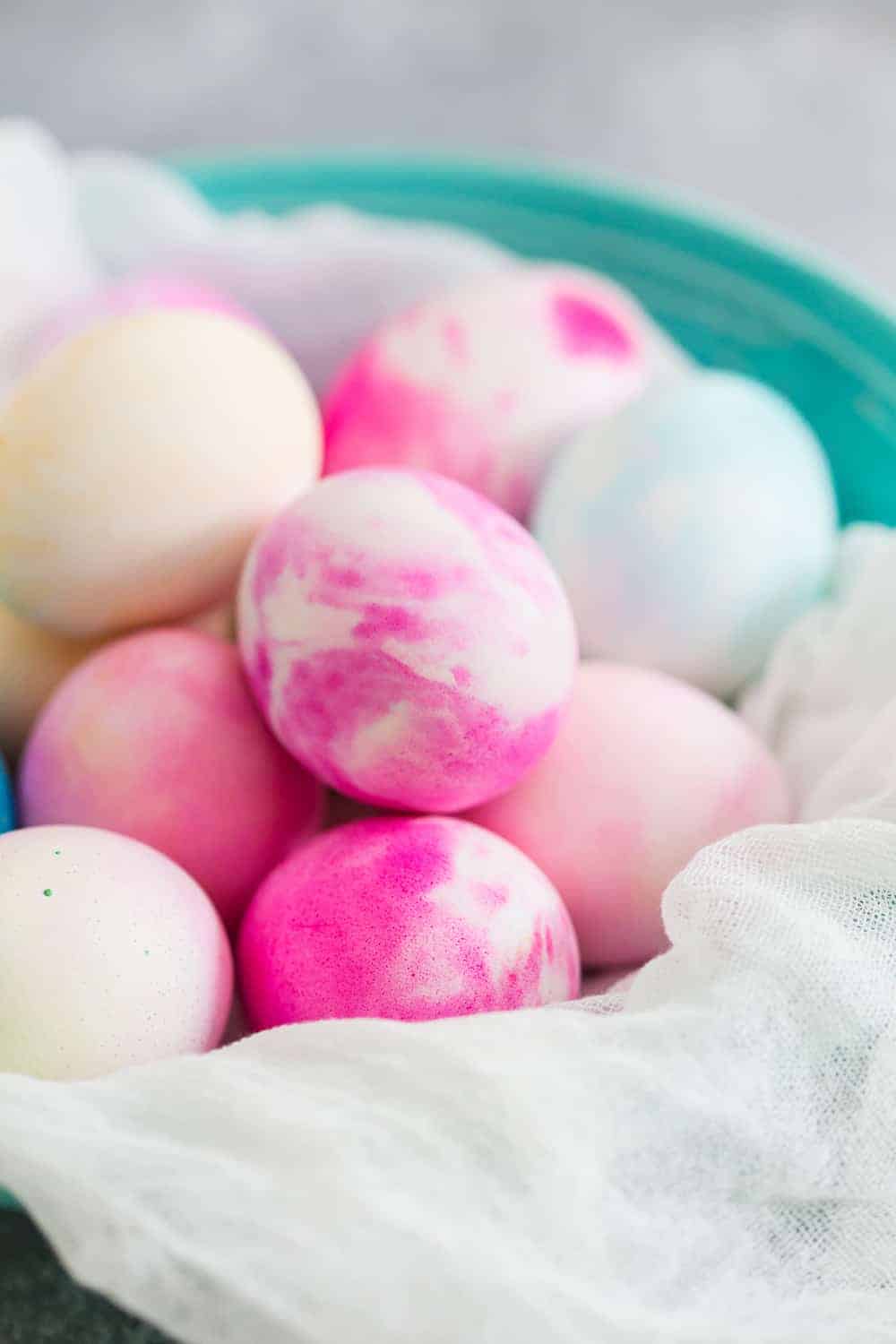 Since we've covered the dye, let's chat whipped cream. If you want to whip the cream yourself, go for it. 3-4 cups should do the trick.
I actually use a large container of Cool Whip, because it's less expensive than heavy cream, and I don't have to dirty my stand mixer.
And since we're not actually eating the whipped cream, just the whipped cream dyed eggs, I go for the cheaper option. But you do you.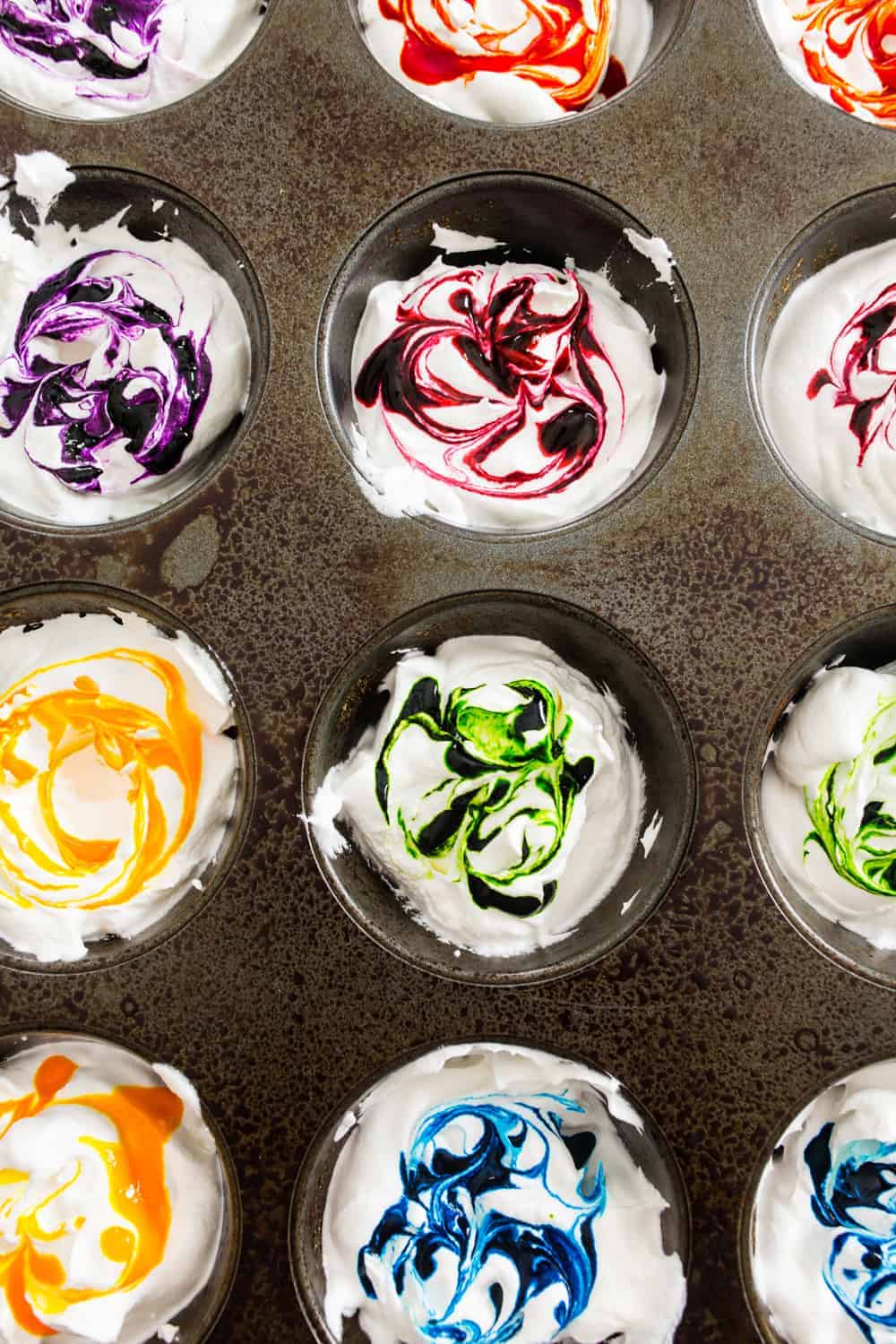 Now, let's talk about technique. You can put the whipped cream or Cool Whip into a 9×13-inch baking dish and swirl the colors around to create a tie-dyed effect on your whipped cream dyed eggs.
Or you can use a muffin pan to keep the colors separate. Totally your call, I love them both ways.
I love the gorgeous patterns that result from this technique, and they're always a big hit in the Easter hunt.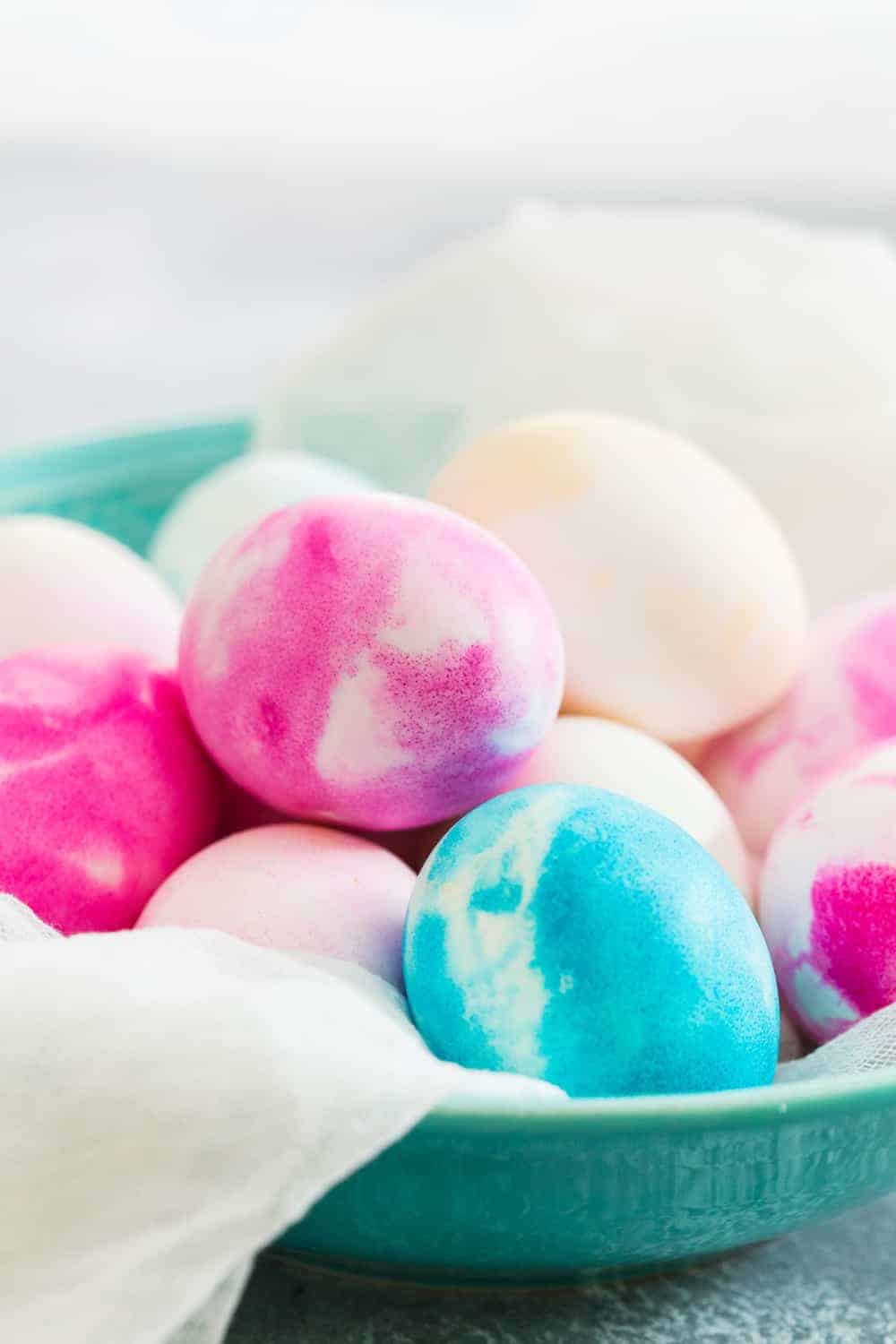 Be sure to also check out these naturally dyed eggs and some of our more classic egg decorating ideas, too. No matter how you make it festive, I hope you love decorating eggs as much as we do!
Bring on the chocolate bunnies.
Whipped Cream Dyed Eggs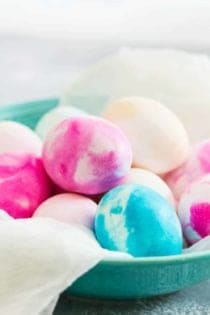 Ingredients:
large tub of whipped topping, thawed, or homemade whipped cream*
12 hard boiled eggs, cooled completely
food coloring
toothpicks, spoons, disposable gloves
Directions:
Spoon whipped cream into a 9 x 13-inch baking pan. Alternately, you can partially fill each well of a muffin pan with whipped cream. Use the muffin pan technique if you want to keep the colors separate as shown here. Use the 9 x 13-inch pan if you want to swirl the colors together for a tie-dyed effect.
Add drops of food coloring to the whipped cream and use a toothpick to lightly swirl the colors into the whipped cream. Don't swirl too much, or you'll lose the beautiful marbleized look and muddy up the colors.
Place the eggs into the whipped cream and gently roll using a spoon so the entire egg is covered.
Let the eggs sit in the whipped cream for 30-45 minutes depending on how bold you would like the colors.
Put on a pair of disposable gloves, remove eggs from the whipped cream and rinse them with water.
Allow the eggs to dry on a paper towel, this will help absorb any excess dye.
Store in the refrigerator for up to 7 days.
Notes:
If you're making your own whipped cream, you'll need to whip 3 cups of heavy cream.
All images and text ©
Follow Jamie on Instagram. We love to see what you're baking from MBA! Be sure to tag @jamiemba and use the hashtag #mbarecipes!
This post originally appeared on My Baking Addiction In April of 2014. The text and photographs have been updated.
Much thanks to SpendwithPennies.com for the great idea!