Chicken Piccata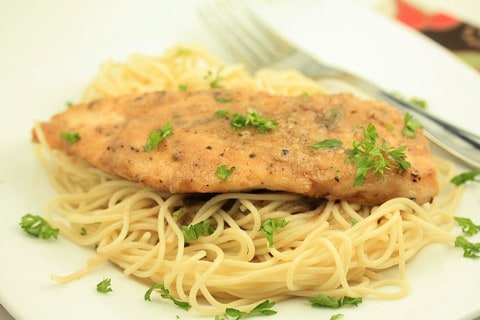 Sometimes I get random cravings for food that I have never made, nor eaten. Case in point, this chicken piccata…I have never tasted chicken piccata, but last week I knew I wanted it… and wanted it bad!
Being that I pretty much have the Food Network on the television whenever I am home, I knew chicken piccata had two key components… lemon and capers. Both of these items make me happy, I love the bright flavor of lemon juice and the briny deliciousness of the capers. Plus, the chicken is butterflied, which is just how we like it; thick chicken breasts are a no go in our house.
I added white wine and a clove of garlic to the original recipe. Personally, I think the wine is a must…it added a great depth of flavor and married perfectly with the lemon sauce. Here is a tip if you don't drink a lot of wine…I purchase the small 4 packs of white and red wine for cooking, that way,  I am not wasting it once my dinner is prepared. Plus, if we have unexpected guests, we have some on hand for them! Although these photos are definitely not my best work (late evening with artificial light is not a strength of mine), I decided to get over it and post them anyway! We loved this dish and will certainly be making it again in the very near furture. Have a fabulous day!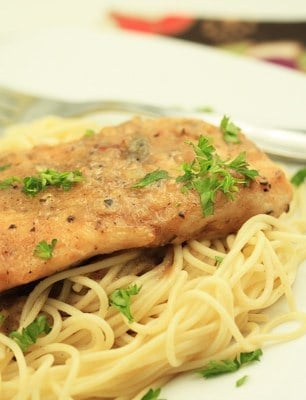 Chicken Piccata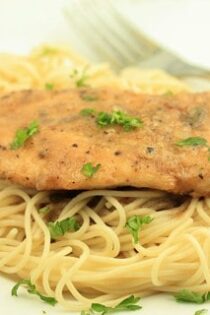 Ingredients:
2 skinless and boneless chicken breasts, butterflied and then cut in half
Sea salt and freshly ground black pepper
All-purpose flour, for dredging
6 tablespoons unsalted butter
5 tablespoons extra-virgin olive oil
1 clove minced garlic
1/3 cup fresh lemon juice
1/2 cup chicken stock
1/2 cup white wine
2 tablespoons brined capers, rinsed
1/3 cup fresh parsley, chopped
Directions:
1. Season chicken with salt and pepper. Dredge chicken in flour and shake off excess.
2. In a large skillet over medium high heat, melt 2 tablespoons of butter with 3 tablespoons olive oil. When butter and oil start to sizzle, add 2 pieces of chicken and cook for 3 minutes. When chicken is browned, flip and cook other side for 3 minutes. Remove and transfer to plate. Melt 2 more tablespoons butter and add another 2 tablespoons olive oil. When butter and oil start to sizzle, add the other 2 pieces of chicken and brown both sides in same manner. Remove pan from heat and add chicken to the plate.
3. Immediately add minced garlic to the pan and mix until fragrant. Into the pan add the lemon juice, stock, wine and capers. Return to stove and bring to boil, scraping up brown bits from the pan for extra flavor. Check for seasoning. Return all the chicken to the pan and simmer for 5 minutes. Remove chicken to platter. Add remaining 2 tablespoons butter to sauce and whisk vigorously. Pour sauce over chicken and garnish with parsley.
Serve on top of angel hair pasta if desired.
adapted from Giada De Laurentiis
All images and text ©
Follow Jamie on Instagram. We love to see what you're baking from MBA! Be sure to tag @jamiemba and use the hashtag #mbarecipes!
[pinit]
This post may contain affiliate links. We are a participant in the Amazon Services LLC Associates Program, an affiliate advertising program designed to provide a means for us to earn fees by linking to Amazon.com and affiliated sites.