Chicken Piccata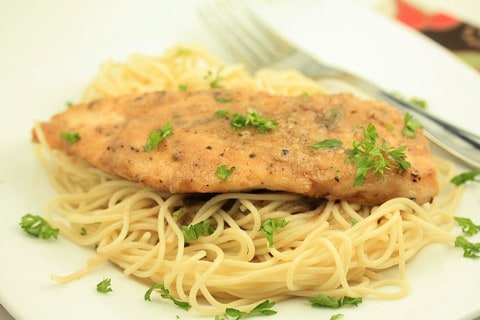 Sometimes I get random cravings for food that I have never made, nor eaten. Case in point, this chicken piccata…I have never tasted chicken piccata, but last week I knew I wanted it… and wanted it bad!
Being that I pretty much have the Food Network on the television whenever I am home, I knew chicken piccata had two key components… lemon and capers. Both of these items make me happy, I love the bright flavor of lemon juice and the briny deliciousness of the capers. Plus, the chicken is butterflied, which is just how we like it; thick chicken breasts are a no go in our house.
I added white wine and a clove of garlic to the original recipe. Personally, I think the wine is a must…it added a great depth of flavor and married perfectly with the lemon sauce. Here is a tip if you don't drink a lot of wine…I purchase the small 4 packs of white and red wine for cooking, that way, I am not wasting it once my dinner is prepared. Plus, if we have unexpected guests, we have some on hand for them! Although these photos are definitely not my best work (late evening with artificial light is not a strength of mine), I decided to get over it and post them anyway! We loved this dish and will certainly be making it again in the very near furture. Have a fabulous day!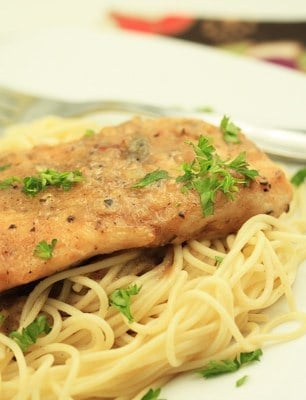 This post may contain affiliate links. We are a participant in the Amazon Services LLC Associates Program, an affiliate advertising program designed to provide a means for us to earn fees by linking to Amazon.com and affiliated sites.