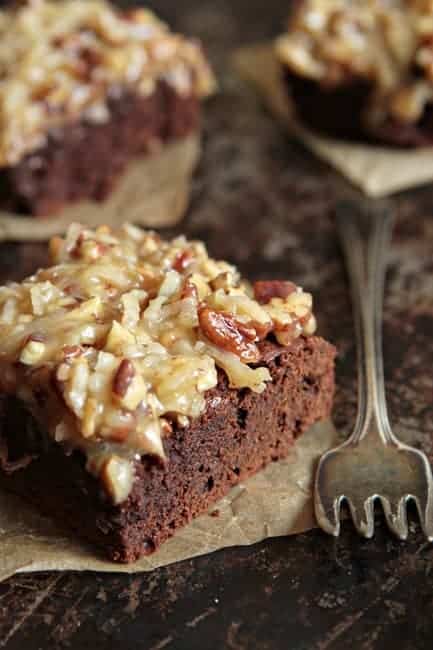 Some days I have a lot to say; however, today is not one of those days. So instead of telling you about the fact that right now my neighbor is wielding a broom while running around his backyard shooing away geese or about the fact that my dog has been incessantly licking my toes for the past 2 hours, I'll simply talk to you about German Chocolate Brownies.
For as long as I can remember, German Chocolate anything has been on my radar, not because I love it, but because it's one of my dad's absolute favorites. Since he's pretty much a lover of all things chocolate, coconut, and pecan – it's no wonder he's mildly obsessed with this classic flavor combination.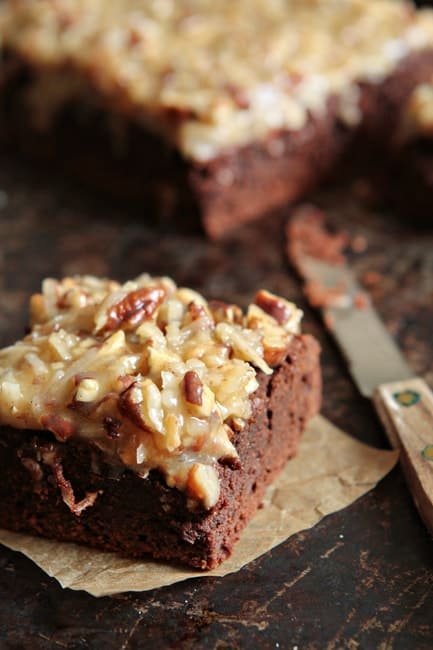 To create this winning combo, I started with my favorite recipe for moist, decadent, fudgy brownies and because that's simply not enough – I slathered them with an irresistibly delicious nutty coconut frosting.
There's something about dense chocolate covered in gooey coconut and pecan topping that just says Fall to me. Maybe it's the autumnal colors, maybe I'm just crazy (really, there's no maybe about it), but I thought you might like to make these on a random Monday night because… well, just because. Sometimes that's the only reason you need.
[pinit]

German Chocolate Brownies
September 10th, 2012
Yield: 12 brownies
Prep Time: 25 minutes
Cook Time:
Ingredients:
For the Brownies
4 ounces unsweetened chocolate; coarsely chopped
3/4 cup unsalted butter, cut into cubes
1 cup granulated sugar
3 large eggs
1 teaspoon pure vanilla extract
1/4 teaspoon salt
1 cup Gold Medal all-purpose flour
For the Frosting
1/2 cup evaporated milk
1/2 cup granulated sugar
1 egg yolk, beaten
4 tablespoons unsalted butter
1 teaspoon pure vanilla extract
1/2 cup chopped pecans, toasted and cooled (see How To Toast Nuts)
1/2 cup flaked coconut, toasted (see How To Toast Coconut)
Directions:
1. Preheat oven to 350 degrees. Line an 8×8 inch baking pan with foil and spray with nonstick cooking spray.
2. Microwave chocolate and butter in a large bowl microwave-safe bowl at medium (50% power) for 3-4 minutes or until butter is melted.
3. Stir until chocolate is melted. Whisk in sugar, eggs, vanilla and salt. Gradually add in flour; stir until just combined.
4. Spread the batter into prepared pan. Bake for 30-35 minutes; do not over bake.
5. Remove to cooling rack to cool. Prepare the frosting.
For the Frosting
In a large saucepan combine evaporated milk, sugar, egg yolk and butter. Cook over low heat, stirring constantly, until thickened, about 5-7 minutes. Remove from heat and stir in vanilla, pecans, and coconut. Spread on brownies while still warm.
Disclosure
This post is part of an ongoing relationship between My Baking Addiction and Gold Medal Flour. In June of 2012, My Baking Addiction attended a Farm to Table event in Kansas City to learn why Gold Medal has been America's flour of choice for 125 years. Although this is a sponsored post, the views and opinions expressed are our own and based upon our personal experiences with Gold Medal Flour.
If you enjoyed this recipe, you may like...