Pumpkin Ale Cupcakes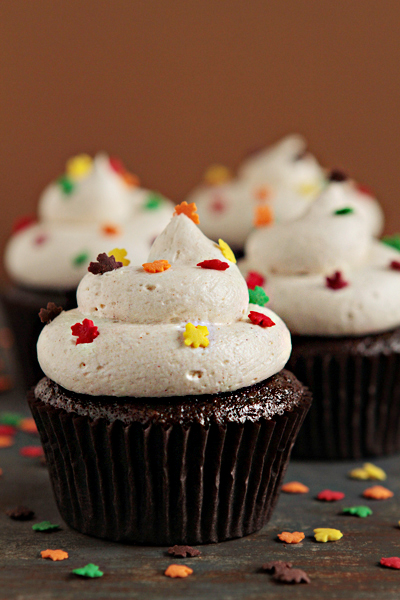 In my house, Thanksgiving isn't just about the turkey – it's also about the football. I slave away in the kitchen for about 12 straight hours while the boys hang out in the living room watching the "Big Game".
Someone please tell me – why do men feel the need to dub every football game as "the big one"? Do they think we'll complain less and feed them more?
Although I definitely won't lessen my polite inquiries for help (Brian calls this nagging, but he is WRONG), I am willing to offer up some munchies to tide them over until the Thanksgiving feast. In Brian's mind, football equals some quality time with great snacks and good beer. So, I thought I'd combine both of those into delicious Thanksgiving-inspired Pumpkin Ale Cupcakes.
If you have never baked cupcakes with beer, you definitely need to change that. Beer adds a subtle nuance that only enhances the flavor and texture of a basic chocolate cake. Although there is quite a bit of beer in this recipe, the result is not overly pumpkin-y or beer-y – it's simply a well balanced and incredibly moist, spiced chocolate cake.
Whether you're gathering over a turkey or a television, these Pumpkin Ale Cupcakes are sure to make a delightful addition to your holiday spread.
I am incredibly thankful for each and every one you that continue to support My Baking Addiction. Your friendship and the fun you bring to MBA lift me up every day and make me thankful to have started the site.
Have a wonderful Thanksgiving full of family, friends, football and of course – food.

Pumpkin Ale Cupcakes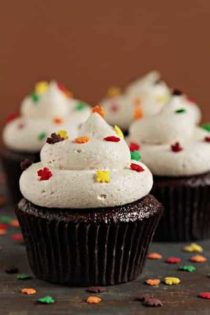 Ingredients:
For the Cupcakes
1 (12-ounce) bottle Pumpkin Ale
1/2 cup milk
1/2 cup vegetable oil
1 tablespoon pure vanilla extract
3 large eggs
3/4 cup sour cream
3/4 cup unsweetened cocoa powder
2 cups sugar
2 1/2 cups all-purpose flour
1 tablespoon pumpkin pie spice
1 1/2 teaspoons baking soda
For the Buttercream
4 sticks unsalted butter; room temperature
2 teaspoons pure vanilla extract
1 tablespoon pumpkin pie spice
¼ teaspoon fine sea salt
2 pounds confectioners' sugar
6 tablespoons pumpkin ale
Directions:
For the Cucakes
1. Preheat the oven to 350°F. Line muffin tins with paper liners.
2. In the bowl of a stand mixer fitted with the whisk attachment, or in a large bowl with an electric mixer combine the pumpkin ale, milk, vegetable oil, and vanilla. With the mixer on low speed, beat in the eggs, one at a time. Add in sour cream, mix until fully incorporated.
3. In a large mixing bowl, whisk together the cocoa, sugar, flour, pumpkin pie spice and baking soda.
4. Gradually mix the dry ingredients into the wet ingredients until just combined (batter will be thin).
5. Evenly divide batter amongst the prepared muffin wells.
6. Bake 25 minutes, until risen and set in the middle but still soft and tender. Remove pan to wire rack. Cool completely before turning out of the tins.
For the Buttercream
1. Cream the butter in the bowl of an electric or stand mixer. Add the vanilla extract, pumpkin pie spice and salt.
2. Slowly begin adding the confectioners' sugar, mixing well after each addition. After all of the sugar has been added and mixed thoroughly, add in the pumpkin ale and mix until light and fluffy. Beat on high speed for about two minutes. If frosting is too thick, gradually add in a little more pumpkin ale (1 teaspoon at a time) until you reach the desired consistency. Pipe frosting onto cupcakes. If desired, garnish with festive sprinkles.
Notes:
- Store cupcakes in refrigerator, remove to room temperature one hour before serving.
- Brown cupcake liners are from Confectionery House.
- Leaf Sprinkles are distributed by Wilton.
My Baking Addiction
All images and text ©
Follow Jamie on Instagram. We love to see what you're baking from MBA! Be sure to tag @jamiemba and use the hashtag #mbarecipes!
This post may contain affiliate links. We are a participant in the Amazon Services LLC Associates Program, an affiliate advertising program designed to provide a means for us to earn fees by linking to Amazon.com and affiliated sites.