Pumpkin Cinnamon Rolls with Maple Cream Cheese Frosting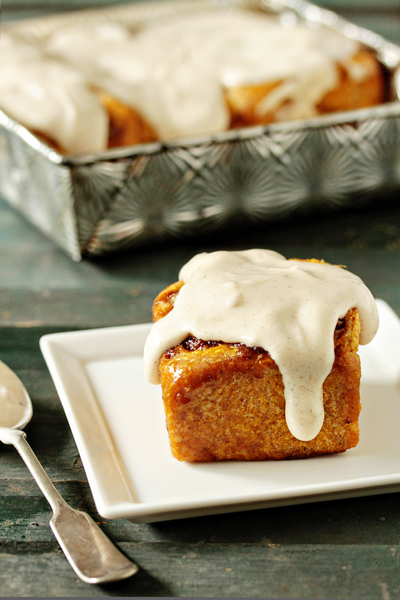 If you happen to read MBA on a regular basis, you may remember me discussing my fear of yeast and my attempt to conquer that fear with the help of Amber from Bluebonnets and Brownies. Well since that post a couple of months back, I have been a bread baking fool and no longer doubt myself in the yeast department. In fact, I probably have more bread baking supplies and tools than some bakeries and with that came a serious addiction to the King Arthur Flour website.
Since I'm no longer a yeast novice, you can imagine how excited I am to flaunt my newly developed skills for this week's Holiday Recipe Exchange sponsored by Red Star Yeast.
As soon as we gained Red Star Yeast as a sponsor, I knew exactly what I was going to make – Pumpkin Cinnamon Rolls. These three words alone are enough to get any pumpkin lover jonesing – smother the Pumpkin Cinnamon Rolls with a Maple Cream Cheese Frosting and you'll pretty much be in sugar-coma heaven.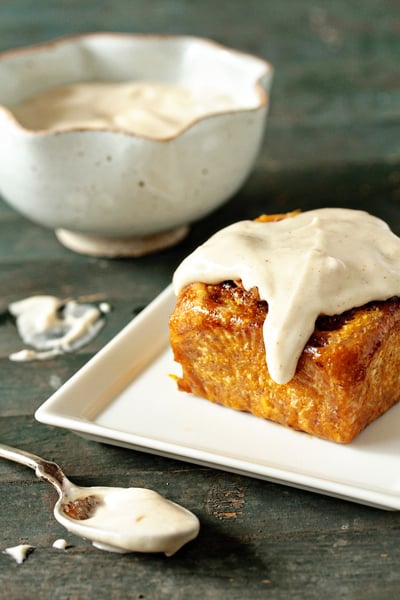 The pumpkin puree in the roll base creates a slightly denser dough, so these definitely are not as pillowy as a traditional Cinnamon Rolls – but they are just as delicious. I generously spiced these gorgeous rolls with homemade pumpkin pie spice and tossed in chopped pecans for a pleasant textural crunch.
As with most yeast based recipes, these Pumpkin Cinnamon Rolls definitely take a little time and effort, but I promise you the results will be well worth it.
Remember – the longer you let yeast develop in a recipe, the more flavor it will have. Red Star Yeast pride themselves on providing the freshest, best yeast around, so let the little yeasties do their job and add tremendous flavor to your baked good. Once you've done it once, I swear you'll never look back. Be sure to check out Red Star Yeast on Facebook and Twitter for delicious recipes, great information on yeast and much more!
Now , we want you to share your favorite recipe using yeast and be sure to head over to Good Life Eats, because Katie has a wonderful recipe for Sweet Potato Rolls waiting for you!

Pumpkin Cinnamon Rolls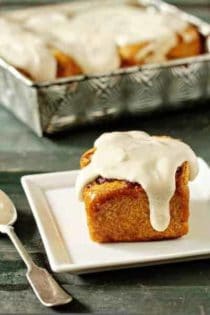 Ingredients:
For the Dough
1 cup canned pumpkin or squash
2 large eggs
2 tablespoons to 1/4 cup lukewarm water*
1/4 cup soft butter
2 1/2 cups unbleached all-purpose flour
1 3/4 cups King Arthur White Whole Wheat Flour
1/4 cup nonfat dry milk
1 tablespoon pumpkin pie spice
3 tablespoons brown sugar, light or dark
1 1/2 teaspoons salt
2 teaspoons Red Star Quick Rise Yeast or instant yeast
*Adjust the amount of water by the time of year or your climate. For summer, or in a humid environment, use the lesser amount of water. In winter, or in a dry climate, use the greater amount. It's always best to start with the lesser amount; you can always add more. (I needed the full 1/4 cup in my rolls).
For the Filling
3 tablespoons unsalted butter, melted
2/3 cup light brown sugar, packed
1 tablespoon pumpkin pie spice
1/2 cup chopped pecans
For the Frosting
4 ounces cream cheese, softened
4 tablespoons unsalted butter, softened
1/4 cup pure maple syrup (I used Grade A)
1/2 cup confectioners' sugar, sifted (see recipe notes)
1/2 teaspoon pumpkin pie spice
Directions:
1. Mix and knead all of the dough ingredients together — by hand, mixer, or bread machine — until you've made a soft, fairly smooth dough.
2. Place the dough in a lightly greased bowl, cover the bowl, and allow the dough to rise for about 1 1/2 hours, until it's almost doubled in bulk.
3. Turn the dough out onto a lightly greased surface. Roll it into a 14" x 22" rectangle; the dough will be pretty thin.
4. Use a pastry brush to brush the melted butter onto the top of the dough. In a medium bowl, mix together the filling ingredients and sprinkle them onto the butter creating an even layer, leaving one short edge free of filling (about 1 inch).
5. Starting with the short end that's covered with filling, roll the dough into a log.
6. Cut the log into nine 1 ½"-thick rolls.
7. Place the rolls into a lightly greased 9" x 9" pan that's at least 2" deep. Set aside, covered, to rise for 1 hour, or until the rolls look puffy.
8. Bake the rolls in a preheated 375°F oven for 25 to 30 minutes, until they're lightly browned and feel set. Remove them from the oven, and set them on a rack. Turn them out of the pan, and allow them to cool for about 15 minutes. Towards the end of the cooling time, make the glaze.
9. To make the glaze: In a medium bowl with an electric mixer, combine the cream cheese, butter, maple syrup, confectioners' sugar and pumpkin pie spice. Mix on low speed until thoroughly combined and creamy. Feel free to adjust the frosting to meet your needs. If you like a thinner frosting, add in a little milk (start with 1 teaspoon) and slowly increase until you reach the desired consistency. If you want it to be thicker, add in a little more confectioners' sugar.
Notes:
- Feel free to adjust the frosting to meet your needs. If you like a thinner frosting, add in a little milk (start with 1 teaspoon) and slowly increase until you reach the desired consistency.
- The pumpkin puree in these Pumpkin Cinnamon Rolls make them a bit more dense when compared to a traditional cinnamon roll.
- According to King Arthur Flour, you can substitute the White Whole Wheat Flour for All-Purpose, you will just need to decrease the amount of water needed by about 2 teaspoons.
- If you are unsure what the dough should look like, definitely check out this post on KAF for an in-depth photo tutorial.
-If you prefer more maple flavor in your frosting, just play around with the proportions until it meets your needs.
-The frosting pictured above is a bit on the thick side because I made it the night before and refrigerated it until the next day. Ideally, it should be a bit thinner.
Follow Jamie on Instagram. We love to see what you're baking from MBA! Be sure to tag @jamiemba and use the hashtag #mbarecipes!
How To Participate
For a chance to win a Yeast Baking Gift Set (details of prize specifics below):

Write and post a recipe on your blog featuring YEAST.
Include "Come join the fun at the My Baking Addiction and GoodLife Eats Holiday Recipe Swap sponsored by Red Star Yeast." in your blog post.
No blog? Just leave your recipe in the comments section.
Add your link to the widget on either GoodLife Eats or My Baking Addiction (we have the same widget code, so only add it on one site).
Submit your post before November 7th, 11:59 PM.
Anyone can participate in the link up, but the prizes will ship to US addresses only.
More detailed info are available here.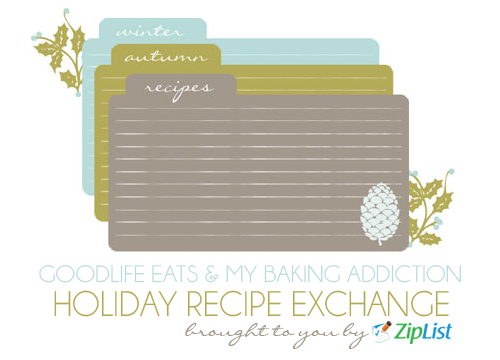 Link Up Your Recipes:
Love any of the recipes featured in today's Holiday Recipe Exchange? If so, be sure to to use the Ziplist Web Recipe Clipper to add your holiday favorites to your online recipe box.

'); // ]]>

This Week's Prize:
$159.79 Value. Prizes provided by Red Star Yeast.
3 hard cover cookbooks:
Red Star Yeast Products: apron, bread pan, cutting board, pizza cutter, dough whisk, oven mitts.
A carton of Red Star Yeast (eighteen 3-strips)
Recipe Theme Schedule: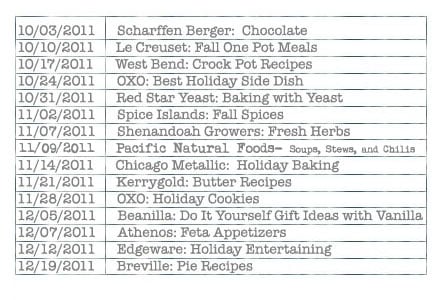 This post may contain affiliate links. We are a participant in the Amazon Services LLC Associates Program, an affiliate advertising program designed to provide a means for us to earn fees by linking to Amazon.com and affiliated sites.