Pumpkin Ginger Cupcakes with Ginger Cream Cheese Frosting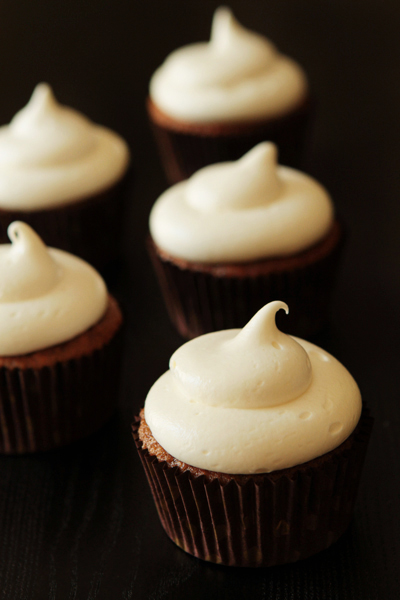 It's certainly no secret that I wholeheartedly adore Fall.  The colors, smells, and textures make this season my absolute favorite time of year.  Although I obviously love to bake regardless of the season, there's just something really special about the intoxicating aromas and flavors of autumn spices.
I have a bin of spices that I store in a cabinet above the refrigerator that is completely dedicated to fall baking. It's brimming with cinnamon, cloves, allspice, crystallized ginger, cardamom – and that's just naming a few. Towards the end of summer, I pull the bin down and conduct and inventory of my Autumn arsenal – I kind of have a quirky obsession with spices and spice organization. Too bad this "organization" only lasts for about 2 weeks, then I'm back to blaming Brian for hiding my whole nutmeg.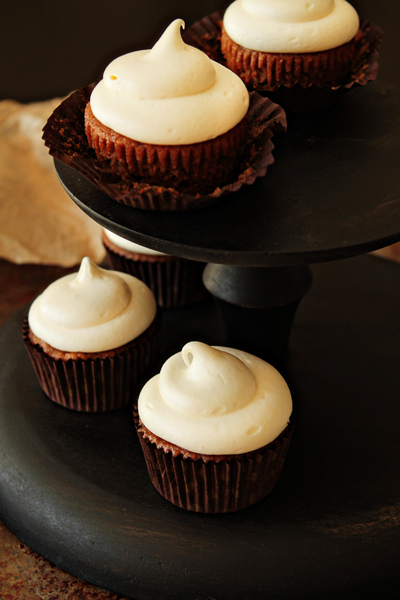 I stumbled upon this recipe for Pumpkin Ginger Cupcakes about 6 months ago and tucked it away in a file folder on my desk. When I came across the recipe months later, I knew it would be absolutely perfect for the Spice Islands Holiday Recipe Exchange. Spice Islands is definitely one of my absolute favorite spice companies. I find them to of the highest quality and most flavorful spices on the market – and trust me I have tried a lot of different companies. And I have bulging cabinets to prove it!
These Pumpkin Ginger Cupcakes are enthusiastically spiced, incredibly moist and just perfect on their own – in fact I ate them for breakfast! But we all know that I have a difficult time leaving well enough alone, so I just had to top them off with a swirl of Ginger Cream Cheese Frosting. This little addition made these cupcakes my favorite new Autumn addiction!
Now , we want you to share your favorite recipe using fall spices and be sure to head over to Good Life Eats, because Katie has a glorious recipe for Orange Spice Pumpkin Muffins waiting for you!
Pumpkin Ginger Cupcakes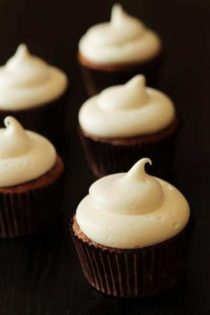 Ingredients:
For the Cupcakes
1/3 cup finely chopped crystallized ginger
1/4 cup water
2 cups all-purpose flour
1 (3.4 ounce) package instant butterscotch pudding mix
2 teaspoons baking soda
1/2 teaspoon kosher salt
1 tablespoon ground cinnamon
1/2 teaspoon ground ginger
1/2 teaspoon ground allspice
1 cup butter, room temperature
1 cup white sugar
3/4 cup light brown sugar, packed
4 large eggs
2 teaspoons pure vanilla extract
1 (15 ounce) can pumpkin puree
For the Cream Cheese Frosting
16 ounces cream cheese, softened to room temperature
1/2 cup unsalted butter, softened to room temperature
1 1/2 - 2 pounds confectioners' sugar, sifted
1 teaspoon pure vanilla extract
ginger syrup from above recipe
Directions:
For the Cupcakes
1. Preheat an oven to 350 degrees F. Line muffin tins with paper liners. Place crystallized ginger and water in Pyrex measuring cup and heat in microwave for 2 minutes. Remove from microwave and set aside.
2. In a large bowl, sift together the flour, pudding mix, baking soda, salt, cinnamon, ground ginger and allspice. Set aside.
3. In the bowl of a stand mixer fitted with the paddle attachment or in a large bowl with a hand mixer, beat the butter and sugars until light and fluffy, about 2 minutes. Beat in eggs one at a time until thoroughly incorporated. Add in vanilla and pumpkin puree beating until combined, scraping the sides of the bowl as needed.
4. With the mixer on low, gradually add in the flour mixture, mixing until just combined, scraping sides of bowl as needed.
5. Use a small mesh sieve to strain the ginger from the sugar syrup. Keep syrup for cream cheese frosting. Mince the ginger and use a rubber spatula to gently fold it into the batter.
6. Using a large cookie scoop (3 tablespoons) divide the batter between the prepared muffin wells.
7. Bake in the preheated oven for 20-22 minutes or until golden and the tops spring back when lightly pressed. Cool in the pans for about 10 minutes before removing to cool completely on a wire rack.
8. When cupcakes are cool, prepare the frosting.
For the Cream Cheese Frosting
1. In a the bowl of a stand mixer fitted with the paddle attachment, or in a large bowl with an electric mixer, cream together cream cheese and butter until well combined.
2. With the mixer of low, slowly add the confectioners' sugar until thoroughly incorporated and smooth. Add vanilla and ginger syrup and mix to combine.
Store cupcakes in the refrigerator for up to 2 days. Remove to room temperature one hour before serving.
Notes:
- Crystallized ginger is typically found in the spice of aisle of most markets.
- Crystallized ginger is also sold under the name candied ginger - these two items can be used interchangeably.
- If you prefer your frosting to be less sweet, decrease the amount of sugar to meet your needs.
- I generously frost my cupcakes, if you prefer less frosting, start with 1/2 the frosting recipe.
- Chocolate Brown liners were purchased from Bake It Pretty.
- Cupcakes were piped using the Large Round Tip from Bake It Pretty.
My Baking Addiction adapted from allrecipes.com.
All images and text ©
Follow Jamie on Instagram. We love to see what you're baking from MBA! Be sure to tag @jamiemba and use the hashtag #mbarecipes!
How To Participate
For a chance to win a Spices Baking Gift Set (details of prize specifics below):

Write and post a recipe on your blog featuring FALL SPICES (cinnamon, cloves, nutmeg, allspice, cardamom, etc.).
Include "Come join the fun at the My Baking Addiction and GoodLife Eats Holiday Recipe Swap sponsored by Spice Islands." in your blog post.
No blog? Just leave your recipe in the comments section.
Add your link to the widget on either GoodLife Eats or My Baking Addiction (we have the same widget code, so only add it on one site).
Submit your post before Nov. 9, 11:59 PM.
Anyone can participate in the link up, but the prizes will ship to US addresses only.
More detailed info are available here.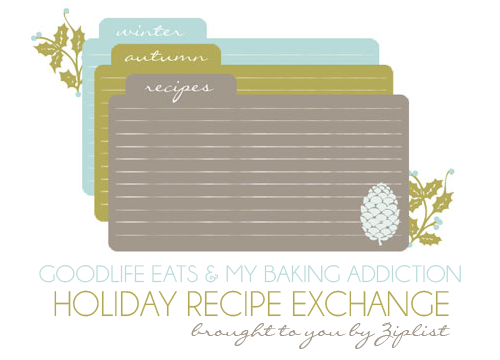 Link Up Your Recipes:
Love any of the recipes featured in today's Holiday Recipe Exchange? If so, be sure to to use the Ziplist Web Recipe Clipper to add your holiday favorites to your online recipe box.

'); // ]]>

This Week's Prize: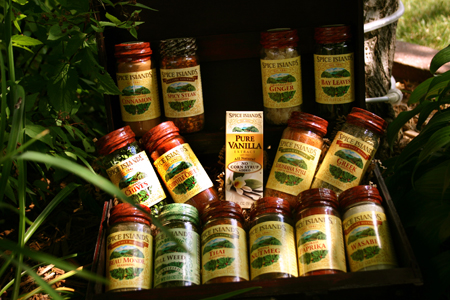 Spices included will vary slightly from what is depicted in the photo. See below for a listing of what is included in the Holiday Recipe Exchange Treasure Chest of Spices.
Treasure Chest of Spices:
Ground Allspice
Whole Allspice
Beau Monde Seasoning
Ground Cloves
Cinnamon Sugar Grinder
Poultry Seasoning
Whole Nutmeg
Cinnamon Sticks
Mint
Rosemary
Sea Salt
Rosemary Garlic Blend
Orange Peel
Lemon Peel
Ground Cardamom
Sage
Pumpkin Pie Spice
Pure Vanilla Extract
Prizes provided by Spice Islands.
Recipe Theme Schedule: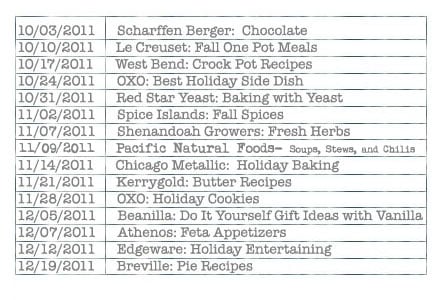 This post may contain affiliate links. We are a participant in the Amazon Services LLC Associates Program, an affiliate advertising program designed to provide a means for us to earn fees by linking to Amazon.com and affiliated sites.