I'm guessing you already know that this Sunday is the Super Bowl. Food is an integral part of Super Bowl Sunday, which is pretty much the only thing that excites me about this (or any) sporting event. I found myself searching through old MBA posts to plan my game day grub menu, so I thought I would share my favorites with you. These recipes have been tested and approved by avid football lovers and non-lovers (that would be me), so they're sure to be a hit!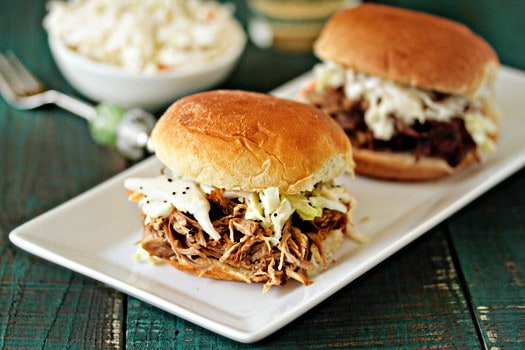 Do you ever go to pot lucks and question where the real food is? Sometimes dips and chips just don't cut it, so I'm always sure to include at least one or two items that will satisfy even the biggest of appetites. One of my favorites are Crock Pot Pulled Pork Sandwiches. Served on slider buns with homemade coleslaw – you're sure to satisfy those hungry guy appetites with cute, miniature sandwiches!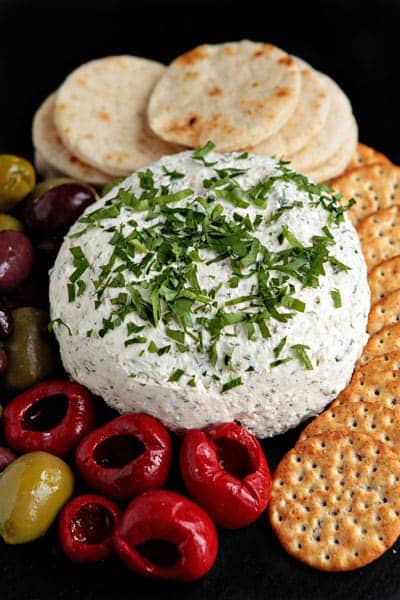 I think it's safe to say that most people are probably a little cheese balled out after the holidays, but my Feta Cheese Ball is a creative substitute that will quickly become a family favorite.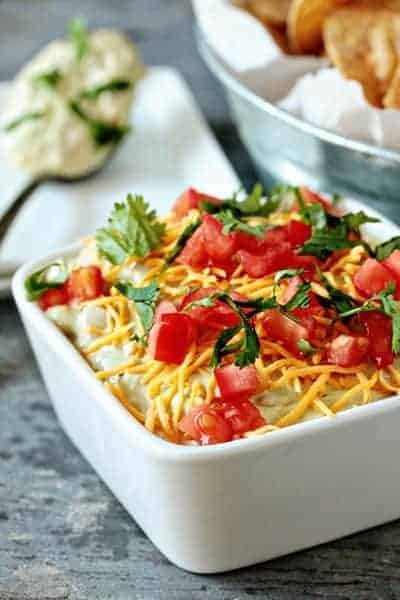 Avocado Dip has become a staple in our house for pretty much all gatherings. This recipe adds a fun and delicious twist to a classic game day dip with the addition of sour cream and cilantro.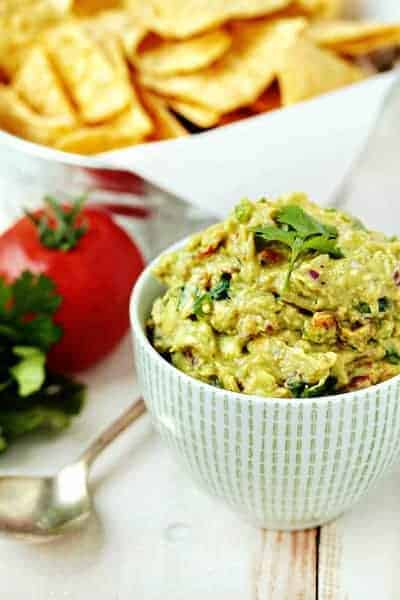 For those guacamole purists out there, I wholeheartedly recommend my Spicy Guacamole. You'll be smitten with it after one bite. Let's just say I've converted several avocado haters with my spicy spin on this classic. It's bold, delicious and perfect for snacking!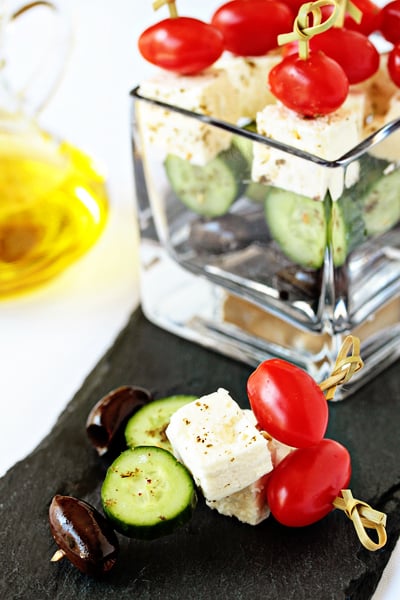 If you're looking for something a little less traditional, these Greek Salad Skewers will provide a refreshing change of pace. Olives, feta cheese, cucumbers, and grape tomatoes combine to create a fresh, healthy snack. And who doesn't love snacks on sticks?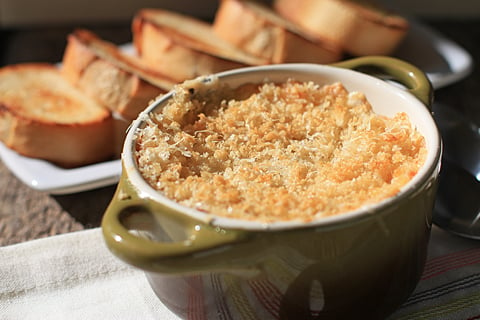 I like my food with a little heat and two years after the post originally appeared, this Jalapeno Popper Dip continues to be one of the most popular recipes on MBA. It's creamy, spicy, and crunchy texture will keep your guests coming back for more.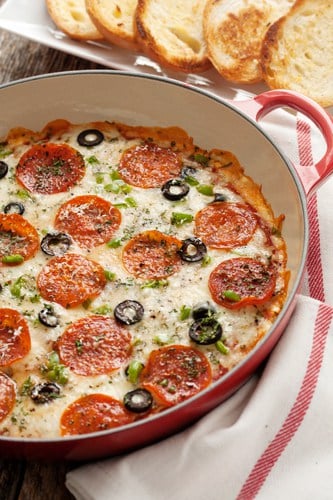 In my opinion, no party is complete without pizza. But instead of serving up the traditional pie, why not wow your crowd with Pizza Dip? A rich cream cheese base is layered with pizza sauce, cheese, and all your favorite pizza toppings, taking pizza to whole new level.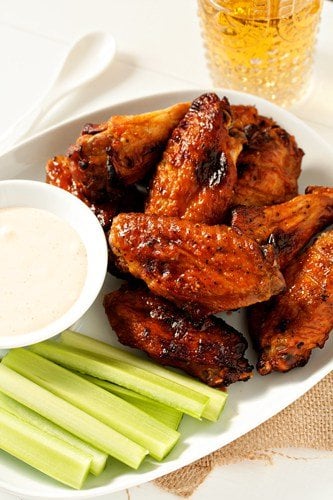 For those of your guests that have no idea what to do with themselves unless they're noshing on chicken wings in front of big screen, I've included a scrumptious recipe for Sweet and Spicy Baked Chicken Wings. These wings are baked to perfection with the perfect amount of heat and sweet. Serve them up with homemade blue cheese dressing and celery sticks. Your guests will be remembering these wings long after the game score has faded away.
Last, but certainly not least; dessert. You all know that there will never be a party at my house without dessert – this sugar lover needs some incentive for listening to grown men yell at the TV all night! Here are a couple of my favorite sweet treats that I think will make your menu just a little more irresistible.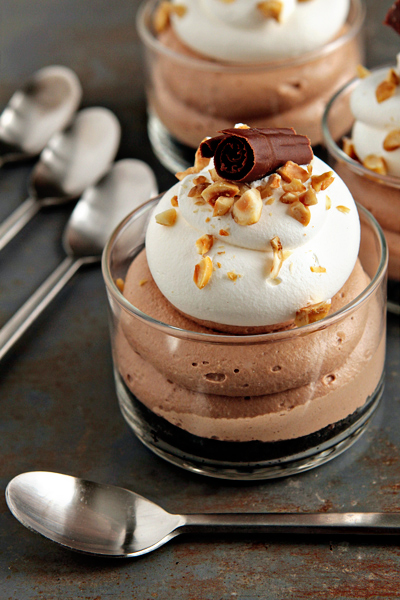 Having recently made these No-Bake Nutella Cheesecakes, I felt that these would be a great and easy dessert to include. With the amazing Nutella flavor and velvety texture, these personaly sized desserts are the perfect sweet end to a night of snacking. They look and feel upscale with less work than most other desserts – win/win!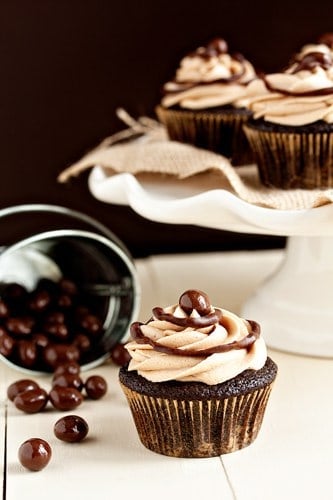 I've also decided to include the recipe for Café Mocha Cupcakes. Are you sensing a color theme here? Just in case the big game is a little on boring side, you can liven up your crowd with a little sugar-coffee buzz! Top these beauties with a chocolate covered espresso bean and you may even get away with telling everyone that you topped them with a mini football! It's a stretch, I know – but definitely worth a shot!
Whichever team you cheer for, I hope this menu finds all you football lovers in good spirits and happy tummies! I know that's our plan!
Looking For More?
Check these fantastic recipes from some of my favorite people!
Homemade Cheese Whiz from Good. Food. Stories.
Roasted Red Pepper Hummus from Good Life Eats
Buffalo Celery Sticks from Some the Wiser
Seven Layer Dip from Savory Sweet Life
Super Bowl Sandwiches from Simple Bites
Buffalo Chicken Pot Pies from Sugarcrafter
Mexican Chocolate Chewies from Bluebonnets & Brownies
If you enjoyed this recipe, you may like...