Trust me I know Thanksgiving dinner can be an overwhelming process, so I wanted to provide you with a few tried and true recipes to assist you with your side dish endeavors. The upcoming Thanksgiving recipes will be full of autumn flavors and modernized versions of classics we all know and love.
First on my list is this irresistible butternut squash risotto with saffron. It's rich, creamy and the perfect side dish to any holiday menu.
I was never really a fan of any type of squash until recently. I'd always pick the squash pieces out of vegetable medleys and remove them from kebabs, but then I discovered butternut squash and I am now a squash convert. Seriously, I am mildly obsessed with the stuff. First I made a butternut squash puree, then I moved onto butternut squash bread, and now this delicious butternut squash risotto recipe.
Risotto is definitely not complicated; in fact, very few ingredients are needed to throw together this splendid side dish. I'll be honest and forewarn you that it requires a lot of stirring, so it can be a little time consuming, but I promise it will be well worth your time.
With flavors of butternut squash, pancetta, saffron, and parmesan cheese, how could this dish be anything less than amazing? Plus it's from Ina Garten and in my opinion; you can never go wrong with an Ina Garten recipe! I want to be just like her when I grow up. Thanks so much for stopping by!

Butternut Squash Risotto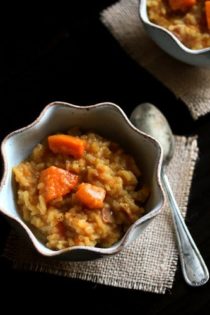 Ingredients:
1 butternut squash (2 pounds)
2 tablespoons olive oil
Kosher salt and freshly ground black pepper
6 cups chicken stock, preferably homemade
6 tablespoons (3/4 stick) unsalted butter
2 ounces pancetta, diced
1/2 cup minced shallots (2 large)
1 1/2 cups Arborio rice (10 ounces)
1/2 cup dry white wine
1 teaspoon saffron threads
1 cup freshly grated Parmesan cheese
Directions:
1. Preheat the oven to 400 degrees.
2. Peel the butternut squash, remove the seeds, and cut it into 3/4-inch cubes. You should have about 6 cups. Place the squash on a sheet pan and toss it with the olive oil, 1 teaspoon salt, and 1/2 teaspoon pepper. Roast for 25 to 30 minutes, tossing once, until very tender. Set aside.
3. Meanwhile, heat the chicken stock in a small covered saucepan. Leave it on low heat to simmer.
4. In a heavy-bottomed pot or Dutch oven, melt the butter and sauté the pancetta and shallots on medium-low heat for 10 minutes, until the shallots are translucent but not browned.
5. Add the rice and stir to coat the grains with butter. Add the wine and cook for 2 minutes. Add 2 full ladles of stock to the rice plus the saffron, 1 teaspoon salt, and 1/2 teaspoon pepper. Stir, and simmer until the stock is absorbed, 5 to 10 minutes.
6. Continue to add the stock, 2 ladles at a time, stirring every few minutes. Each time, cook until the mixture seems a little dry, then add more stock. Continue until the rice is cooked through, but still al dente, about 30 minutes total. Off the heat, add the roasted squash cubes and Parmesan cheese. Mix well and serve.
Ina Garten via Food Network
All images and text ©
Follow Jamie on Instagram. We love to see what you're baking from MBA! Be sure to tag @jamiemba and use the hashtag #mbarecipes!