Chocolate Chip Cookie Ice Cream Sandwich Cake is a sweet and easy crowd-pleasing dessert that will stretch easily to feed a crowd. You can use any ice cream you love, and it's perfect for a Fourth of July cookout, or summer barbecues!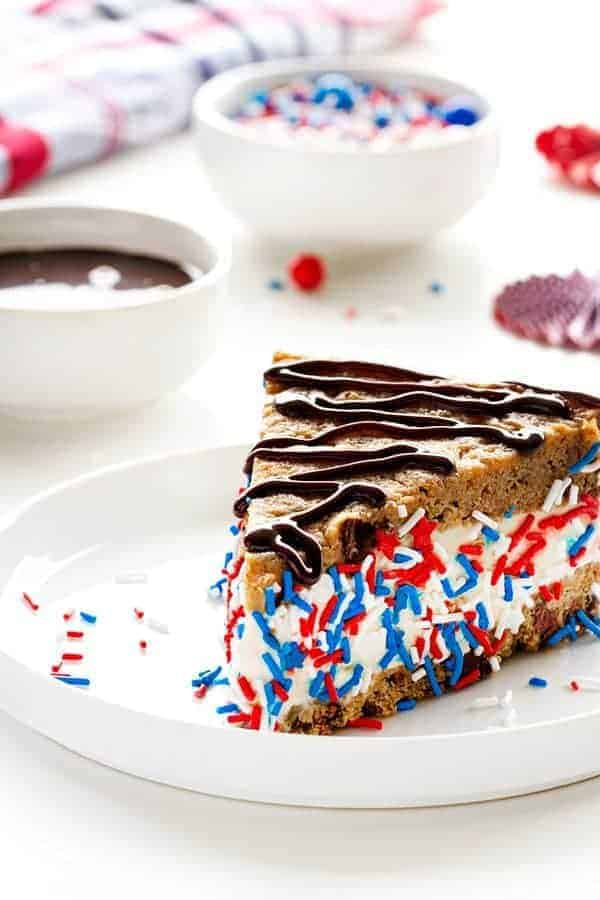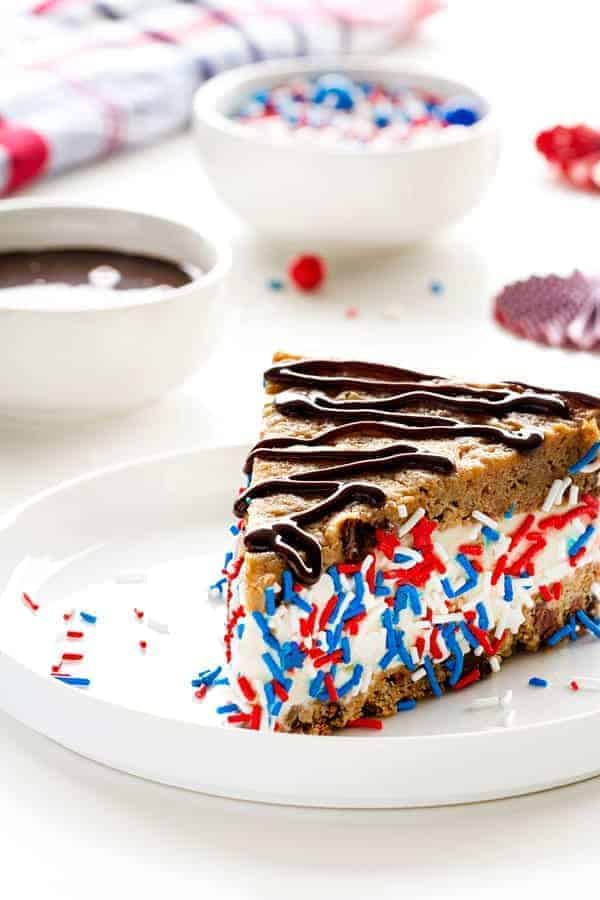 This is a sponsored post on behalf of Karo® Syrup as a Bake a Little Extra Blog Ambassador. Thank you for continuing to support the brands that make My Baking Addiction possible.
One of my favorite summer events is coming up – the Fourth of July. The Cleveland area goes all out – parades, fireworks, barbecues and fairs in every little town surrounding the big city.
For the past couple of years, since Elle was born, we've taken a low key approach to the 4th. A little barbecue with the family and some fireworks are all we need for our favorite summer holiday.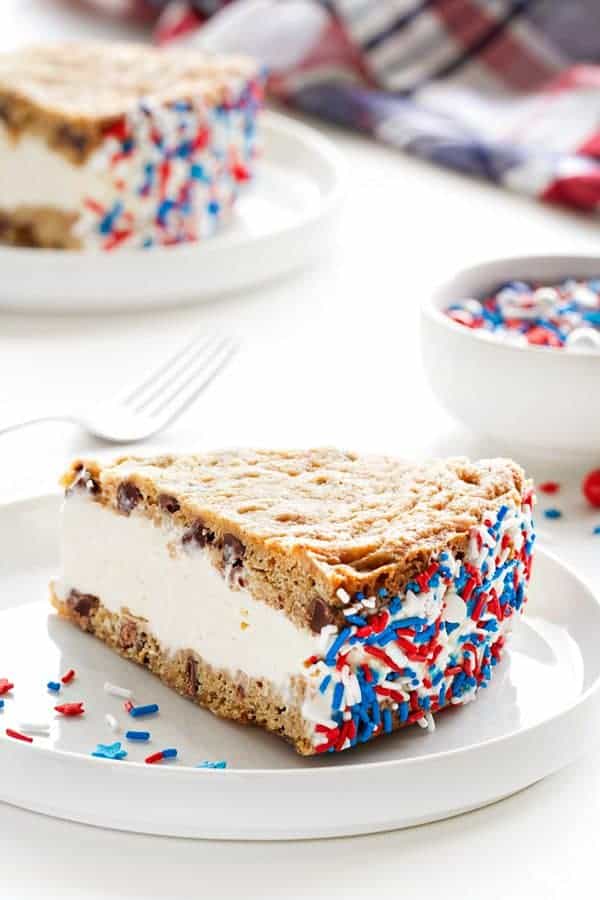 This year will be no different, except we might take Elle to a parade, and then the family is coming over for a giant barbecue feast. And of course, we're not skipping dessert. This is ME after all.
I found this recipe for Chocolate Chip Cookie Ice Cream Sandwich Cake on the Karo® Syrup website, and I was immediately smitten. You can use any chips you want, any ice cream you want, and decorate it with any sort of sprinkle you want.
Since we're having this on the 4th, I'm layering some festive red, white and blue sprinkles around the edge of the cake, but this will work for any holiday – heck, even Christmas! I'm a firm believer that ice cream is good, no matter the temperature outside.
This cake is like one giant cookie ice cream sandwich, that you can slice into wedges, big or small, making it perfect for a crowd with different appetites. You could even use two different flavors of ice cream on each side of the cake to please your crowd.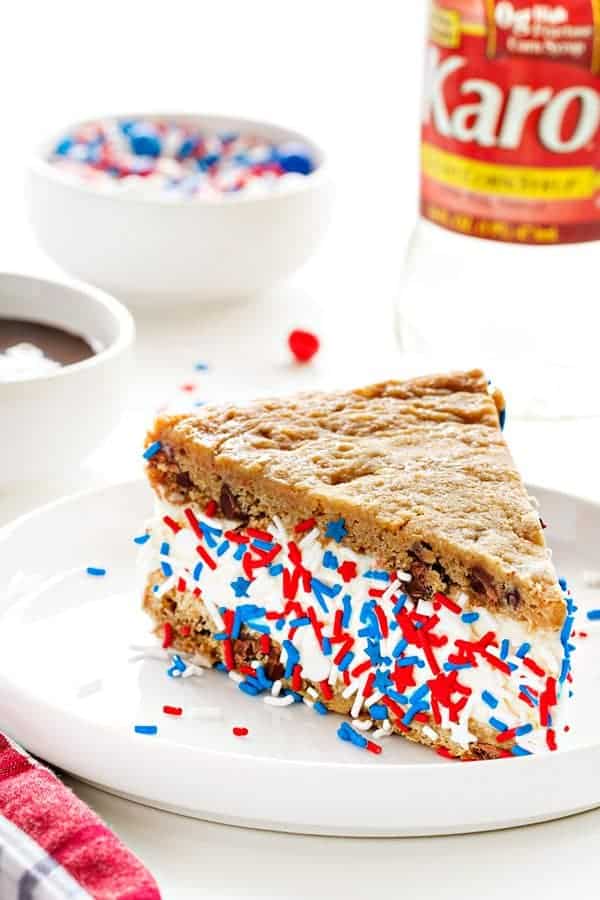 Making the cake couldn't be simpler. All you need are two cake pans, a stand mixer, a spring-form pan, and quality ingredients.
Both the cookies and the delectable chocolate sauce are made with Karo® Syrup, which I kind of love. It gives both the cookie dough and silky chocolate sauce a perfect sweetness, allowing their chocolate to shine through.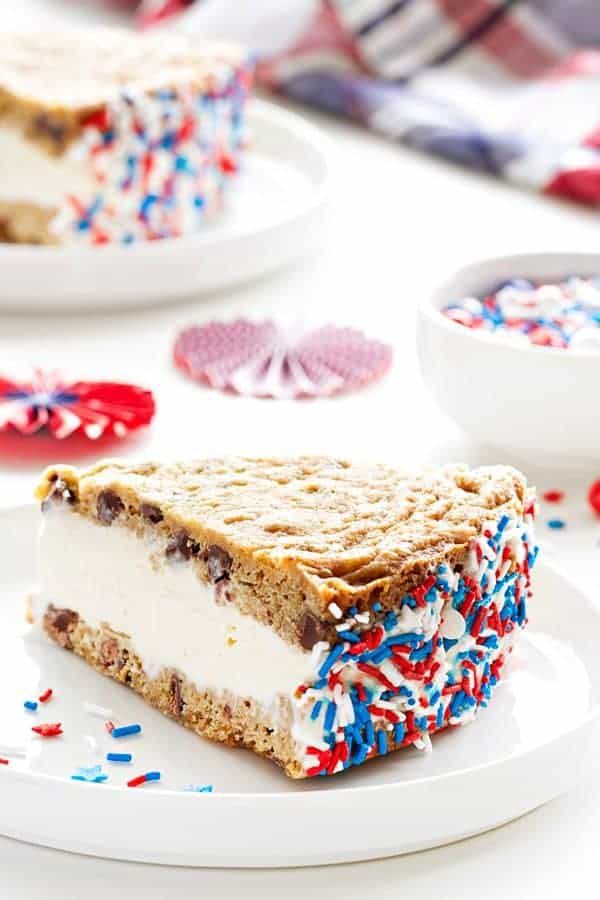 Whether you make this Chocolate Chip Cookie Ice Cream Sandwich Cake with vanilla ice cream and red, white and blue sprinkles, or strawberry ice cream and chocolate sprinkles come Valentine's Day, you really can't go wrong.
It'll feed a whole crowd, or keep in the freezer for you to eat a little bit at a time, which to me, makes it one of the best ideas ever! Just be sure to bake a little extra, because I promise you, it'll be gone in no time.
For more desserts that are perfect for summer entertaining, be sure to check out this Strawberry Cream Cheese Tart and these Lemon Lime Cupcakes.