Churro Cream Puffs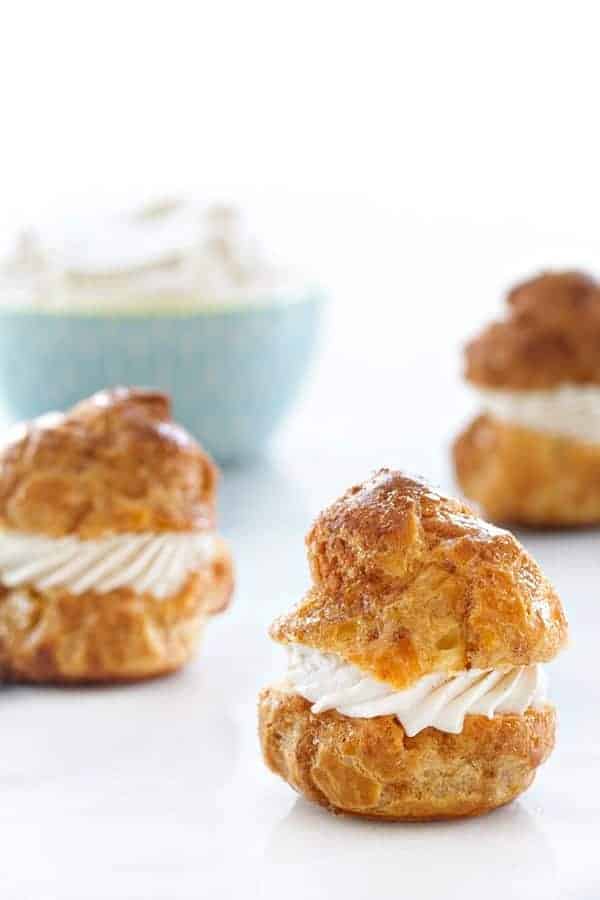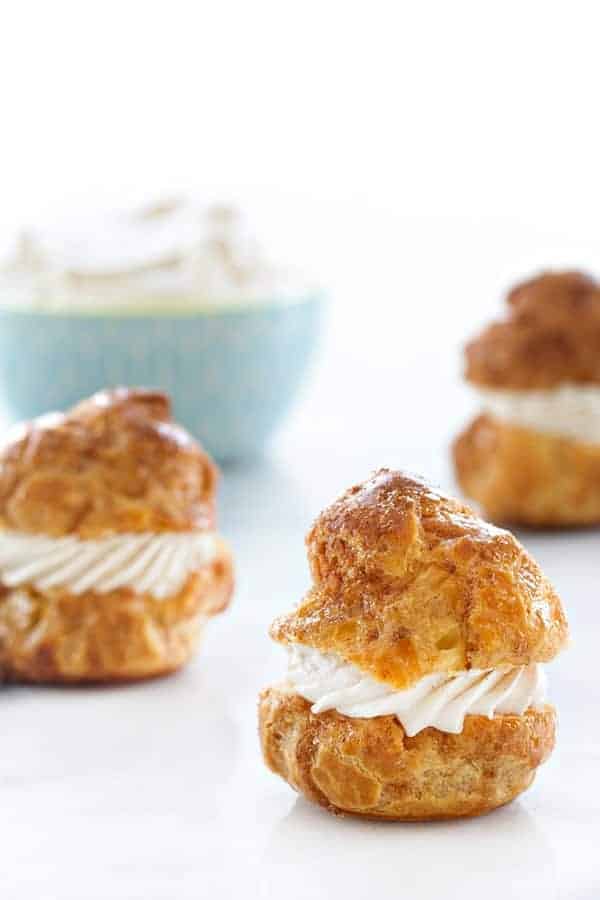 Churro Cream Puffs are covered in cinnamon and sugar and filled with a sweet cinnamon whipped cream. They're super delicious and easy to make!
I've been baking for what seems like forever and have been blogging for over 7 years – which is craziness by the way. During that 7 years, I've posted hundreds of recipes for everything from the best chocolate cake and homemade oatmeal cream pies to sugar cookie cheesecake, but one thing that is definitely lacking in the archives here on MBA are cream puffs.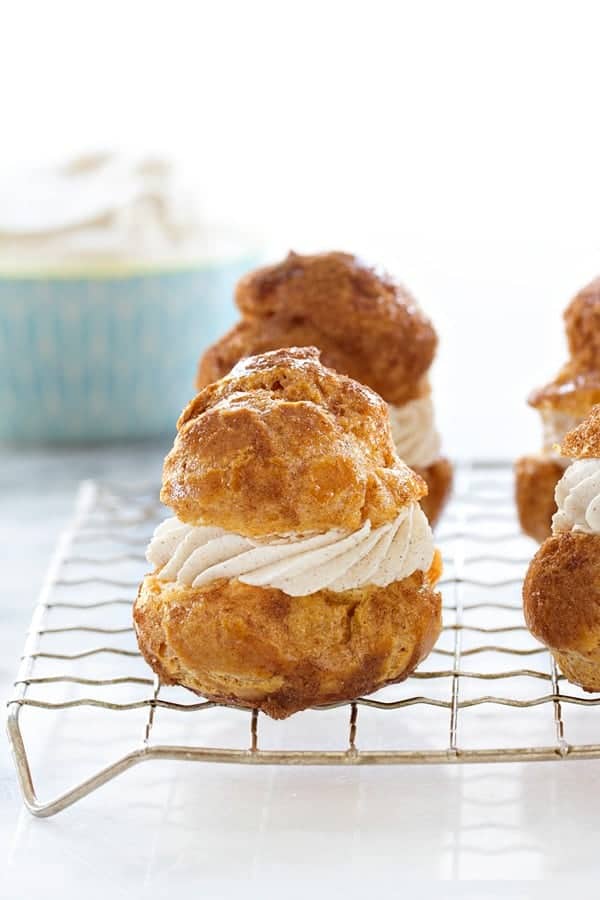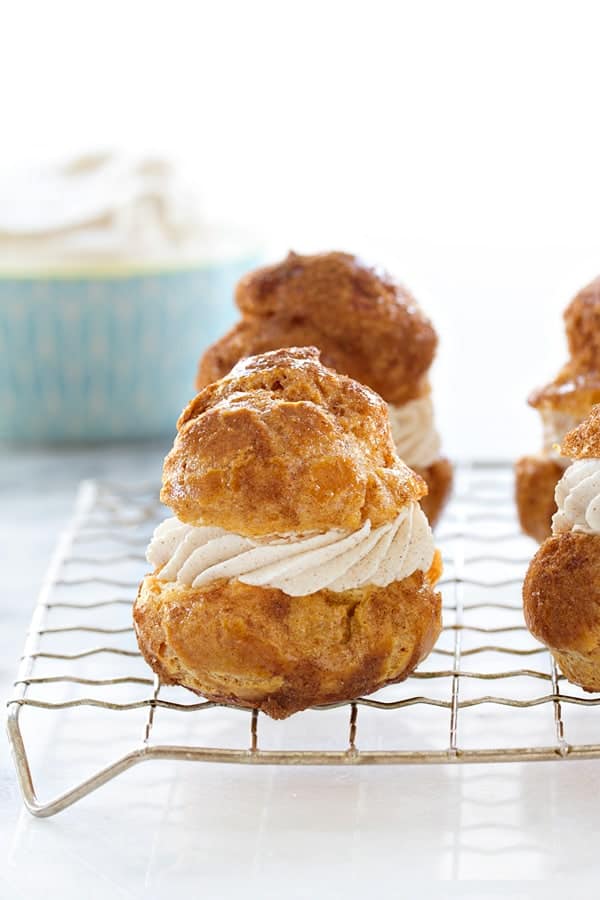 Not that I am a complete newbie to Pâte à Choux dough, I've definitely worked with it before, but it's just never been something that I find myself making on a regular basis – until now.
I think maybe the fancy-schmancy French name intimidates me just a tad, but in reality, making Pâte à Choux is probably easier than making a batch of homemade cupcakes. And my friend, Barbara, from the blog Barbara Bakes will hold your hand throughout the entire process and give you countless tips and baking secrets in her new book, Simply Sweet Dream Puffs.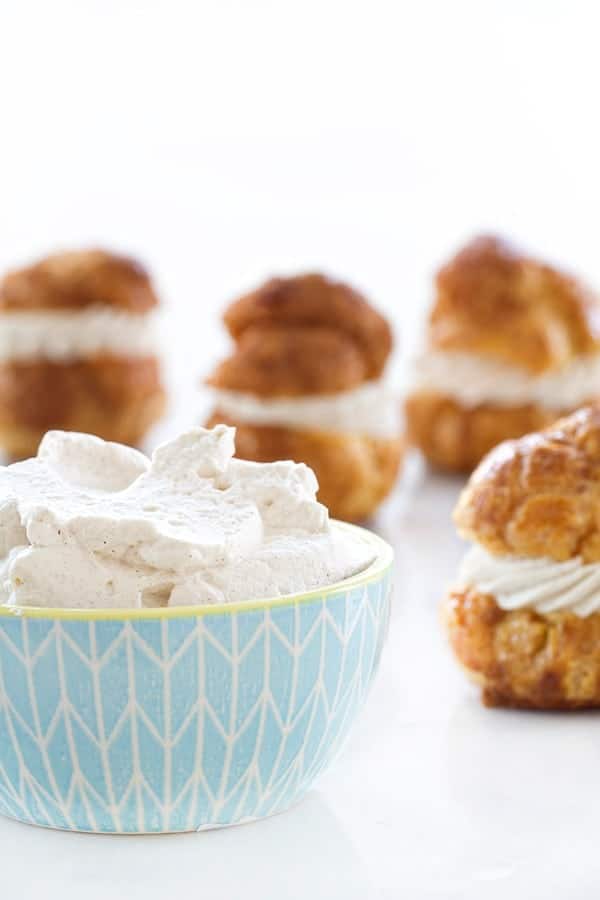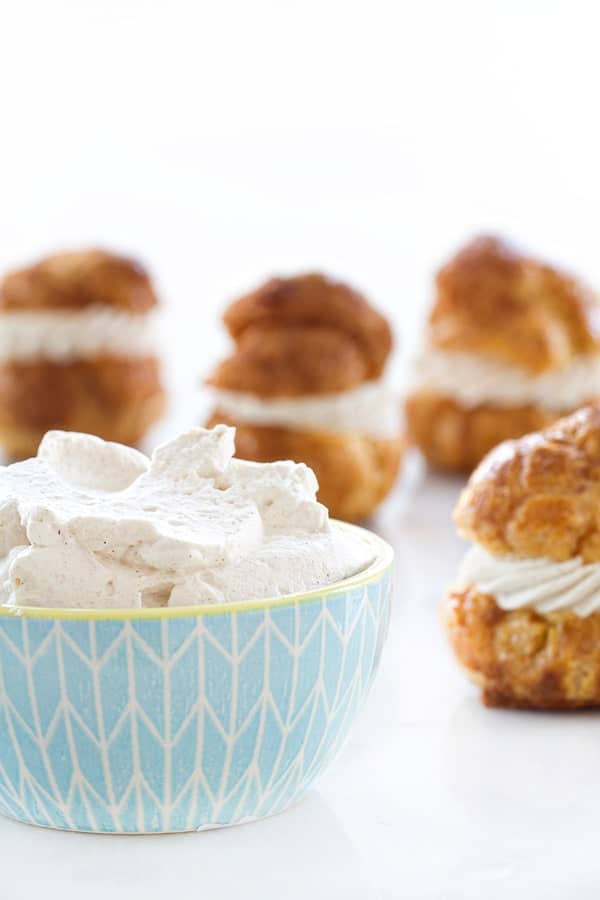 Simply Sweet Dream Puffs is a delightful and beautiful cookbook brimming with delicious recipes for cream puffs, eclairs, and profiteroles with dressed up with flavor combinations like S'mores Cream Puffs and Key Lime Eclairs. If you know me at all, you know those S'mores Cream Puffs are most definitely next on my list!
These Churro Cream Puffs came together with ease and I even had my little babe in the kitchen to help me paint the cream puffs with warm honey before sprinkling them with cinnamon and sugar. The filling is a simple whipped cream, sweetened with powdered sugar and flecked with ground cinnamon. Which, by the way, would be so perfect on pancakes and waffles.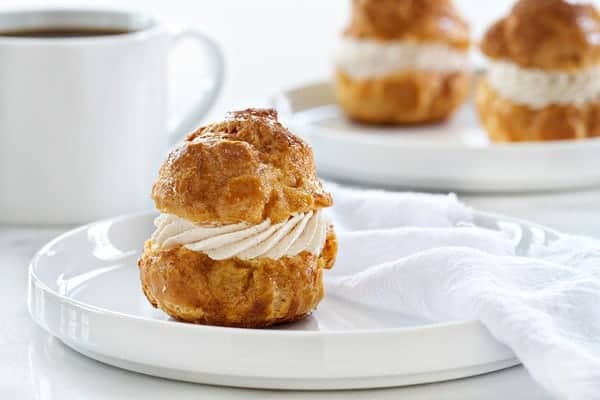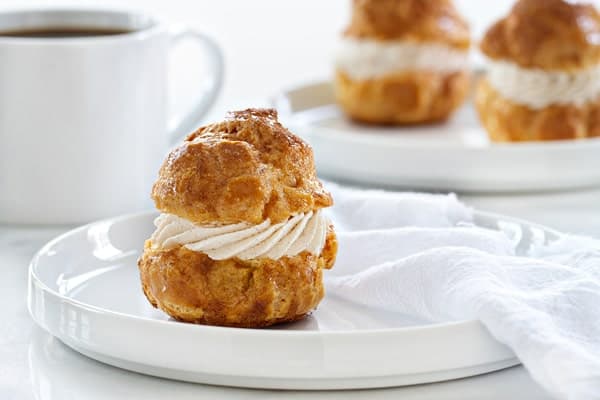 I served these up as dessert the other night, and they were gone in no time. And since I'm a good daughter, I passed some along to my mama. There was one left that I hadn't added whipped cream to, and I totally sneaked that for breakfast the next day, with leftover whipped cream. Worth every single, solitary bite (that I had to hide in the pantry to eat, because I was NOT sharing).
Be sure to check out Barbara's How to Make Cream Puffs video – she'll have you feeling like a pro in no time!
Churro Cream Puffs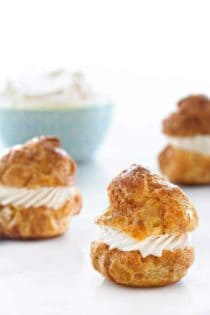 Ingredients:
For the Pâte à Choux:
3/4 cup all-purpose flour
6 tablespoons unsalted butter, cut into 6 pieces
1 teaspoon sugar
1/4 teaspoon salt
3 large eggs, room temperature
Egg Wash (optional)
1 egg
1 teaspoon water
For the Churro Cream Puffs:
1 tablespoon granulated sugar
2 teaspoons ground cinnamon, divided
2 tablespoons honey
1 1/2 cups heavy whipping cream
Pinch of salt
1/3 cup powdered sugar
16 Cream Puff Shells
Directions:
For the Pâte à Choux:
Preheat oven to 425°. Lightly grease baking sheets or line with parchment paper. Measure flour and set aside.
Bring butter, sugar, salt, and 3/4 cup water to a boil in a 3-qt. saucepan over medium-high heat, stirring occasionally. Immediately remove from heat, and quickly stir in flour mixture all at once. Return to heat and stir with a wooden spoon for 1 to 2 minutes, or until dough is smooth and forms a ball. Transfer dough to the bowl of an electric mixer, and let cool 5 minutes.
Add 3 eggs, 1 at a time, beating until mixture is smooth and glossy. Spoon dough into a pastry bag fitted with a 5/8-inch plain tip. Pipe dough onto prepared pans into 1 1/2-inch rounds (1 1/2 inches high). Smooth out peaks and round tops with a moistened finger.
Whisk together remaining 1 egg and 1 tsp. water. Brush tops of dough with egg mixture.
Bake at 425° for 5 minutes; reduce oven temperature to 375°, and bake 30 minutes or until puffy and golden brown. Turn oven off; let shells stand in closed oven 10 minutes. Remove from baking sheets to wire racks, and cool completely.
For the Churro Cream Puffs:
Preheat oven to 350°. Combine granulated sugar and 1 teaspoon cinnamon together in a small bowl. Set aside.
Microwave honey in a small microwave-safe bowl about 20 seconds, or until it starts to boil. Brush tops of cream puffs with honey and sprinkle with cinnamon-sugar mixture. Place cream puffs in a single layer on a parchment lined baking sheet. Bake for 5 minutes.
In a large mixing bowl, beat the heavy cream and salt at medium speed until soft peaks form. Add powdered sugar and cinnamon, and beat until stiff peaks form.
Spoon whipped cream into a pastry bag fitted with a small round tip. Pierce the side of each cream puff with a small knife to create a hole. Insert the pastry tip into the hole and fill with cinnamon whipped cream. (See note below)
Notes:
For extra crisp shells. Add the cinnamon and sugar coating to these cream puffs about 30 minutes before you want to serve them. Let cool for about 20 minutes, fill and serve.
I decided to slice my cream puffs before adding the filling.
Follow Jamie on Instagram. We love to see what you're baking from MBA! Be sure to tag @jamiemba and use the hashtag #mbarecipes!


This post may contain affiliate links. We are a participant in the Amazon Services LLC Associates Program, an affiliate advertising program designed to provide a means for us to earn fees by linking to Amazon.com and affiliated sites.