Brian and I both have a bit of an issue with overbuying items at the market. I tend to go a little crazy in the produce department, him at the meat counter. I'm easily wooed by gorgeous cherries, limes and leeks while Brian has never met a bacon wrapped anything that didn't catch his eye. So, when we part ways to simultaneously attack the grocery list, you can pretty much bet on us spending more cash than we intended – each, of course, blaming the other for the receipt total.
For example, last weekend we came home with a huge bag of clementines and about 2 pounds of thick-cut bacon. Neither of us really had a plan for these items – they pretty much just struck our fancy and made their way into the cart.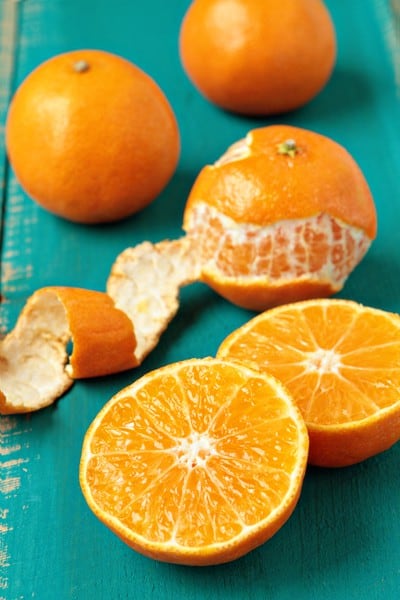 After consuming too many clementines to count, I decided I needed a clementine intervention and wanted to incorporate this sweet citrus into a refreshing summer dessert. Last week was all about the easy and the peasy here on MBA, so that was a definitive requirement for whatever recipe ended up in the print tray. After a little google browsing, I came across a recipe for an incredibly simple Clementine Granita that incorporates a little splash of white rum.
Could you ask for anything more Summery? Rum always makes me think of tropical vacations, and granita – well, I may as well be chilling in a cafe somewhere in the Mediterranean, right? I guarantee you'll be enjoying this recipe repeatedly until clementines disappear from the shelves come Fall.
Clementine-Rum Granita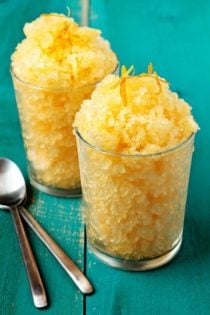 Ingredients:
3 cups fresh clementine juice, pulp removed (about 12 to 14 large clementines, juiced)
1/3 cup sugar, or to taste depending on sweetness of clementines
3 tablespoons light rum, optional
Directions:
1. Combine clementine juice, sugar, and rum, if desired, stirring to dissolve the sugar. Give the mixture a taste, if it is not sweet enough, gradually add in more sugar until you reach the desired level of sweetness.
2. Pour mixture into a 9-inch square pan or dish and freeze, stirring and raking the mixture with a fork every few hours, until frozen, 4 to 6 hours. Scrape the mixture with the tines of fork before serving.
Notes:
- If your clementines are small, you will need more then the 12-14 listed above.
- Recipe from Emeril Lagasse via Food Network
All images and text ©
Follow Jamie on Instagram. We love to see what you're baking from MBA! Be sure to tag @jamiemba and use the hashtag #mbarecipes!