It's Thursday! Which means only one more day until the weekend. Sadly, it also means that our spring break is quickly coming to an end. I've so enjoyed being home with Eric and Elle this week, plus I've had tons of time to make and photograph a bunch of recipes to share with you here on My Baking Addiction. From Monkey Bread Muffins to an incredibly delicious milkshake, I've been busy in the kitchen. Needless to say, that whole spring cleaning thing has been put on hold.
While attempting to start said spring cleaning, I got distracted when I was trying to clean out my pantry. It turned out that pouring M&M's into a Weck Jar for organizational purposes only diverted my attention to baking Giant M&M Cookies. I totally intended to eat my feelings with those M&M's, but I'm thinking they were better purposed as a delicious and pretty add-in to an already scrumptious chocolate chip cookie base.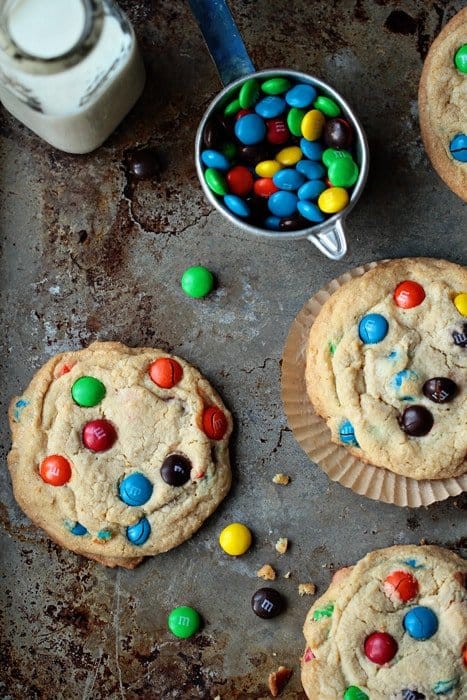 You can read all about the whole eating my feelings thing over on Food Fanatic where I'm talking about weather funks and my favorite chocolate chip cookies. After you read my post on Giant M&M Cookies, be sure to browse around, there's loads of incredible recipes.
Hello, Slow Cooker Cobbler! And a copycat version of Texas Roadhouse Cinnamon Honey Butter, which is pretty amazing. I've made it and slathered it on more biscuits than I care to admit. Don't judge me.
When you're done drooling over all those delicious recipes, you've got to make these cookies. Seriously, guys. It doesn't get much easier, and they are so full of happy.
If you're not into M&Ms, but still love the idea of candy in cookies, I have a Snickers Cookies version of this recipe here on My Baking Addiction. Trust me, you need to check it out.