Hosting your very own New Year's Eve snacks party is easier than ever when you turn to your favorite sweet and savory snack recipes. This year, throw a New Year's Eve party that adults and kids alike will love.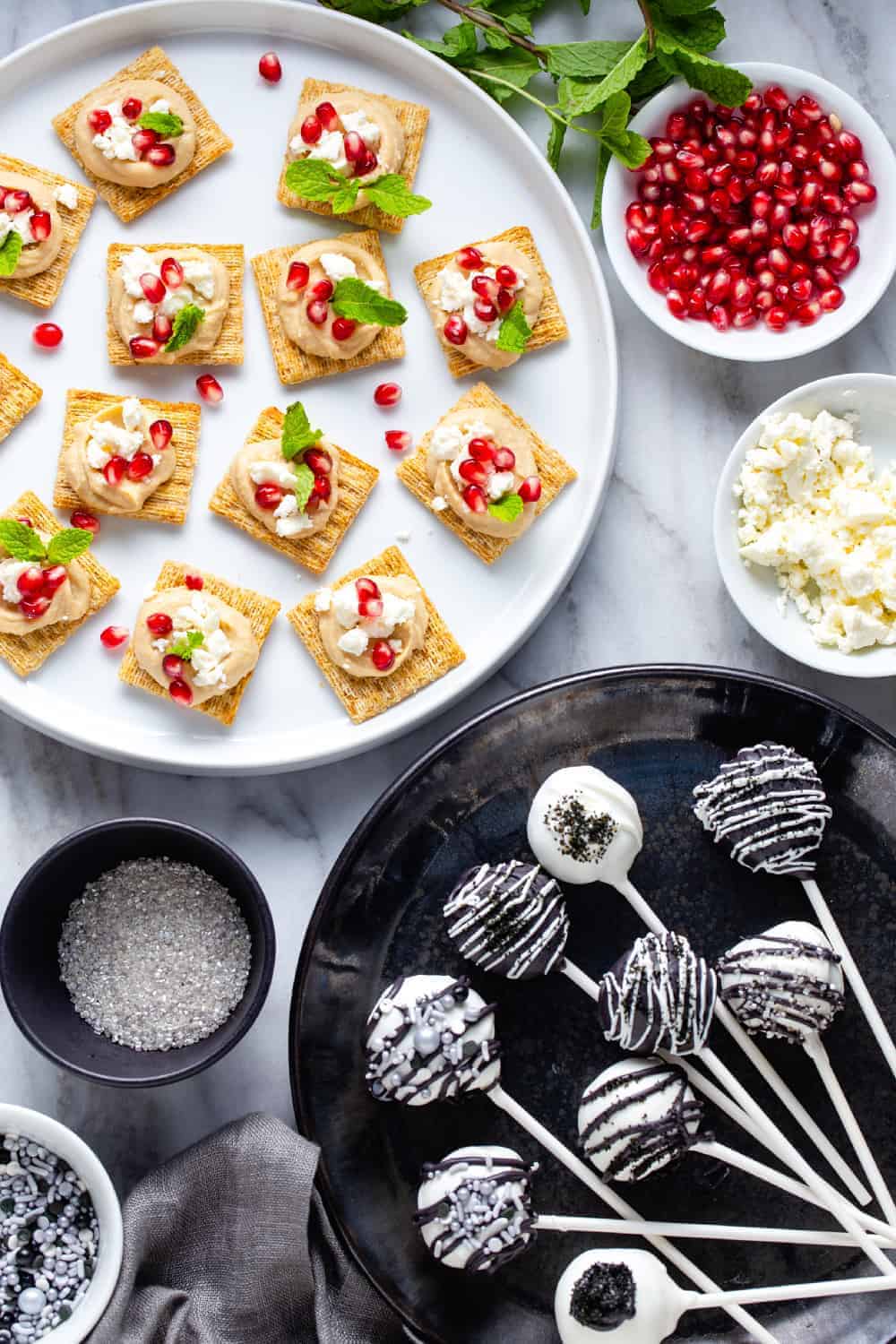 With the holidays approaching, holiday party invites are starting to go out and it's got me thinking about New Year's Eve already.
I know some parents like to spend New Year's Eve kid-free and use it as an excuse for a date night, but Eric and I have never gone that route. We always love to ring in the new year with Elle.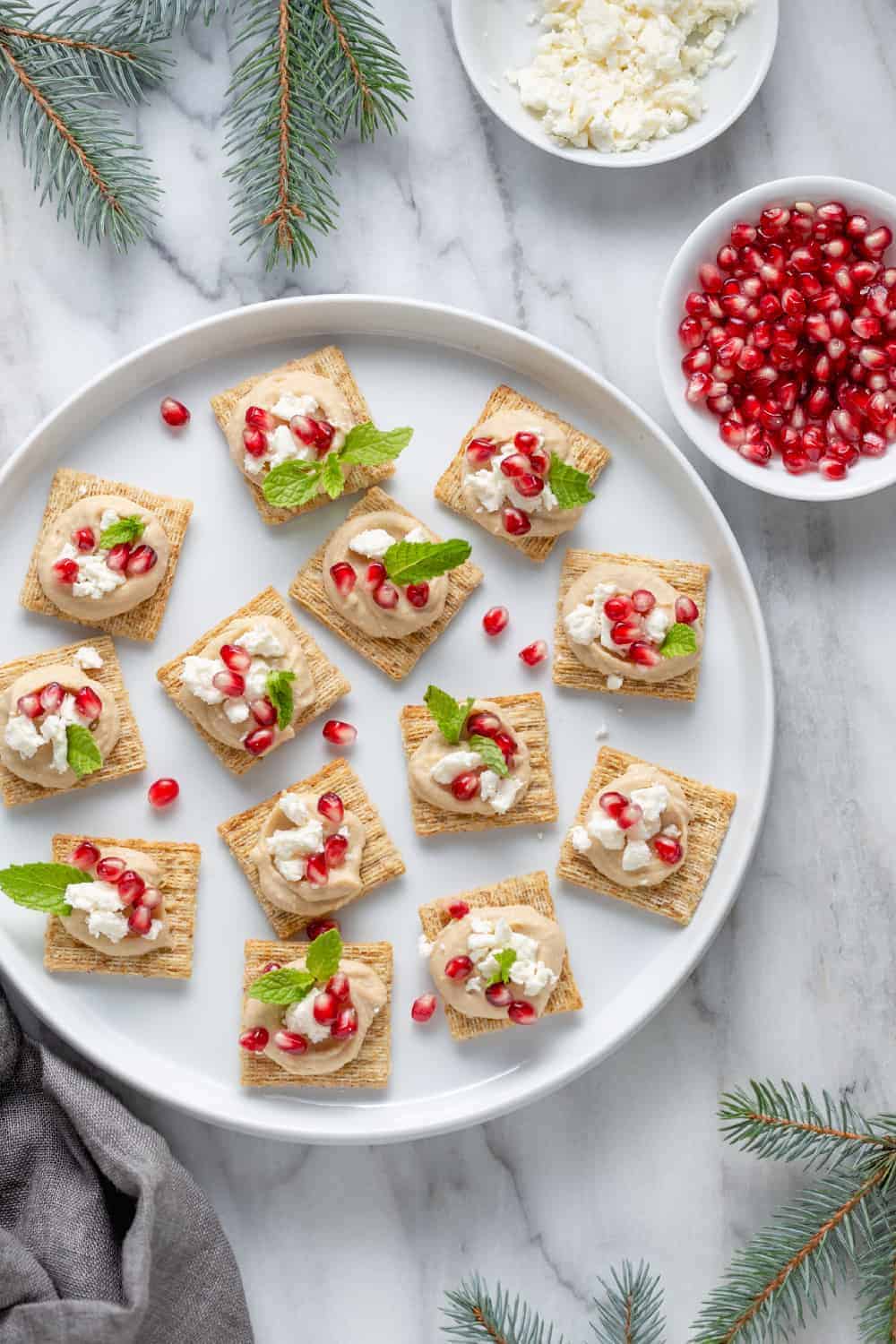 There's something kind of magical about welcoming in a new year and a "fresh start," and it's fun to see that magic through her eyes.
So this year, I thought we could host a New Year's Eve snacks party.
Why a snacks party? If you haven't figured out by now, I love a good appetizer or snack.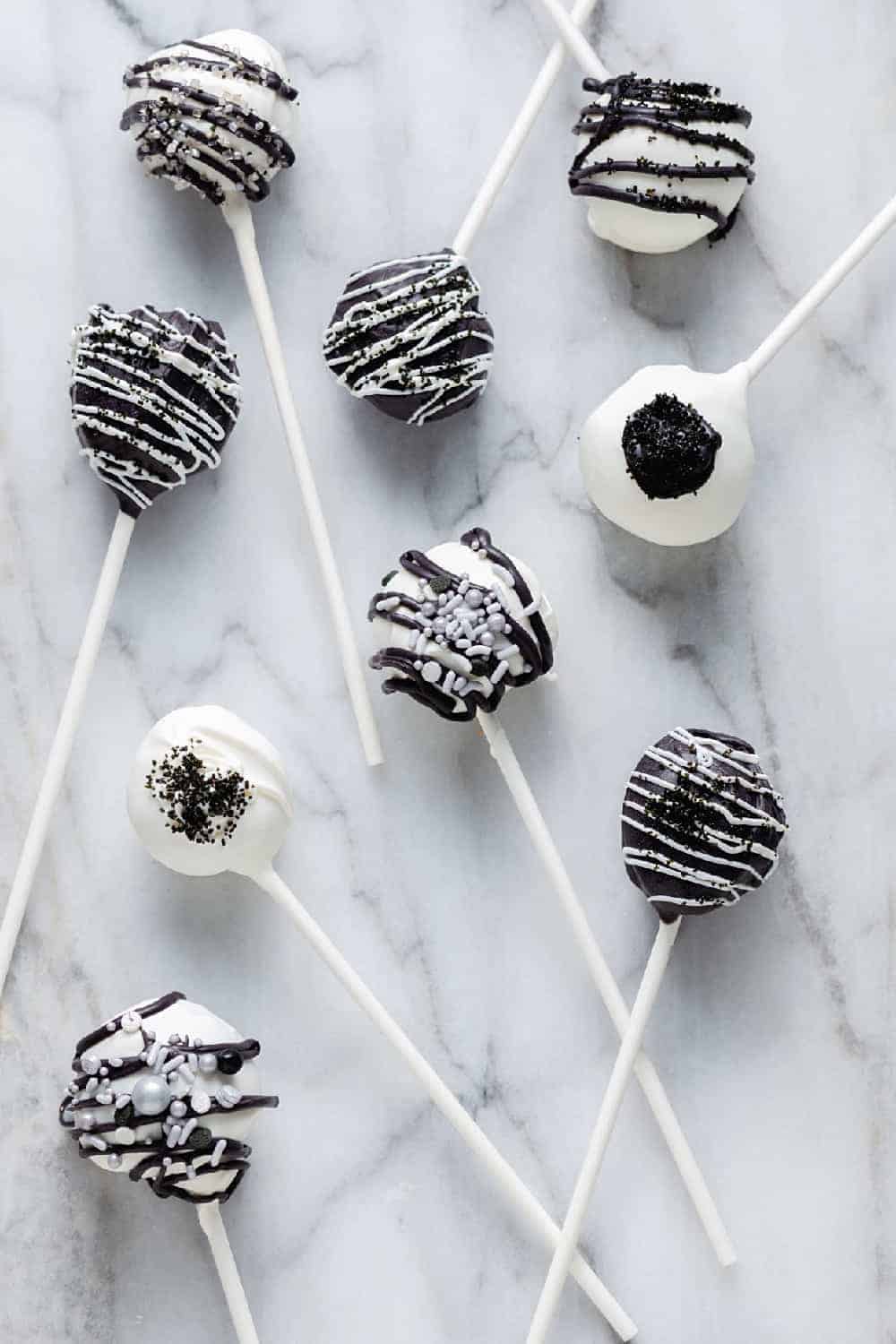 Whether I'm munching on Feta Cheese Ball or Baked Crab Rangoon, small bites are great to serve while I enjoy time with my friends and family. It's pretty much the best thing ever.
I can also guarantee that there are some loved ones I might not get the chance to see before the end of the holiday season. Throwing a New Year's Eve snacks party is a great "gift" to give to friends and family – sharing snacks and recipes is my own special way of gift giving during the holidays!
Plus, a snack buffet is perfect for kiddos, so you and your friends can easily celebrate the new year while involving kids if you like.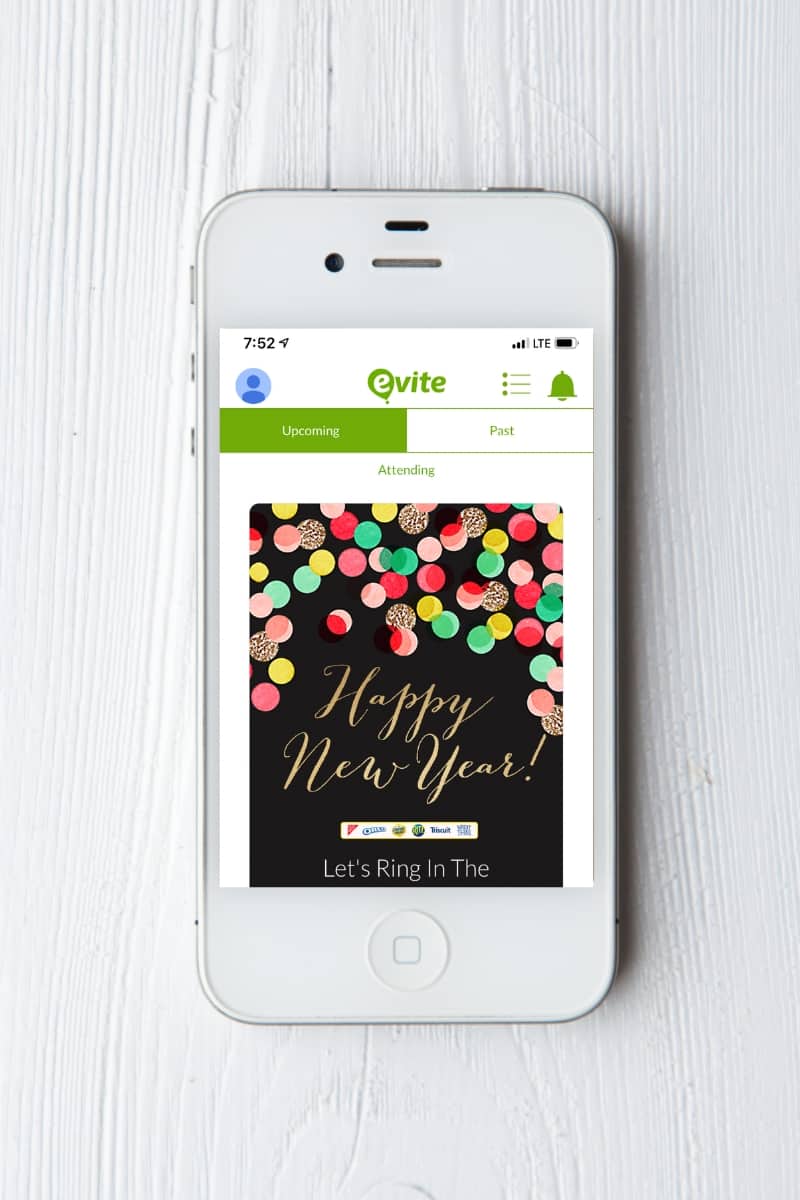 NEW YEAR'S EVE PARTY INVITATIONS
By the time I've sent out holiday cards – or, depending on the year, purchased holiday cards and then forgotten about them until the last minute – wrapped all the presents and decorated all the things, spending a lot of time choosing and mailing holiday party invitations is not something I have the energy for.
Thankfully, I know I can always turn to Evite for invitations that are both beautiful and easy to send.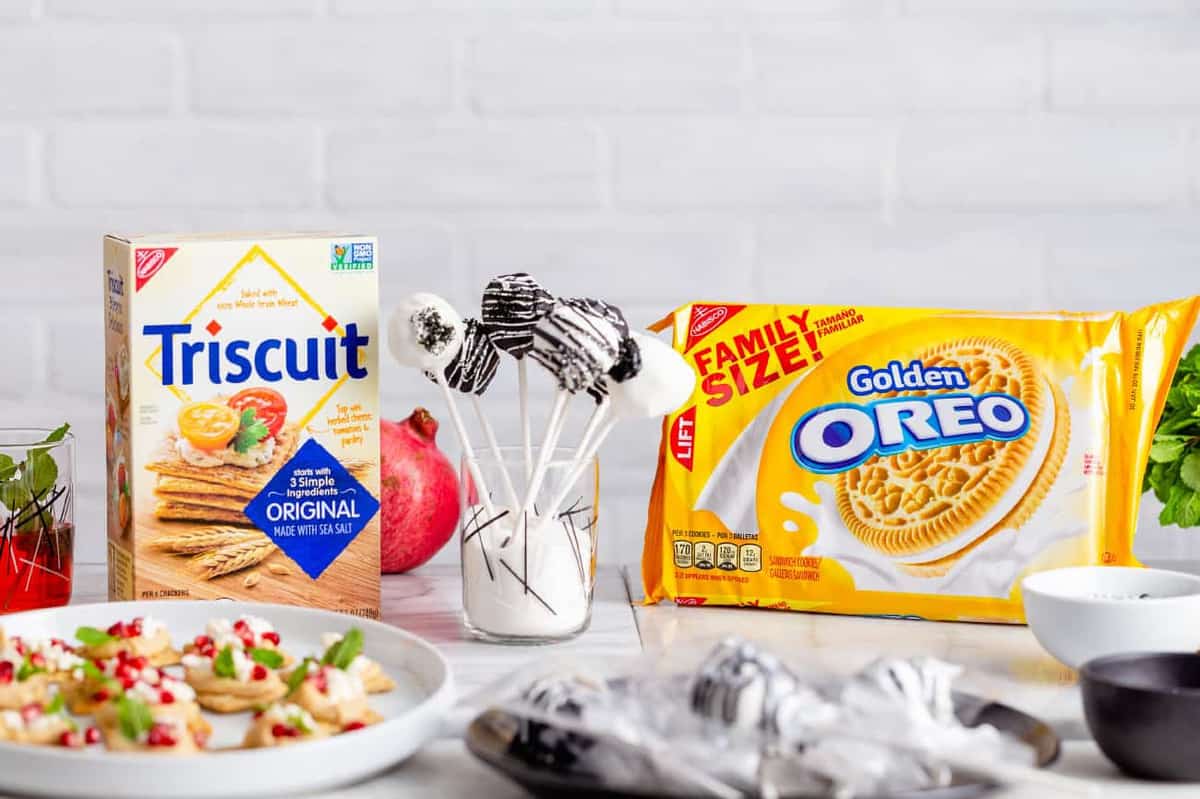 Right now I am loving the custom NABISCO® Evite invitations – they're the perfect match for our New Year's Eve snacks party!
I love using Evite invitations because they are seriously the easiest way to share invites during the busy holiday season – I am all about having one less thing to worry about. I can even send invites via text message for my friends who I know don't check their email. How cool is that?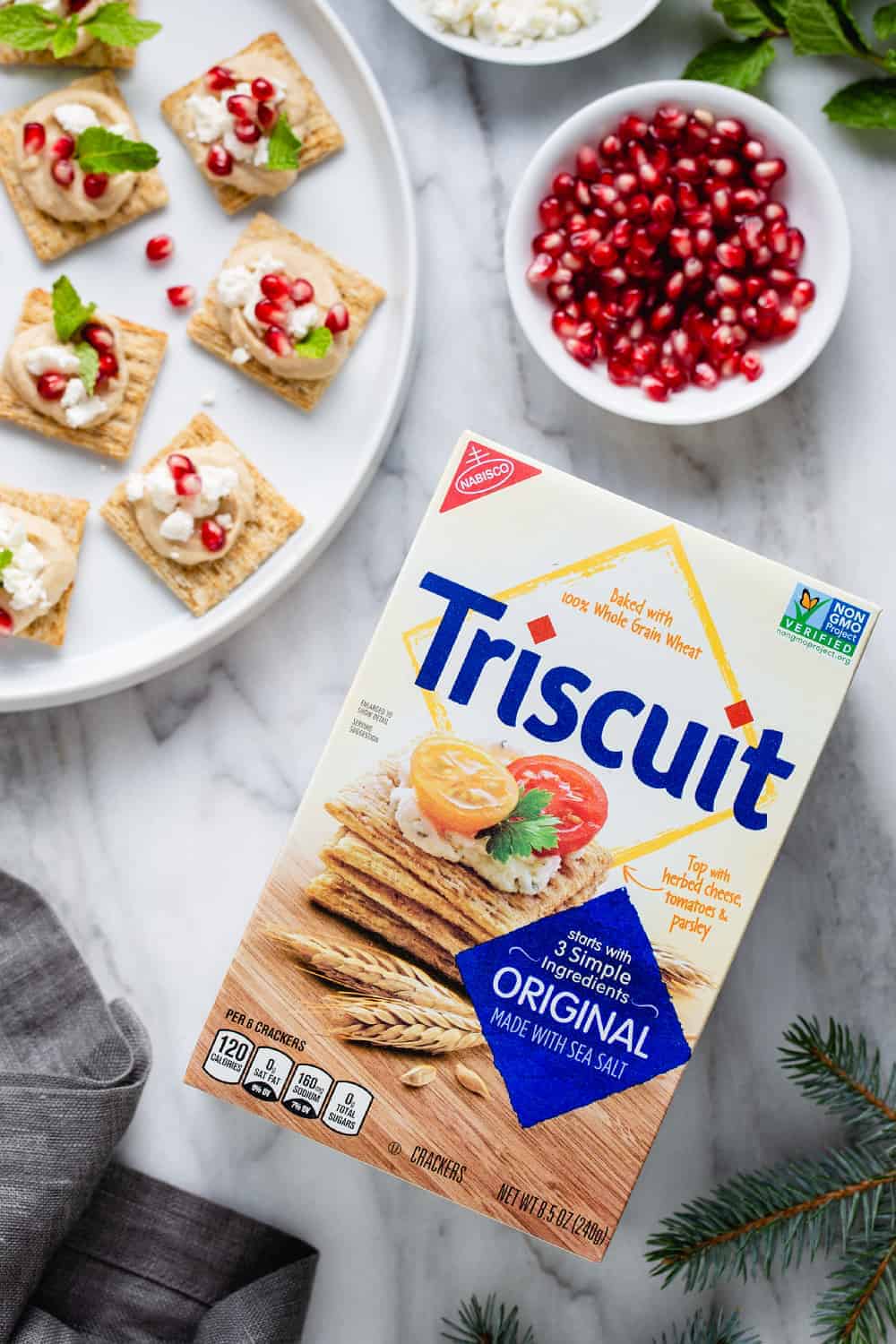 NEW YEAR'S EVE PARTY MENU
If we're going to host an awesome New Year's Eve snacks party, we have to put together an awesome snack menu.
When I'm planning an epic snack menu, I like to turn to snacks that I already love and incorporate them into fun and delicious recipes to serve to my guests. Bonus points if they're ingredients I can pick up at Target.
Because let's be real. Target is already my favorite place to shop and odds are good that I'm going to be picking up the rest of my party essentials there anyway. I'm all about that one-stop-shopping life.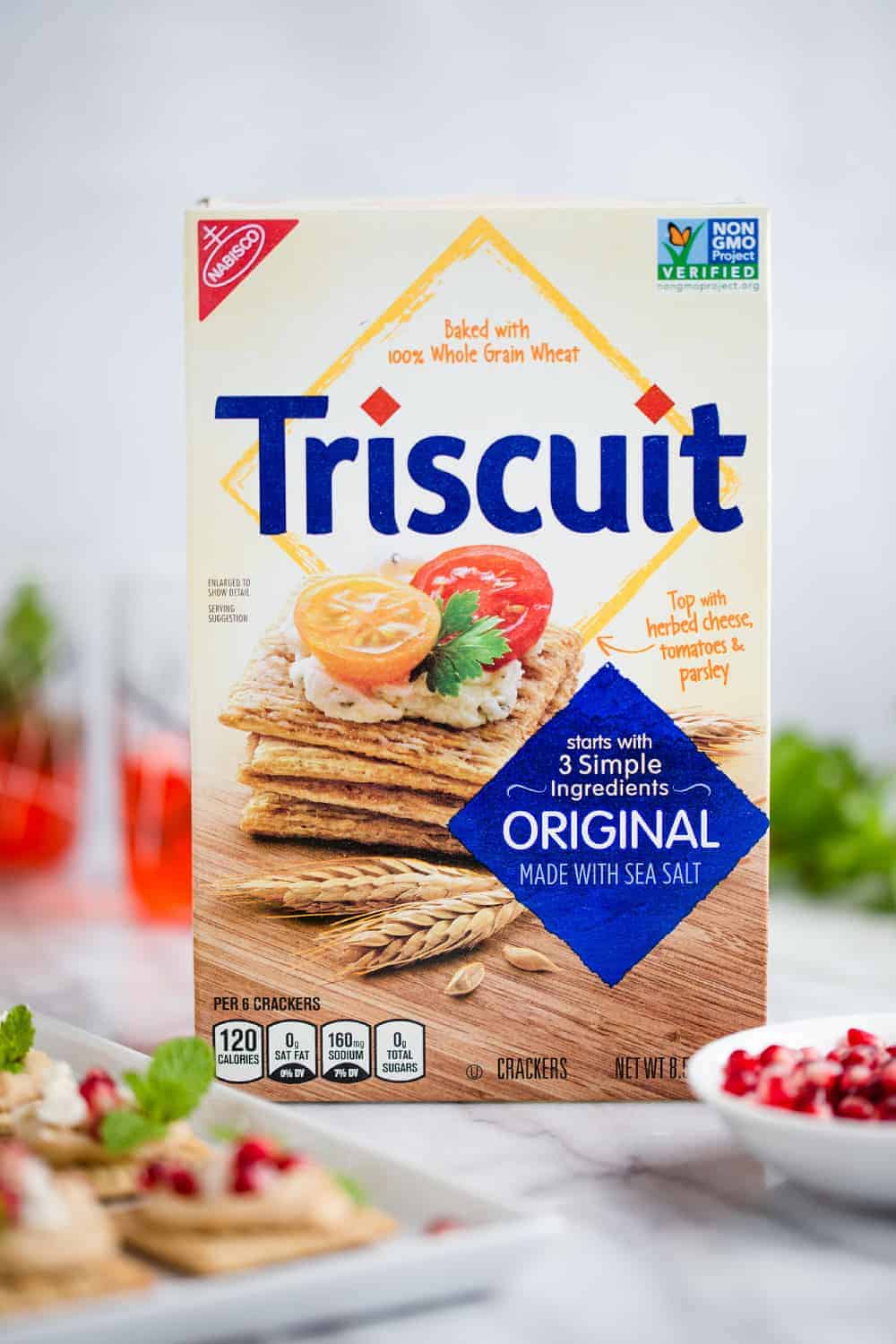 TRISCUIT® Crackers are something we love to snack on, and they make the ideal base for all kinds of party bites. This year, I'll be serving these yummy Hummus-Pomegranate TRISCUIT Toppers.
Hummus-Pomegranate TRISCUIT Toppers use just a handful of ingredients – our favorite TRISCUIT Crackers, hummus, pomegranate seeds, feta cheese and a garnish of mint. They're simple to pull together and appeal to all ages while still looking elegant when arranged on a platter.
I also like to involve my guests in helping with a snacks party menu. It's fun to see what my friends' favorite appetizers are, so I ask everyone to bring a snack to share. Not only does it cut down on the prep for me as the host, the guests get to learn a little bit more about each other as they munch away and share about their contributions.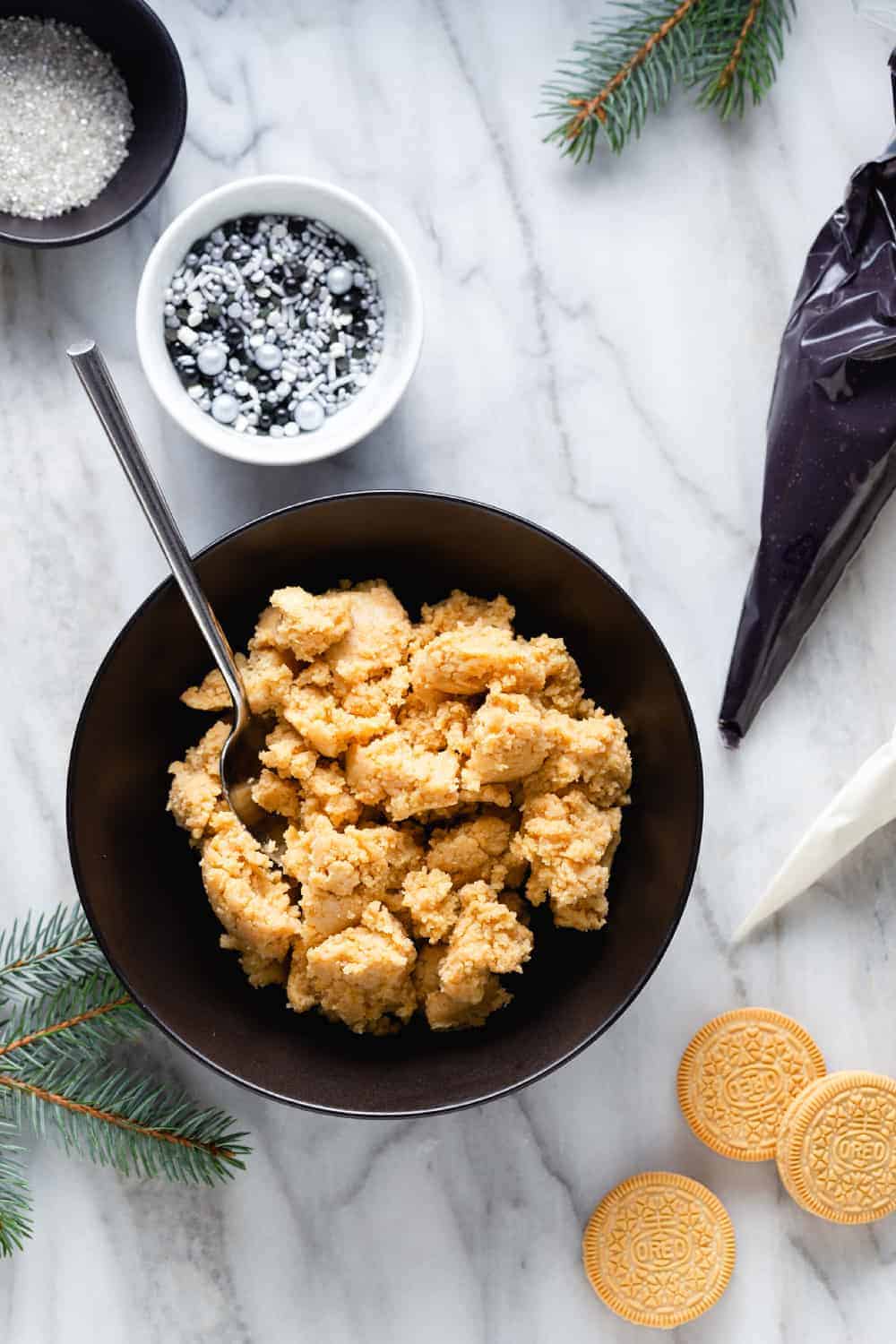 NEW YEAR'S EVE PARTY FAVORS
It's hard for me to send guests away without something in hand. I want party favors to be something my friends and family will enjoy, though. Would it surprise you if I said I turn to food gifts a lot for this?
In the past I've given small bottles of infused vodkas and jars of Chocolate Toffee Popcorn. This year, I wanted to go with something that kids and adults alike would love but would still have an elegant NYE look.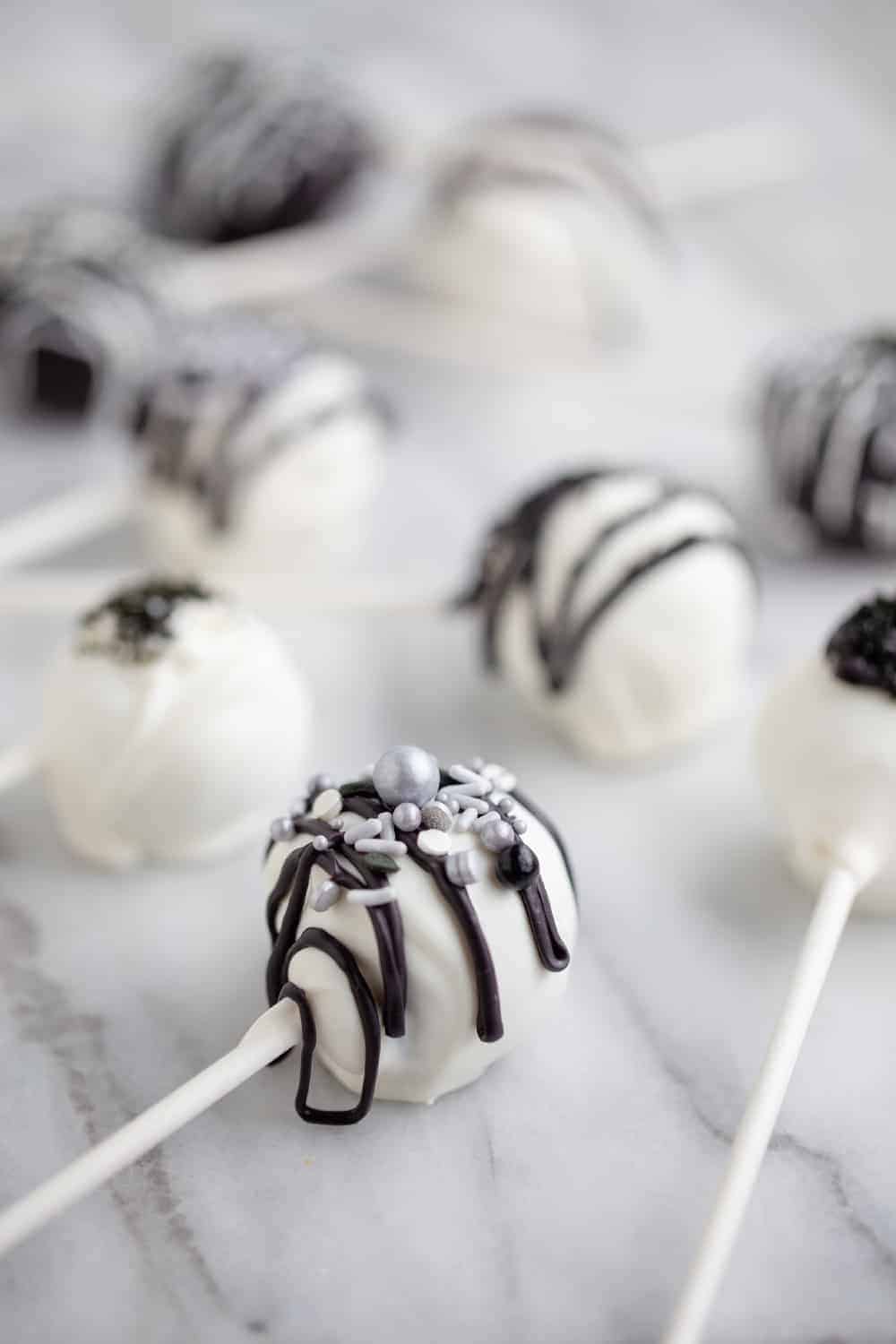 These Black and White Golden OREO® Cookie Pops are without a doubt the prettiest and tastiest New Year's Eve party favors that can double as dessert.
They use crushed Golden OREO Cookies and cream cheese as their base, decorated with black and white candy coating wafers and accented with silver sprinkles, decorating sugar and nonpareils.
I like to wrap up the finished Black and White Golden OREO Cookie Pops in clear treat bags tied with a ribbon around the sticks. Guests can enjoy them at the party or take them home for later.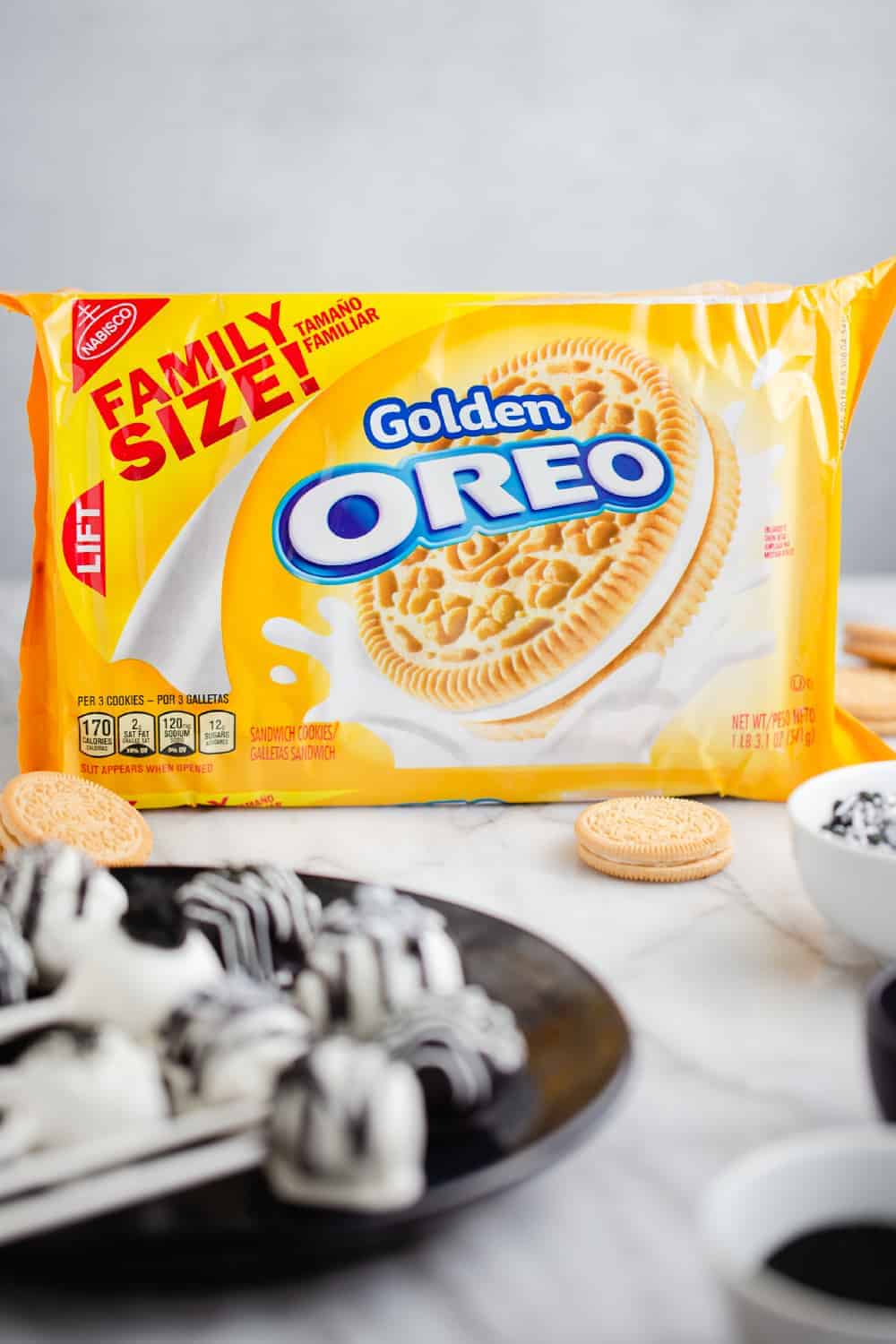 Just like the Hummus-Pomegranate TRISCUIT Toppers, these cookie pops are a recipe that guests of all ages will love, but will make your buffet table look beautiful.
Try filling a jar or seasonal glass with sugar and use it as a base for holding your beautifully decorated cookie pops. They're centerpiece, dessert and party favor, all in one sweet bite.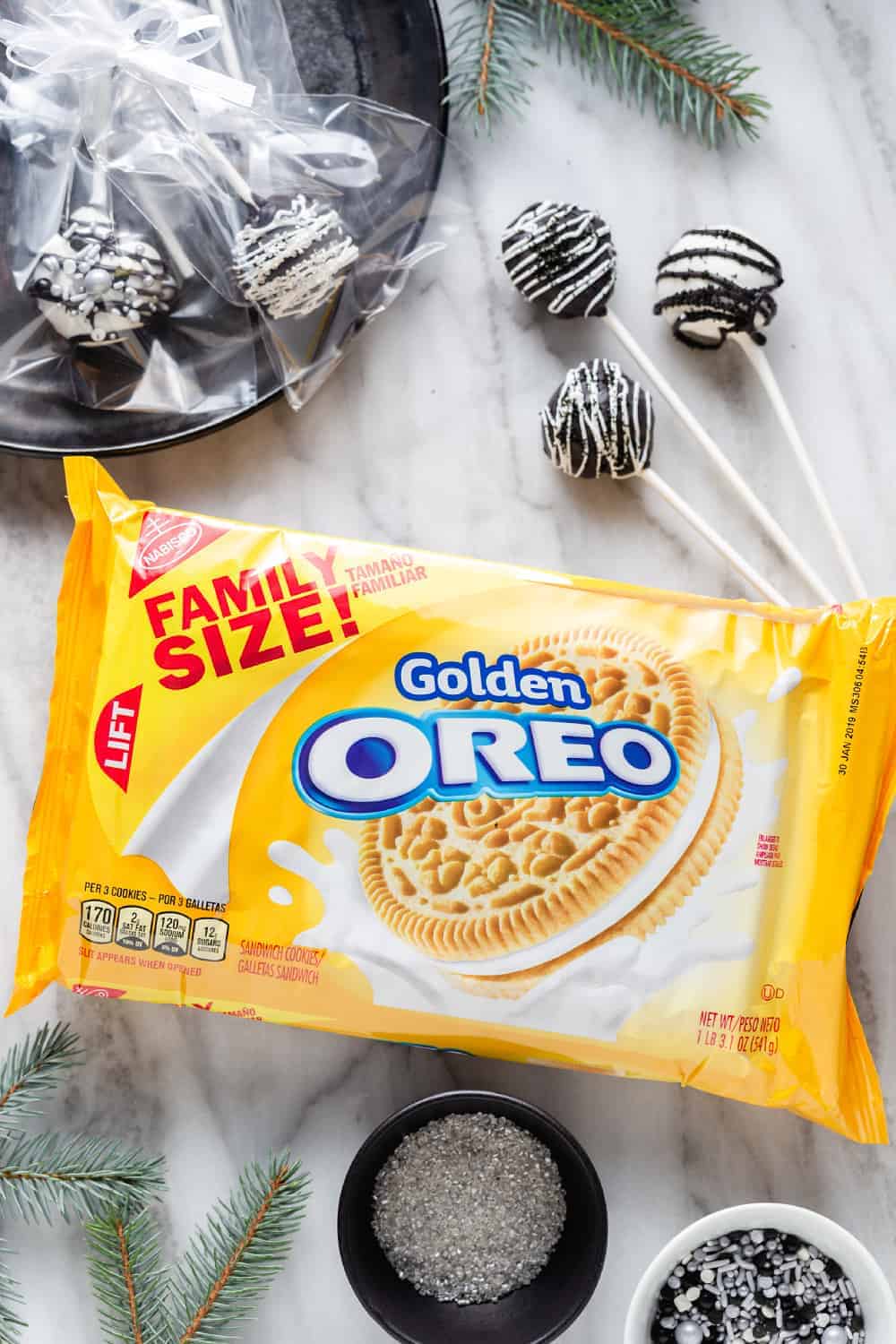 This holiday season, be sure to visit the Tidings and Tinsel party hub for more delicious recipes and holiday party inspiration.
Check out the Cartwheel offers for NABISCO Snacks in the Target app for additional savings!