Peanut Brittle is a classic holiday candy. Package your homemade brittle up in pretty tins for a delicious homemade holiday gift.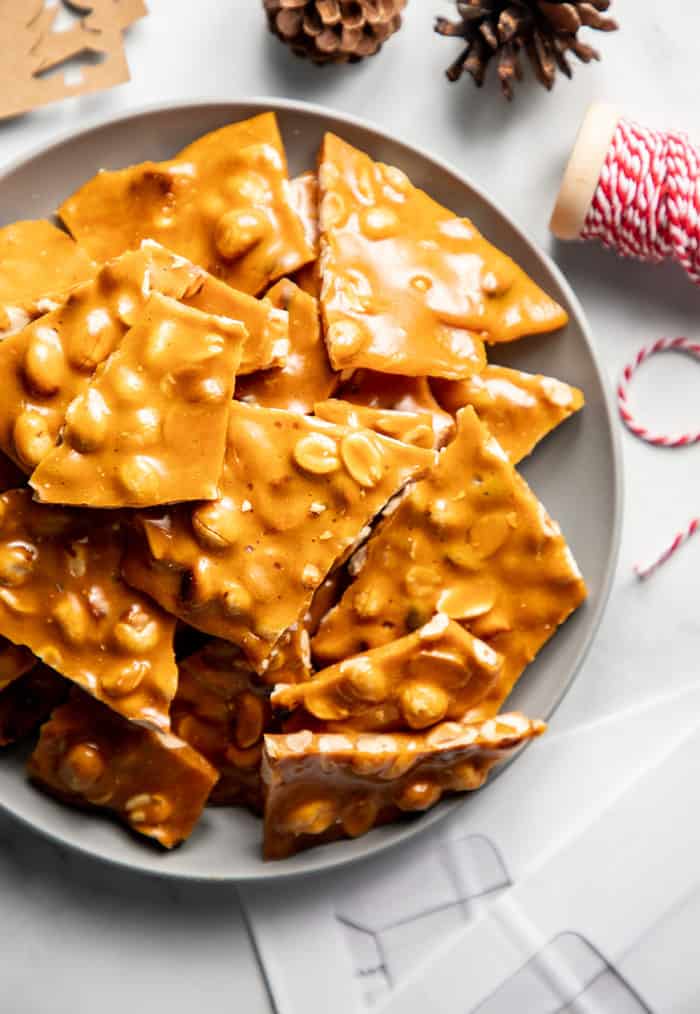 I always associate peanut brittle with the holidays, even though you can make it any time of year.
My nana – who taught me how to make pumpkin rolls, among other holiday favorites – always had a tin of peanut brittle out during the holidays. When I want to feel like I'm with her again, a piece of peanut brittle always does the trick.
This easy homemade candy is a crowd pleaser thanks to that crunchy sweet and salty combination. It is so great to add to a holiday cookie platter or package up to gift to friends and neighbors.
Really, you can't go wrong with this classic!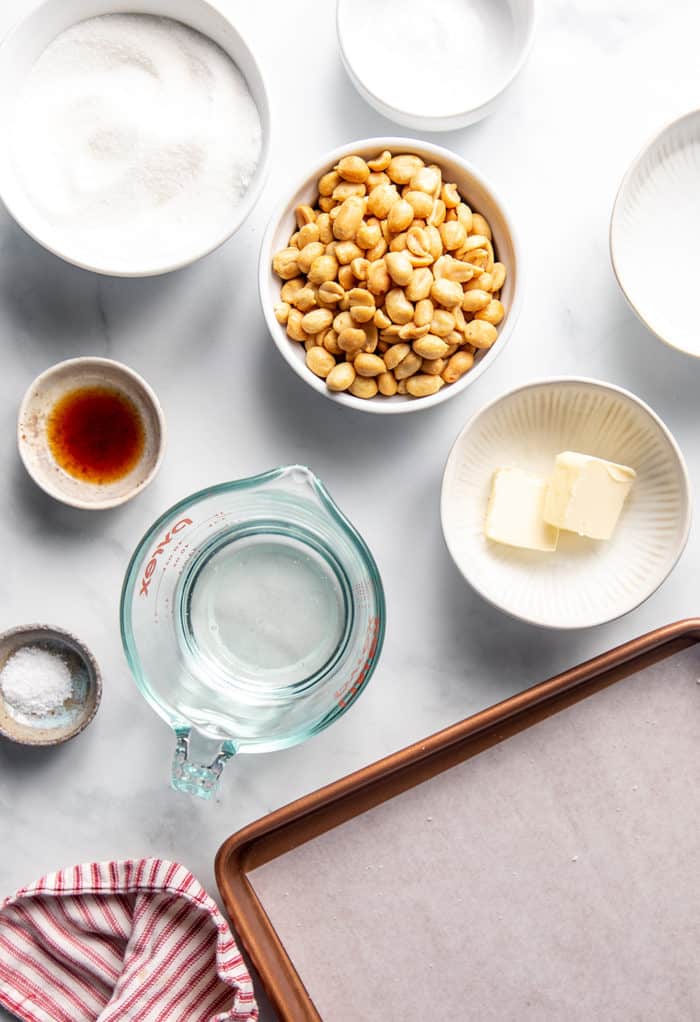 WHAT IS BRITTLE?
You've probably enjoyed pecan brittle or mixed nut brittle before, but you might not know what exactly it is.
Brittle is a candy made of hard, cooked sugar and pieces of nuts. It's usually very thin, which allows it to break easily — hence the name brittle!
There are variations of brittle around the world made with things like pistachios or sesame seeds (I really can't stop thinking about sesame brittle), but my favorite is peanut brittle.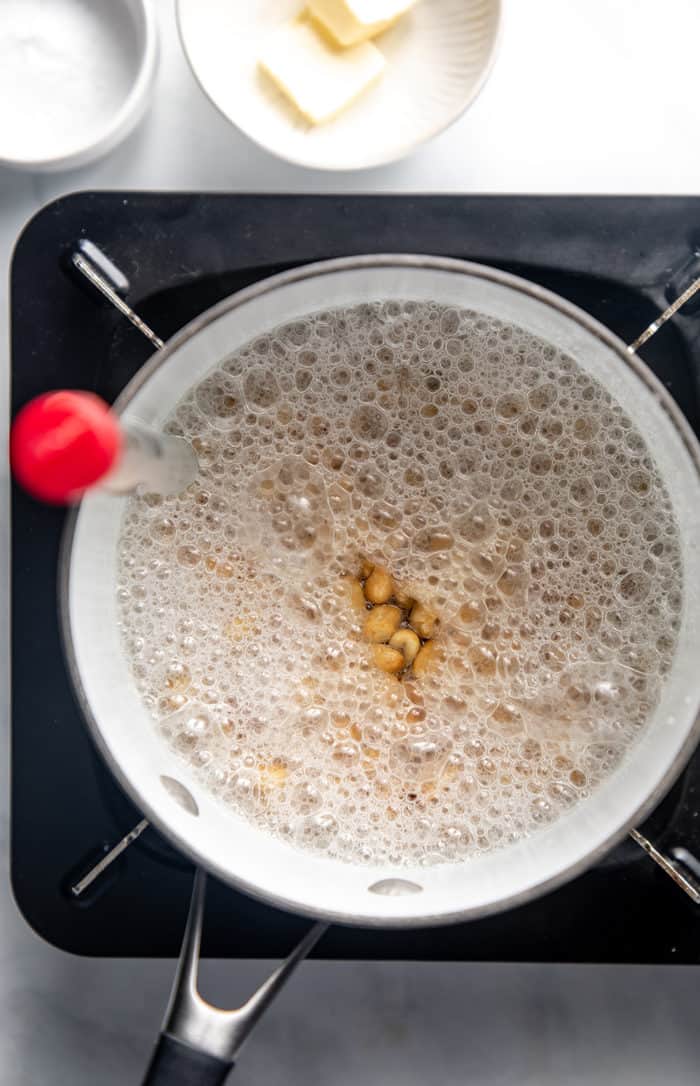 INGREDIENTS FOR THIS PEANUT BRITTLE RECIPE
Homemade candy seems intimidating, but you only need a few ingredients. In fact, you might already have everything on hand!
Granulated sugar
Corn syrup
Salt
Water
Salted peanuts
Butter
Vanilla extract
Baking soda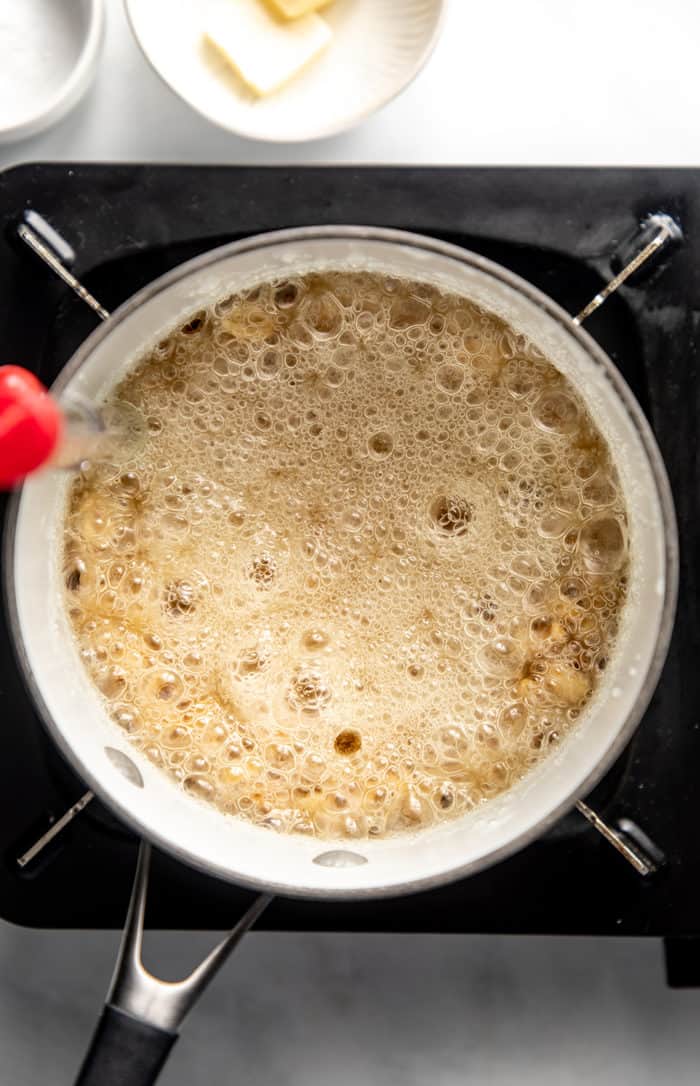 Don't be concerned about the corn syrup here. It helps the candy form without sugar crystals to make it smooth. It also ensures the candy cools with a nice hard crack.
Be sure to use salted peanuts. You can use lightly salted if you prefer, but the salt adds so much flavor to the recipe.
For a variation, you could add a small amount of ground chile pepper to make a sweet and spicy candy!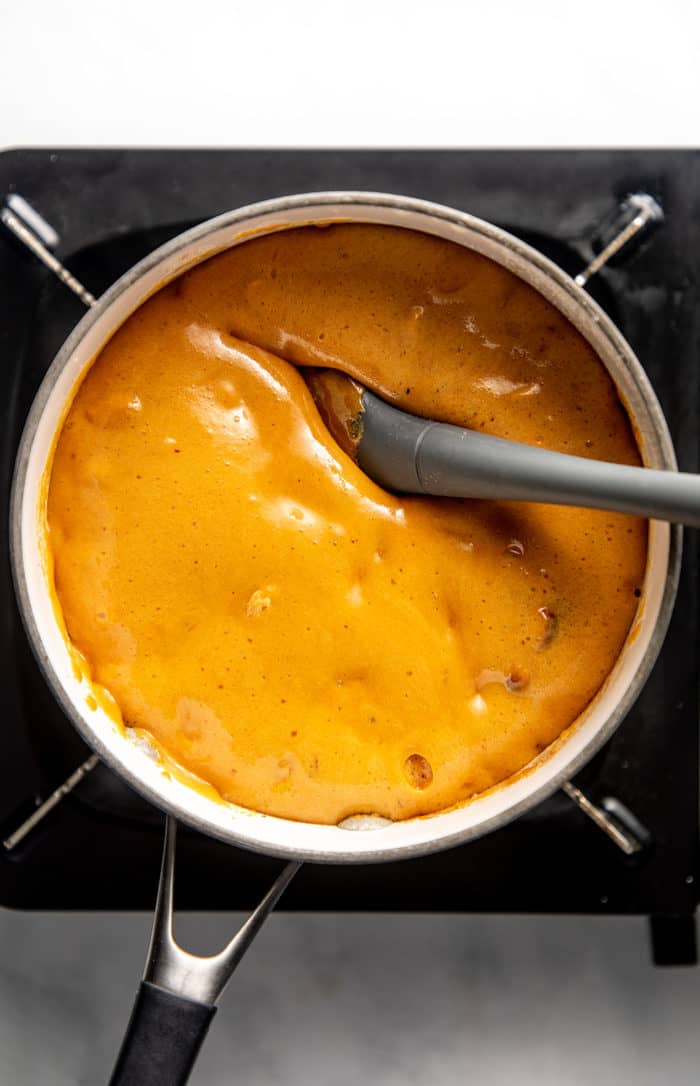 RECIPE TIPS
To make homemade peanut brittle, there are a few things to keep in mind.
Gather your ingredients and tools ahead of time! When making candy, the process goes from slow to quick in the blink of an eye, and having everything ready will ensure a successful batch.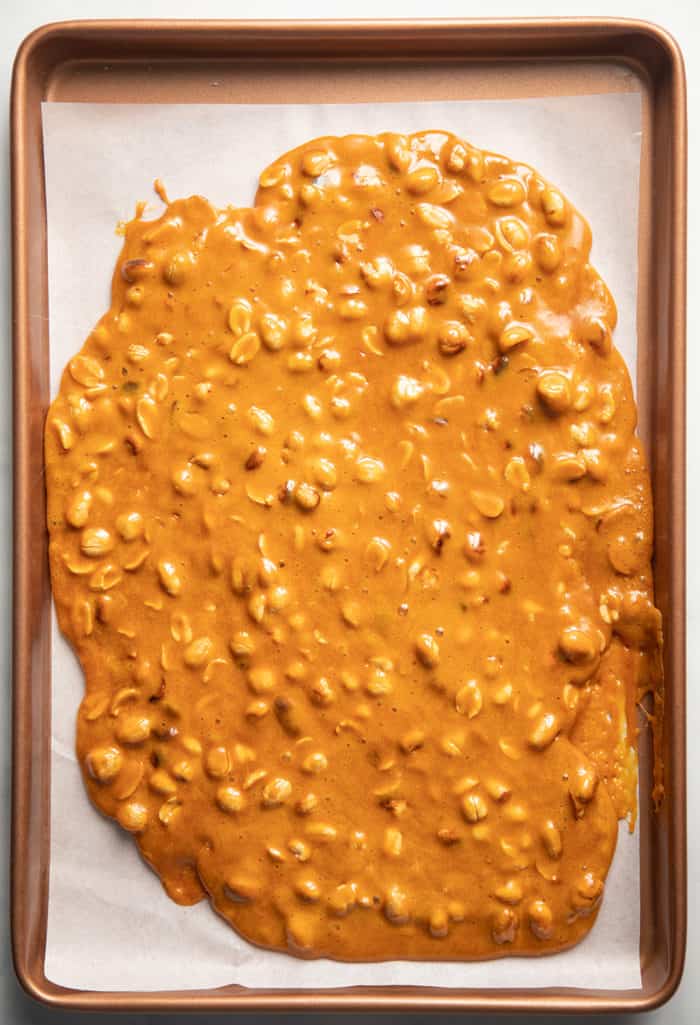 Use a candy thermometer. This is an absolute essential for making candy. Candy thermometers are inexpensive and can be found at big box stores or even the grocery store. Plus, they clip onto the side of your pot, so you don't need to worry about holding it in place.
Pour the cooked candy carefully onto the baking sheet. Remember, you just brought it up to 300°F!
Let the peanut candy cool completely before breaking it into pieces. The brittle should snap apart easily without needing to use a knife.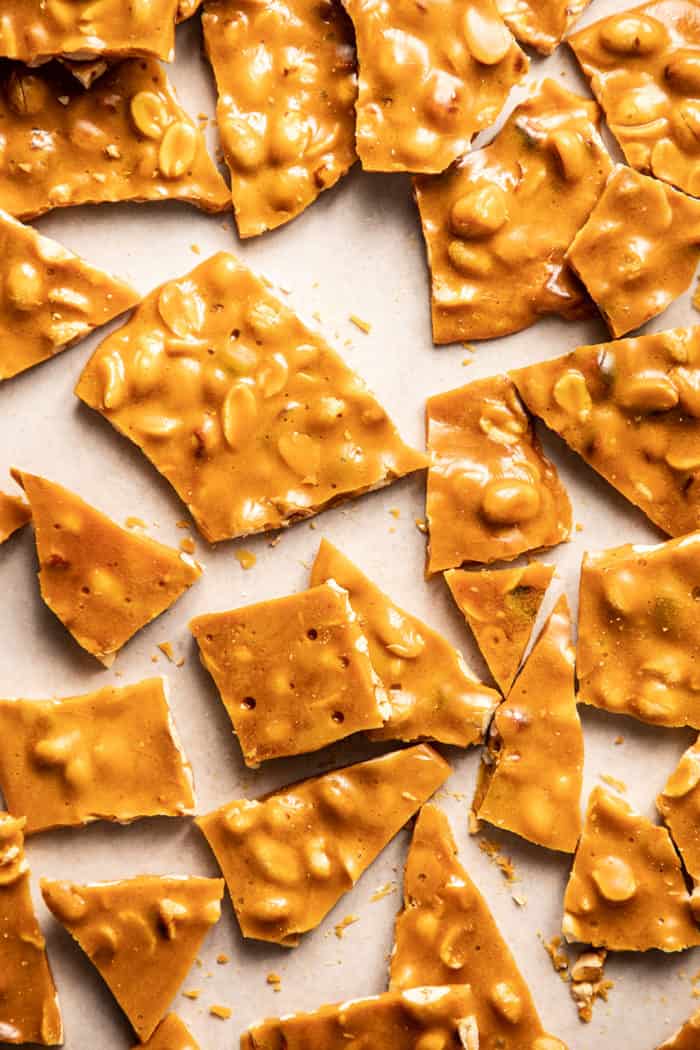 STORAGE TIPS
If you're making this peanut brittle recipe for gifting, you're in luck! It stores beautifully packaged into holiday tins. Be sure to line the tins with waxed or parchment paper for easy cleanup.
Homemade peanut brittle should be stored in an airtight container at room temperature.
Do not store it in the refrigerator, as it can take in moisture and lose its snap.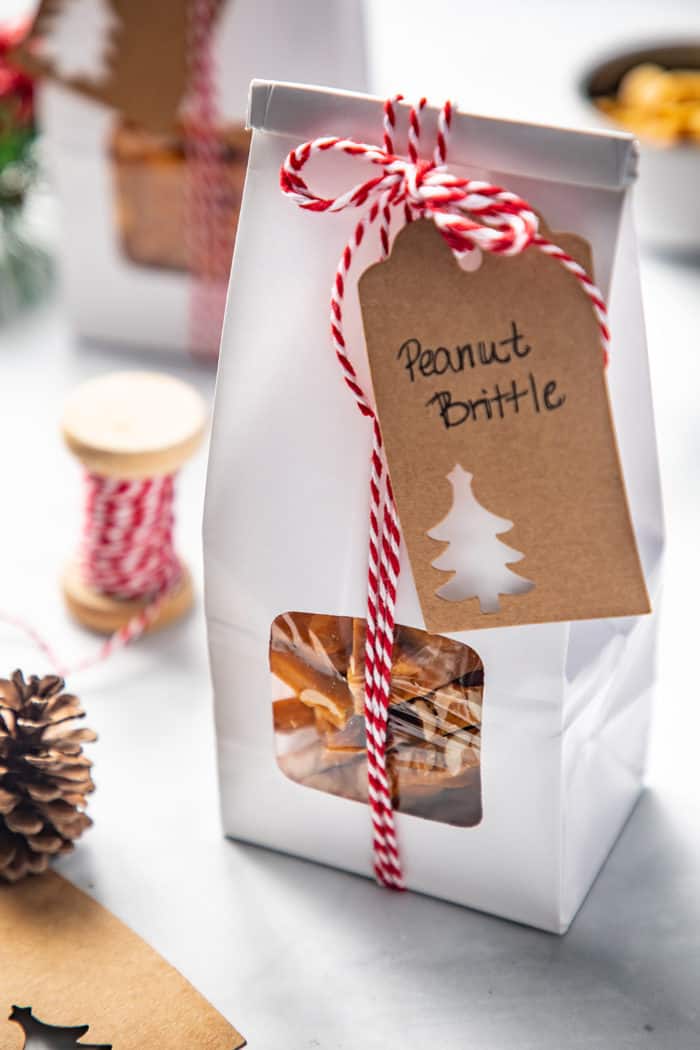 However, you can freeze it! Place the brittle into an airtight, freezer-safe container. It can last for up to 3 months.
When storing on the counter, make sure the container is tightly sealed. Brittle should last for up to 3 weeks.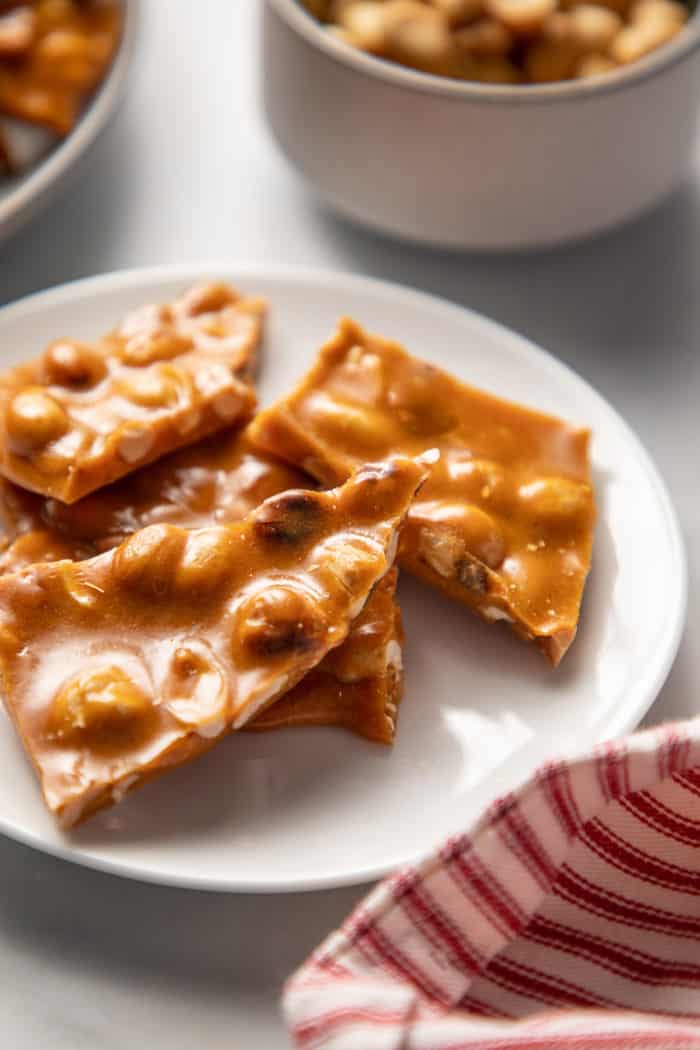 If you live in a humid climate, I recommend layering your brittle between pieces of waxed paper to prevent any sticking.
Pack this peanut brittle recipe with chai spiced candied pecans for the perfect holiday gift!