Simple Pumpkin Cheesecake Trifles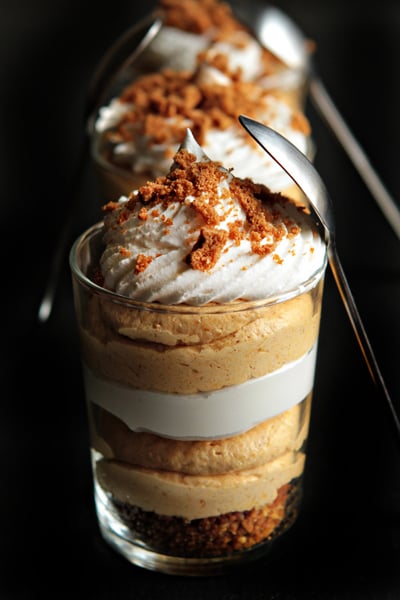 I seriously can't believe that Thanksgiving is in 3 days! I am so not ready, not even close. The post-it note hanging from my monitor that I creatively titled "Thanksgiving" has one item written on it – Turkey. Yep, according to my list, all I need is a turkey.
If I am being honest, cooking on Thanksgiving sort of annoys me. Sure it's great to hang out with the family and eat until we all slip into a tryptophan-induced coma, but seriously have you ever actually analyzed the process? Let me break it down for you.
Here is how my prep goes:
Wednesday Morning: Make pie and pumpkin roll. (2 hours)
Wednesday Afternoon: Head to grocery store for all the fixings – after I finish my list. (1.5 hours)
Pick up the turkey that I ordered thanks to the aforementioned post-it note (30 minutes)
Wednesday Evening: Head to "stuffing night" with Brittani's family (3 hours)
Wednesday Night: Brine Turkey (1 hour)
Thursday Morning: Start cooking and continue cooking all whilst making an insane mess and chasing off my father who will inevitably be trying to pluck turkey skin from a piping hot bird. (5 hours)
Thursday Evening: Eat dinner (10 minutes)
Thursday Evening: Clean the kitchen while everyone else suffers from the aforementioned turkey coma. (Eleventy billion hours)
So let's see – 14 hours of prep and an endless line of dishes afterwards for 10 minutes of eating pleasure? Yeah – can ya tell why it kind of irks me?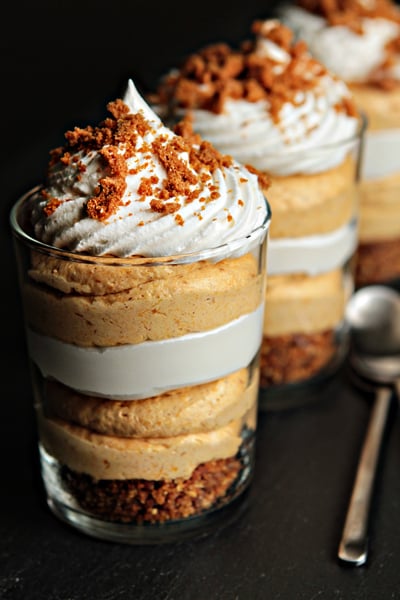 If your Thanksgiving schedule looks anything like mine, you may be in search of a quick, delicious dessert that can be prepped and assembled in minutes. I'm coming to your rescue (and my own) with these simple Pumpkin Cheesecake Trifles. They start with a base of crushed Biscoff cookies followed by a velvety layer of pumpkin cheesecake filling and are finished with a swirl of whipped topping. In a small glass, these elegant trifles are sure to be a hit at any Thanksgiving table. And as a bonus, those little trifle glasses are dishwasher safe!
I hope your Thanksgiving week is off to a delicious start!
[pinit]

Pumpkin Cheesecake Trifles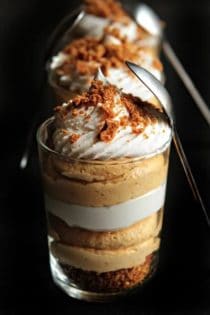 Ingredients:
12 Biscoff Cookies, crushed into crumbs
1 tablespoon unsalted butter, melted
8 ounces cream cheese, softened
1 cup pure pumpkin puree
1 teaspoon pure vanilla extract
1/2 cup sugar
2 teaspoons pumpkin pie spice
1 large tub (12 oz.) whipped topping (Cool Whip), thawed, divided
Directions:
In a medium bowl, combine Biscoff Cookie crumbs and butter. Divide the crumbs into the bottoms of your trifle glasses. Gently press crumbs to form an even layer of crust.
In a large bowl with an electric mixer, beat cream cheese until smooth.
Add pumpkin, vanilla, sugar and pumpkin pie spice. Beat until well combined and creamy.
Use a spatula to fold in half of the whipped topping. Gently combine ingredients until no streaks remain.
To Assemble the Trifles: Pipe or spoon a layer of pumpkin cheesecake onto the Biscoff crust followed by a layer of whipped topping. Repeat layers until your trifle reaches the top of your glass or jar.
Store trifles in the refrigerator until ready to serve. If desired, garnish with Biscoff cookie crumbs.
Notes:
The glasses and spoons seen in the photos are from Ikea.
The layering proportions will vary depending on what size container you use.
My Baking Addiction
All images and text ©
Follow Jamie on Instagram. We love to see what you're baking from MBA! Be sure to tag @jamiemba and use the hashtag #mbarecipes!
This post may contain affiliate links. We are a participant in the Amazon Services LLC Associates Program, an affiliate advertising program designed to provide a means for us to earn fees by linking to Amazon.com and affiliated sites.