I seriously can't believe that Thanksgiving is in 3 days! I am so not ready, not even close. The post-it note hanging from my monitor that I creatively titled "Thanksgiving" has one item written on it – Turkey. Yep, according to my list, all I need is a turkey.
If I am being honest, cooking on Thanksgiving sort of annoys me. Sure it's great to hang out with the family and eat until we all slip into a tryptophan-induced coma, but seriously have you ever actually analyzed the process? Let me break it down for you.
Here is how my prep goes:
Wednesday Morning: Make pie and pumpkin roll. (2 hours)
Wednesday Afternoon: Head to grocery store for all the fixings – after I finish my list. (1.5 hours)
Pick up the turkey that I ordered thanks to the aforementioned post-it note (30 minutes)
Wednesday Evening: Head to "stuffing night" with Brittani's family (3 hours)
Wednesday Night: Brine Turkey (1 hour)
Thursday Morning: Start cooking and continue cooking all whilst making an insane mess and chasing off my father who will inevitably be trying to pluck turkey skin from a piping hot bird. (5 hours)
Thursday Evening: Eat dinner (10 minutes)
Thursday Evening: Clean the kitchen while everyone else suffers from the aforementioned turkey coma. (Eleventy billion hours)
So let's see – 14 hours of prep and an endless line of dishes afterwards for 10 minutes of eating pleasure? Yeah – can ya tell why it kind of irks me?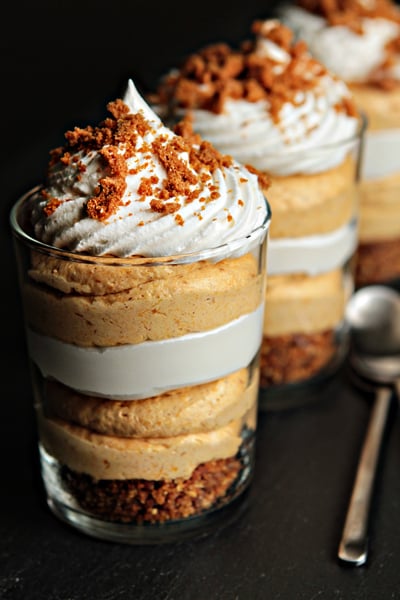 If your Thanksgiving schedule looks anything like mine, you may be in search of a quick, delicious dessert that can be prepped and assembled in minutes. I'm coming to your rescue (and my own) with these simple Pumpkin Cheesecake Trifles. They start with a base of crushed Biscoff cookies followed by a velvety layer of pumpkin cheesecake filling and are finished with a swirl of whipped topping. In a small glass, these elegant trifles are sure to be a hit at any Thanksgiving table. And as a bonus, those little trifle glasses are dishwasher safe!
I hope your Thanksgiving week is off to a delicious start!
[pinit]