I admit it – I'm pretty much addicted to pumpkin. I have a list on my iPhone of 23 pumpkin recipes that I must create. And I've already started my pumpkin can tower which has officially toppled over in my pantry twice. Not awesome when you have a small pantry with drawers because I pretty much have to sprawl face first on the kitchen floor to retrieve anything that falls. Admit it, you're totally picturing this is your head right now, aren't you?
With my leaning tower of pumpkin and my embarrassingly large container of Homemade Pumpkin Pie Spice, I'd say I'm fully prepared for the next 3 months of pumpkin goodness.
When my stash of Homemade Pumpkin Pie Granola was gone, I couldn't resist taking this sweet and spicy flavor combination to a different level with Homemade Pumpkin Granola Bars. They're loaded with oats, pecans, dried cranberries and pumpkin seeds. And if you ask me, they're pretty much Fall breakfast perfection.
[pinit]

Pumpkin Granola Bars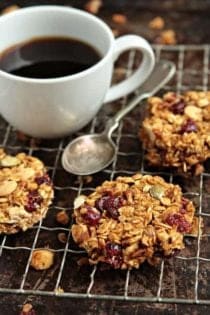 Ingredients:
3 cups old fashioned oats
2 teaspoons pumpkin pie spice
1/2 teaspoon salt
3/4 cup packed light brown sugar
1/2 cup pumpkin puree
1/4 cup applesauce (sweetened or unsweetened, your choice)
1/4 cup honey
1 teaspoon vanilla extract
1/2 cup dried cranberries
1/2 cup white chocolate chips
1/2 cup pecans, chopped
1/4 cup pumpkin seeds, shelled
Directions:
1. Preheat oven to 350° F. Line a 9x9 baking pan with foil allowing for 1 inch overhang on the sides of the pan. Spray foil with non-stick cooking spray and set aside.
2. In a large bowl, combine oats, pumpkin pie spice, and salt. Set aside.
3. In a medium bowl, whisk together brown sugar, pumpkin puree, applesauce, honey, and vanilla until smooth. Pour over oats and stir until oats are moistened. Stir in cranberries, white chocolate chips, pecans and pumpkin seeds.
4. Evenly press oat mixture into prepared pan. Bake for 35-40 minutes or until golden brown. Be sure not to underbake. Remove to a cooling rack to cool completely.
5. Use a sharp knife or circular cookie cutter (see note below) to cut into bars.
Notes:
- I used a round biscuit cutter to cut my granola bars into fun, circular shapes.
- The pumpkin puree adds moisture to the recipe, so you definitely want to make sure you bake the bars long enough so they'll hold their shape.
- This recipe is easily adapted to suite your taste - get creative with different nuts, chocolates, and dried fruits.
Follow Jamie on Instagram. We love to see what you're baking from MBA! Be sure to tag @jamiemba and use the hashtag #mbarecipes!