Red Velvet Oreo Cupcakes take advantage of the newest special edition Oreo, making an exceptional treat everyone will love. You can't go wrong with double Red Velvet!
I'm here to tell you, this is one of the last few desserts to come out of the original MBA kitchen. It's a little bittersweet – the moment, not the cupcake. Years ago, I started MBA on my own, as a way to bake-out my feelings about a lot of personal stuff. You guys have stuck with me through it all, including a baby and a new house, and I could not be more appreciative. So I made you cupcakes!
Have you found Red Velvet Oreos yet? On our eleventy-millionth run to Wal-Mart for boxes, I finally spotted the delightful little package. This new special edition cookie is in a smaller package than normal, so I almost missed 'em. I brought them home, and Eric and I, in our emotionally charged, eat-all-our-moving-and-packing-feelings way, savored the cream cheese scent that wafts out as soon as you open the package.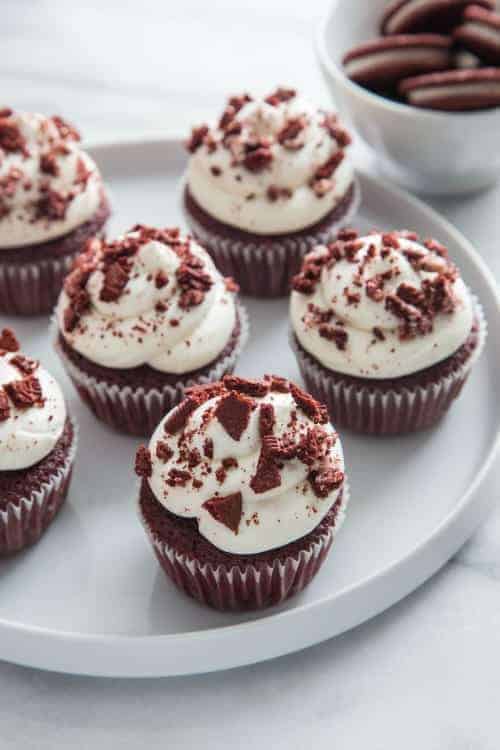 There's definitely more than a hint of traditional Red Velvet flavor, with that strong chocolate, brought on stronger by the hint of vinegar (did you know that's what helps to give Red Velvet its signature flavor?). But really, if I'm telling the truth, it's the cream cheese flavored filling that gets me, you guys. I'd be quite happy to sit on the floor, scraping that off a multitude of cookies and eating it by itself while boxes sit around me. Can you tell I'm over this whole moving thing?
My aunt and I packed up the kitchen yesterday, and there were two of these gorgeous Red Velvet Oreo Cupcakes left. Our reward for a job well done. Little did we know it would be six hours of pitching, sorting, and admittedly, a few tears, before we got to indulge.
So what makes these cupcakes different from your typical Red Velvet? There's a Red Velvet Oreo on the bottom of each one. Call them Red Velvet Bottomed Cupcakes if you want. It's a grand little surprise at the end of each bite.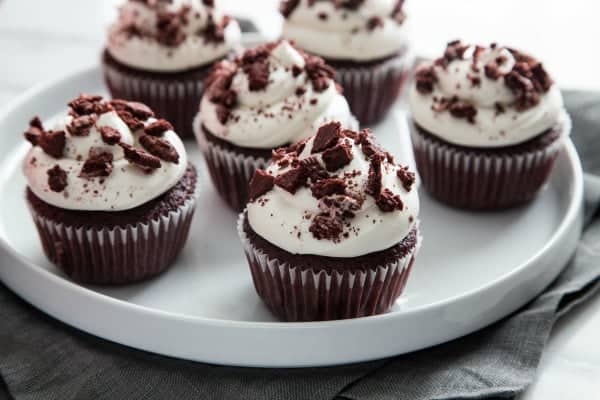 Of course, we have the essential tangy cream cheese frosting, and the addition of the cream cheese filling in that last bite? So. Awesome. Some of the Oreos are crushed and sprinkled on top of the frosting for a pretty flair.
I may have one more Red Velvet recipe up my sleeve for you next week. Some people think Red Velvet is just for Valentine's Day, but I think we should be enjoying it all February long, and I hope you do too!
Photo Credit: Emily Caruso of Jelly Toast