While I was in St. Lucia, the lovely Cindy of Once Upon A Loaf guest posted here on MBA with a fun, tipsy recipe for Bourbon Banana Bread. From the moment I read the post, I knew a boozy banana bread would soon be in my baking future.
As soon as we were through customs in St. Lucia, we were greeted by an ice cold glass of Rum Punch. And within a few minutes, we learned that rum was definitely the drink of choice on the island. Even though I'm not one to indulge in cocktails on a regular basis, I happily accepted the fruity concoction and sipped away – ya know how it goes… when in Rome!
Upon arriving at Sandals La Toc, I quickly familiarized myself with the island drink specialties and acquired quite an affinity for two tropical beverages – Dirty Banana and No Pressure – the island's mantra.
Bananas are actually the main export crop in St. Lucia, so they were as plentiful as they were delicious. You can actually see the banana farms along the main highway. The banana trees definitely catch your attention due to their close proximity to the road and the bright blue bags that cover the fruits to protect them. Our lovely driver actually stopped several times on the journey to the resort to educate us on the farming process.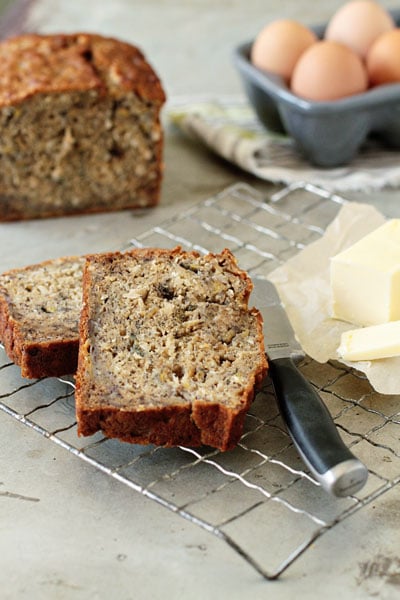 Although we couldn't bring bananas back to the states with us, we could bring rum, and that we did. With assistance from a couple of locals, we selected a few of the island's best brands and carefully nestled them into our suitcases. We even brought back a bottle of dried spices that is used to create your own homemade spiced rum. Much like the process of making your own vanilla, you simply add your favorite rum to the spice medley until the spices infuse the liquor. The lovely woman that walked us through the process referred to the drink as the "baby maker" as she jokingly gestured towards her infant son. Needless to say, that bottle has yet to be touched.
As soon as we were back in the states, I picked up a bunch of bananas and anxiously waited from them to turn the perfect shade of brown. I then whipped up my favorite banana bread recipe and, drawing inspiration from Cindy, I infused the batter with St. Lucia rum, cinnamon and coconut; creating an island-inspired delectable quick bread that truly highlights some of the amazing flavors of St. Lucia.
[pinit]

Rum-Coconut Bread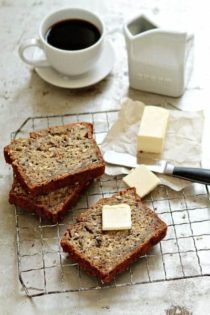 Ingredients:
2 cups all-purpose flour
1 teaspoon baking soda
1/4 teaspoon salt
1/2 teaspoon ground cinnamon
1/2 cup (1 stick) unsalted butter, softened
3/4 cup light brown sugar, slightly packed
2 eggs, lightly beaten
1 teaspoon pure vanilla extract
3 tablespoons dark rum
2 1/3 cups mashed overripe bananas (about 4-5 bananas)
1 cup sweetened shredded coconut
Directions:
1. Preheat oven to 350 degrees F. Lightly grease a 9x5 inch loaf pan.
2. In a medium bowl, combine flour, baking soda, cinnamon, and salt. In a large bowl, with an electric hand mixer, cream together the butter and brown sugar until light and fluffy; about 2 minutes. Add in the eggs, vanilla, rum, and bananas mixing until fully incorporated.
3. Using a rubber spatula or wooden spoon, add the flour mixture into the banana mixture, stirring until just incorporated. Fold in coconut flakes. Pour batter into prepared loaf pan.
4. Bake in preheated oven for 60 to 65 minutes, or until a toothpick inserted into center of the loaf comes out clean. Let bread cool in pan for 10 minutes, and then turn out onto a wire rack.
Notes:
- For a plain loaf of banana bread, simply omit the rum and coconut.
- This bread does wonderfully with all types of add-ins such as walnuts, pecans, chocolate chips, etc.
- The flavor of the banana bread will intensify if allowed to sit overnight.
- To store, wrap the cooled bread in a layer of plastic wrap, followed by a layer of foil. Bread will keep at room temperature for up to 3 days.
My Baking Addiction adapted from All Recipes
All images and text ©
Follow Jamie on Instagram. We love to see what you're baking from MBA! Be sure to tag @jamiemba and use the hashtag #mbarecipes!