Snickers chocolate chip cookie bars are possibly the most irresistible dessert – ever. Just look at these things!
I can't possibly be the only one that has a pretty serious thing for miniature candy, right? Come on, guys – say it ain't so.
Every single time I stumble upon the bite size section of chocolate candy at Target, no less than two bags make their way into my cart. Who can resist bite size Twix, Rolos and Snickers?
Certainly not this girl. It's a problem.
The main problem is that as soon as I snip the bag open, I'm poppin' those little bites of chocolate bliss directly into my mouth like it's my j-o-b. And since summer is right around the corner, all that candy poppin' needs to be a stoppin'.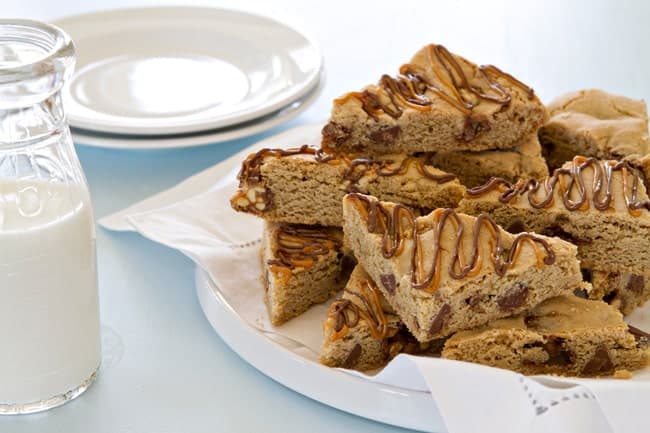 Instead of eating an entire bag of bite size Snickers, I ate two pieces – okay more like five – shared some, and baked the remaining candies into these Snickers chocolate chip cookie bars.
They're chewy, a little gooey and perfect for just about any occasion.
Although I love a good cookie, I've been feeling cookie bars lately – especially cookies bars loaded with candy like these Monster cookie bars and peanut butter cup cookie bars – they're my dessert of choice these days. These easy cookie bars also caught my eye this week.
How can candy baked into a dessert ever be a bad thing? It can't, I'm here to tell you.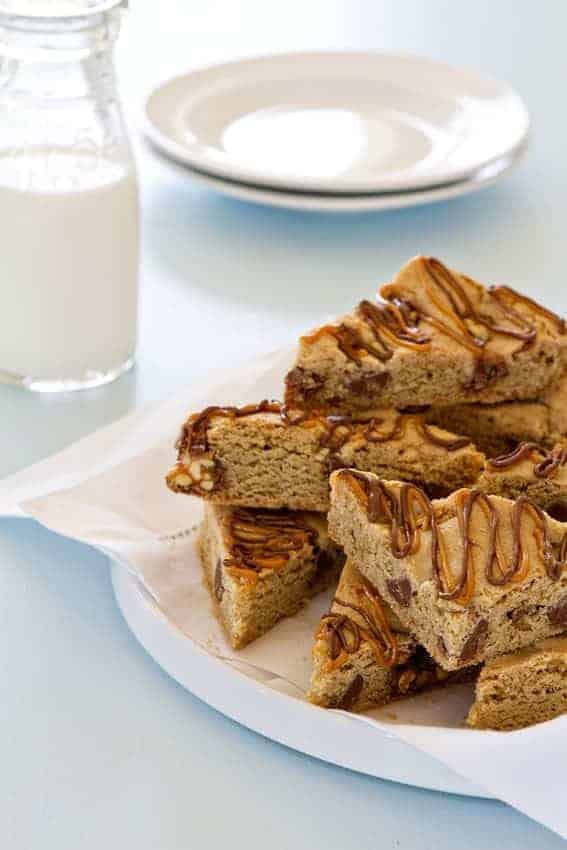 They great thing about cookie bars is that they come together in a snap and all you need is a couple of bowls, a whisk and a wooden spoon.
Toss them in the oven and they bake up perfectly in less than 30 minutes. So if you're in a bit of rush, or just don't feel like hanging out at the oven – cookie bars are the way to go.
The Snickers Chocolate Chip Cookie Bars Recipe originally appeared on Food Fanatic.