Take 5 Cupcakes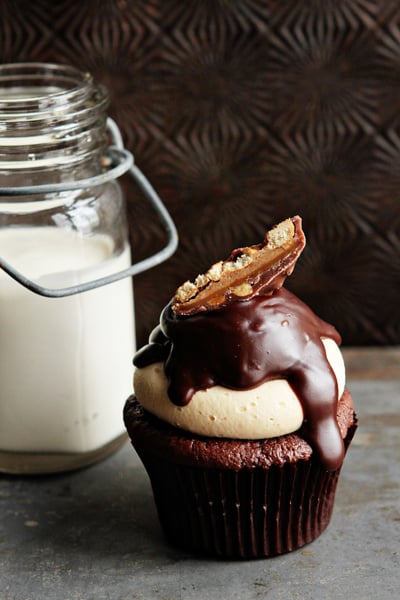 If you read MBA on a regular basis, you may recall me mentioning that I teach junior high. Some of my students know that I'm a food blogger as well – in fact, one came back after summer break saying that I shouldn't be his teacher anymore because he saw my show on Food Network. I laughed it off, but his grandma further explained that he confused me with Rachel Ray and told everyone that his teacher is a famous TV cook! I assure you that Food Network is not in my current or near future, but I sure did get a chuckle out of that one.
I teach in an alternative school, where many of the students in my classroom have made their way to our program because they struggled with maintaining appropriate behavior in a typical setting. However, they are a great group of kids that are willing to learn, we just need to be a little more creative with our approach.
At the beginning of the year, I hung a large illustration of a jar on the wall and told them that once they filled up the jar with 100 marbles I would let them plan a party – my treat. Well, they did it in record time, so one morning I allowed them to compile a list their party ideas. After tallying up their lists which included items such as pizza, popcorn, a movie, and Hot Cheetos, we noticed a definite trend. These kids wanted cupcakes and they specifically stated that store bought cupcakes would not do – they wanted homemade cupcakes with lots of frosting – made by yours truly!
I scanned my pantry and realized that I still had a bag of Take 5 candy bars that I purchased for another project. Immediately I had the idea for Take 5 Cupcakes – what kid doesn't love chocolate, peanut butter, pretzels and caramel? And combine that awesomeness with cake and frosting – how could they be bad?
I used my favorite doctored up cake mix because it's easy, delicious and yields a nice, thick batter that is perfect for baking candy bars into. Then I added on a big swirl of peanut butter buttercream, a drizzle of chocolate glaze and finished them off with a piece of a Take 5 candy bar. Pure chocolate peanut butter heaven! The kids loved them and are already eagerly planning their next marble party and more importantly – the next cupcake flavor!
Take 5 Cupcakes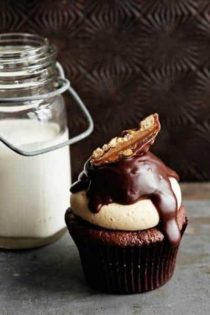 Ingredients:
For the Cupcakes
1 (18.25 ounce) package devil's food cake mix (I use Betty Crocker Super Moist)
1 (5.9 ounce) package instant chocolate pudding mix
1 cup sour cream
1 cup vegetable oil
4 eggs, lightly beaten
2 teaspoons pure vanilla extract
1/2 cup warm water
24 Fun Size Take 5 Candy Bars; cut in half
For the Peanut Butter Butter Cream
3 sticks unsalted butter, softened
1 cup creamy peanut butter
1 tablespoon pure vanilla extract
2 pounds confectioners' sugar, sifted
6-8 tablespoons heavy cream (if using milk, amount will be less)
For the Chocolate Glaze
4 oz bittersweet chocolate, chopped into very small pieces
1/2 cup heavy cream
2 tablespoons honey
2 tablespoons light corn syrup
2 teaspoons pure vanilla extract
Directions:
For the Cupcakes
1. Preheat oven to 350 degrees F. Line muffin tin with paper liners or spray with non-stick cooking spray.
2. In the bowl of a stand mixer, fitted with the paddle attachment, or with a hand mixer in a large bowl, beat together the cake and pudding mixes, sour cream, oil, eggs, vanilla and water. Beat for about two minutes on medium speed until well combined.
3. Using a large cookie scoop, distribute the batter between 24 muffin wells; about 3 tablespoons of batter per well. Press 1/2 Fun Size Take 5 candy bar into the center of each cupcake. Use a small spoon to spread the batter over the candy bar.
4. Bake in preheated oven for 20-24 minutes or until the tops of the cakes spring back when lightly touched. There may be a small sink hole in the top of the cupcakes from the candy bars, that's okay - you'll cover that with frosting. Allow cupcakes to cool inside muffin tins for about 10 minutes.
5. Remove cupcakes from muffin tins and allow to fully cool on a wire rack. Once cupcakes are cool, prepare your frosting.
For the Peanut Butter Buttercream
1. In the bowl of a stand mixer, fitted with the paddle attachment, or with a hand mixer in a large bowl, cream butter and peanut butter on medium speed until fluffy. Turn your mixer down to low speed and slowly add in the confectioner's sugar, and continue mixing until well blended.
2. Add vanilla and 4 tablespoons of heavy cream. Blend on low speed until moistened. Add an additional 1 to 4 tablespoons of heavy cream until you reach the desired consistency. Beat at high speed until frosting is smooth and fluffy
3. Pipe frosting onto cooled cupcakes. Prepare Chocolate Glaze.
For the Chocolate Glaze
1. In a small saucepan over medium heat, warm the heavy cream until very hot, but not boiling.
2. Place chocolate pieces in a heat safe bowl. Pour the hot cream over the chocolate and allow it to sit for about 5 minutes. Whisk the cream and chocolate until smooth and thoroughly combined. Whisk in the honey, corn syrup, and vanilla. Allow to cool for about 15 minutes. Do not let the glaze sit for too long or it will harden up before you spoon it over the frosting.
3. Spoon the glaze on the tops of the frosted cupcakes, allowing it to drip down the sides a little bit. Don't add too much glaze or it will drip all over your liners.
4. If desired, finish each cupcake with a piece of a Take 5 candy bar.
Notes:
Storage
Store cupcakes in the refrigerator. Remove them to room temperature one hour before serving.
Follow Jamie on Instagram. We love to see what you're baking from MBA! Be sure to tag @jamiemba and use the hashtag #mbarecipes!
This post may contain affiliate links. We are a participant in the Amazon Services LLC Associates Program, an affiliate advertising program designed to provide a means for us to earn fees by linking to Amazon.com and affiliated sites.