Last week I was at the market and heading to the checkout when a bin of holiday baking items on $1 clearance happened to jump in my path. Jackpot! The top of the bin was full of different varieties of chocolate chips which of course I purchased in excess, including Heath Toffee Bits – double jackpot!
At least, I thought so, until I got home. I slid open my pantry drawer and realized that I already have a pretty impressive stash of Heath Toffee Bits bordering on excessive. So instead of stuffing the new bags into the overflowing drawer, I left them on the counter as a reminder to bake something.
I don't know how it slipped my mind that Brian is obsessive about keeping the counter tops clean. Within about 2 hours, he was questioning the massive mountain of toffee goodness taking over the counter top. I decided to appease both his OCD tendencies and his chocolate craving by whipping up Chocolate Toffee Cookies.
Let's face it. I also didn't want him to see the amount of chocolate chips and toffee bits hiding behind the closed pantry doors as he searched for a spot to put the counter top offenders. Chocolate Toffee Cookies to the rescue, two-fold!
These chocolate cookies are pillowy soft. The addition of velvety ganache and buttery Heath Toffee Bits adds just the right amount of texture and richness.
Need to sway your honey from that quickly-increasing mound of laundry or the trash bag you forgot to take out? Bake these cookies and make time to enjoy them together. The housework can wait – especially for chocolate and toffee goodness.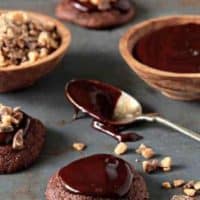 Chocolate Toffee Cookies
Ingredients
For the Cookies
1 cup unsalted butter, softened
1 1/2 cups sugar
2 eggs
2 teaspoons pure vanilla extract
2 cups all-purpose flour
2/3 cup unsweetened cocoa powder
3/4 teaspoon baking soda
1/2 teaspoon salt
For the Ganache
1 tablespoon light corn syrup
3 ounces heavy cream
6 ounces dark chocolate, chopped into small pieces
1/2 teaspoon vanilla extract
For Topping
Instructions
To Make the Cookies
1. In a mixing bowl, cream butter and sugar until light and fluffy (about 3 minutes).
2. Add in the eggs, one at a time, beating well after each addition. Beat in vanilla and mix well to combine.
3. In a medium bowl, combine the flour, cocoa, baking soda and salt, and whisk until incorporated. Gradually add the dry ingredients to the butter and sugar, mixing on low until fully mixed.
4. Cover the dough and refrigerate for 2 hours. This will make the dough easier to handle.
5. When ready to bake, preheat oven to 350 degrees F and line baking sheets with parchment paper.
6. Roll dough into 1-inch balls. Place dough balls 2 inches apart on prepared baking sheets.
7. Bake at 350 degrees F for 8-10 minutes or until the edges are firm. Remove to wire racks to cool completely.
To Make the Ganache
1. Once cookies are cooled, prepare the ganache. In a small saucepan over low-medium heat, combine the corn syrup and heavy cream. Bring to a simmer and add the chocolate. Stir until smooth. Remove from the heat and add the vanilla extract. Allow the ganache to cool for about 5 minutes before topping the cookies
To Top the Cookies
1. Top each cookie with a teaspoon full of ganache, spreading it around to create an even layer. Sprinkle each cookie with Heath Toffee Bits
Notes
- You may have a little ganache recipe left over depending on how much you choose to top your cookies with.
Storage
- The Chocolate Toffee Cookies are best served the day that they are made. Store cookies in a single layer within an airtight container.