Blueberry Doughnut Muffins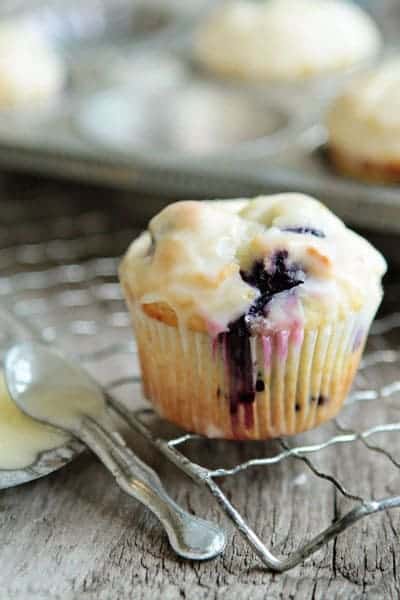 I have never been and probably never will be a morning person. Instead, I'm that person who sets their alarm to buzz about 30 minutes before I have to wake up just so I can hit the snooze button several times – it makes me feel like I'm pulling one over on the Sandman even though I'm really just driving Brian ever so slowly to insanity each morning.
With the school year coming to a close – just 6 more days – we've decided to add in one last potluck to celebrate our staff. Only this wasn't a typical potluck, it was a breakfast, which meant two things: first, I definitely needed a game plan, and second, that whole snooze button thing wasn't going to be happening if I made a hot dish. So immediately the notion of Orange-Cardamom Sticky Rolls was tossed out the window.
My first inclination was to bring a fruit tray with dip – perfect for breakfast, right? However, the idea of cutting up fruit at 6am made me wince a little and worry over the safety of my fingers. So I decided that that I would make Blueberry Doughnut Muffins with a lemon glaze. Simple, summery and absolutely delicious.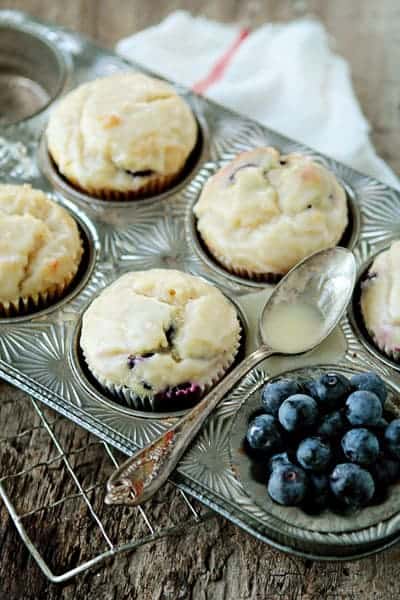 Blueberry Doughnut Muffins start off with the batter from the ever so popular Glazed Doughnut Muffins, but they get a summery makeover with the addition lemon zest and fresh blueberries. A double dip in a sugary lemon glaze takes them to a level of crazy goodness.
I'm pretty sure these muffins will have my building principal missing me all summer. If you have to work through the heat, make these to appease your fellow workmates. They'll be singing your praises in and out of the meeting room.
[pinit]

Blueberry Doughnut Muffins
Yield: 12 muffins
Prep Time: 20 minutes
Cook Time: 15-17 minutes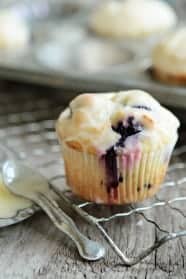 Ingredients:
For the Muffins
zest of 2 lemons
1/2 cup granulated sugar
1/3 cup brown sugar
1/4 cup unsalted butter, softened
1/4 cup vegetable oil
2 large eggs
1 teaspoon pure vanilla extract
2 2/3 cups all-purpose flour
1 1/2 teaspoons baking powder
1/4 teaspoon baking soda
3/4 teaspoon salt
1 cup milk
1 1/3 cup fresh blueberries
For the Glaze
3 tablespoons unsalted butter; melted
1 cup confectioners' sugar; sifted
1/2 teaspoon pure vanilla extract
1 tablespoon freshly squeezed lemon juice
1 tablespoon warm water
Directions:
Preheat the oven to 425°F. Lightly grease a standard muffin tin, or line with 12 paper muffin cups.
In a medium bowl, combine the lemon zest and sugars. Use your fingertips to incorporate the zest into the sugars until it is moist and fragrant.
In the bowl of a stand mixer fitted with a paddle attachment or in a large mixing bowl with an electric mixer, cream together the butter, vegetable oil, and sugars until smooth. Add the eggs and vanilla, beating to combine.
In a medium bowl, combine the flour, baking powder, baking soda and salt. Stir the flour mixture into the butter mixture alternately with the milk, beginning and ending with the flour and making sure everything is thoroughly combined. Fold in the blueberries.
Spoon the batter evenly into the prepared pan, filling the cups nearly full.
Bake the muffins for 15 to 17 minutes, or until they're a pale golden brown and a cake tester inserted into the middle of one of the center muffins comes out clean.
In a medium bowl, prepare the glaze by mixing together the melted butter, confectioners' sugar, vanilla, lemon juice and water. Whisk until smooth.
When muffins have cooled slightly, dip the muffin crown into the glaze and allow the glaze to harden. At this point, you can leave them as is or go for the double dip. I glazed my muffins twice.
Serve warm, or cool on a rack and wrap airtight. Muffins will keep at room temperature for about a day.
Notes:
If you prefer a little more intense kick of lemon, feel free to substitute more lemon juice for the water in the recipe for the glaze.
131 Responses to "Blueberry Doughnut Muffins"
Trackbacks/Pingbacks

Leave a Comment