Raspberry Lemon Cornmeal Muffins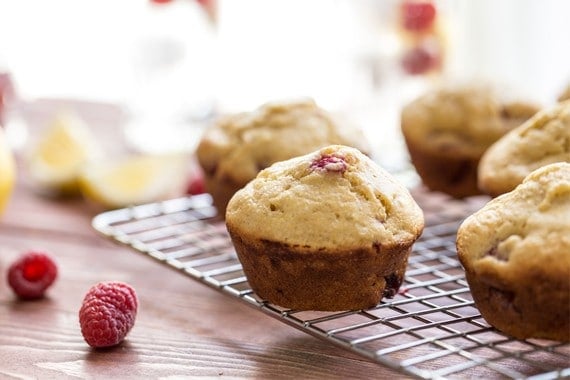 Eric and I just got back from Orlando, which was blazin' hot. We thought we'd get a little reprieve once we landed in Ohio, only to be welcomed by 95 degree temperatures. Not cool, Ohio – not cool at all. So of course, what better plan is there than to crank up my oven and bake a delicious summer play on Cornmeal Muffins?
When the weather heats up, I find myself craving lemonade. I'm fairly certain there isn't anything more refreshing than a tall, ice cold glass of homemade lemonade – more specifically Raspberry Lemonade. I'm also a lover of fresh berries in my lemonade, I think they combine perfectly to a create sweet and tart flavor that truly hits the spot.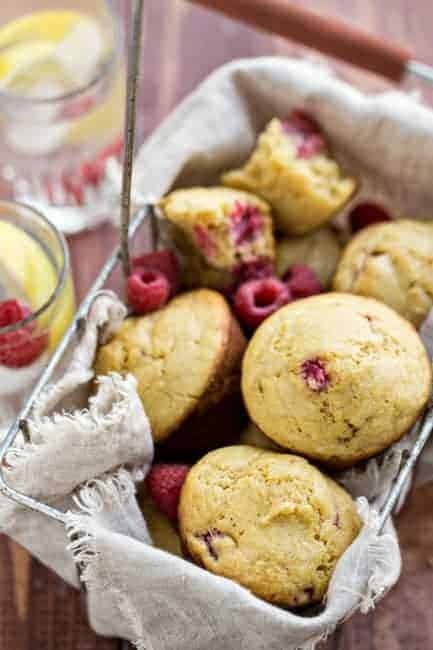 These Raspberry Lemon Cornmeal Muffins were inspired by my love of that lemonade and my need for a quick and tasty breakfast that I can grab while I run out the door on the way to these last few weeks of school – Summer break here we come.
Sweet, fresh raspberries and tangy lemon all rolled up into one deliciously moist cornmeal muffin. And by using Truvia Baking Blend, I am able to cut back on the calories while still enjoying my morning breakfast muffin.
These muffins are perfect for eating on a warm spring morning, alongside your cup of coffee, or hey, even a nice tall glass of lemonade. Lemonade is totally the new breakfast trend!
[cft format=3]
Disclosure: My Baking Addiction has teamed up with Truvia to develop recipes using Truvia® Baking Blend. This is a sponsored post written as part of that program. All opinions about Truvia Baking Blend are my own.
22 Responses to "Raspberry Lemon Cornmeal Muffins"

Leave a Comment