Rum Raisin Cheesecake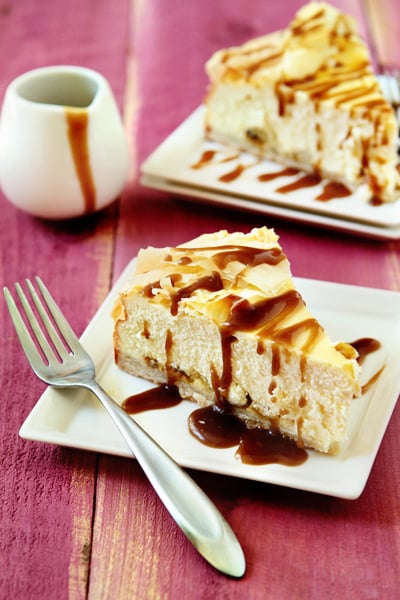 In my opinion, cheesecake is a lot like pizza. Even bad pizza is still pizza, right? When it comes to cheesecake, I'll look for any excuse to make one. Regardless of the time of year, I seem to have a knack for finding a cheesecake that fits the occasion. 
Last week, I was thinking about a festive, holiday themed cheesecake that would encompass the season perfectly.  As I was brainstorming, I remembered a cheesecake that Brittani's mom requested she make for her birthday in early September. Using my kitchen as the testing ground, we played around with an old recipe and came up with quite a masterpiece.
The original recipe for Rum Raisin Cheesecake also called for rich caramel drizzle. It sounded delicious, so I was all for giving it a whirl.  When I saw the recipe, I was a little perplexed when it called for a layer of Phyllo dough as a special addition in between the crust and filling, but I must admit, the end result was beautiful. 
Phyllo dough envelopes the cheesecake, giving it the look of a lovely wrapped package. Both elegant and keenly finished, it offers a look that we were more than pleased with. But let's get serious – could you ask for a better present than cheesecake?
As if the cheesecake itself isn't tasty enough, the layer of soaked raisins offered a wonderfully subtle flavor and textural component that was just perfect. Rum-soaked raisins are an unexpected surprise as well – one that I'm sure you'll love.
Covering those yummy raisins with a spice-infused filling was a perfect compliment to the rich rum flavor. Using my recipe for The Best Cheesecake, we were able to add the perfect amount of winter spices to an already amazing cheesecake filling. 
Serving the cheesecake with a warm caramel drizzle definitely puts it over the top. The holidays may be over for now, but this is a cheesecake you can have at a birthday, a fancy dinner party, or any holiday dinner and it'll make you the superstar of the meal.

Rum Raisin Cheesecake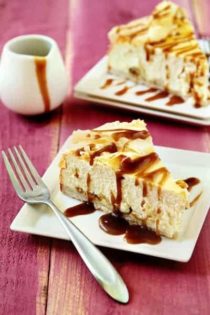 Ingredients:
For the Crust
1/2 cup unsalted butter (1 stick)
1 egg
1/3 cup granulated sugar
1 1/2 cups all purpose flour
For the Raisin-Phyllo Layer
1/2 cup golden raisins
3 tablespoons dark rum
Phyllo pastry sheets
1/4 cup butter; melted (1/2 stick)
For the Cheesecake
4 blocks of cream cheese, 8 oz each; room temperature
1 1/4 cup granulated sugar
4 large eggs; room temperature
3/4 cup heavy cream
1 tablespoon pure vanilla extract
2 teaspoons pumpkin pie spice (optional - see note section)
For the Caramel Topping
1/3 cup whipping cream
1 tablespoon pure vanilla extract
1 cup dark brown sugar
2 tablsespoons dark corn syrup
5 tablespoons unsalted butter
Directions:
General Prep
1. Soak the raisins in rum overnight.
2. Tightly wrap a 10-inch springform pan in heavy duty foil. This step prevents leaks when using a water bath. You can also take the extra step of placing the foil wrapped spring form pan inside an oven bag while baking.
For the Crust
1. Cream butter and sugar until light and fluffy. Beat in egg. Gradually mix in flour. Cover and chill dough for 2 hours or overnight.
2. Preheat oven to 350 degrees F. Roll chilled dough out on lightly floured surface to thickness of 1/8 to 1/4 inch. Cut out 10 inch circle to fit into bottom of prepared pan.
3. Brush 4 to 5 phyllo sheets with melted butter and arrange sheets, buttered side up, over the dough in the pan covering the bottom and sides (allowing phyllo to overhang sides).
4. Drain raisins and sprinkle over phylo.
For the Filling
1. Begin to boil a large pot of water for the water bath.
2. In the bowl of a stand mixer fitted with the paddle attachment, combine sugar and cream cheese and cream together until smooth. Add eggs, one at a time, fully incorporating each before adding the next. Make sure to scrape down the bowl in between each egg. Add heavy cream, vanilla and optional pumpkin pie spice and mix until smooth.
3. Pour batter into prepared crust. Place pan into a larger pan and pour boiling water into the larger pan until halfway up the side of the cheesecake pan.
4. Fold overhanging phyllo over filling, separating ends of phyllo and pulling to form a rough, jagged "crown".
5. Bake 45 to 55 minutes. The edges will appear to be set, but the center will still have some jiggle to it. At this point, close the oven door, turn the heat off, and let the cheesecake rest in the cooling oven for one hour.
6. After one hour has passed, carefully remove the cheesecake from the water bath and place on a cooling rack to cool completely. Once the cake is completely cooled, place it into the refrigerator for at least 5 hours.
For the Caramel Sauce
1. Melt butter in heavy saucepan.
2. Stir in brown sugar, cream and corn syrup. Increase heat and bring to boil.
3. Remove from heat and add vanilla extract.
4. Drizzle over cooled cheesecake when ready to serve to avoid getting soggy.
Notes:
- The pumpkin pie spice is optional. Brittani and I decided to add a little in the second time we made this cheesecake simply to add some autumnal flavors. If you aren't into pumpkin pie spice, leave it out - the cheesecake is just as delightful without it.
- The quick caramel sauce used is this recipe will thicken upon sitting. Since I recommend adding the caramel sauce just before serving, you will need to warm the caramel in the microwave for about 45 seconds before drizzling.
- If you don't want to make your own caramel, simply use a good store bought sauce - it'll be just fine.
All images and text ©
Follow Jamie on Instagram. We love to see what you're baking from MBA! Be sure to tag @jamiemba and use the hashtag #mbarecipes!
This post may contain affiliate links. We are a participant in the Amazon Services LLC Associates Program, an affiliate advertising program designed to provide a means for us to earn fees by linking to Amazon.com and affiliated sites.