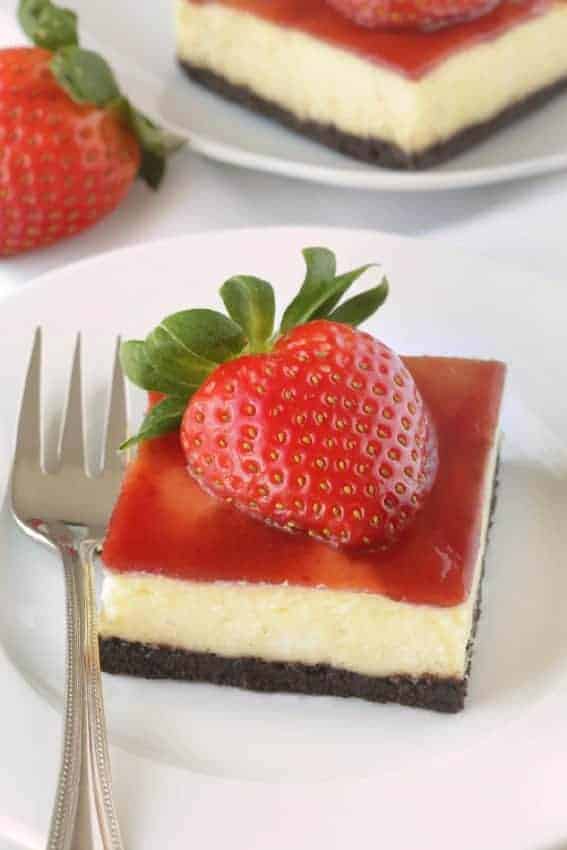 Strawberry white chocolate cheesecake bars have a chocolate cookie-like crust and strawberry jam topping and are perfect for Valentine's Day. With a gluten-free option.
With Valentine's Day coming up, I wanted to make something extra decadent. I'm not one to fuss about Valentine's Day but I do love an excuse to bake!
I'm guessing I may be in the minority here, but I think white chocolate and berries is one of the most divine combinations ever. I thought about making a white chocolate cheesecake but I'm always in the mood for easy so I went with these strawberry white chocolate cheesecake bars instead.
One thing I don't understand about the foodie world is why so many people shun white chocolate. I'm thinking that maybe some people just haven't had good white chocolate before. I've tried a lot of grocery store brands that taste like a mix of sugar and chemicals, so that I could understand. If you don't already have a brand you really like, try Ghiradelli!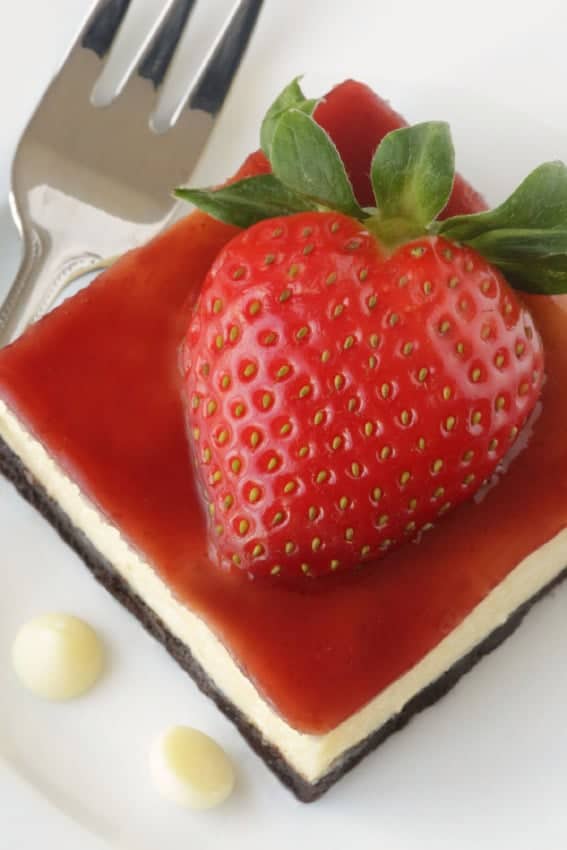 One thing you can't do with this recipe is sub semi-sweet chocolate for the white chocolate. I thought I'd try it out so I could offer an alternative to the white chocolate but that version was totally lacking in the flavor department.
When I first made these bars, I dolloped the jam on top and swirled it into the batter. I'm a terrible swirler so there's no surprise that my bars came out looking pretty sad, but there was something off about them. The color of the jam just looked unpleasant. I'm guessing raspberry jam wouldn't have that off color (and I'm 100% sure it would be ridiculously delicious!) but I haven't tried it myself.
So the next time around, I just spread on a thin layer of jam. I used 3/4 cup and the layer was pretty thin so if you want more of a substantial layer, add 1 cup or even a tad bit more!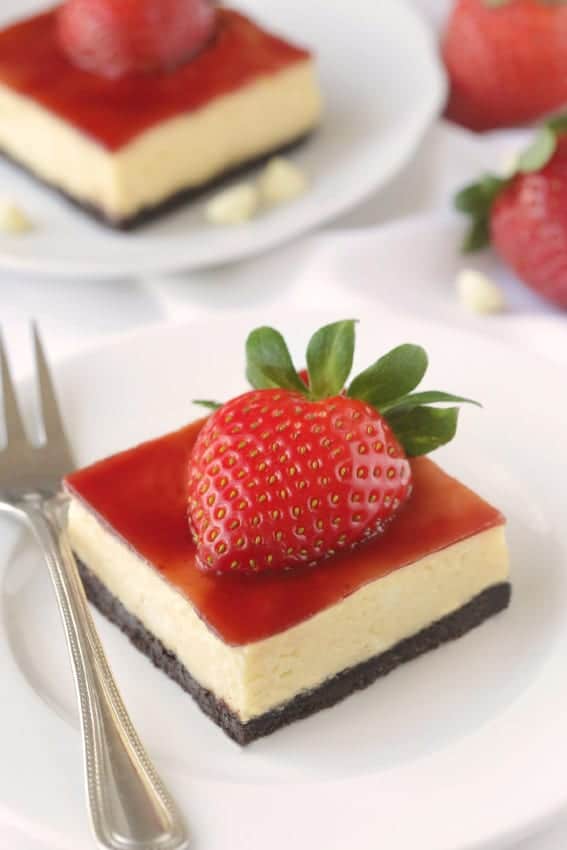 If you want to top the bars off with sliced strawberries, only put them on before serving. Depending on how juicy the berries are, they can make the topping a little wet after a while. One fun idea would be to cut the berries in half like I did and then cut out a heart with a knife or a small heart-shaped cookie cutter. Of course I only think of these things as I'm writing up the post. ;)
Not celebrating Valentine's Day with a crowd? Try these gluten-free lava cakes with a raspberry center. And if you don't feel like turning on the oven, try this white chocolate raspberry mousse for two!
For more delicious gluten-free recipes, be sure to check out these Gluten-Free Chocolate Chip Cookies and this Mint Chocolate Tart.