Sweet Potato Casserole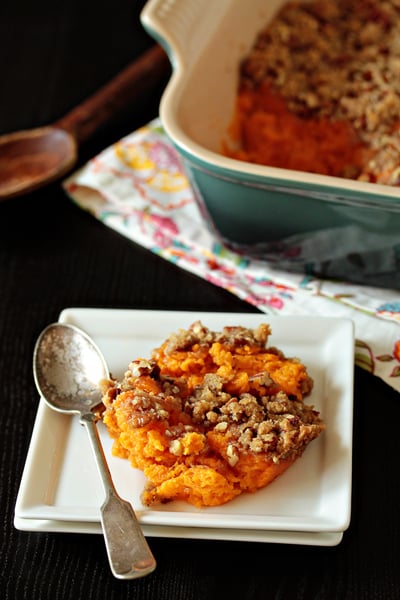 The holiday season is just around the corner, so I am really excited about this week's Holiday Recipe Exchange sponsored by OXO. Today, Katie and I are serving up our favorite holiday side dishes.
Brian and I tend to get on kicks with foods – especially side dishes and lately, we've been loving sweet potatoes. Whether they're simply baked, fried, or sautéed, they've quickly become one of our go-to accompaniments.
When I was tossing around ideas for this week's Holiday Recipe Exchange, I immediately knew I wanted to make a sweet potato casserole. Growing up, I wasn't too fond of sweet potatoes, so every Thanksgiving I would take a spoonful of my Nana's sweet potato casserole and systematically remove and eat every single toasted mini marshmallow from my serving – leaving behind a pile of untouched canned sweet potatoes. In fact, I am pretty certain that's what 10 out of 12 family members did.
I decided to take the flavors of Nana's casserole, which was brimming with brown sugar, vanilla and a little cinnamon – but kick it up a notch by using freshly baked sweet potatoes. Then I topped the casserole with a layer of pecan infused crumb topping for added texture and sweetness. The result was sweet potato perfection that will be a welcomed side dish to any Thanksgiving spread.
This week's Holiday Recipe Exchange prize package offers up a fantastic selection of some of my favorite OXO kitchen tools. It's no secret that I love OXO and have too many of their tools to count. Not only are they well made and attractively designed, but they are incredibly comfortable to use – which certainly comes in handy when you are peeling 10 pounds of potatoes for a holiday dinner. This set of OXO tools has been specifically selected to make your holiday prep work a breeze.
Katie whipped up Mascarpone Mashed Potatoes that look like they are to die for. Now we want to know what your favorite holiday side dish is, so join in on the fun and link up your recipe for a chance to win this fab OXO set!
Sweet Potato Casserole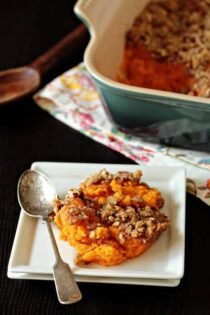 Ingredients:
3 ½ pounds fresh sweet potatoes (about 5 medium)
1/2 cup sugar
2 eggs, beaten
1/2 teaspoon salt
½ teaspoon cinnamon
4 tablespoons butter, softened
1/2 cup milk
1/2 teaspoon vanilla extract
For the Topping
1/2 cup packed light brown sugar
1/3 cup all-purpose flour
3 tablespoons butter, softened
1/2 cup chopped pecans
Directions:
Preheat oven to 375 degrees F. Line a baking sheet with foil. Wash the sweet potatoes, prick them with a fork and place on baking sheet. Bake potatoes in preheated oven for 75-90 minutes or until they are cooked through. Allow potatoes to cool slightly until they are comfortable to touch.
Reduce oven temperature to 325 degrees F. Butter a 9 x 9 inch casserole dish, set aside.
Once potatoes are cool enough to handle, scoop the insides into a large mixing bowl, discard skins.
Add sugar, eggs, salt, cinnamon, butter, milk, and vanilla to the sweet potatoes. Use an electric mixer and combine until the mixture is thoroughly incorporated and smooth.
Scoop mixture into prepared casserole dish, smoothing the top into an even layer.
In medium bowl, mix the brown sugar and flour. Cut in the butter until the mixture is coarse. Stir in the pecans. Sprinkle the mixture over the sweet potato mixture.
Bake in the preheated oven 30-40 minutes, or until the topping is lightly brown.
My Baking Addiction adapted from allrecipes.
All images and text ©
Follow Jamie on Instagram. We love to see what you're baking from MBA! Be sure to tag @jamiemba and use the hashtag #mbarecipes!
This post may contain affiliate links. We are a participant in the Amazon Services LLC Associates Program, an affiliate advertising program designed to provide a means for us to earn fees by linking to Amazon.com and affiliated sites.