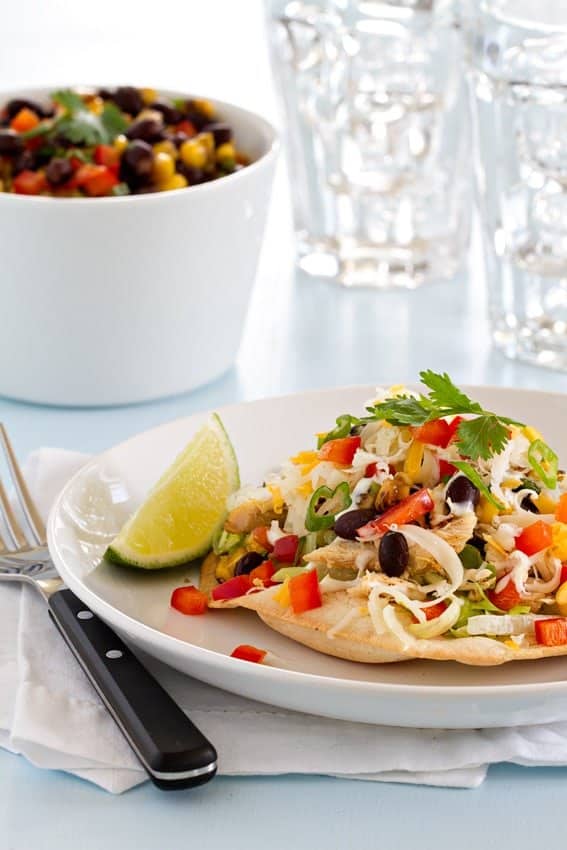 Baked Chicken Tostadas are super easy to make, and full of the good stuff. Fire roasted corn, slow cooker shredded chicken, black beans, salsa and plenty of flavor make this a weeknight dinner you'll put on regular rotation.
This This is a sponsored conversation written by me on behalf of Albertsons, Safeway and Cans Get You Cooking. All opinions are my own.
What if I told you that it's really hard for two people that work from home to get dinner on the table every night? You'd laugh at me, right? I know, I know. In my defense, I spend my days baking lots of sweet things like Salted Chocolate Chunk Cookies and Homemade Oatmeal Cream Pies that get nibbled along the way. And sometimes when dinnertime rolls around, I'm just like, "Ugh!".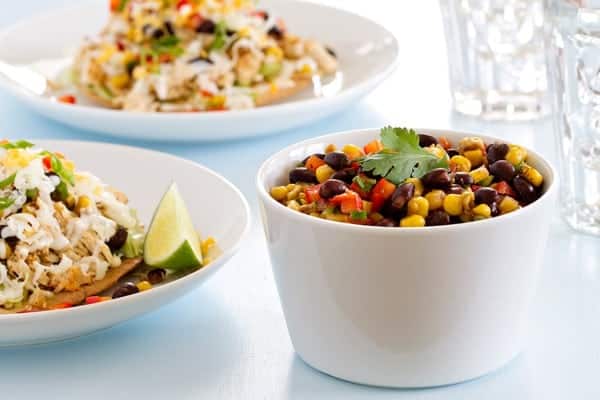 Eric's been busy with his own work, and we've both been trading Elle duties throughout the day. We're both T-I-R-E-D, and all three of us are hungry. Brinner is great, but you can only have that so many nights a week when your kid won't eat scrambled eggs, know what I'm saying?
So we're getting smarter about dinner prep. We're keeping healthier options on hand in the pantry – lots of vegetables that we can toss into whatever we're eating and know we're adding solid nutrition. But those canned vegetables have also been the inspiration for some pretty great meals.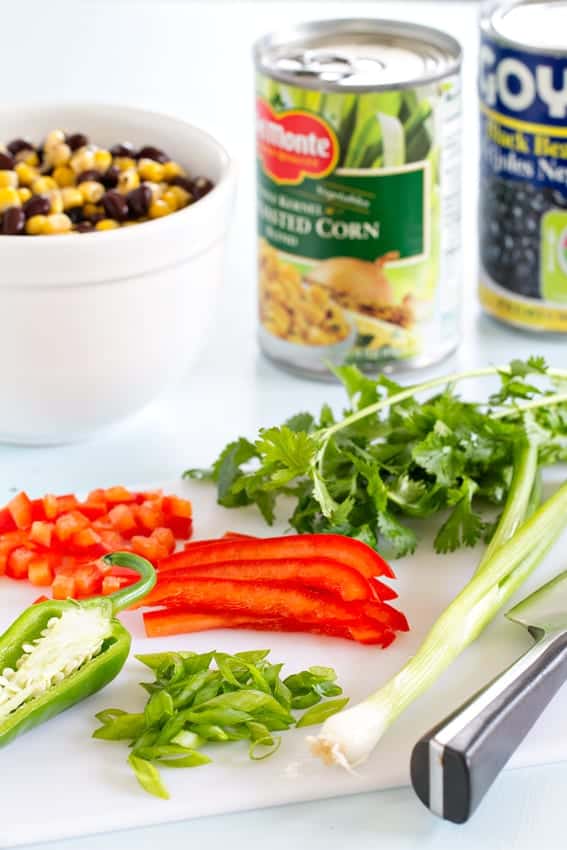 Like fire roasted corn – did you know you can get this in the canned aisle? It is FULL of flavor, and so good! That's where the inspiration for these Baked Chicken Tostadas came from. I saw that can and was instantly in the mood for Tex-Mex.
When we stock up, we also always pick up lots of canned beans – everything from kidney to pinto, garbanzo to navy. Canned beans are fantastic for adding to soups, chilis, and salads. They add great texture and protein, and I love not having to soak them ahead of time. Keeping canned ingredients like beans on hand is also a great way to make sure you're skipping take-out. They're a starting point for dinner when, like Eric and me, you just can't even with the whole dinnertime thing.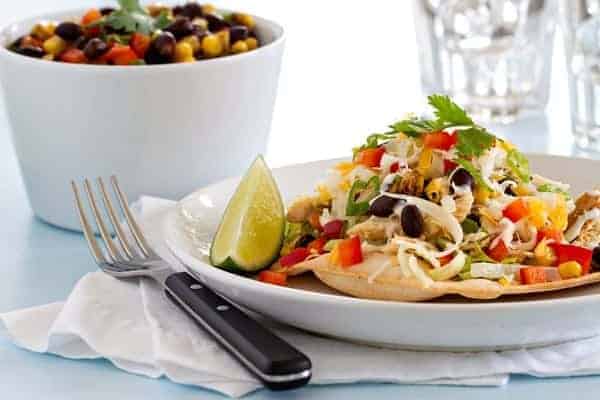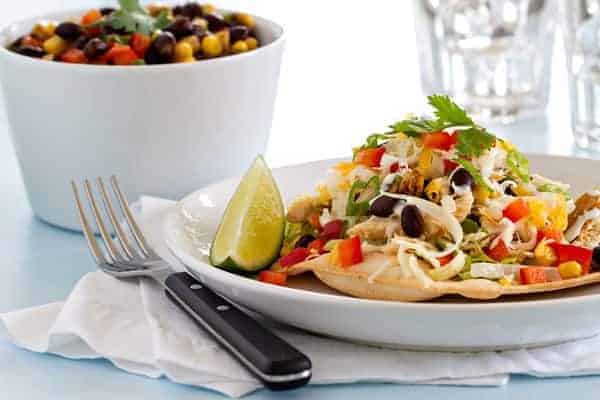 So we had fire-roasted corn and black beans as a pretty epic starting point, and that made me think of the Corn and Black Bean Salsa I made for these Chipotle Lime Soft Tacos. But we eat tacos a lot, so I've been looking for ways to change that up. Then Amber reminded me of the Tostadas she made for Food Fanatic, and at the same time, Eric requested Katie's Crock Pot Mexican Chicken. A plan started to come together – all because of that fresh picked, fire-roasted canned corn I grabbed at the grocery store!
Eric and I are trying to set a healthy example for Elle, so I decided we should bake these Chicken Tostadas instead of deep-fry them, as is traditional.
You can check Amber's post for frying instructions if you would prefer to do that. Even with baking, the tortillas are still full of flavor and toasty goodness, and they hold the weight of all our favorite toppings without a problem.
These Baked Chicken Chimichangas and this One-Pot Paprika Chicken Thighs would also go great with the fire roasted corn and black bean salsa!

Think of these Baked Chicken Tostadas as sort of personal Tex-Mex pizzas. You've got shredded chicken that you simply had to pop in the slow cooker at the start of your day, and farm fresh canned corn and beans whipped up into a tasty salsa of their own. Then you can add a tomato based salsa, lettuce or cilantro, sharp cheddar cheese or queso fresco – whatever you've got handy in the fridge.
Since the chicken goes in the slow cooker, it's hardly any effort. While the tortillas bake up into tostadas, you can prep the Corn and Black Bean Salsa, and assemble your other ingredients for a Tostada-making bar. And just like that, dinner is done. And everyone will be full and happy before you know it.
This is a sponsored conversation written by me on behalf of Albertsons & Safeway. The opinions and text are all mine.