Blueberry Sweet Rolls
Blueberry Sweet Rolls make Mother's Day something truly special. They're light and sweet, with a fantastic crunch from Fisher's sliced almonds.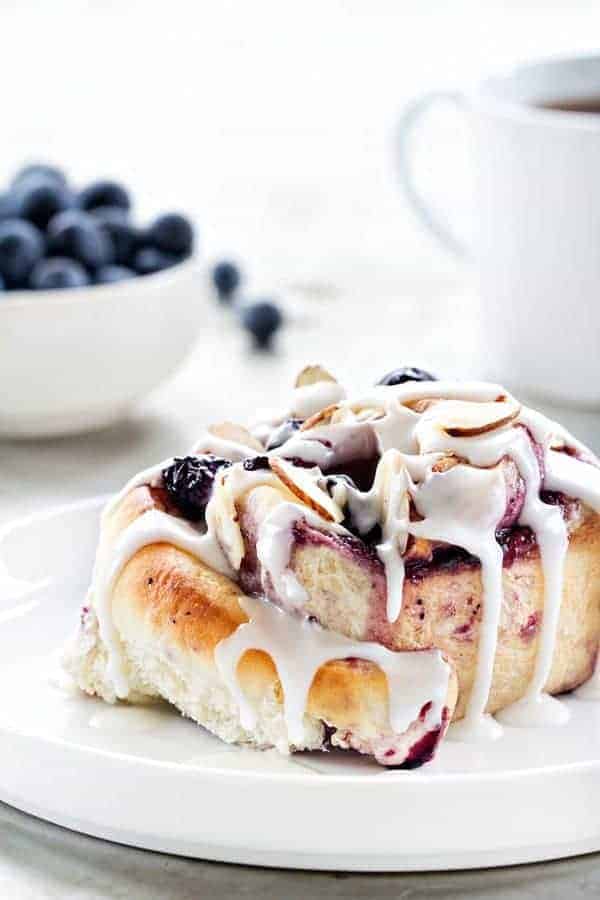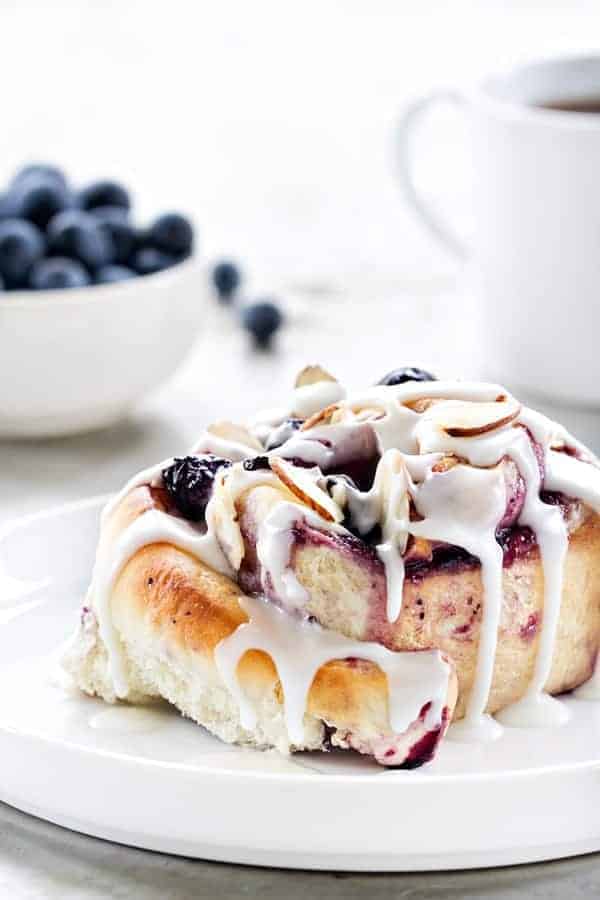 This is a sponsored post on behalf of Fisher Nuts. All opinions are my own. Thank you for continuing to support the brands that make My Baking Addiction possible.
Are you ready for Mother's Day? We sure are around here!
I've been thinking up delicious combinations for days, knowing I wanted to make a special sweet roll for brunch. Yeah, I know, Mother's Day is all about the mom, right? But in my case, I like showing my daughter how much it means to me that she came into the world too.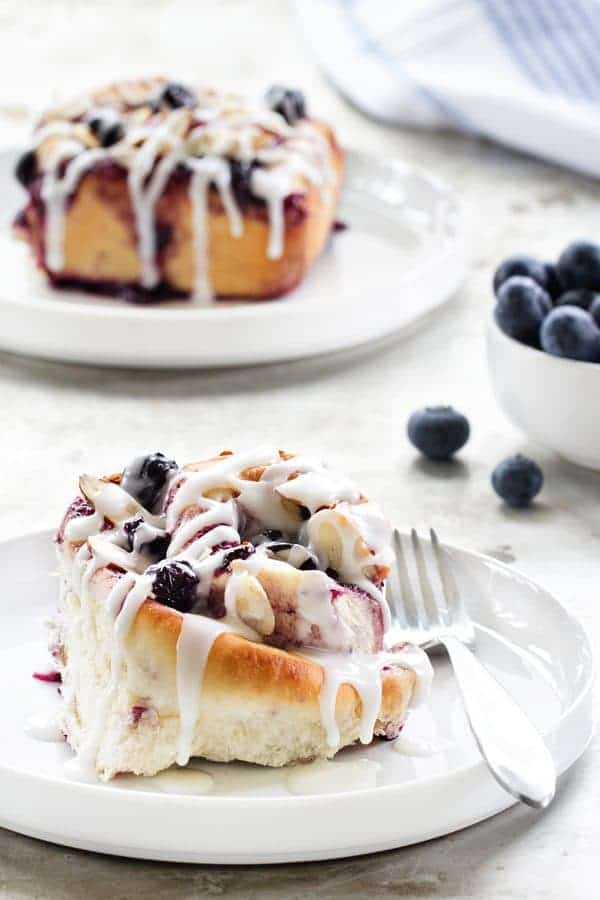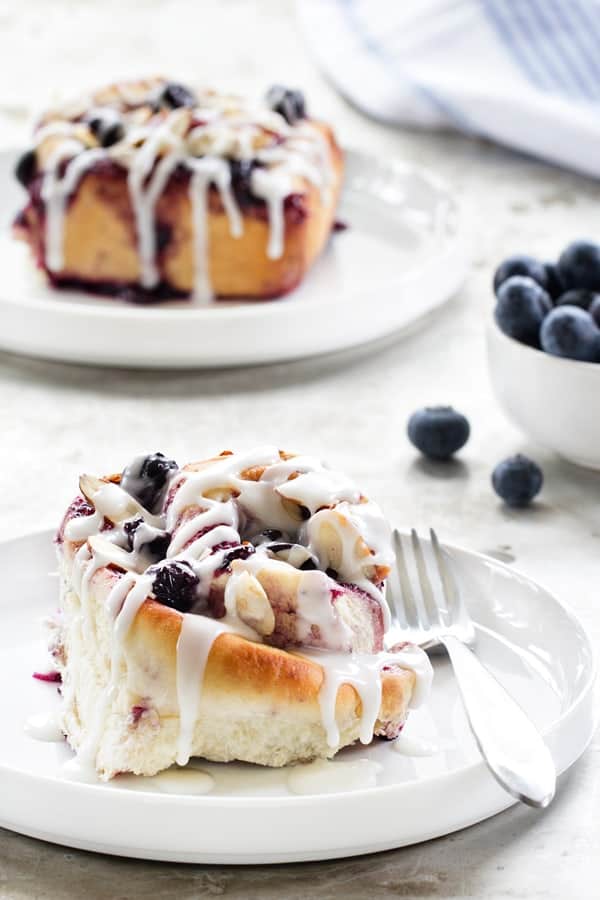 Elle really loves cinnamon rolls of any kind, and so does my mom – I mean, what's not to like? But I really think I hit it out of the park with these Blueberry Sweet Rolls. Even though there's no cinnamon in sight, there's loads of plump, sweet blueberry goodness.
I don't know about you, but I love contrasting textures in a baked good. And here? Crispy sliced almonds combine with a light and airy dough for the perfect mix of pillowy and crunchy.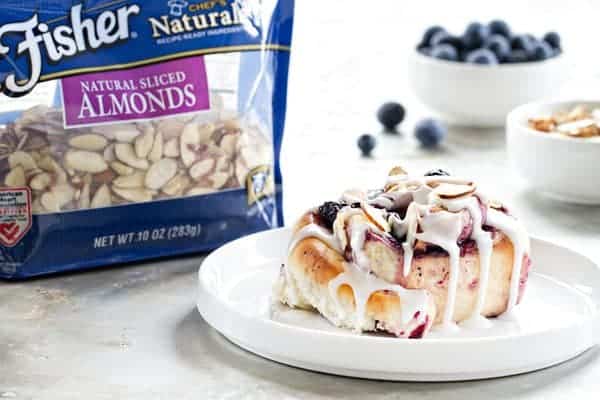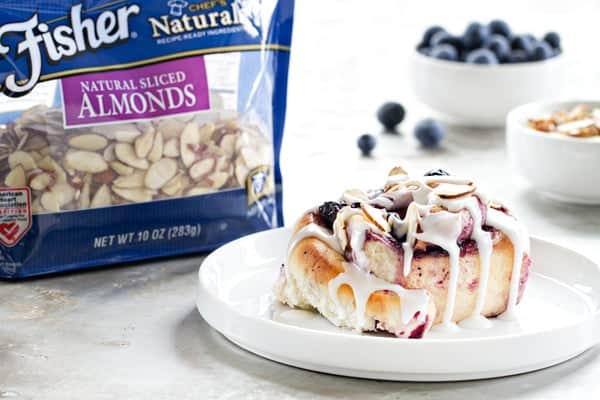 Most people would probably pair almonds with cherries, and you can totally do that, but I think combining them with sweet blueberry preserves is the way to go. Blueberries and almonds are definitely a match made in baked good heaven.
I used my favorite Fisher Nuts sliced almonds for this recipe. They're my favorite for one simple reason: not a single preservative found in the bag. Just delicious, crunchy nuts as nature intended them.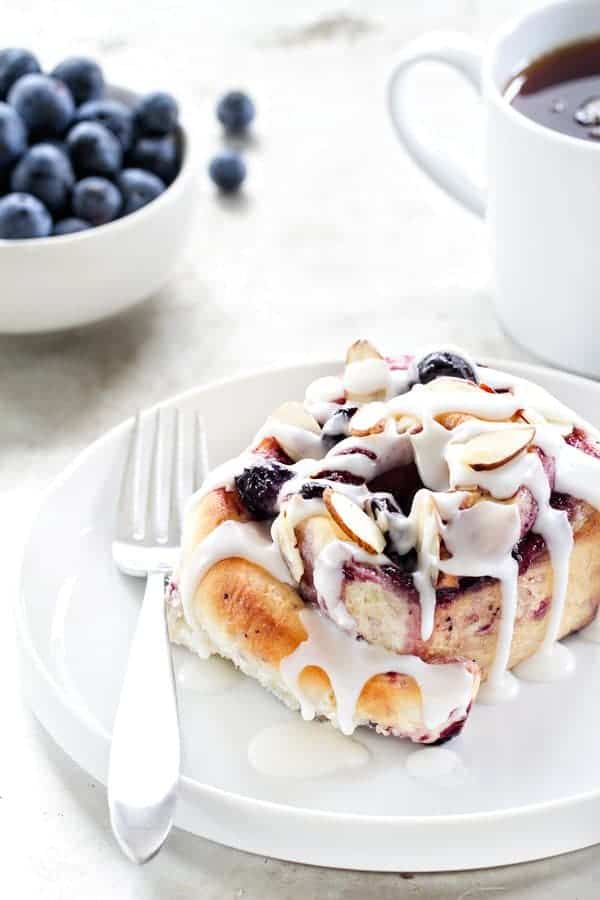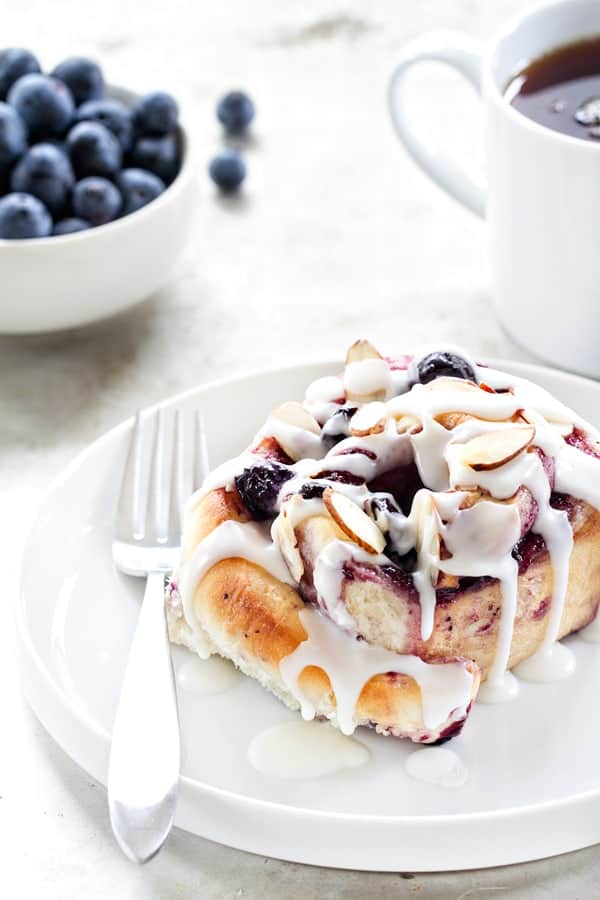 I've been adding them to everything lately – salads, my morning bagel with cream cheese, and now these rolls. I just love the bite they provide.
If you're baking something up for Mama this holiday, make sure you check out the whole collection of Fisher Nuts recipes for inspiration! You can also check out this Frozen Samoa Pie and Watergate Salad.
Blueberry Sweet Rolls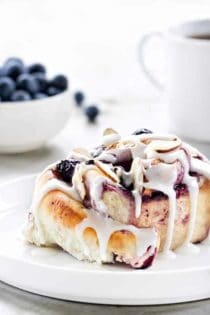 Ingredients:
For the Dough:
4-1/2 to 5 cups all-purpose flour, divided
1/3 cup granulated sugar
2 packets rapid rise yeast (approx. 2 1/4 teaspoons per packet)
1 teaspoon salt
1-1/2 cups water
6 tablespoons butter
1 egg
For the Filling:
1 cup blueberry preserves
1 cup fresh blueberries
2 tablespoons butter, melted
For the Frosting:
2-1/2 cups powdered sugar
2 tablespoons butter, softened
2 to 3 tablespoons all natural vanilla coffee creamer
For Topping:
Directions:
To Make the Dough:
In the bowl of a stand mixer, add 2 cups of the all-purpose flour, sugar, yeast, and salt. Mix well with the dough hook until all the ingredients are well distributed.
While they're mixing, place water and butter together in a microwave safe measuring cup, and microwave in 10 second increments until very warm, but not hot to the touch. (120-130°F maximum. The butter won't be entirely melted.)
Add the butter mixture and egg to the dry ingredients.
Mix for about two minutes at medium speed with the dough hook, scraping the sides occasionally.
Add 1 cup of flour and mix for another two minutes at high speed, scraping the bowl occasionally.
From here, add flour in small increments and mix after each addition. Stop adding flour when you have a supple dough that can be formed into a ball.
Flour your work surface and knead the dough for 5-10 minutes – when the dough is soft, elastic, and springs back lightly when pressed with two fingers, you're ready to let it rest.
Cover the dough ball with a clean kitchen towel and let it rest for 10 minutes.
To Make the Filling:
In a small mixing bowl, combine blueberry preserves and fresh blueberries.
Mix well, but gently so as not to break the fresh blueberries. Set aside.
To Assemble the Rolls:
Lightly flour your work area. Using a rolling pin, roll the dough into a large rectangle – about 10×15 inches.
Use a pastry brush to brush the melted butter onto the dough, stopping about an inch from the edges on the long sides of the rectangle.
Spread the blueberry mixture over the dough in the same areas as the butter, using a spoon to evenly distribute. Be gentle so as not to burst the fresh blueberries.
Begin with the long end of the rectangle, roll the dough up tightly but gently. Pinch the seams to seal.
Cut into 12 equally sized rolls.
Spray a 13×9 baking pan with cooking spray (I use the kind with flour in it), and then placing the cut sides down, put all the rolls into the pan. They will be cozy.
Cover with a clean kitchen towel; let rise in warm place until about doubled in size, approximately 1 hour.
Preheat the oven to 350ºF.
Top the rolls with 1/4 cup of almonds and bake for 25-30 minutes, or until the rolls are golden brown. Allow to cool on a wire rack for 15-20 minutes.
While the rolls are cooling, make the frosting.
To Make the Frosting:
In a mixing bowl, combine powdered sugar, butter and 2 tablespoons of creamer.
Mix well with a whisk until a glaze forms. If you'd prefer a more liquid texture, add more vanilla creamer 1 teaspoon at a time and whisk again until you reached the desired consistency. 
To Finish:
Pour the frosting over the rolls. When you've covered them to your desired amount, top with the remaining sliced almonds.
Serve immediately.
Notes:
You can substitute the vanilla coffee creamer in the frosting for 2 tablespoons of milk and 1 teaspoon pure vanilla extract.
Slicing the dough into individual rolls can be a little messy, if a few blueberries pop out, just gently push them back into the rolls.
Follow Jamie on Instagram. We love to see what you're baking from MBA! Be sure to tag @jamiemba and use the hashtag #mbarecipes!
This is a sponsored conversation written by me on behalf of Fisher. The opinions and text are all mine.


This post may contain affiliate links. We are a participant in the Amazon Services LLC Associates Program, an affiliate advertising program designed to provide a means for us to earn fees by linking to Amazon.com and affiliated sites.