Blueberry Walnut Muffins
Blueberry Walnut Muffins rise high and mighty, making them a site to behold. This is the perfect recipe to serve for Mother's Day breakfast or brunch!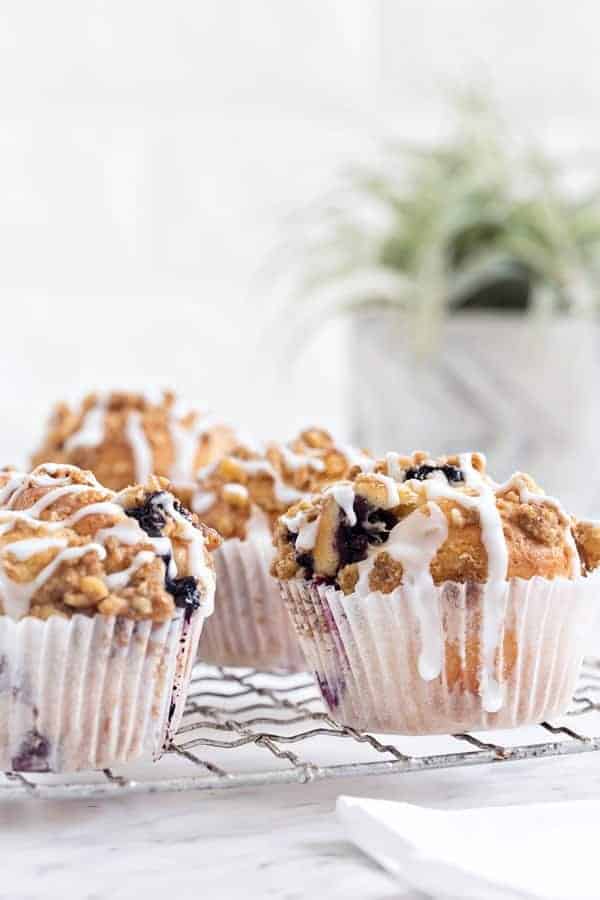 This is a sponsored post on behalf of Fleischmann's® Yeast. Thank you for continuing to support the brands that make My Baking Addiction possible.
Have you ever had a yeasted muffin? I had not. When the lovely people at Fleischmann's® Yeast suggested I try their 60 Minute Walnut Muffins using RapidRise™ Yeast, I was intrigued.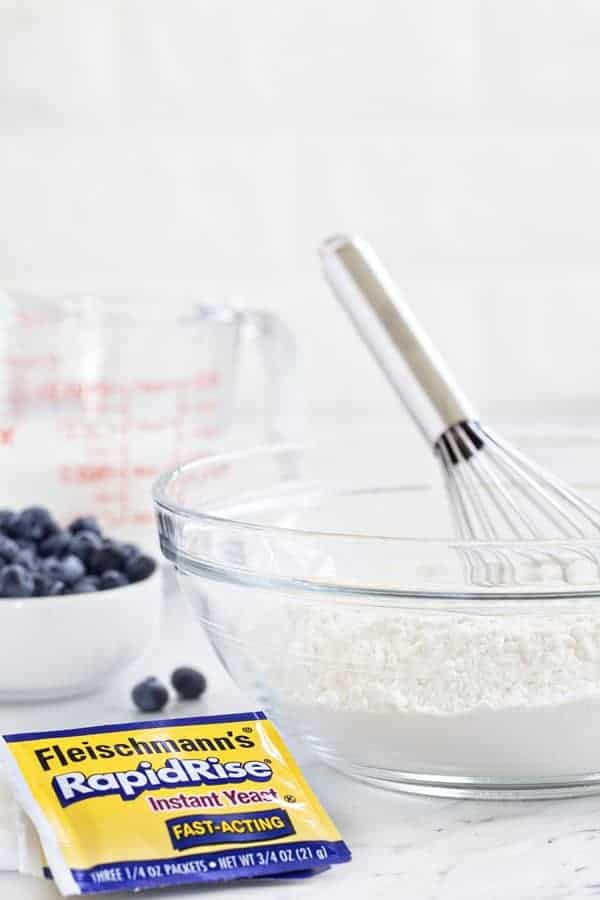 Would it be like brioche? A roll? Or an old fashioned muffin?
I'm here to say it's a combination somewhere in the middle, and they're absolutely wonderful.
You know me, I can't leave well enough alone, so I've turned these muffins into Blueberry Walnut Muffins, because blueberry muffins are one of my baby girl's favorites.
We whipped this recipe up together, adding the ingredients to my trusty stand mixer in turns. Elle loves to watch the mixing attachment turn, and I have to admit, it's something that over the years has turned meditative for me too.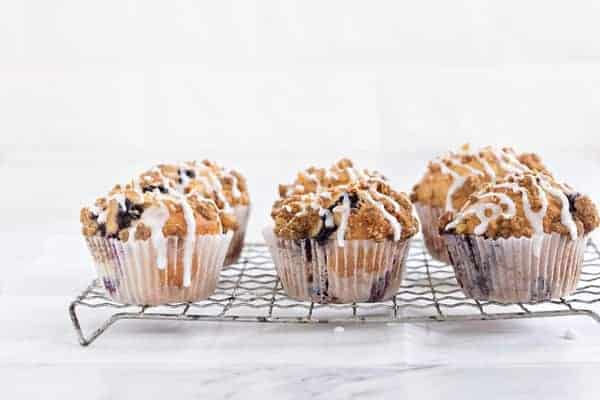 The resulting dough will be sticky, so I recommend using a large cookie scoop sprayed with a bit of nonstick cooking spray to place each dollop into a muffin pan lined with paper liners.
When they bake up, they do so beautifully. Huge high domes of muffin perfection, thanks to Fleischmann's® RapidRise™ Yeast.
I never have to worry if baked goods are going to rise, so long as I'm using their products. I've literally never had a yeasted baked good failure under their watch.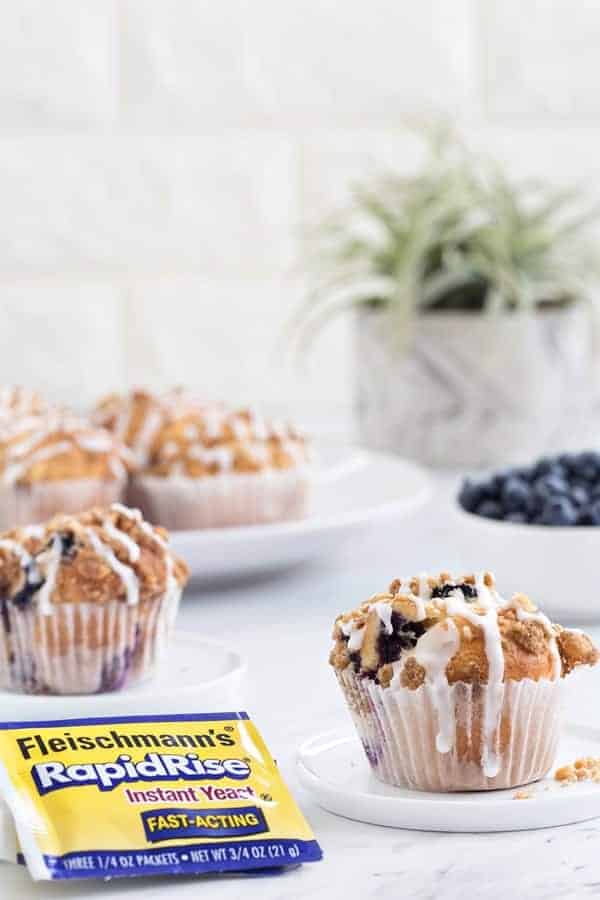 I wouldn't recommend using frozen blueberries for this recipe, unless you're cool with purple dough (which you might be!). I used fresh, cold from the fridge blueberries, folded in gently with a rubber spatula after the dough was finished mixing.
The walnut topping on these Blueberry Walnut Muffins is perfection, so I didn't change a thing there – it's simply brown sugar, flour, walnuts, butter, and cinnamon.
But let's talk about this glaze. You really can't go wrong with powdered sugar and milk, but with the addition of blueberries to the dough, lemon juice seemed like a no-brainer.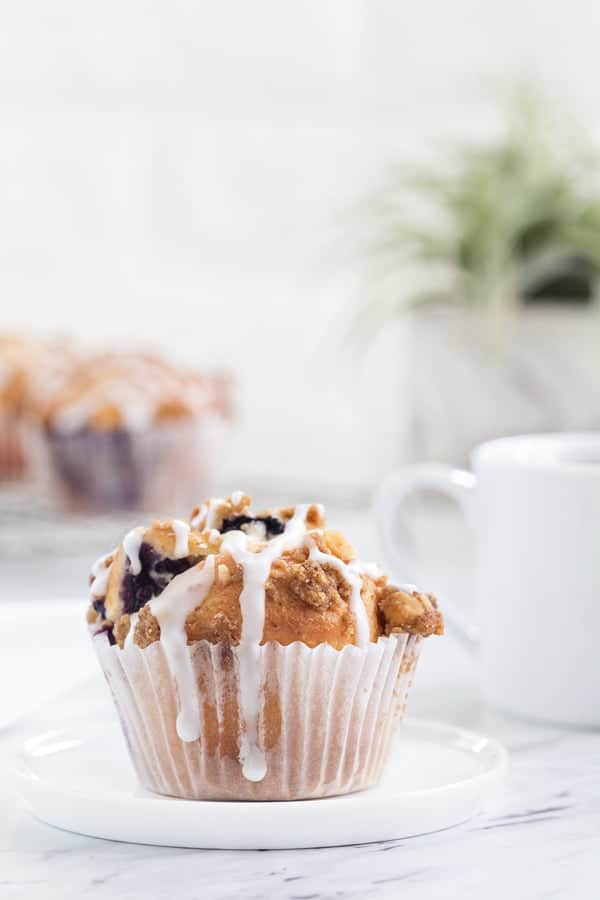 Lemons make the flavor of blueberries pop, making these Blueberry Walnut Yeast Muffins a true taste of spring.
When we popped these big, fluffy breakfast breads out of the oven, Elle's eyes were huge. It's hard to resist such a thing, especially for a 3-year-old.
But I told her, "Wait for the glaze, EB. It'll be worth it." Mama is always right, you guys.
The look on that girl's face when I presented her with a mile-high muffin and tall glass of milk in her favorite Paw Patrol cup? This is why I bake.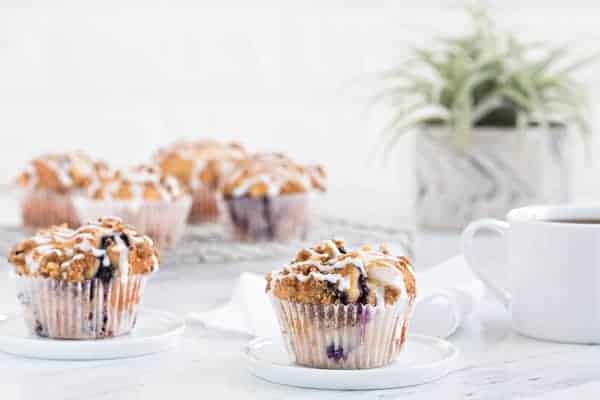 And why you should too. Baby girl and I are going to bake a little extra this Mother's Day because these Blueberry Walnut Yeast Muffins are a huge hit in our home!
You know what else would be amazing in this recipe? Sour cherries. Oh man. Thank goodness it's spring!
For more delicious recipes using Fleischmann's® RapidRise™ Yeast, be sure to check out these Blueberry Cream Cheese Kolaches and this Strawberry Rhubarb Coffee Cake.
Blueberry Walnut Muffins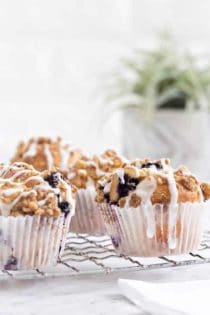 Ingredients:
DOUGH
3 cups all-purpose flour
1/3 cup sugar
1 envelope Fleischmann's® RapidRise™ Yeast
1 teaspoon salt
1/2 cup water
3/4 cup milk
1/4 cup unsalted butter
1 egg
2/3 cup fresh blueberries, chilled
WALNUT TOPPING
1/2 cup brown sugar
1/2 cup all-purpose flour
1/2 cup chopped walnuts
1/4 cup unsalted butter, cold and cut into pieces
1-1/2 teaspoons ground cinnamon
GLAZE
1 cup powdered sugar
1 teaspoon lemon juice
1 to 2 tablespoons milk
Directions:
Line 2 standard size muffin pans with paper liners.
Combine 1 cup flour, sugar, undissolved yeast and salt in a large bowl.
Heat water, milk and butter until very warm (120º to 130ºF).
Gradually add the milk mixture to flour mixture. Beat 2 minutes at medium speed in an electric mixer, scraping bowl occasionally.
Add egg and 1 cup flour; beat 2 minutes at high speed.
Stir in enough remaining flour to make stiff batter.
Gently fold in the chilled blueberries with a rubber spatula.
Use a medium cookie scoop sprayed with nonstick cooking spray to distribute the dough between into the prepared muffin pans. (Muffin cups should be half full).
Cover; let rise in warm, draft-free place until doubled in size, about 30 minutes.
While the muffins are rising, make the walnut topping by combining the brown sugar, flour, walnuts, butter and cinnamon with a pastry blender or two forks until you create pea-sized crumbs. Refrigerate the topping until read to use.
Once the muffins have risen, sprinkle with the walnut topping.
Bake at 375ºF for 22-25 minutes until golden brown. Remove from pan; cool on wire rack.
Once the muffins are cool, stir together the powdered sugar, lemon juice and 1 teaspoon of milk at a time until you reach the desired consistency. You want the glaze to be just thin enough to drizzle over the muffins.
Follow Jamie on Instagram. We love to see what you're baking from MBA! Be sure to tag @jamiemba and use the hashtag #mbarecipes!
This post may contain affiliate links. We are a participant in the Amazon Services LLC Associates Program, an affiliate advertising program designed to provide a means for us to earn fees by linking to Amazon.com and affiliated sites.