Blueberry Cream Cheese Kolaches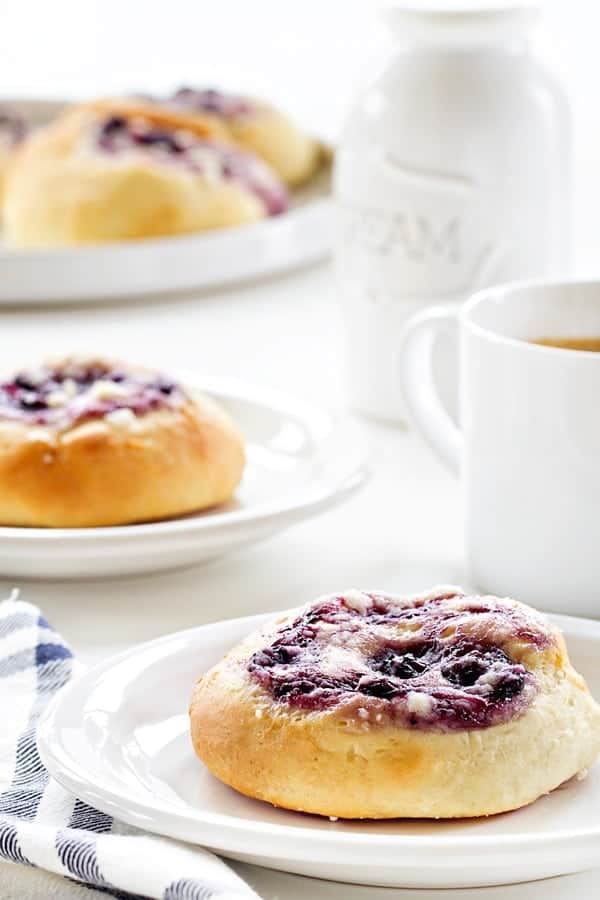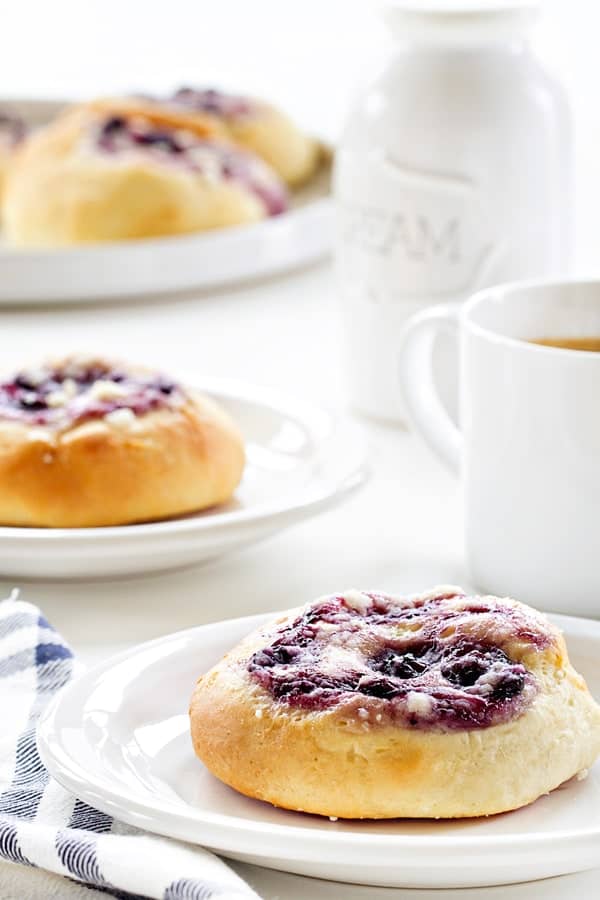 Blueberry Cream Cheese Kolaches make a sweet start to your day. Once you've had one, you'll be baking up kolaches whenever you can!
This is a sponsored post on behalf of Fleischmann's® Yeast.Thank you for continuing to support the brand
Okay, if you're anything like me, you look at the title of this post and go, "What the heck is that word? How do you say it?!" Kolash? Let me help you out a little bit – it's a koe-la-chee. Strong 'e' at the end of the word.
Yeah, I didn't quite get it either. When I was browsing Fleischmann's website, www.breadworld.com, for new breakfast ideas, I stumbled on this recipe and was intrigued. The picture drew me in because they sort of look like a Danish, but with a different, heartier dough. And when you're looking at the sweet versions (there are savory too), you definitely see all the same sorts of fillings; blueberry, cream cheese, cherry, lemon, raspberry…pretty much any preserve or pie filling will do well in this recipe.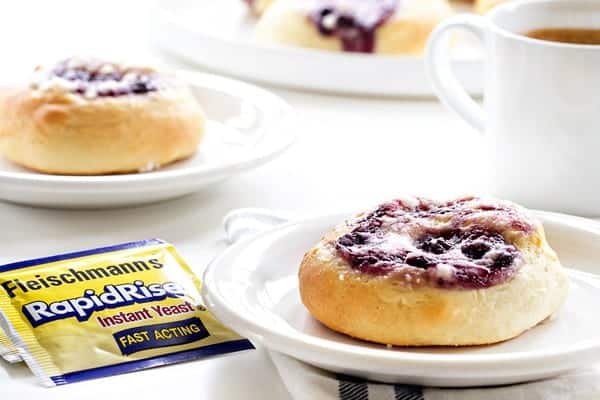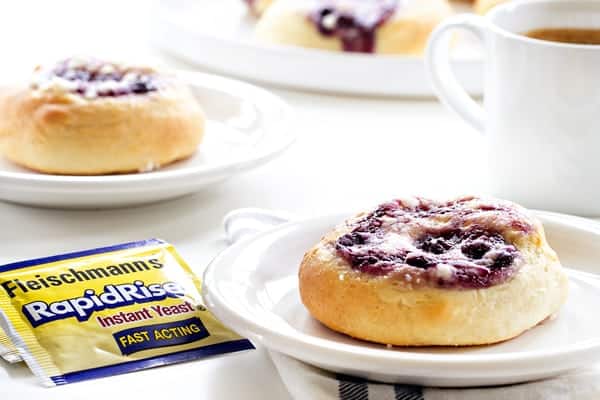 Leave it to my friend Amber to school me on just exactly what a kolache is, and maybe more importantly, how to say it. You see, Amber is a very proud Texan, and she knows a fair bit about Texas food history. It turns out kolaches came over to Texas with German and Czech immigrants in the 1800s. There was a massive wave of immigration then due to religious persecution, and today, kolaches are very much a part of Texas food history. Learn something new every day, doncha? Me too.
The sweet versions are made to look very much like Danishes. The filling goes in the center of the open-topped pastry, so that you can see just what you're getting. If you go for a savory kolache, you'll get something that looks more like pigs n' a blanket. Savory kolaches almost always contain a kielbasa-like breakfast sausage, plus cheese, and sometimes even jalapeños! Sounds like my kind of breakfast treat.
The commonality between the sweet and savory kolaches is their dough. Kolache dough is ever so slightly sweet, with just a little bit of tang. Sometimes that's provided by sour cream, while other recipes call for sweetened condensed milk. When you combine the sour cream and yeast, the 'tang' is a bit stronger than it would be with sweetened condensed milk, and I personally think it's awesome. The perfect match for sweet jammy filling.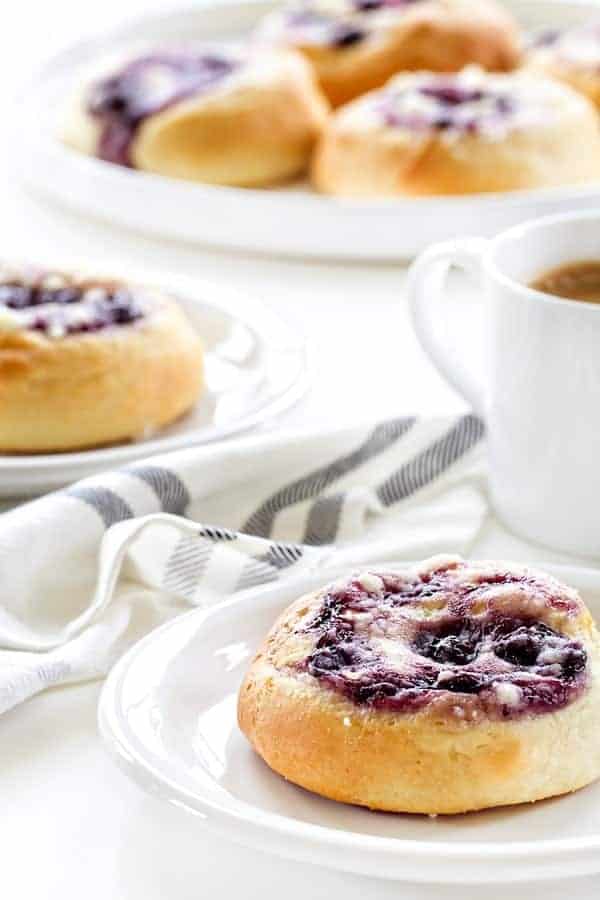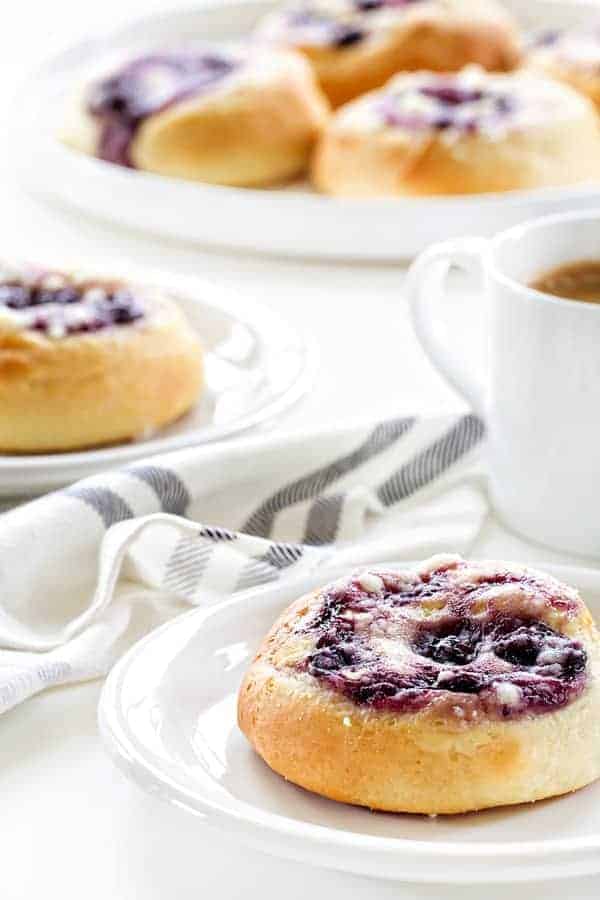 Amber tells me that fruit and cream cheese combo kolaches are quite common, and that her favorites are raspberry or apricot. We love blueberries around here, so what better way to introduce kolaches into our lives than with one of our favorite fruits? Plus, I think these could make for a perfect Easter brunch treat, don't you?
At first glance, Kolache dough can appear to take a little bit of a time commitment, but don't let that fool you because almost all of it is just the dough resting and rising. The other thing I've got to mention is that I want you to have a gentle hand when you handle it. The more you work dough, the tougher the resulting bread will be; that's true of sandwich bread and kolache dough alike. So treat it kindly, and you will have the most supple, delectable kolaches you can imagine.
The best part about working with the yeast I use is I don't worry about making time for multiple rises, because I used Fleischmann's® RapidRise Yeast. It's the most reliable yeast I've ever used, so I'm starting to approach baking projects like this without fear. Gotta love that!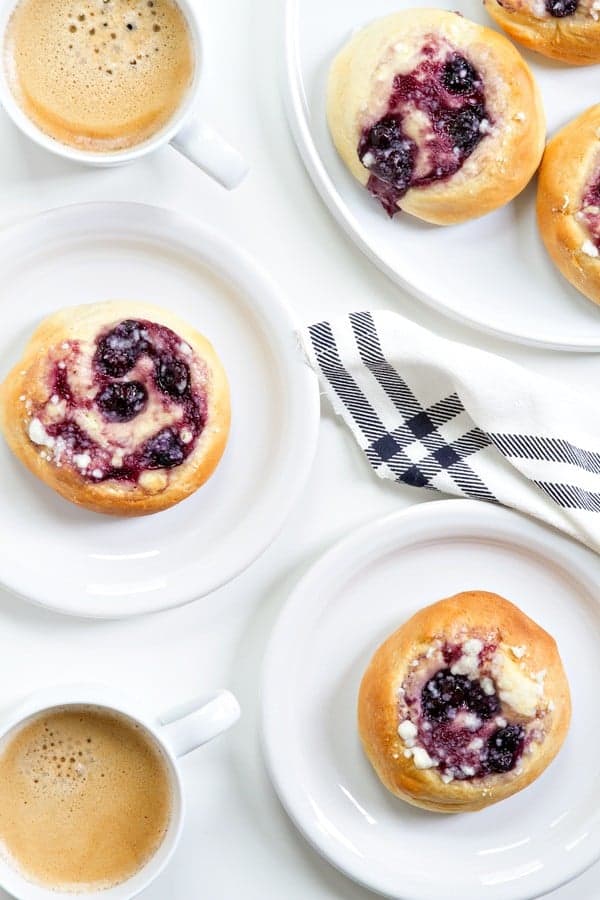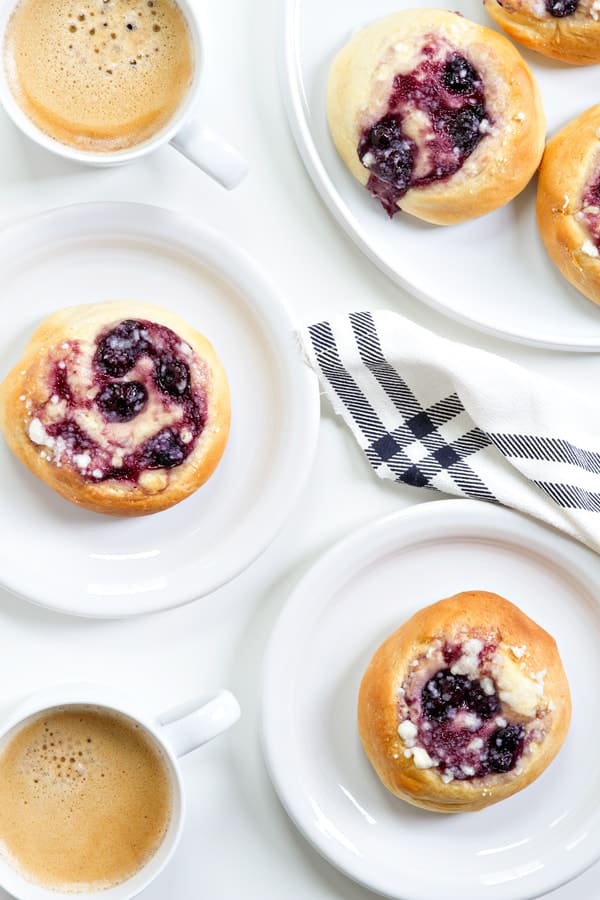 I made a cream cheese filling to put into the dough indentations first, and then dolloped the blueberry pie filling on top of that – you can skip the cream cheese mixture if you want, and feel free to use any sort of preserves or pastry filling you like. I also added a little streusel topping, because you simply can't go wrong with streusel topping – ever. Cherry pie filling is definitely next on our list. Think cherry cheesecake with a kolache dough base. Oh, yes!
I'd love to know if you've tried kolaches. Do you prefer sweet, or savory? I've definitely also got sausage and cheese on my list – with extra jalapeños! If you give these Blueberry Cream Cheese Kolaches a try, don't forget to bake a little extra and share the love, because they're sure to be a hit!
Blueberry Cream Cheese Kolaches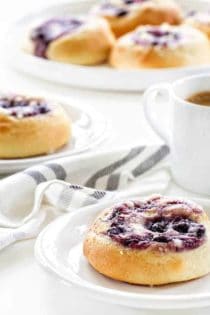 Ingredients:
For the Kolache Dough
4-1/2 cups all-purpose flour, divided
2 envelopes Fleischmann's® RapidRise™ Yeast
1/2 cup sugar
1-1/2 teaspoons salt
1/2 cup water
1 cup (8 ounces) sour cream
1/2 cup butter
2 eggs
For the Filling:
4 ounces cream cheese, room temperature
3 tablespoons granulated sugar
1 large egg yolk
1 1/2 tablespoons all-purpose flour
1 can (12 ounces) pastry filling – blueberry, raspberry, apricot, poppy seed, prune, etc.
For the Streusel Topping:
1/4 cup all-purpose flour
1/4 cup granulated sugar
2 tablespoons cold butter, diced
Directions:
Combine 1-1/2 cups flour, undissolved yeast, sugar and salt in a large mixer bowl.
Heat water, sour cream and butter until very warm (120° to 130°F).
Gradually add to flour mixture. Beat 2 minutes at medium speed of electric mixer, scraping bowl occasionally.
Add eggs and 1 cup flour; beat 2 minutes at high speed.
Stir in remaining 2 cups flour (by hand so as not to overwork) to make a stiff batter. Cover tightly with plastic wrap; refrigerate 2 to 24 hours.
Remove dough from refrigerator. Divide into 24 equal pieces; shape each into a ball. Place balls on greased, or parchment lined baking sheets 2 inches apart. Cover; let rest 15 minutes.
While the dough is resting, prepare the cream cheese filling and streusel topping.
For the Cream Cheese Filling
In a medium bowl with an electric mixer, combine the cream cheese, sugar, and egg until fully incorporated and smooth.
Sprinkle in flour and mix until combined.
For the Streusel Topping
Place the flour, sugar, and butter into a food processor and pulse until crumbly, or use a pastry blender to incorporate the butter into the flour and sugar.
To Assemble the Kolaches
Make a deep and wide indentation on each dough ball by pushing outward toward edge, leaving 1/2-inch ridge around outside. I used a metal tablespoon measuring spoon that was coated with nonstick cooking spray to create the indentations.
Fill with a heaping teaspoon of the cream cheese mixture and top that with a heaping teaspoon of of pastry filling.
Sprinkle kolaches with streusel topping.
Cover with plastic wrap that has been sprayed with cooking spray.
Let rise in warm, draft-free place until doubled in size, about 1 hour.
Bake in preheated 350°F oven for 18 to 23 minutes or until done.
Remove from baking sheets; cool on wire racks.
Adapted from Breadworld.com
All images and text ©
Follow Jamie on Instagram. We love to see what you're baking from MBA! Be sure to tag @jamiemba and use the hashtag #mbarecipes!

This post may contain affiliate links. We are a participant in the Amazon Services LLC Associates Program, an affiliate advertising program designed to provide a means for us to earn fees by linking to Amazon.com and affiliated sites.