If you haven't realized it yet – I kind of have a thing for chai spices. From teas and lattes to cookies, it's my flavor of choice during the cold winter months. There's just something about that combination of rich, aromatic spices that warms me up and calms me down.
I've also been on a muffin kick lately – several of which have been epic disasters which is why they haven't graced the pages of MBA. One recipe didn't rise, another sunk and one seemed to implode – meaning none of them were even remotely photogenic. However, this weekend I thought I'd combine two of my favorite things into one incredibly delicious recipe – Chai Spiced Glazed Doughnut Muffins.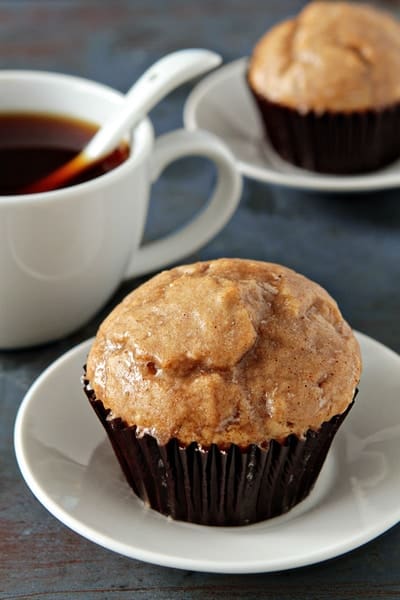 I used the base from my Glazed Doughnut Muffins, but this time I infused the batter with chai spices. The intoxicating aroma of the baking muffins immediately made me fall head over heels for this recipe. The beautifully domed tops were just begging to take a double dip in a sweet, spicy glaze.
Whether you're craving a muffin, glazed doughnut or Starbuck's Chai Tea Latte, I'm pretty sure I've got ya covered with these Chai Spiced Glazed Doughnut Muffins.