Chai Spiced Glazed Doughnut Muffins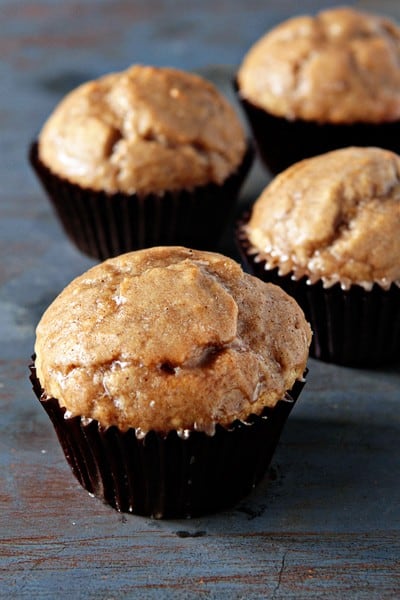 If you haven't realized it yet – I kind of have a thing for chai spices. From teas and lattes to cookies, it's my flavor of choice during the cold winter months. There's just something about that combination of rich, aromatic spices that warms me up and calms me down.
I've also been on a muffin kick lately – several of which have been epic disasters which is why they haven't graced the pages of MBA. One recipe didn't rise, another sunk and one seemed to implode – meaning none of them were even remotely photogenic. However, this weekend I thought I'd combine two of my favorite things into one incredibly delicious recipe – Chai Spiced Glazed Doughnut Muffins.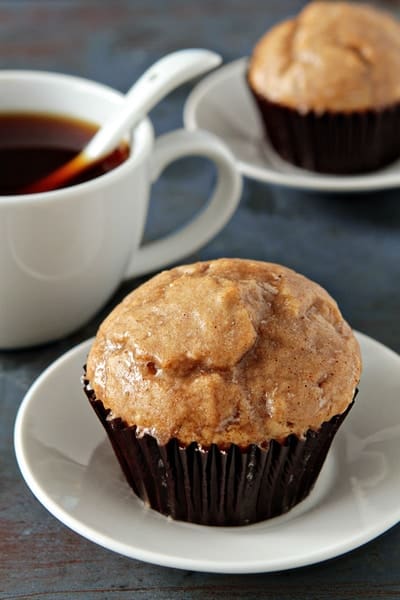 I used the base from my Glazed Doughnut Muffins, but this time I infused the batter with chai spices. The intoxicating aroma of the baking muffins immediately made me fall head over heels for this recipe. The beautifully domed tops were just begging to take a double dip in a sweet, spicy glaze.
Whether you're craving a muffin, glazed doughnut or Starbuck's Chai Tea Latte, I'm pretty sure I've got ya covered with these Chai Spiced Glazed Doughnut Muffins.
Chai Spiced Glazed Doughnut Muffins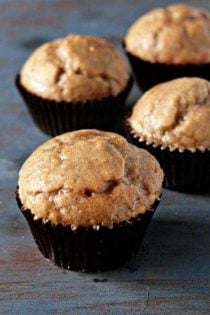 Ingredients:
For the Muffins
1/4 cup butter
1/4 cup vegetable oil
1/2 cup granulated sugar
1/3 cup light brown sugar
2 large eggs
1 1/2 teaspoons baking powder
1/4 teaspoon baking soda
2 teaspoons ground cinnamon
1 teaspoon ground ginger
1 teaspoon ground cardamom
1/2 teaspoon ground allspice
1/4 teaspoon finely ground black pepper
3/4 teaspoon salt
1 teaspoon vanilla extract
2 2/3 cups all-purpose flour
1 cup milk
For the Glaze
3 tablespoons butter; melted
1 cup confectioners' sugar; sifted
1/4 teaspoon cinnamon
1/8 teaspoon ground ginger
1/8 teaspoon ground cardamom
1/8 teaspoon ground allspice
3/4 teaspoon vanilla
1 tablespoon milk
Directions:
Directions
1. Preheat the oven to 425°F. Lightly grease a standard muffin tin, or line with 12 paper muffin cups.
2. In a medium-sized mixing bowl, cream together the butter, vegetable oil, and sugars until smooth.
3. Add the eggs one at a time, beating to combine.
4. Stir in the baking powder, baking soda, cinnamon, ginger, cardamom, allspice, black pepper, salt and vanilla. Mix well to fully incorporate.
5. Stir the flour into the butter mixture alternately with the milk, beginning and ending with the flour and making sure everything is thoroughly combined.
6. Using a large scoop (about 3 tablespoons), divide the batter evenly into the prepared pan, filling the wells nearly full.
7. Bake the muffins in preheated oven for 15 to 17 minutes, or until they're a pale golden brown and a cake tester inserted into the middle of one of the center muffins comes out clean. Prepare the glaze.
For the Glaze
1. In a medium bowl, mix together the melted butter, confectioners' sugar, spices, vanilla and milk. Whisk until smooth.
2. When muffins have cooled slightly (about 5 minutes), dip the muffin crown into the glaze and allow the glaze to harden. At this point, you can leave them as is or go for the double dip. I glazed my muffins twice.
3. Serve warm, or cool on a rack and wrap airtight. Muffins will keep at room temperature for about a day.
Follow Jamie on Instagram. We love to see what you're baking from MBA! Be sure to tag @jamiemba and use the hashtag #mbarecipes!
This post may contain affiliate links. We are a participant in the Amazon Services LLC Associates Program, an affiliate advertising program designed to provide a means for us to earn fees by linking to Amazon.com and affiliated sites.