This cherry fritter cake is packed full of summer flavor. Fresh cherry filling is sandwiched in between moist cake and topped with a vanilla bean glaze. You're going to go crazy for this cake!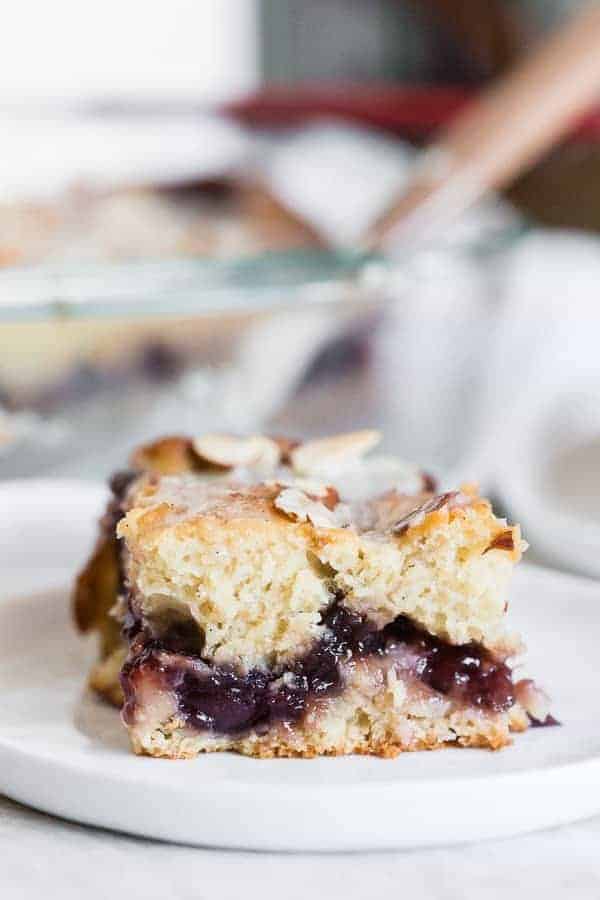 Hi MBA readers! I'm Brandy from the blog Nutmeg Nanny and today I'm bringing you CAKE! Seriously, who doesn't love cake? I don't make a lot of cake because when I do I end up standing in the kitchen, fork in hand, eating it straight from the dish. My husband (Art) will walk into the kitchen and be all "um, babe? Are you eating that cake straight out of the dish?" YES I AM! STOP JUDGING ME!
But, if you're a civilized person this cake is pretty good when served on a plate. Since I made sure to put on a glaze it's perfectly sweet but I don't think a dollop of whipped cream would hurt.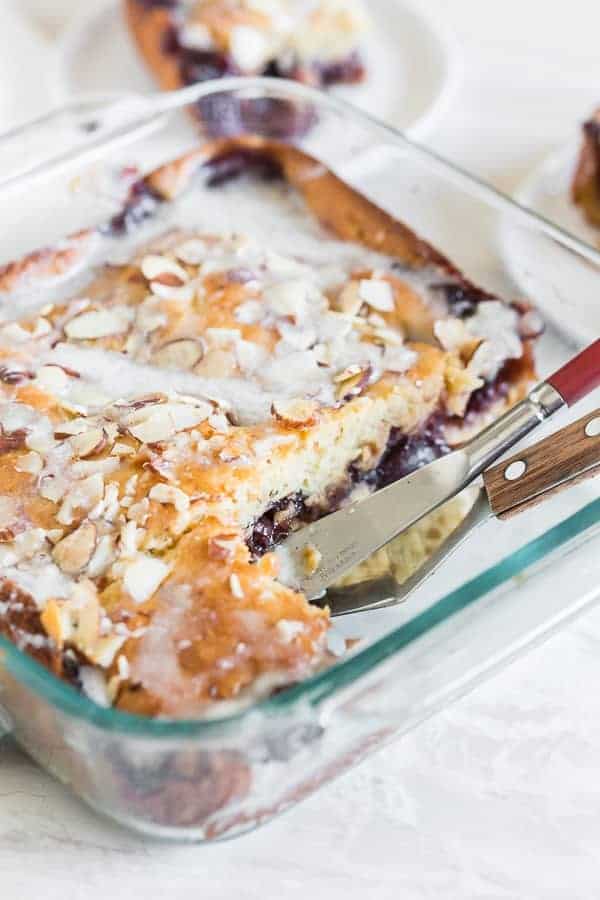 Now that you know I have mad love for cake I should also let you know that I LOVE me some fritter cake. A few years ago I made a blueberry fritter cake and this summer I plan on frittering all. my. cakes. I'm not sure frittering is really a word but it 100% works in this situation.
Plus it's just really fun to say the word fritter and even more fun to say the word frittering.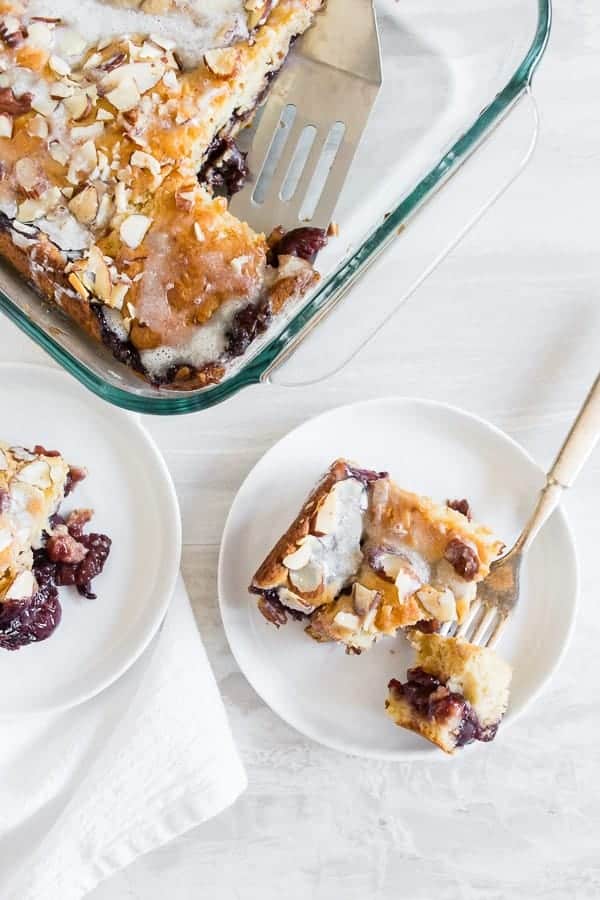 The funny thing is when I was a kid I hated all things cherry. I didn't like cherry pie, hated cherries on top of cheesecake and wanted nothing to do with cherry cakes. Luckily I'm an adult now and know that cherries are freaking amazing and they should be included in ERRRRRRYTHING!
I think the glaze is key on this cherry fritter cake because all cakes should either have frosting or glaze. If not they are just weird cake like muffin squares and that is sad. I LOVE using vanilla bean paste but vanilla extract will work well too. But, the paste is big time vanilla flavor and you get all those cute vanilla bean specks.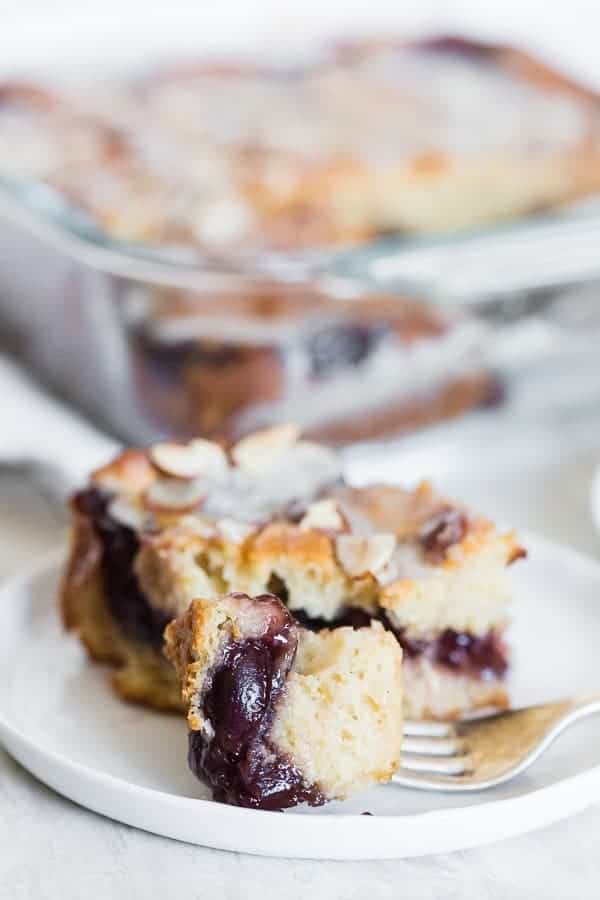 I used frozen pitted cherries in this cherry fritter cake because I find them to be the easiest and most cost affective. They are already pitted (the worst and messiest chore ever) and all that is involved is opening the bag and using them. However, just because they are pitted it's always wise to double check a pit didn't get into the bag because there is literally nothing worse than biting down on a pit. OUCH! (Looking for another way to use frozen cherries? Try my frozen cherry crisp!)
Also, when you're cooking your cherry filling mixture make sure to break it up a little. I left the cherries in large chunks but made sure to not keep them totally whole. I wanted a nice distribution of cherries so each bite is delicious and cherry filled.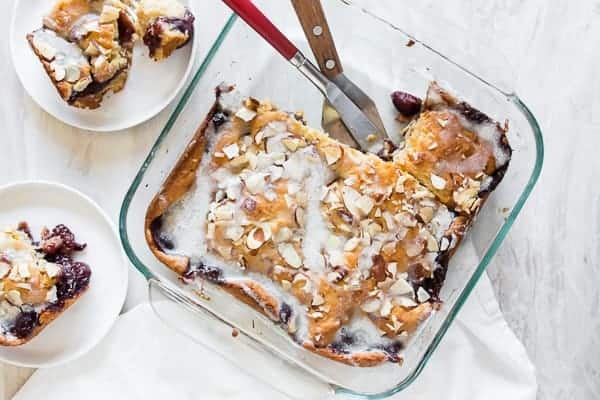 For more delicious cherry recipes, be sure to check out these delightful recipes here on My Baking Addiction: