Craving chicken pot pie but don't have time to make the whole thing from scratch? Try this weeknight-friendly Chicken Pot Pie Casserole! A creamy homemade filling topped with puff pastry is simple enough for a weeknight but comforting enough to share with company.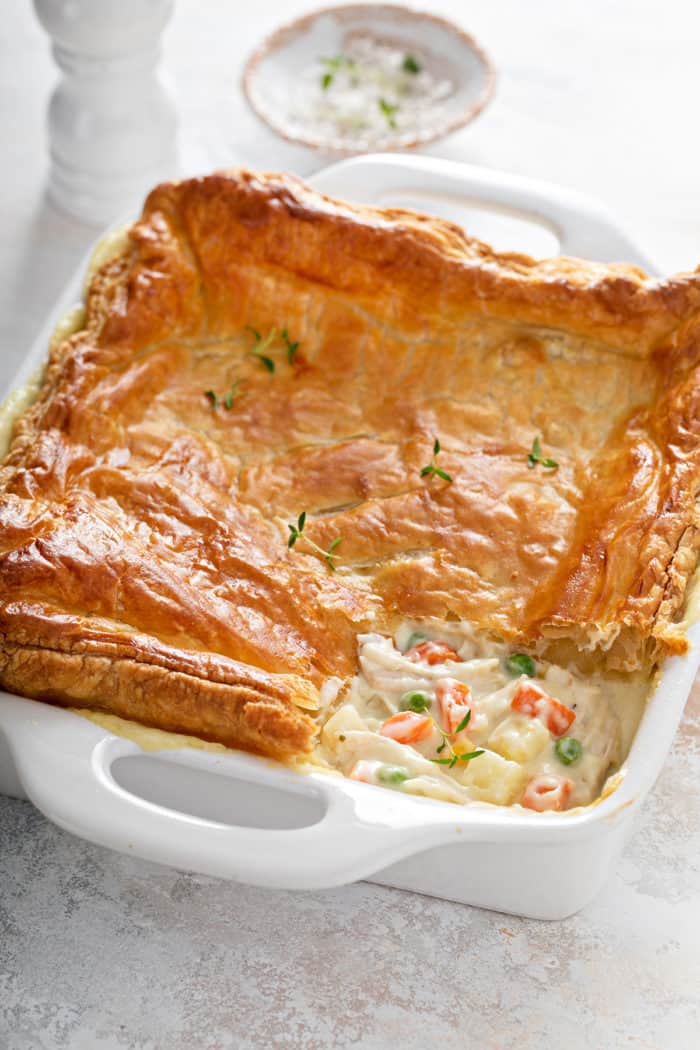 There are a few foods that I really love but Eric and Elle just can't get on board with. Unfortunately for me, chicken pot pie is one of them.
So making a big chicken pot pie just for myself isn't exactly in the cards. But making a meal inspired by chicken pot pie that I can share with my mom and her boyfriend? That I can do.
This Chicken Pot Pie Casserole is perfect for exactly that. It can easily feed a family of 4 with a side salad or can generously feed 1-2 people with leftovers (which reheat well).
Plus, it's make-ahead friendly, so I can assemble the casserole and then drop it off at my mom's for her to throw in the oven later.
It's basically a busy mom's dream meal!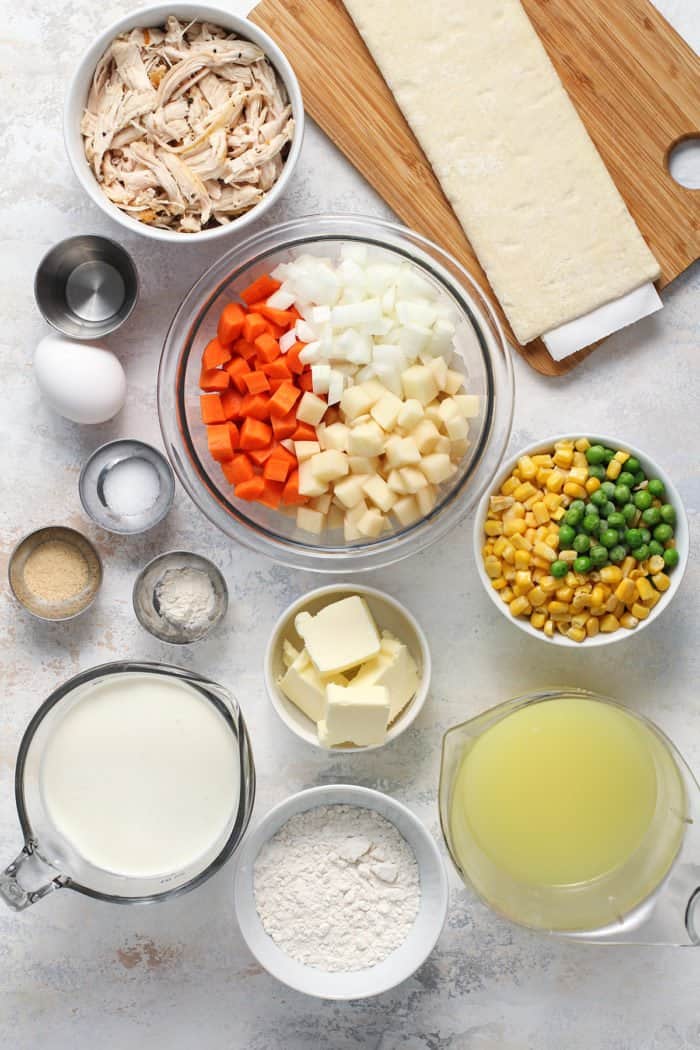 WHAT IS CHICKEN POT PIE CASSEROLE?
Chicken pot pie is delicious. It's also a pie, and you know how I feel about pie crust:
It's not my favorite thing to deal with.
So there's pretty much no chance I'll be making it on a school night. Definitely nope.
But casseroles? Casseroles I can do. Easy dishes like Cheeseburger Tater Tot Casserole, chicken spaghetti casserole, and Jiffy Corn Casserole are my weeknight jam.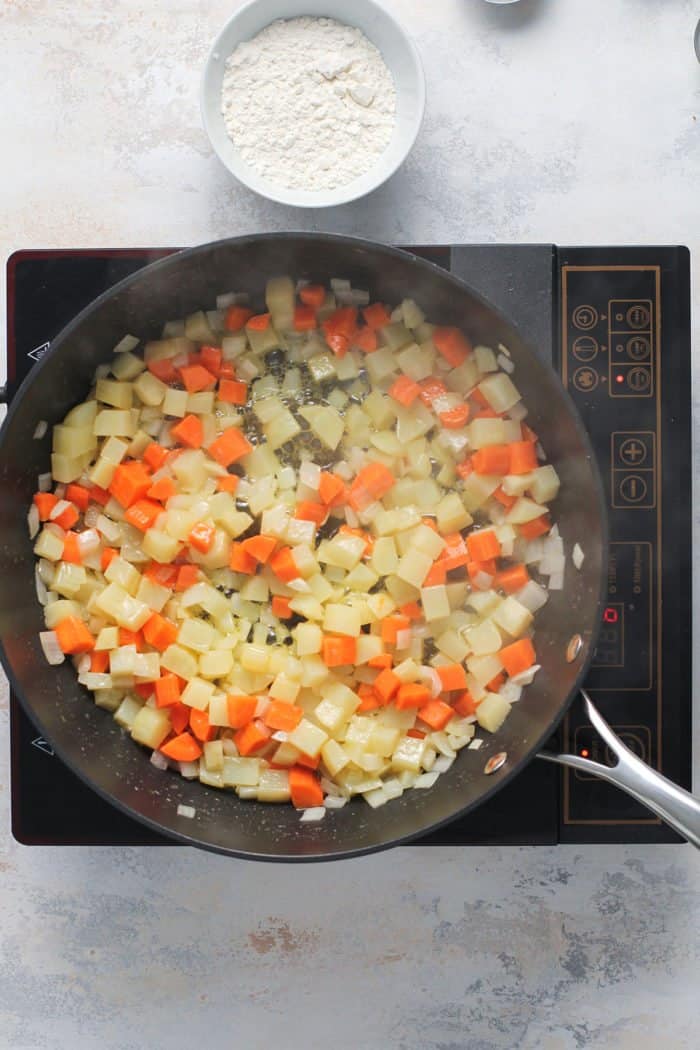 This Chicken Pot Pie Casserole takes the pot pie you grew up loving and turns it into something you can actually throw together after running around or working all day.
I grabbed the filling recipe from my friend Stephie's homemade chicken pot pie, made a couple of tiny tweaks, and topped it with a sheet of puff pastry.
It takes me maybe 20 minutes to throw together and can bake while you get a head start on tidying the kitchen and throw together a salad with homemade ranch dressing or a summer tomato salad.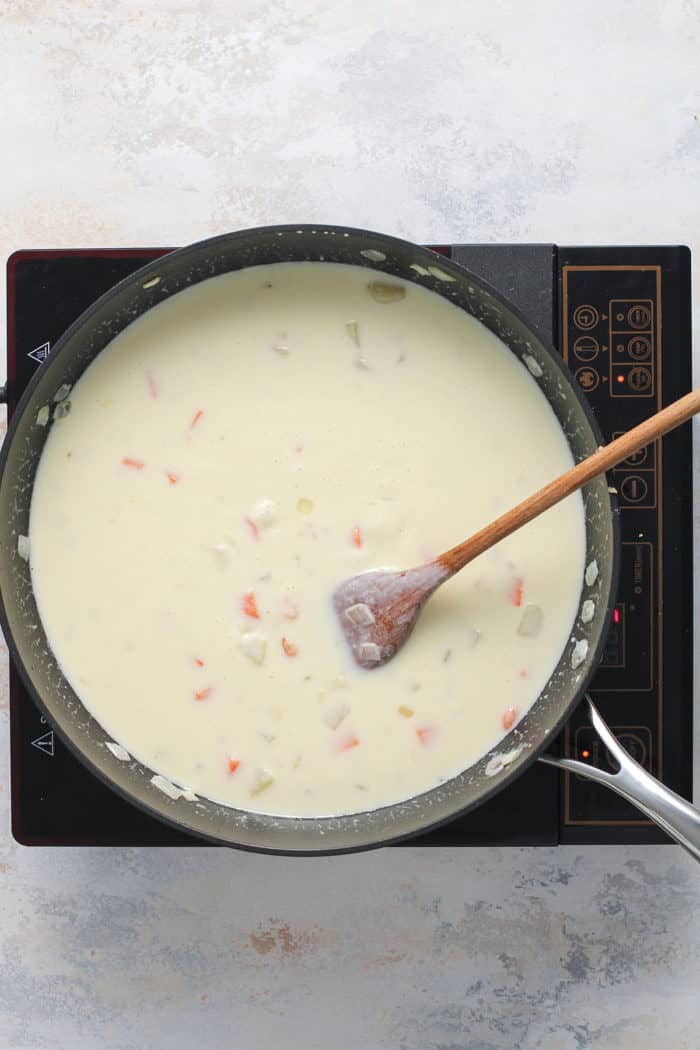 HOW TO MAKE CHICKEN POT PIE CASSEROLE
This casserole doesn't use any canned "cream of" soups and is still so easy to make. Let's get into it!
Ingredients you'll need
Let's talk through the ingredients used for this Chicken Pot Pie Casserole:
Shredded rotisserie chicken: Rotisserie chickens are one of the best weeknight dinner inventions. I love to grab them when they're on sale, pick the meat off, package it in 1-cup or 2-cup amounts, and freeze it for later. It makes it easy to grab what I need for dinner!
Assorted diced fresh or frozen veggies: You can use almost any veggie you like in this pot pie casserole. I love potatoes, carrots, corn, peas, and broccoli. You can even use frozen mixed veggies to make this even faster and easier to make!
Butter and flour: This will make up the roux that will thicken the sauce.
Salt, garlic powder and onion powder: All of these add extra flavor to the filling.
Chicken broth and half-and-half: These combine to make the creamy filling. If you can't find half-and-half, you can easily use whole milk instead.
Puff pastry: We'll use thawed puff pastry to make our buttery crust. Thaw the puff pastry in the refrigerator for several hours; make sure you keep it cold until you're ready to work with it.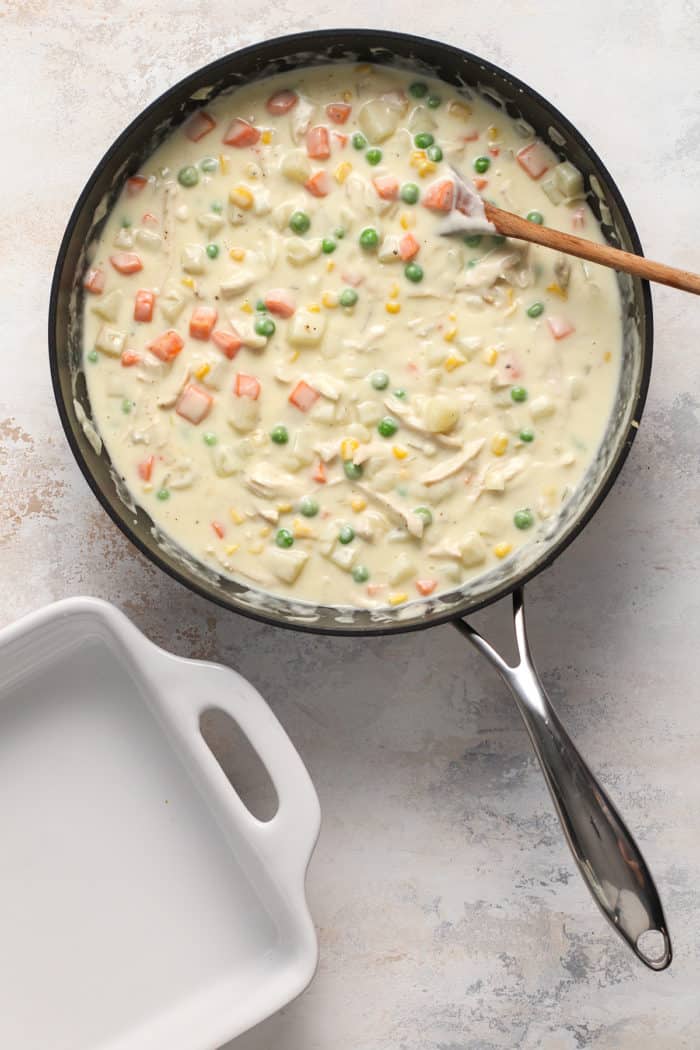 Making this recipe
Grab a large skillet and melt the butter. Add the vegetables and saute them until they're tender but still have a bite – this will take about 5 minutes.
If you're using a combination of fresh and frozen veggies, saute the fresh vegetables first. Thaw the frozen vegetables and add them at the end with the chicken so they don't get mushy.
When your vegetables are cooked, sprinkle the flour, salt, garlic powder, and onion powder over the vegetables. Stir so the flour and seasonings coat all of the vegetables and continue cooking for about 1 minute, stirring constantly.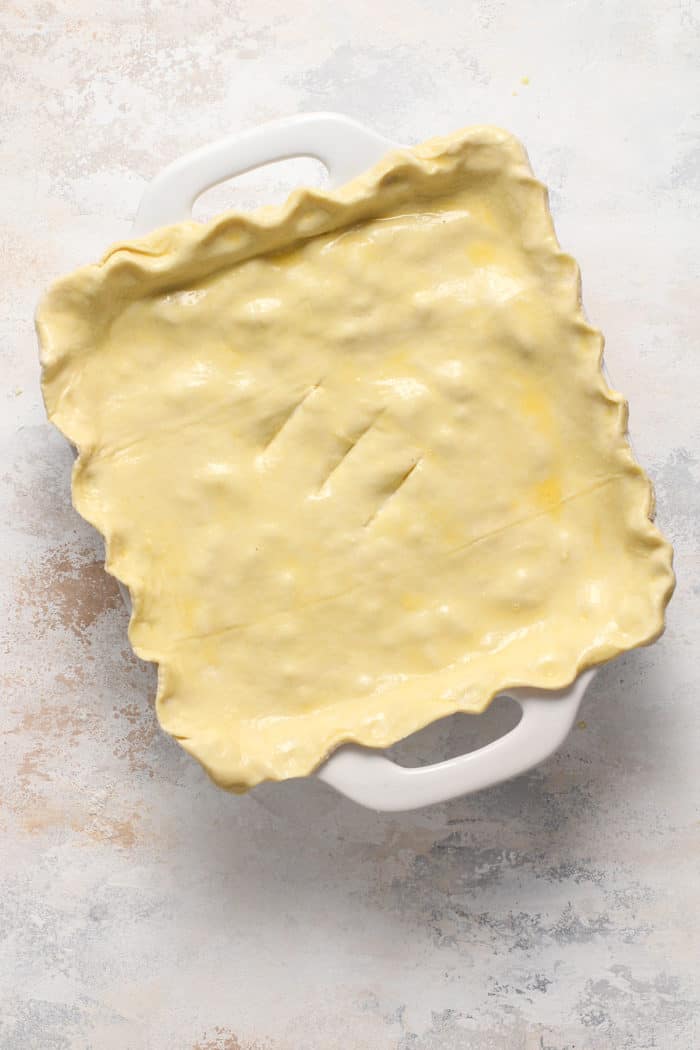 Slowly add the chicken broth and half-and-half and cook, still stirring constantly, until the sauce is nice and thick and bubbly. Stir in the chicken and taste for seasoning; you may want to add additional salt or add in some black pepper.
Pour the filling into a greased 9×9-inch square baking dish and set it aside.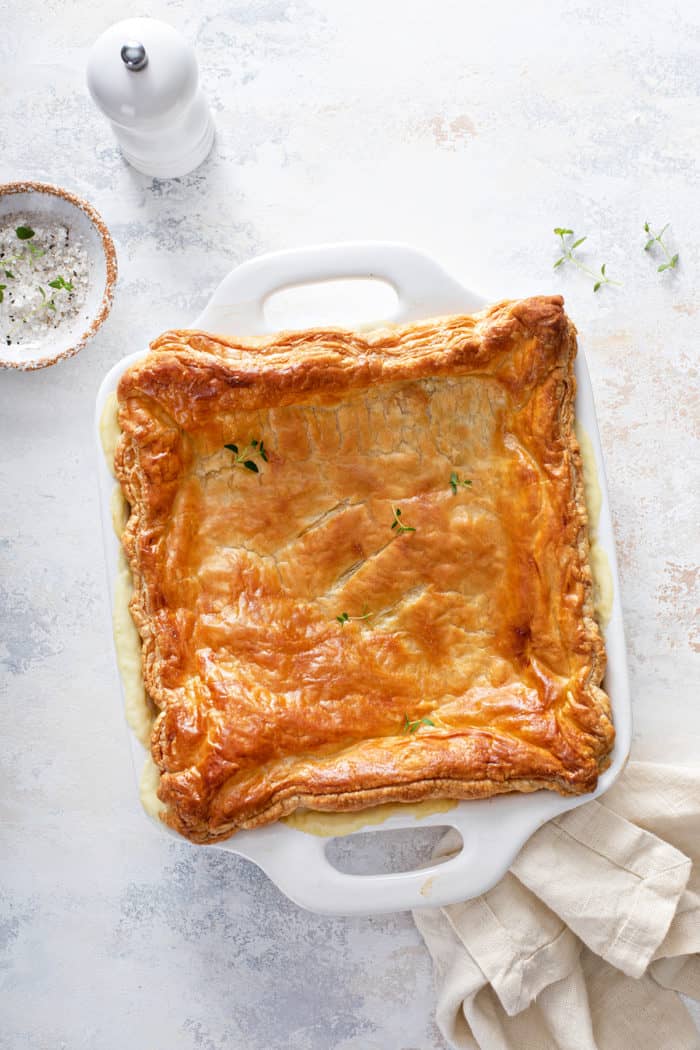 Grab the thawed puff pastry from the refrigerator and unfold it onto a lightly floured surface. Use your fingers or a rolling pin to gently press the seams together. If needed, roll it out to fully cover the filling.
Place the puff pastry over the filling, then brush with some egg wash to get a beautiful golden-brown color when it bakes. Cut several slits into the pastry with a sharp knife.
Bake the casserole for 30 minutes, or until the pastry is golden brown and the filling is bubbly. Let it rest for 5-10 minutes before serving, just to allow the filling to cool a bit.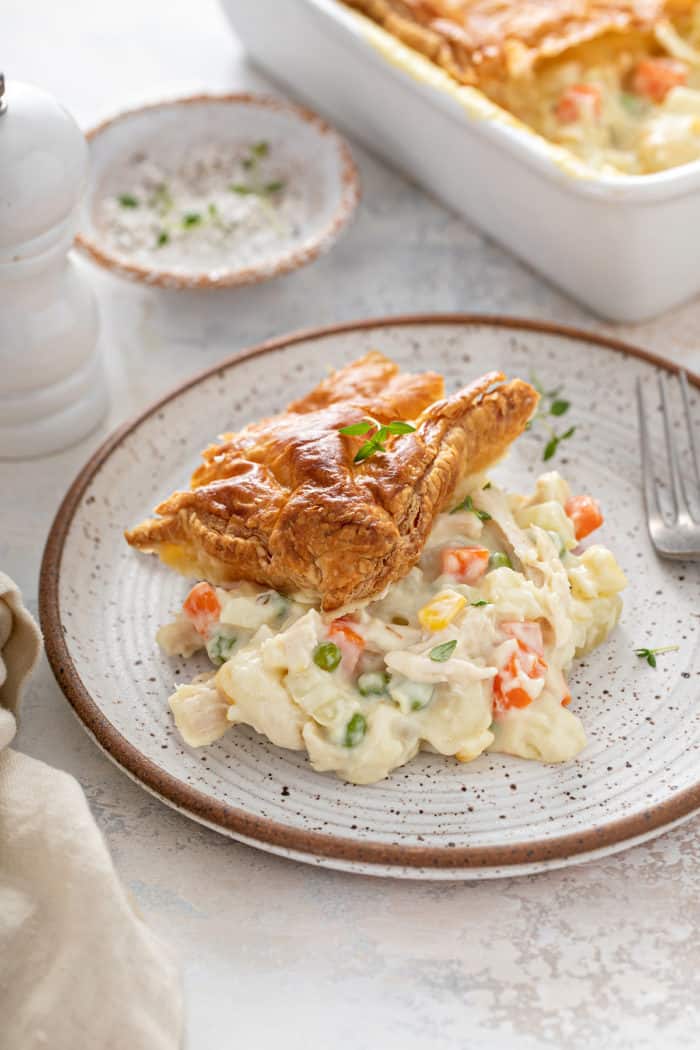 TOPPING ALTERNATIVES
I love the way that the buttery, flaky puff pastry pairs with the creamy filling in this casserole, but puff pastry isn't the only topping option!
You could easily top this casserole with crescent roll dough or canned or frozen biscuits. If you're using crescent roll dough, unroll the dough and press the seams together before placing it over the filling.
If you're using biscuits, line the biscuits up on top of the filling.
With either option, skip the egg wash and bake as directed!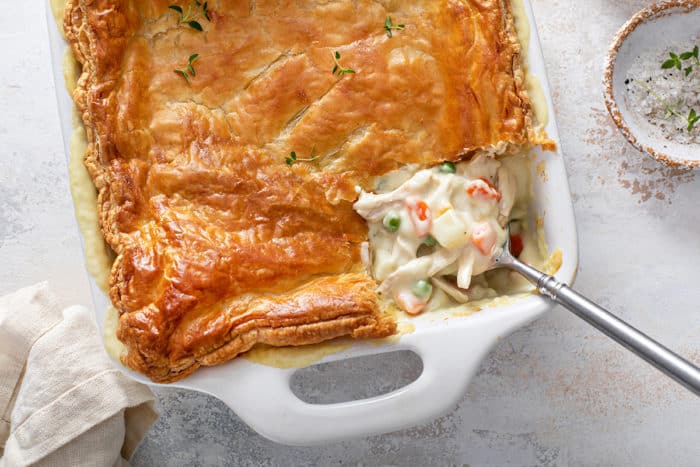 MAKE-AHEAD AND FREEZING INSTRUCTIONS
If you're getting a head start on meal prep for the week, feel free to add this Chicken Pot Pie Casserole to your list of make-ahead-friendly recipes.
There are a few ways to prep this casserole ahead of time:
Cut the vegetables and shred the chicken. Place them into airtight containers in the refrigerator for up to 4 days before using them in the recipe.
Make the filling as directed and pour it into your casserole dish. Cover well and refrigerate for up to 1 day. When ready to eat, add the puff pastry on top and bake the casserole.
Make the filling as directed and pour it into a disposable aluminum pan. Let it cool completely before topping with the puff pastry. Omit the egg wash; cover tightly with a layer of plastic wrap and a layer of foil. Freeze for up to 1 month. To bake, let the casserole thaw overnight in the refrigerator, then top with the egg wash and bake as directed.
Whether you're making this Chicken Pot Pie Casserole recipe for your own family or taking it to a friend, this is an easy dinner that everyone will love!