Most of the time, the items that I bake are entirely random. I've never been one to really plan out my editorial calendar – what you see on MBA is typically just what I happened to bake the week prior. Most of the time the recipes are a direct reflection of what's in my pantry, a form of my procrastination or a serious craving.
Last week, I had the urge to make a cheesecake even though I was pestered by coworkers for Chocolate Chip Cookies. The pleas for chocolate chip cookies are typically followed by one of my famous, overly dramatic eye rolls and mumbling under my breath that their boring requests are stifling my creativity. Which is totally not the case, but it's usually followed by them stroking my ego a little bit and telling me how irresistible my cookies are.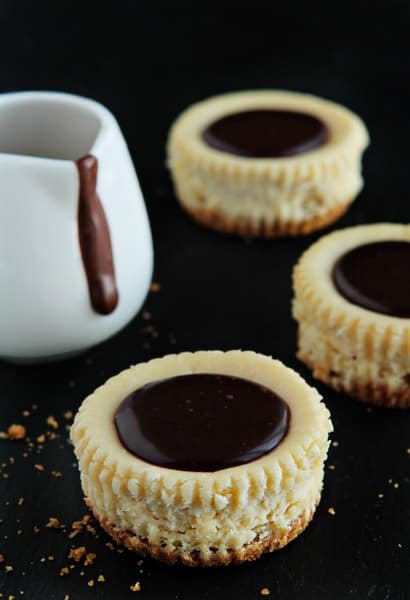 I simply can't deny their food related requests – I save my denial credits up for things like hosting work parties and going on on weeknights. So I tried to appease them by combining our cravings into a bite of Chocolate Chip Cookie Dough Cheesecake bliss. I used a stash of "emergency" cookie dough from the freezer and placed a little ball of dough into the center of each mini cheesecake.
I embraced the small divot created on top of the mini cheesecakes by the weight of the cookie dough pulling it down during baking, by of course, adding more chocolate. That pool of chocolate ganache hides the cookie dough surprise and makes for a silky and alluring visual punch.
Try as he might, their boring requests have yet again inspired something truly amazing.
[pinit]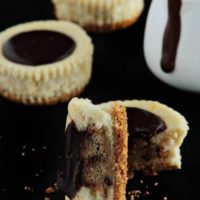 Chocolate Chip Cookie Dough Cheesecakes
Yield:
24 mini cheesecakes
Ingredients
For the Crust
1 ½ cup graham cracker crumbs
4 tablespoons unsalted butter; melted
2 tablespoons granulated sugar
For the Filling
3 (8 ounce) bricks of cream cheese; softened
3/4 cup sugar
1/4 teaspoon salt
2 teaspoons pure vanilla extract
3 large eggs, at room temperature
1/4 cup heavy cream
8 ounces prepared chocolate chip cookie dough
For the Ganache
4 oz bittersweet chocolate, chopped into very small pieces
1/2 cup heavy whipping cream
2 tablespoons honey
2 tablespoons light corn syrup
2 teaspoons pure vanilla extract
Instructions
1. Preheat the oven to 350 degrees F. Line 2 cupcake pans with 24 paper liners.
2. In a small bowl, combine the graham cracker crumbs, melted butter and sugar. Stir together with a fork until well blended and all dry ingredients are moistened and look like wet sand. Press 1 tablespoon of the mixture into the bottom of each cupcake liner. Bake in preheated oven until just set, about 5 minutes. Transfer to a cooling rack. Reduce oven temperature to 325 degrees F.
3. In the bowl of a stand mixer fitted with the paddle attachment, or in a medium bowl with an electric mixer, beat the cream cheese on medium-high speed until smooth. Add in the sugar and continue beating until it is well incorporated. Mix in the salt and vanilla. Beat in the eggs one at a time, mixing well after each addition. Add in the heavy cream and mix until it is just combined into the batter.
4. Using a large scoop (about 3 tablespoons) divide the cheesecake batter, pouring it directly onto the prepared crusts.
5. Nestle about 1 1/2 teaspoons of cookie dough into the center of each cheesecake.
6. Bake until the filling is just set, about 20 to 25 minutes. Transfer to a wire cooling rack and let cool to room temperature. Transfer to the refrigerator and let chill for at least 4 hours before topping and serving, preferably overnight.
7. Once your cheesecakes are completely set, prepare the ganache. In a small saucepan over medium heat, warm the heavy cream until very hot, but not boiling.
8. Place chocolate pieces into a heat safe bowl. Pour the hot cream over the chocolate and allow it to sit for about 5 minutes. Whisk the cream and chocolate until smooth and thoroughly combined. Whisk in the honey, corn syrup, and vanilla. Allow it to cool for about 15 minutes. Do not let the glaze sit for too long or it will harden up before you spoon it onto the cheesecakes.
9. Spoon the glaze into the center of each cheesecake. Return the cheesecakes to the refrigerator until you are ready to serve.
Notes
- If you don't feel like making homemade cookie dough, use store bought - I'm not going to judge you!
- Chocolate glaze is from Confessions of a Cookbook Queen .
- Store the cheesecakes in an airtight container in the refrigerator for up to 3 days.