Most of the time, the items that I bake are entirely random. I've never been one to really plan out my editorial calendar – what you see on MBA is typically just what I happened to bake the week prior. Most of the time the recipes are a direct reflection of what's in my pantry, a form of my procrastination or a serious craving.
Last week, I had the urge to make a cheesecake even though I was pestered by coworkers for Chocolate Chip Cookies. The pleas for chocolate chip cookies are typically followed by one of my famous, overly dramatic eye rolls and mumbling under my breath that their boring requests are stifling my creativity. Which is totally not the case, but it's usually followed by them stroking my ego a little bit and telling me how irresistible my cookies are.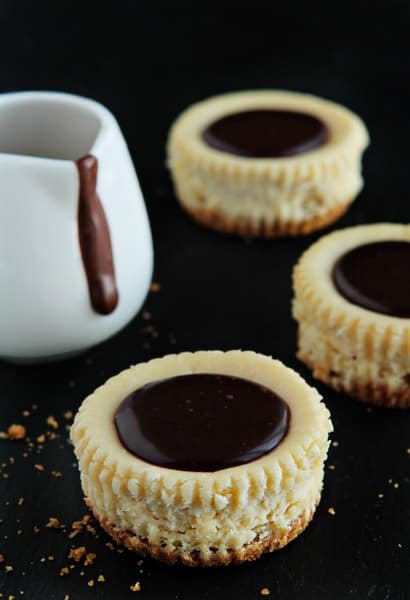 I simply can't deny their food related requests – I save my denial credits up for things like hosting work parties and going on on weeknights. So I tried to appease them by combining our cravings into a bite of Chocolate Chip Cookie Dough Cheesecake bliss. I used a stash of "emergency" cookie dough from the freezer and placed a little ball of dough into the center of each mini cheesecake.
I embraced the small divot created on top of the mini cheesecakes by the weight of the cookie dough pulling it down during baking, by of course, adding more chocolate. That pool of chocolate ganache hides the cookie dough surprise and makes for a silky and alluring visual punch.
Try as he might, their boring requests have yet again inspired something truly amazing.
[pinit]