Eric and I just got back from Orlando, which was blazin' hot. We thought we'd get a little reprieve once we landed in Ohio, only to be welcomed by 95 degree temperatures. Not cool, Ohio – not cool at all. So of course, what better plan is there than to crank up my oven and bake a delicious summer play on Cornmeal Muffins?
When the weather heats up, I find myself craving lemonade. I'm fairly certain there isn't anything more refreshing than a tall, ice cold glass of homemade lemonade – more specifically Raspberry Lemonade. I'm also a lover of fresh berries in my lemonade, I think they combine perfectly to a create sweet and tart flavor that truly hits the spot.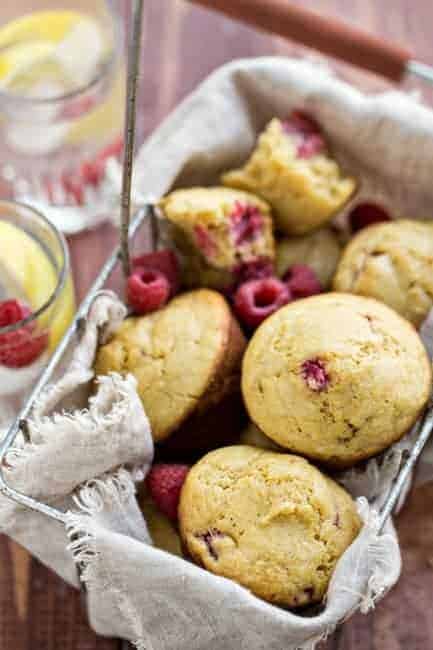 These Raspberry Lemon Cornmeal Muffins were inspired by my love of that lemonade and my need for a quick and tasty breakfast that I can grab while I run out the door on the way to these last few weeks of school – Summer break here we come.
Sweet, fresh raspberries and tangy lemon all rolled up into one deliciously moist cornmeal muffin. And by using Truvia Baking Blend, I am able to cut back on the calories while still enjoying my morning breakfast muffin.
These muffins are perfect for eating on a warm spring morning, alongside your cup of coffee, or hey, even a nice tall glass of lemonade. Lemonade is totally the new breakfast trend!
Raspberry Lemon Cornmeal Muffins
Ingredients:
1 1/2 cups all-purpose flour
3/4 cup cornmeal
1/4 cup of Truvia Baking Blend (see sugar substitution note below)
1 1/2 teaspoons baking powder
1/2 teaspoon baking soda
1/2 teaspoon ground cinnamon
1/4 teaspoon salt
2 teaspoons finely grated lemon zest
1 1/4 cups low-fat buttermilk plus about 2 tablespoons for tops
2 large eggs, separated
2 tablespoons unsalted butter melted
1 1/2 cups raspberries, rinsed, drained and patted dry
Nonstick cooking spray (I use Coconut Oil Spray from Trader Joe's)
Directions:
Position rack to center of oven and preheat to 400°F. Lightly coat a standard muffin tin with cooking spray or line with paper muffin liners.
In a medium bowl, whisk together flour, cornmeal, Truvia Baking Blend, baking powder, baking soda, cinnamon, salt, and lemon zest.
In a small bowl, whisk together buttermilk, egg yolks, and butter. Slowly stir buttermilk mixture into flour mixture until just blended.
In the bowl of an electric mixer fitted with a whisk attachment or in a large bowl with an electric mixer, beat the egg whites until just stiff. Gently fold the stiff egg whites and raspberries into the batter until just combined.
Spoon the muffin batter into the prepared muffin tin, filling each cup three-quarters full. Bake muffins for 12 minutes, remove from oven and gently brush the tops with remaining buttermilk. Continue baking until the muffin tops are golden and a toothpick inserted into the center of a muffin comes out clean; about 6 to 8 minutes more.
Let muffins cool slightly, about 10 minutes, before removing from muffin tin.
Notes:
– I used fresh raspberries for this recipe, but you could try any of your favorite berries in place of the raspberries.
– I decided to make these with no liners, because they hold up very well, but feel free to use your favorite muffin liners.
– If you would like to use granulated sugar in place of the Truvia Baking Blend, simply double the measurement to 1/2 cup sugar.
My Baking Addiction adapted from Martha Stewart.
All images and text ©
Follow Jamie on Instagram. We love to see what you're baking from MBA! Be sure to tag @jamiemba and use the hashtag #mbarecipes!
Disclosure: My Baking Addiction has teamed up with Truvia to develop recipes using Truvia® Baking Blend. This is a sponsored post written as part of that program. All opinions about Truvia Baking Blend are my own.