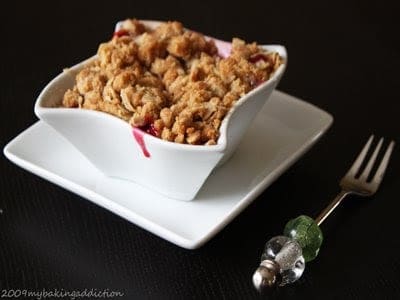 Do you ever go to the market and toss way too much produce into your cart? I do this all too often, but I just cannot resist summer fruits like peaches, nectarines and cherries!
Sometimes I find myself ripping open the bag of cherries on the way home and ever so discreetly spit the pits out the window…did I just admit to that? That's okay… we're all friends here!
Sunday evening I found my refrigerator overflowing with beautiful cherries and decided to throw something together to use them up before they got fuzzy. I ended up making individual cherry crisps. They turned out fantastic and were even better topped with vanilla bean ice cream.
This Fresh Cherry Crisp held up really well in the fridge and were just as good warmed in the microwave the next day. The boyfriend loved the topping so much he has been begging me to make more for ice cream sundaes!