This Fresh Peach Coffee Cake is the perfect way to show off the season's juiciest peaches. Whether you pair it with your morning coffee or save it for dessert, it will be hard to eat just one slice.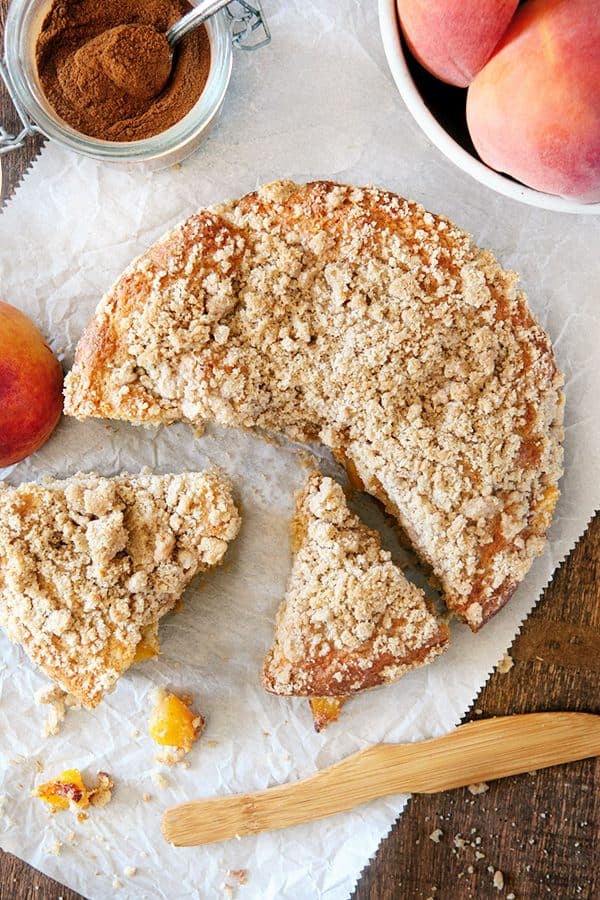 I'm so excited to introduce you to our newest contributor, Allison from the blog Some the Wiser. She'll be here everything sharing some of her favorite recipes! I hope you adore her as much as I do!
Summer in our neck of the woods is unofficially over already. The kids went back to school two weeks ago and even the weather got the memo because the temperature dropped 15 degrees overnight.
But just because the school already has us on a schedule, doesn't mean I'm ready to give summer up just yet. The calendar still tells me we have a few more weeks of summer and the sun is still shining. I am planning to squeeze every drop of summer out of these last warm weeks that I can.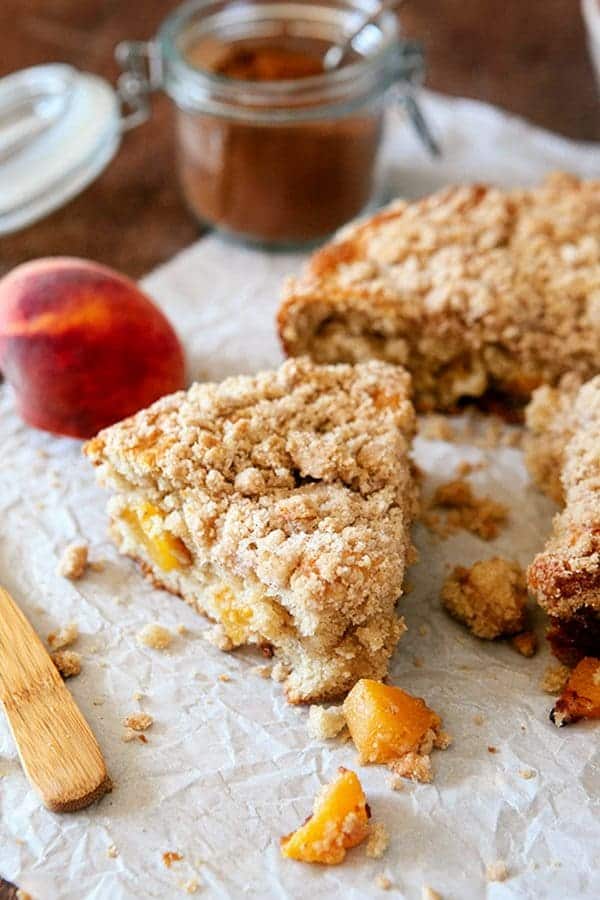 Right now, maximizing summer means I'm really enjoying our last trips to the farmer's market before it closes for the season. The best part of these final weeks of summer is that all the peaches are finally ripe! I'm bringing them home by the boxful because nothing says summer better than a ripe, juicy, sweet peach. Sticky fingers and sticky chins spell summer at our house.
Peaches are my favorite summer fruit and you better believe I'm buying as many of them as I can get my hands on before the weather turns. Give me all the peaches!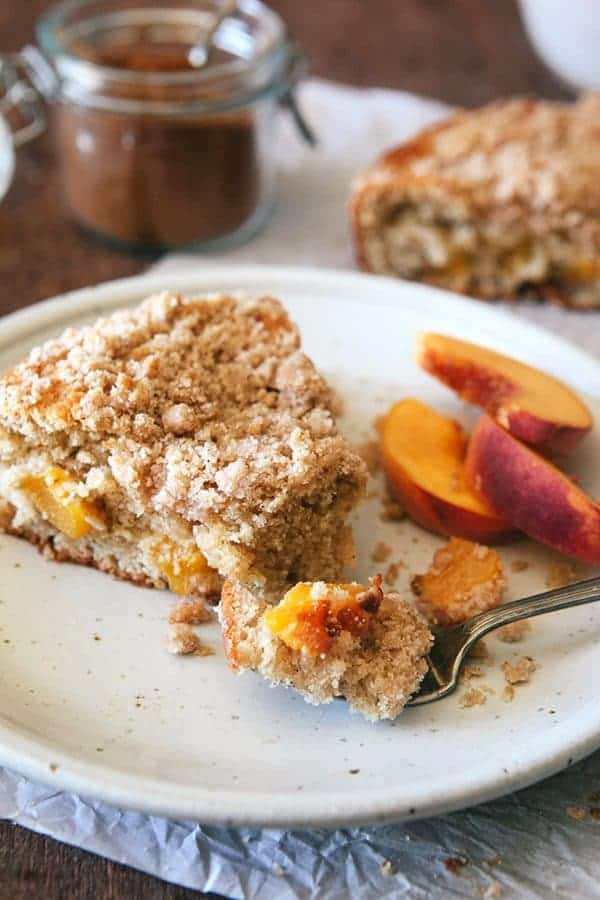 I've got Cherry Peach Bruschetta on the menu for lunch almost daily. And I have to get a few rounds of our favorite Peach Tarts in while we've got the fruit. The real show stopper this summer, however, is this Fresh Peach Coffee Cake. It's the very definition of delicious!
This coffee cake recipe evolved from an old recipe my grandmother has been making for years. Her coffee cake is always the best, never dry, never crumbly, and the perfect balance of spices and sweetness. But as perfect as her traditional coffee cake is, I knew that a juicy ripe peach could only make it better.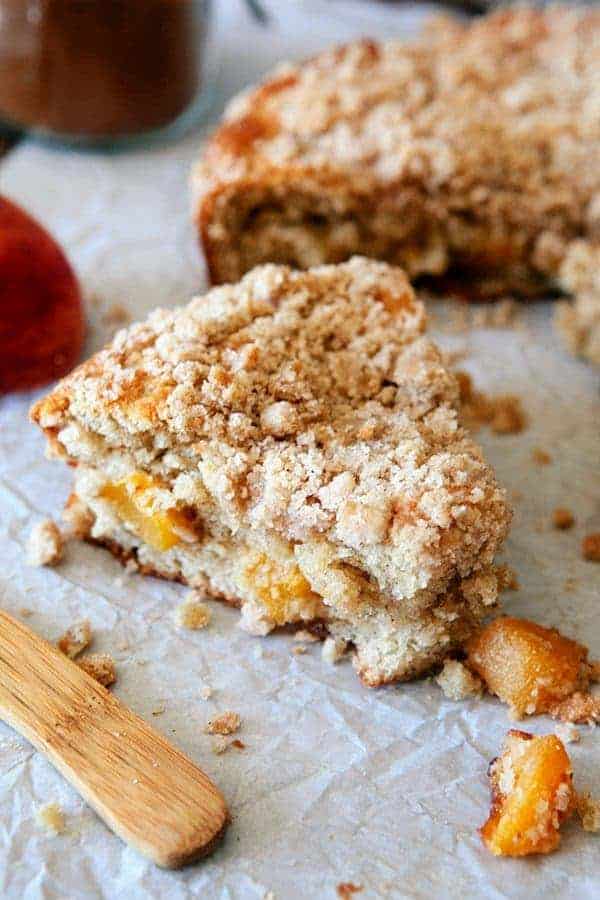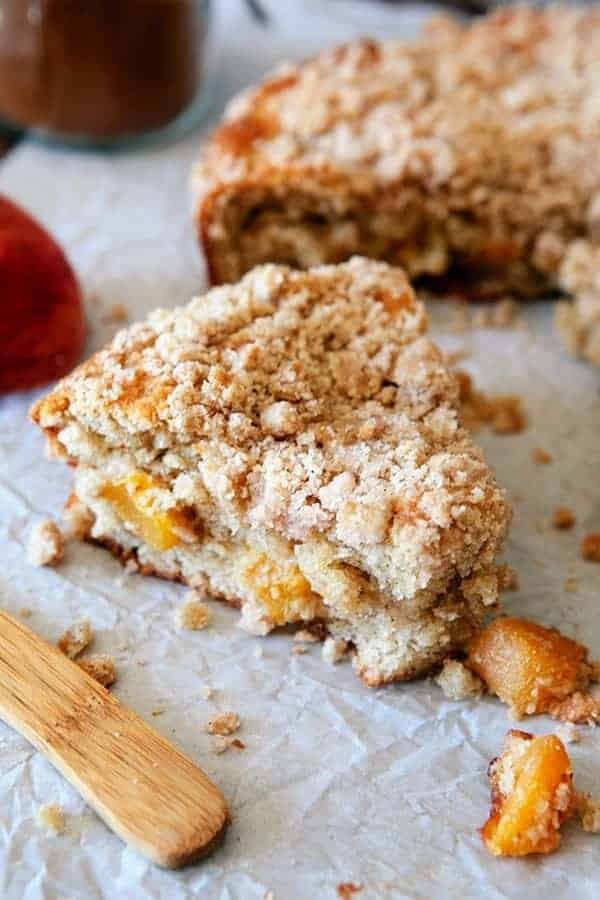 The secret for success with this Fresh Peach Coffee Cake recipe hinges on the peaches. If you have really good peaches, this coffee cake will knock your socks off. The tender, sweet cake was good on its own, but when you fill it with chunks of ripe peaches and hint of cinnamon, it's a pretty incredible combination of flavors. The peaches and I are sending out summer in style!
I normally make this recipe in two 8 inch cake pans, which in theory means I end up with one Fresh Peach Coffee Cake to eat and one to share. But the combination of four kids in the house and the intoxicating aroma of fresh peach cakes baking in the oven means that the only thing we've had to share lately are a few crumbs.
Really, it's pure luck I even had time to photograph a slice before someone grabbed it.
For more delicious peach desserts, be sure to check out these Peach Crumb Bars and Peach Crisp!