Fruity Pebbles Whoopie Pies are a playful and fruity spin on a classic dessert. Marshmallow buttercream and Fruity Pebbles "sprinkles" make them irresistible.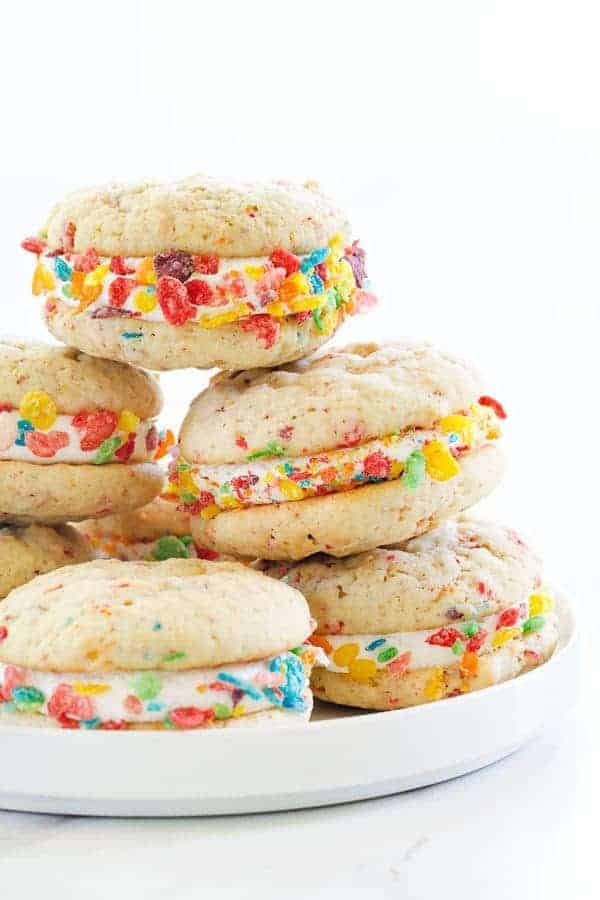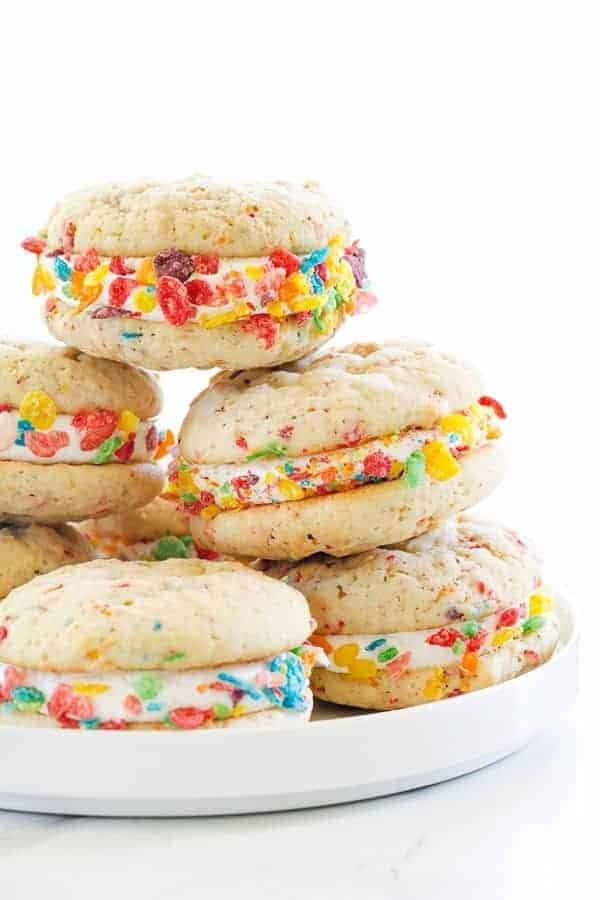 This post is sponsored by Post Foods®. All opinions are my own. Thank you for continuing to sponsor the brands that make My Baking Addiction possible.
If you're a regular reader, you know that my husband is pretty much the pickiest eater that I've ever encountered. He's not super keen on sweets (crazy, right?) and most vegetables are a no-go.
However, there is one thing that he eats every single day, and that thing is cereal. Even if we're staying at a hotel, he heads to the nearest store to pick up a box of Cocoa Pebbles and a half gallon of milk. He's that serious about his nightly cereal ritual.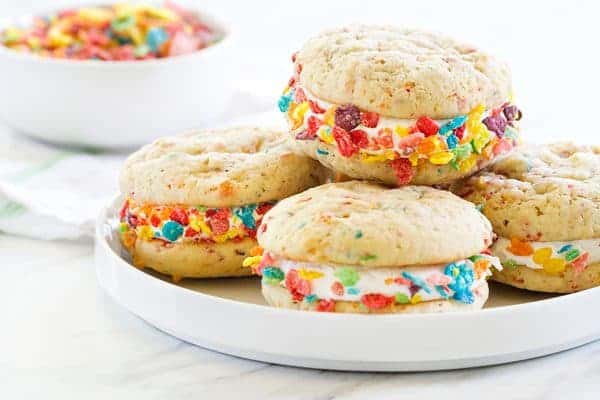 In fact, there are no less than six boxes of cereal and two gallons of milk in our refrigerator at any given time.
Needless to say, when I was contacted by Post Foods to create and share a recipe with their Pebbles cereals, he was pretty excited – especially when I told him a big box full of Cocoa Pebbles and Fruity Pebbles landed on our doorstop. Seriously, best mail day – ever!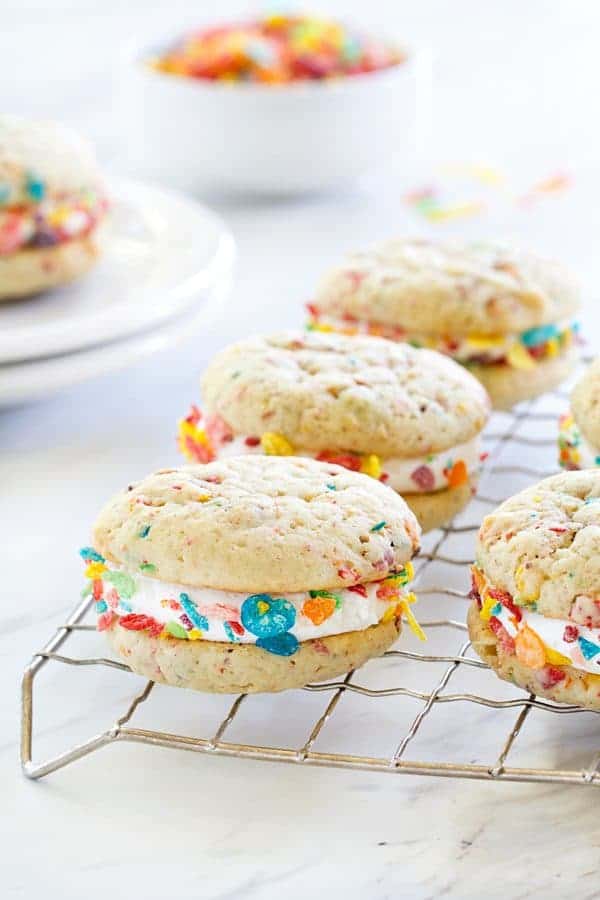 Although I've loved Fruity Pebbles since I was a kid, I hadn't created a dessert with them aside from marshmallow cereal bars, so I was excited to get into the kitchen and create a playful, fruity, and fun dessert.
I jotted down so many ideas from donuts and cookies to ice cream cake, but ultimately decided on these Fruity Pebbles Whoopie Pies.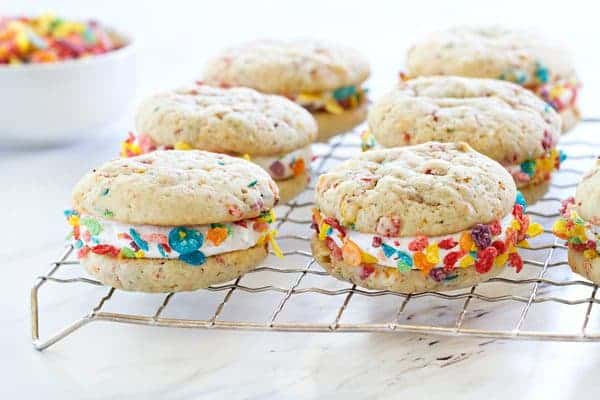 I mean what could possibly bring out your inner-child more than a two soft cookies sandwiched together with marshmallow buttercream and rolled in Fruity Pebbles?
These Fruity Pebbles Whoopie Pies start with soft, cake-like cookies with loads of Fruity Pebbles in the batter. They're sandwiched together with a super simple, dreamy marshmallow buttercream and then rolled into more Fruity Pebbles – because more is always more when it comes to Fruity Pebbles.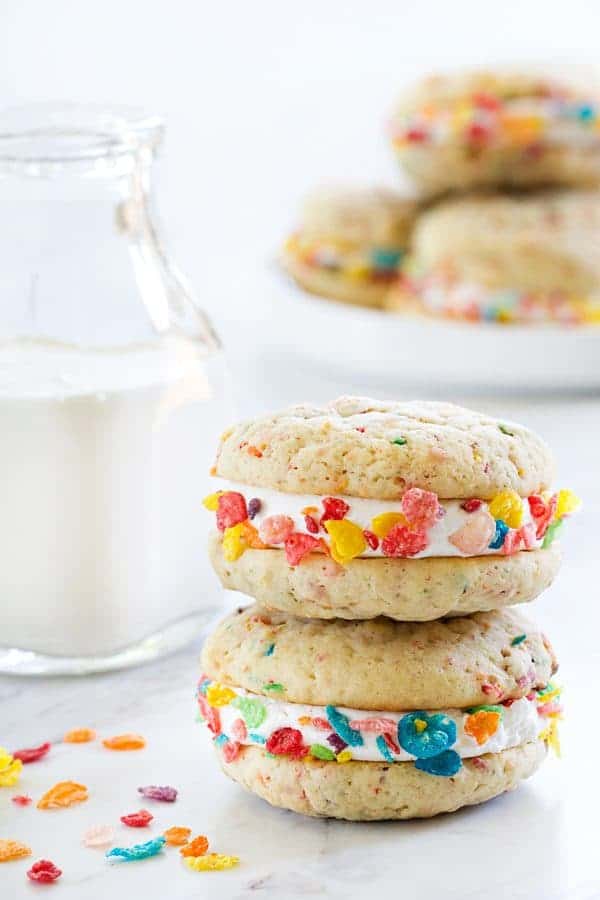 I hope these Fruity Pebbles Whoopie Pies inspire you to think outside the box (see what I did there?) and create a delicious treat that your family is sure to love.
For more inspiring Pebbles ideas and recipes, be sure to connect with them on Facebook