When I posted the recipe for Giant S'mores Cookies on Wednesday I whined about going back to work and informed you that it was going to be a week filled with ooey gooey s'mores. Well, I am back today and this recipe is sure to please.
This time I am giving you a recipe for S'mores Whoopie Pies. These little cuties are still just as scrumptious and messy as the campfire favorite, but are a little upscale in presentation and in flavor. These are best served on a plate with a fork, as eating them with your hands may cause a chocolate-marshmallow crumb trail throughout your house.
For this recipe, I adapted a cake recipe from Hershey's, sandwiched the mini cakes with marshmallow frosting and topped them with a spoonful of ganache and graham cracker crumbs. This is a lengthy recipe and takes a little bit of time and patience due the multiple steps, but I definitely think the end result is totally worth it. If you don't have a whoppie pie pan, I wouldn't use the cake recipe that I provided; the batter is really thin and it won't hold its shape unless it is baked in some sort of pan. If you are a pan addict like me, you can pick up a Whoopie Pie Pan at Williams Sonoma for about $20.
I've been on a little whoopie pie kick since purchasing the pan from Williams Sonoma, so definitely stay tuned for more delectable and adorable whoopie pie recipes. Be sure to pop back over this weekend to check out my final S'mores recipe of the week. Have a great weekend!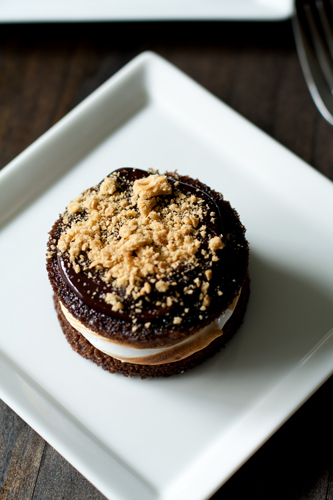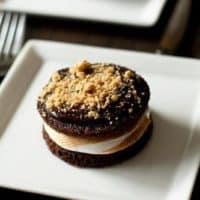 S'mores Whoopie Pies
The flavors of the campfire favorite are transformed to make this s'mores whoopie pie.
Print
Pin
Ingredients
For the Cake:
1

cup

granulated sugar

¾

cup

all-purpose flour

plus 2 tablespoons

¼

cup

unsweetened cocoa powder

plus 2 tablespoons

¾

teaspoon

baking powder

¾

teaspoon

baking soda

½

teaspoon

fine sea salt

1

egg

½

cup

milk

¼

cup

vegetable oil

1

teaspoon

pure vanilla extract

½

cup

boiling water
For the Marshmallow Frosting:
For the Topping:
5

ounces

semisweet chocolate

½

cup

heavy cream

Graham cracker crumbs

for garnish
Instructions
For the Cake
Heat oven to 320°F. Spray your whoopee pie pan with non-stick cooking spray.

Stir together sugar, flour, cocoa, baking powder, baking soda and salt in large bowl. Add egg, milk, oil and vanilla; beat on medium speed of mixer 2 minutes. Stir in boiling water (batter will be thin).


Pour 1 ½ tablespoons of batter into each well of the whoopie pie pan.

Bake 8-10 minutes or until wooden pick inserted in the center comes out clean.

Cool for 10 minutes in the pan then invert the pan and allow the whoopies to cool completely on wire racks.

Wash and dry the pan and re-spray with non-stick cooking spray and repeat with the remaining batter. You will end up with 36 whoopie cakes that once sandwiched will yield 18 whoopie pies.

Once your whoopies are cool, prepare the marshmallow frosting.
For the Marshmallow Frosting
Place egg whites, sugar, and cream of tartar in the heatproof bowl of an electric mixer. Set over a saucepan with simmering water. Whisk constantly until sugar is dissolved and whites are warm to the touch, 3 to 4 minutes.

Transfer bowl to electric mixer fitted with the whisk attachment, and beat, starting on low speed, gradually increasing to high, until stiff, glossy peaks form, 5 to 7 minutes. Add vanilla, and mix until combined.
For the Topping:
Place the chocolate into a medium bowl. Heat the cream in a small sauce pan over medium heat. Bring just to a boil, watching very carefully because if it boils for a few seconds, it will boil out of the pot. When the cream has come to a boil, pour over the chopped chocolate, and allow to sit for a few minutes. Whisk until smooth.
To assemble the S'mores Whoopie Pies:
Pipe filling on the flat sides of half the cakes (18 of them).

Use a kitchen torch to lightly toast the marshmallow frosting. Top each with one of the remaining cakes; flat side down.

Place a spoonful of ganache on top of each whoopee pie and spread in a circular pattern; garnish with graham cracker crumbs and allow the ganache to set up.
Notes
These are definitely best served the same day and do not react well to heat. I stored my uneaten pies in the fridge and they were okay the next day, just definitely not as good as the day they were made.
Nutrition
Calories:
215
kcal
|
Carbohydrates:
32
g
|
Protein:
3
g
|
Fat:
9
g
|
Saturated Fat:
4
g
|
Polyunsaturated Fat:
2
g
|
Monounsaturated Fat:
2
g
|
Trans Fat:
0.03
g
|
Cholesterol:
18
mg
|
Sodium:
148
mg
|
Potassium:
107
mg
|
Fiber:
1
g
|
Sugar:
26
g
|
Vitamin A:
125
IU
|
Vitamin C:
0.04
mg
|
Calcium:
32
mg
|
Iron:
1
mg
The default measuring system on My Baking Addiction is US Customary. Unit conversions are provided as a courtesy; please be aware that there may be some discrepancies.
Card may contain affiliate links. As an Amazon Associate and member of other affiliate programs, I earn from qualifying purchases.