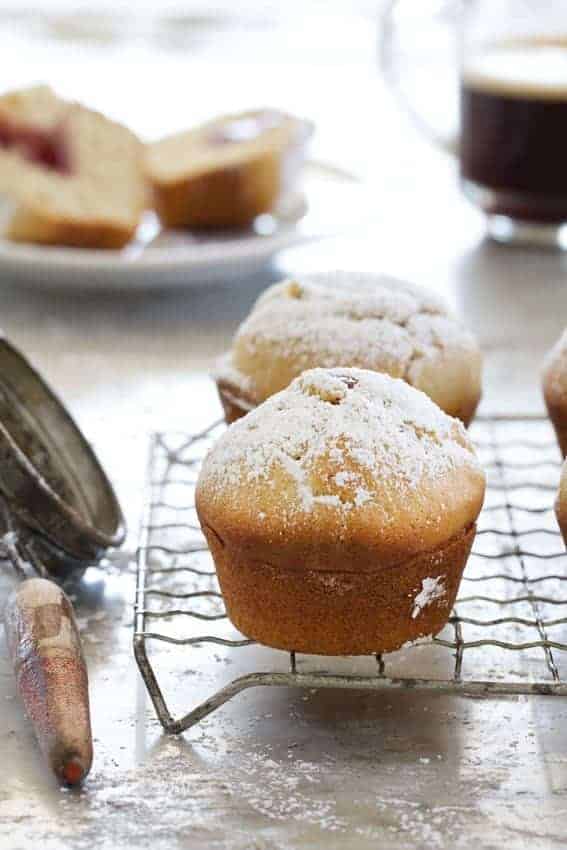 Jelly Donut Muffins are a great way to start your day. With a jelly center and dusting of powdered sugar, these muffins are exactly what I want with my morning cup of coffee.
I've never really thought of myself as a donut lover. Okay, aside from a warm, fresh-off-the-line Krispy Kreme, but I haven't enjoyed that amazingness in years because the only Krispy Kreme near me was turned into a Del Taco. I still can't wrap my head around that whole situation.
However, after moving back home to Cleveland, Eric became a tad obsessed with the donuts from our local grocery store, a place called Heinen's. So much so that he insists on hitting the store every Sunday to get his fix.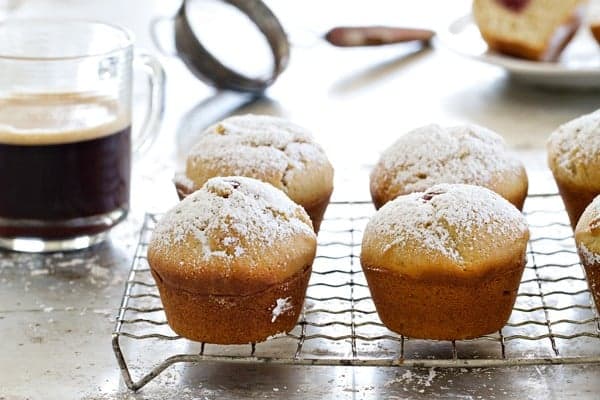 Donuts pretty much equal weekends now, so we always try to get to the store super early to ensure that we all get our favorites. Chocolate glazed for Eric, sprinkles for Elle and jelly or cream filled for Mama. And although they're no Krispy Kreme, they're still pretty darn good.
Years ago I shared a recipe for Glazed Donut Muffins. And even after sharing many muffins here on MBA, they're still one of my absolute faves.
Over the years, I've adapted the recipe to create all sorts of delicious muffins like these Chai Spiced Glazed Donut Muffins and these Blueberry Donut Muffins. Seriously, you have to try the Blueberry Donut version immediately – just check out that glaze!
Clearly I have a thing for donuts in muffin form, even if I don't think of myself as a donut person. But really, can you blame me?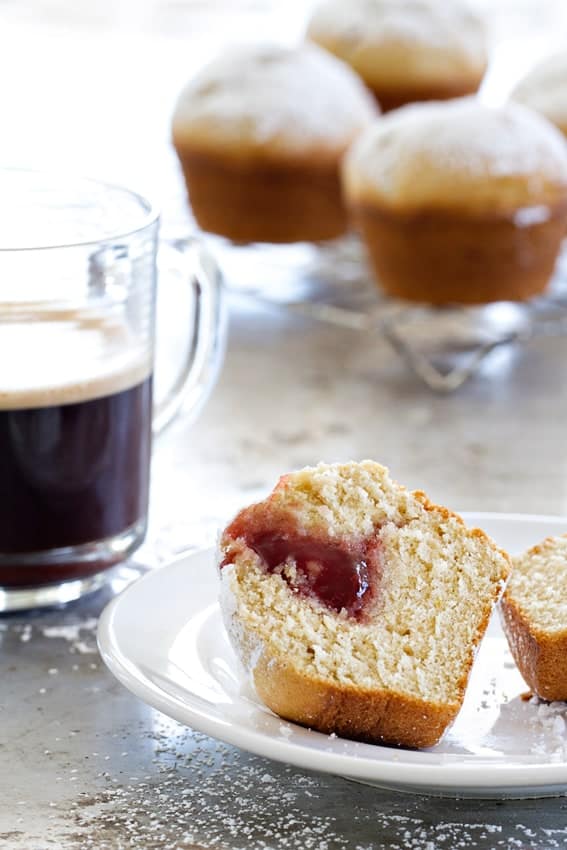 Jelly Donut Muffins come together in a matter of minutes, so they're perfect for a quick weekend breakfast or lunchbox surprise. And since you can use a variety of jelly or jam flavors in one batch – everyone is sure to get their favorite! Strawberry jam lovers unite!
Fig would be pretty interesting, blackberry divine, and cherry a classic. The possibilities are endless. Good thing the recipe easily doubles, because you're going to want extras!