Jelly Donut Muffins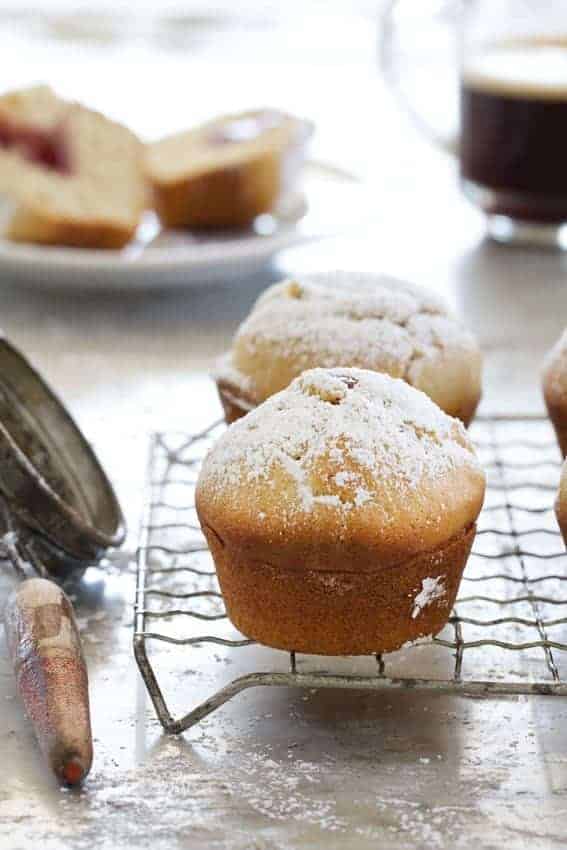 Jelly Donut Muffins are a great way to start your day. With a jelly center and dusting of powdered sugar, these muffins are exactly what I want with my morning cup of coffee.
I've never really thought of myself as a donut lover. Okay, aside from a warm, fresh-off-the-line Krispy Kreme, but I haven't enjoyed that amazingness in years because the only Krispy Kreme near me was turned into a Del Taco. I still can't wrap my head around that whole situation.
However, after moving back home to Cleveland, Eric became a tad obsessed with the donuts from our local grocery store, a place called Heinen's. So much so that he insists on hitting the store every Sunday to get his fix.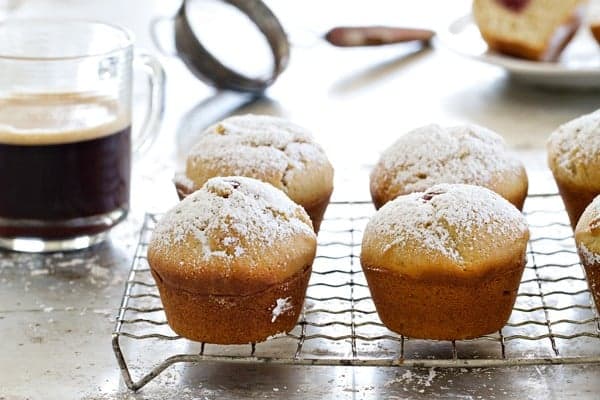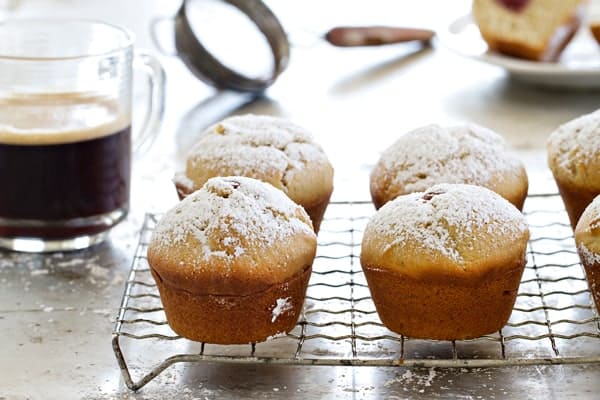 Donuts pretty much equal weekends now, so we always try to get to the store super early to ensure that we all get our favorites. Chocolate glazed for Eric, sprinkles for Elle and jelly or cream filled for Mama. And although they're no Krispy Kreme, they're still pretty darn good.
Years ago I shared a recipe for Glazed Donut Muffins. And even after sharing many muffins here on MBA, they're still one of my absolute faves.
Over the years, I've adapted the recipe to create all sorts of delicious muffins like these Chai Spiced Glazed Donut Muffins and these Blueberry Donut Muffins. Seriously, you have to try the Blueberry Donut version immediately – just check out that glaze!
Clearly I have a thing for donuts in muffin form, even if I don't think of myself as a donut person. But really, can you blame me?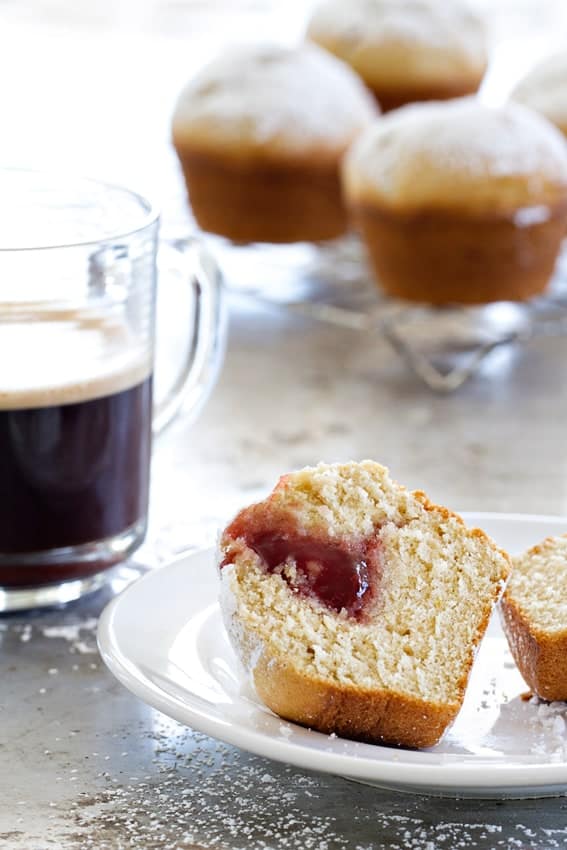 Jelly Donut Muffins come together in a matter of minutes, so they're perfect for a quick weekend breakfast or lunchbox surprise. And since you can use a variety of jelly or jam flavors in one batch – everyone is sure to get their favorite! Strawberry jam lovers unite!
Fig would be pretty interesting, blackberry divine, and cherry a classic. The possibilities are endless. Good thing the recipe easily doubles, because you're going to want extras!
Jelly Donut Muffins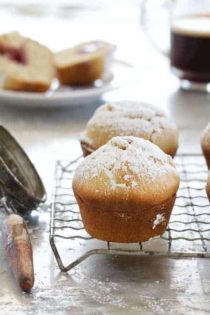 Ingredients:
1/4 cup butter, room temperature
1/4 cup vegetable oil
1/2 cup granulated sugar
1/3 cup light brown sugar
2 large eggs
1 1/2 teaspoons baking powder
1/4 teaspoon baking soda
3/4 to 1 ¼ teaspoons ground nutmeg, to taste (I used ¾)
1 teaspoon cinnamon
3/4 teaspoon salt
1 teaspoon vanilla extract
2 2/3 cups all-purpose flour
1 cup whole milk
For the Filling
Directions:
Preheat the oven to 425°F. Spray a standard muffin tin with nonstick cooking spray, or line with 12 paper liners.
In a medium-sized mixing bowl with an electric mixer, cream together the butter, vegetable oil, and sugars till smooth; about 3 minutes.
Add the eggs, beating to combine.
Add in the baking powder, baking soda, nutmeg, cinnamon, salt, and vanilla and mix until combined.
Stir the flour into the butter mixture alternately with the milk, beginning and ending with the flour and making sure everything is thoroughly combined.
Spoon the batter evenly into the prepared pan, filling the cups nearly full.
Bake the muffins in preheated oven for 15 to 17 minutes, or until they're light golden brown and a cake tester inserted into the middle of one of the center muffins comes out clean. Allow the muffins to cool for abut 15 minutes.
To fill the muffins with jelly or jam, place 3/4 cup of your favorite jelly or jam into a piping bag fitted with a Bismarck tip (Wilton 230) and pipe jelly or jam directly into the cupcake. If you don't have this tip, you can simply use a sharp paring knife to remove a piece from the center of the muffin. Next, spoon jam into the center of the cupcake and replace the top of the muffin.
Sprinkle with powdered sugar and serve.
Notes:
Muffins will store in an airtight container for up to 2 days.
Link to Bismark Tip is an affiliate link.
Follow Jamie on Instagram. We love to see what you're baking from MBA! Be sure to tag @jamiemba and use the hashtag #mbarecipes!
This post may contain affiliate links. We are a participant in the Amazon Services LLC Associates Program, an affiliate advertising program designed to provide a means for us to earn fees by linking to Amazon.com and affiliated sites.