Lemon infused strawberry shortcake finished with whipped topping and fresh berries creates the perfect dessert for any summer party.
My favorite summer flavor combination has to be strawberries and lemons. There's something so special about this sweet and tart blend and, in my opinion, it just screams summer. From Strawberry Lemonade and Lemon Strawberry Parfaits to this Lemon Strawberry Shortcake – I'm simply all about this classic summer combo.
My local market is brimming with gorgeous, juicy strawberries right now and there's no better way to celebrate the season than with Strawberry Shortcake.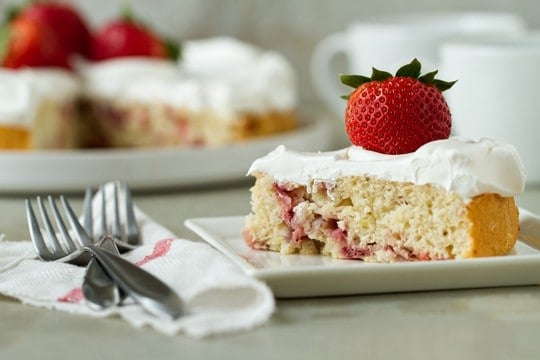 Growing up, our summers were full of strawberry shortcake. My mom would slice up tons of ripe berries, sprinkle them with sugar and let them macerate in the fridge overnight. Even though I knew they were meant for dessert, I'd sneak chopped berries and sips of strawberry juice from the bowl. I swear those berries were better than any candy – and that's saying something because we all know, I love me some candy!
My summers are still loaded with delicious Strawberry Shortcake, only now I tend to veer away from the packaged shortcakes and create yummy riffs on this classic dessert. This time, I went with a lemon zest infused cake and topped it with whipped topping – because that's what my mama always used – you can totally use freshly whipped cream though. A few fresh berries on top and you're good to go.
I took this cake with me on a little road trip back home last weekend and my family smashed it in a matter of a few hours. It's sweet, fresh and oh, so summery!
Lemon Strawberry Shortcake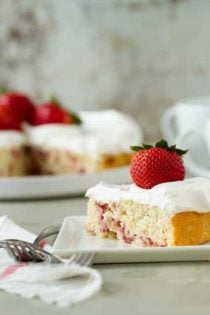 Ingredients:
1/2 cup sugar
zest of 1 lemon
1-1/3 cups all-purpose flour
2 teaspoons baking powder
1/4 teaspoon salt
1 large egg
2/3 cup buttermilk
1/4 cup butter, melted
1 tablespoon fresh lemon juice
1 teaspoon vanilla extract
1 cup sliced fresh strawberries
For the Topping
2 cups freshly whipped cream or frozen whipped topping
fresh strawberries
Directions:
1. Preheat oven to 350°F. Grease and flour a 9-inch round baking pan.
2. In a medium bowl, combine sugar and lemon zest and mix with fingertips until moist and fragrant. In a large bowl, combine the flour, lemon sugar, baking powder and salt. In a medium bowl, combine the egg, buttermilk, butter, lemon juice and vanilla. Stir into dry ingredients just until moistened. Fold in strawberries. Pour into prepared baking pan.
3. Bake in preheated oven for 20-25 minutes or until a toothpick inserted near the center comes out clean. Cool for 10 minutes before removing from pan to a wire rack to cool completely.
4. Top cooled cake with whipped cream and fresh strawberries.
Notes:
Cake will store in an airtight container within the refrigerator for up to 3 days.
Adapted from Taste of Home
All images and text ©
Follow Jamie on Instagram. We love to see what you're baking from MBA! Be sure to tag @jamiemba and use the hashtag #mbarecipes!