Lemon Sugar Cookie Cups with Strawberry Frosting are just about the cutest Easter sweet you could make. So fun and festive!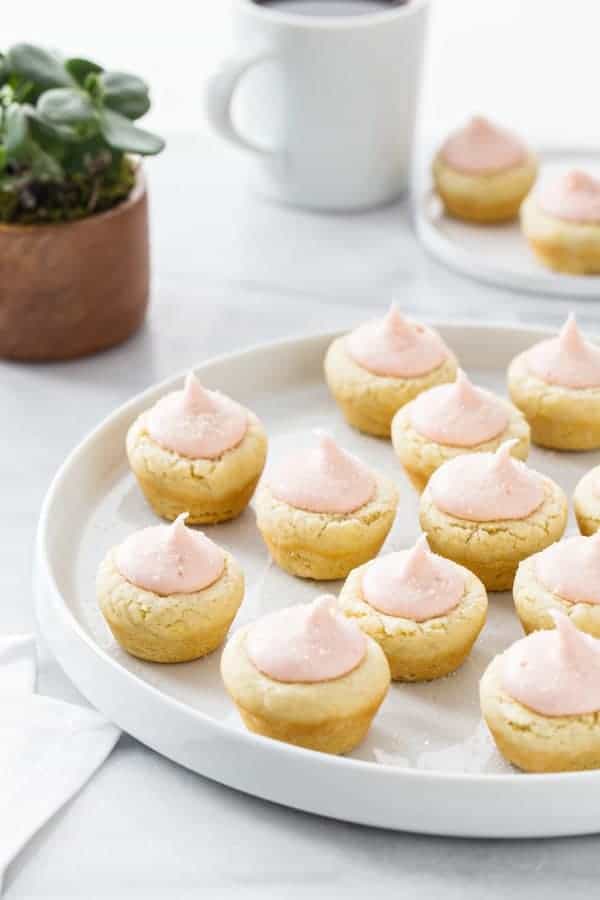 This is a sponsored post on behalf of Wholesome Organic products. All opinions are my own. Thank you for continuing to support the brands that make My Baking Addiction possible.
I can't believe we're already headed into spring. Before you know it, Easter will be here, and with it, all the delicious ham and hash brown casserole a girl could eat.
But who am I kidding? The real story is what we're eating for dessert, and I've decided what we're eating are these Lemon Sugar Cookie Cups with Strawberry Frosting.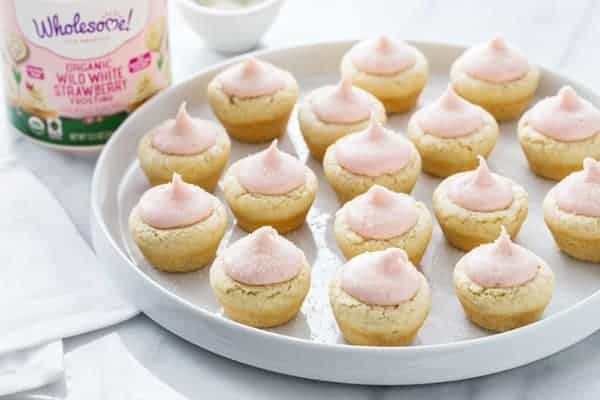 Sweet, tart lemon flavor always brings spring to mind for me. Just one taste and I'm ready for sweet iced tea-lemonade combos, lemon meringue pie, and anything else made with lemon I can get my hands on, all season long.
Elle and I were talking about what color she wants to dye her Easter eggs this year, and she settled on yellow and pink, which lead me to these cookie cups as a matching Easter treat. That the cookie flavor is decidedly lemon just adds to the festivity.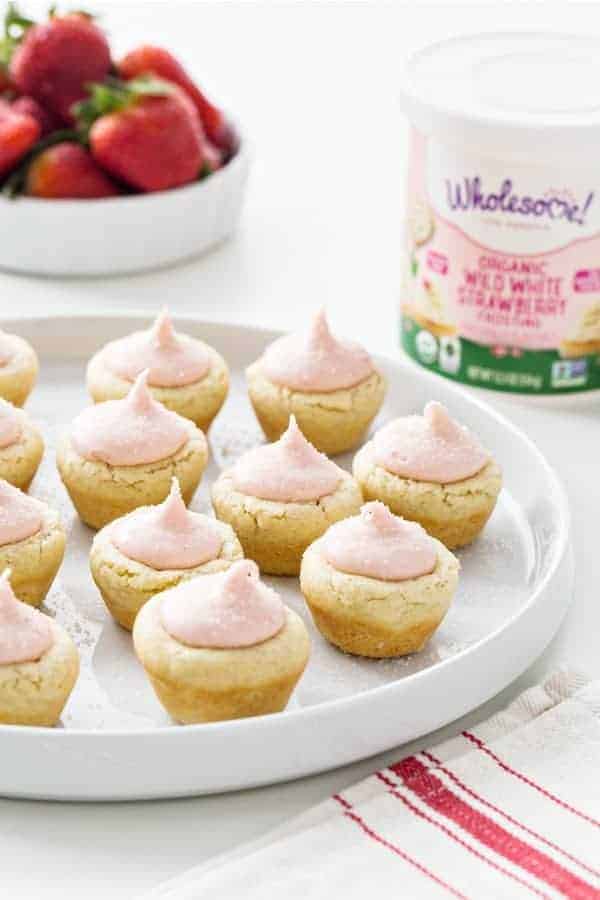 Making sugar cookies from scratch is super simple. While I'm no stranger to a recipe shortcut, I wanted these cookies to be special, and 100% homemade.
They're baked up using Wholesome Organic Cane Sugar, giving them that sweet "blonde" hue you see here. It's Fair Trade too, which I love. Fair Trade is a way to guarantee that the farmers harvesting sugar cane are supported fairly – and paid fairly, for their crops.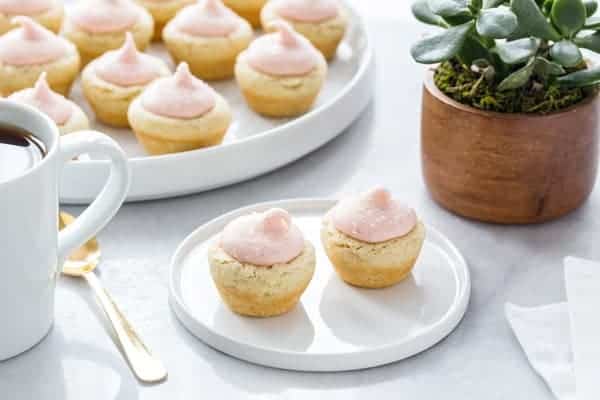 I used Wholesome Organic Wild White Strawberry Frosting to top each little cookie cup (before following with a little sprinkling of sugar). With no artificial colors or flavors, I'm definitely digging this frosting shortcut as a new mainstay for topping cakes, cookies, brownies, and even whoopie pies.
It's Non-GMO project verified, with a smooth, spreadable texture. It's also Fair Trade Certified, gluten free, kosher, and vegan, making it perfect for just about anybody. Truly wholesome, from top to bottom.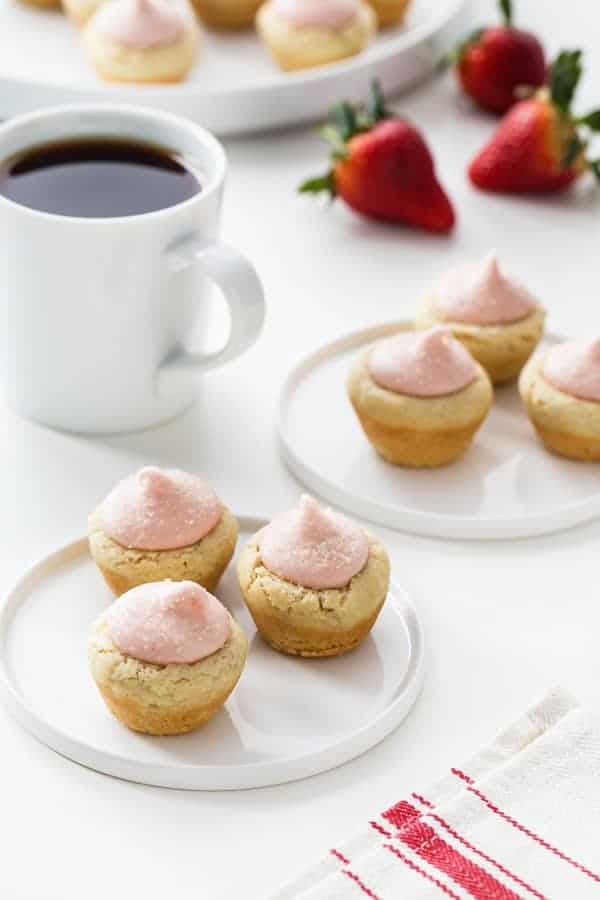 Although we love the frosting straight from the container, Elle really wanted it to be pink, so I added a bit of homemade, fresh strawberry puree to naturally color it Elle's favorite shade of pastel pink.
There's a whole range of Wholesome products perfect for everyone in your family. From the Organic Cane Sugar I used here to Organic Coconut Sugar, Organic Stevia for those trying to remain sugar-free, and even Organic Light Corn Syrup for making ganache shiny.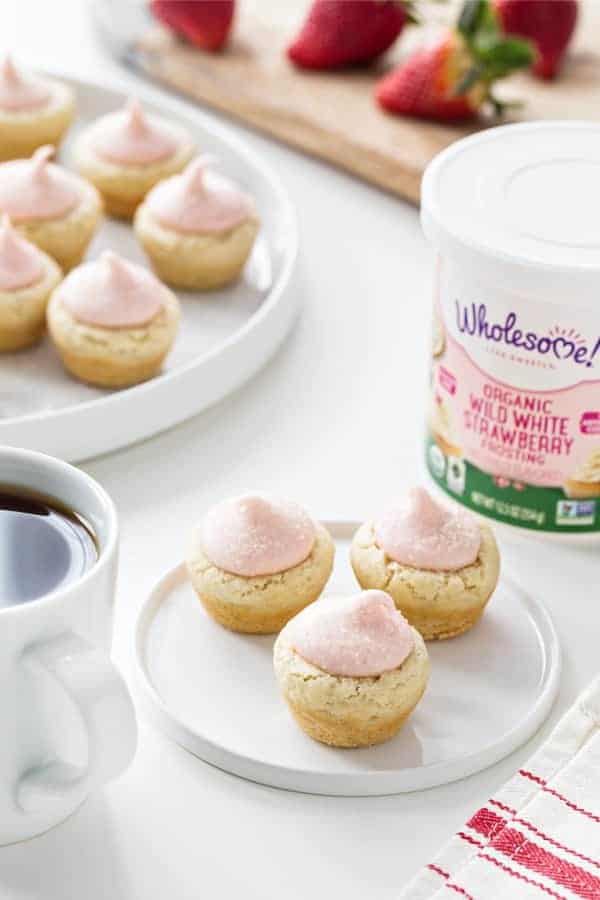 You can find them at any of these grocery stores: Whole Foods Market, HEB, Meijer, Giant Eagle, Fresh Market, Vitamin Cottage Natural Grocers, Earth Fare, Spartan Nash, Fairway, Festival Foods, New Seasons, Woodman's, Fresh Thyme, Moms Market and herb.com, and they're easy to spot with that fun and whimsical Wholesome purple logo.
Elle thinks these cookie cups are the best thing since sliced bread, I'll tell you that much. She calls them cookie cakes (instead of cupcakes), and I am not going to correct her. Because that's pretty much the cutest thing ever.
Make your own cute cookie cakes (or cups) for Easter. You've just got to try this Wholesome Wild White Strawberry Frosting – it's absolutely delicious! And there's even a coupon you can access through Wholesome's website!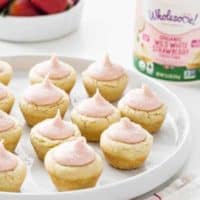 Lemon Sugar Cookie Cups with Strawberry Frosting
Lemon Sugar Cookie Cups with Strawberry Frosting are just about the cutest Easter sweet you could make. So fun and festive!
Ingredients
For the Cookie Cups:
2 cups all-purpose flour
1 1/2 teaspoons baking powder
1/2 teaspoon salt
1 cup WHOLESOME Organic Cane Sugar
zest of one medium lemon
1/2 cup unsalted butter, room temperature
1 egg
2 tablespoons milk
1 ½ teaspoons vanilla extract
½ teaspoon lemon extract
For the Frosting:
1 12.5-ounce container of WHOLESOME Organic Wild White Strawberry Frosting
1 teaspoon freshly squeezed lemon juice
1 tablespoon strawberry puree, optional
Instructions
Preheat oven to 400 degrees F. Spray a 24-cup mini muffin tin with nonstick cooking spray.
In a large bowl, whisk together the flour, baking powder, and salt.
In a small bowl, combine the sugar and lemon zest and mix with your fingertips until the sugar is fragrant.
In a separate large mixing bowl, beat the butter and lemon sugar on medium speed until fluffy.
In a small bowl, whisk together the egg, milk, and extracts. Add the egg mixture to the butter mixture and mix until combined.
With the mixer on low speed, gradually add in the flour mixture until just incorporated.
Scoop balls of dough with a tablespoon and place one dough ball into each cup of the prepared mini muffin tin.
Bake in the preheated oven for 10-12 minutes.
Allow cookie cups to cool for about 2 minutes. Gently press a round teaspoon measuring spoon into each cookie cup to create a small indentation.
Let the cookies cool for 5 minutes in the pan before removing to finish cooling on a rack.
Once the cookie cups have cooled completely, pipe or spread the frosting onto each cookie cup.
If desired, top with a bit of WHOLESOME Organic Cane Sugar for a little sparkle.
Notes
Using a flexible mini spatula will help you remove the cookies with ease.
To create a homemade strawberry puree, simply place a few strawberries into a food processor and pulse until smooth. Push the puree through a fine mesh sieve to separate the seeds.
This is a sponsored conversation written by me on behalf of Wholesome Sugar. The opinions and text are all mine.