I can be a bit of an impulsive buyer – it's one of my many flaws. I've definitely gotten a little better over the years, especially in the area of clothes, shoes and bags – but I think I'll always have a weakness for kitchen gadgets, specialty pans, and cookie cutters. I make cut-out cookies like once a year, but I think I have over 100 cookie cutters. Maybe I'll call myself a cookie cutter collector – that may just make the obsession a little more respectable… maybe?
I picked up a set of fall inspired Linzer cookie cutters over three years ago and for whatever reason, tossed them into the depths of my desk drawer. My desk – yeah that's another flaw of mine because it's pretty much an organized disaster. I know where everything is, but Brian wouldn't be able to find a paperclip if he tried.
Anyway, I was digging in the drawer for a camera cable and found the box of Linzer cookie cutters and immediately fell back in love them – strategically placing them on the counter as a reminder to use them. Seriously, who wouldn't be smitten with little squirrel, acorn, and pumpkin cookies sandwiched together with a delicious filling?
These Linzer cookies are made with ground pecans and a perfect blend of autumnal spices. They're buttery, slightly sweet and the perfect cookie for your holiday dessert table. These versatile cookies can be served alone or with a quick dip in chocolate. Sandwich them together with a satiny ganache, a gorgeous layer of jam, or choose to go the route I did and add a layer of Biscoff Spread. Any way you decide to serve them, I'm pretty sure you'll fall in love with them as quickly as I fell in love with the cutters!
I hope you'll join Katie and I in this week's holiday recipe exchange sponsored by Kerrygold. We can't wait to browse through the buttery goodness! Be sure to head over to Good Life Eats and check out Katie's recipe for Whipped Cranberry Butter.
How To Participate
For a chance to win Butter and Cheese Gift Basket from Kerrygold valued at approximately $150!

Write and post a recipe on your blog featuring BUTTER.

Include "Come join the fun at the My Baking Addiction and GoodLife Eats Holiday Recipe Swap sponsored by Kerrygold in your blog post.
No blog? Just leave your recipe in the comments section.
Add your link to the widget on either GoodLife Eats or My Baking Addiction (we have the same widget code, so only add it on one site).
Submit your post before Nov. 23, 11:59 PM.
Anyone can participate in the link up, but the prizes will ship to US addresses only.
More detailed info are available here.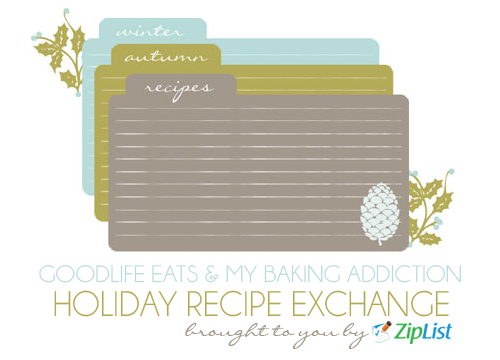 Link Up Your Recipes:
Love any of the recipes featured in today's Holiday Recipe Exchange? If so, be sure to to use the Ziplist Web Recipe Clipper to add your holiday favorites to your online recipe box.

');

This Week's Prize:
Irish Cheese and Butter Giftbasket from Kerrygold Includes:
2 wedges Kerrygold Dubliner Cheese
2 wedges Kerrygold Swiss Cheese
2 wedges Kerrygold Blarney Castle Cheese
2 wedges Kerrygold Aged Cheddar
2 wedges Kerrygold Reserve Cheddar
2 wedges Kerrygold Red Leicester
2 packs Kerrygold Pure Irish Butter
2 packs Kerrygold Unsalted Butter
2 packs of Kerrygold Garlic and Herb Butter

Prizes provided by KerrygoldYou can also join Kerrygold on Facebook and Twitter for new product info, recipes and more.
Recipe Theme Schedule: