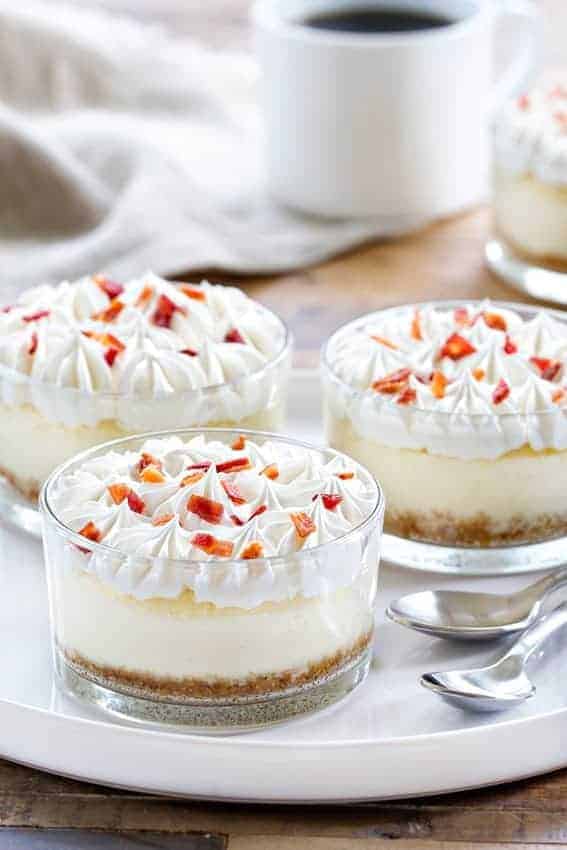 Maple Bacon Cheesecakes with Maple Bacon Potato Chips are decadently sweet and salty at the same time. Serve them at your holiday party for plenty of oohs and ahs!
This is a sponsored post on behalf of Kettle Brand Potato Chips. All opinions are my own. Thank you for continuing to support the brands that make My Baking Addiction possible.
Are you on the sweet and salty train yet? It's a combination I find completely irresistible. If we're snacking around here, it's usually something like pretzels dipped in chocolate, or these Kettle Brand Maple Bacon chips. Have you tried them? Oh. Em. Gee. So good!
So when Kettle Brand asked if I wanted to work together on a holiday recipe, how could I resist? Immediately I knew I'd have to combine my new favorite chips with my (and my whole family's) favorite dessert of all time – cheesecake. THIS is a cheesecake worthy of any holiday party you get invited to, let me tell you.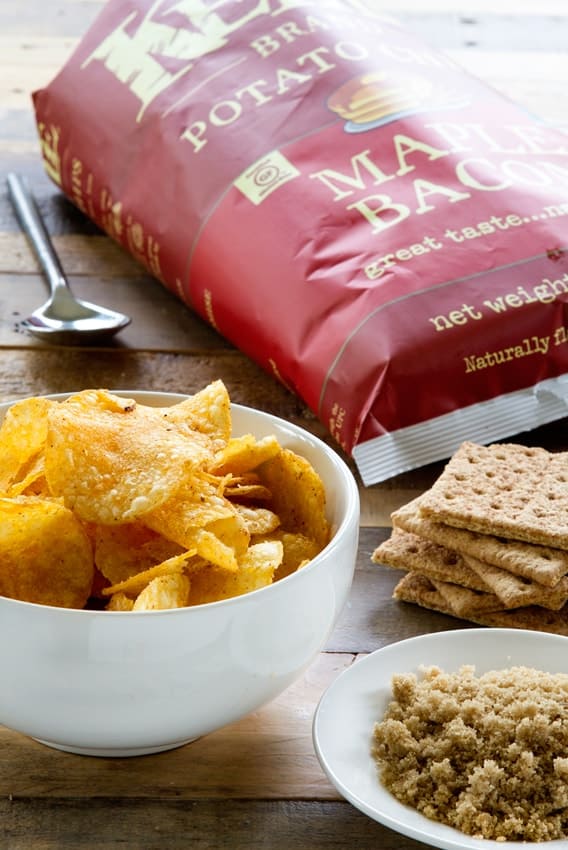 First, I crushed those maple bacon chips and combined them with graham cracker crumbs. The resulting crust is sweet and crispy, with just the right overtone of maple and bacon.
The filling? Maple cheesecake, of course. It's creamy and sweet, and will be perfect for noshing all winter long, no matter which holiday you choose to make it for.
Then, I went a little bit crazy and thought, why don't we go mini? Desserts are always better mini-fied, amiright? So now we've got Mini Maple Cheesecakes with Maple Bacon Potato Chips. The cherry on top is, in this case, whipped cream and candied bacon pieces. Um, yes. I went there.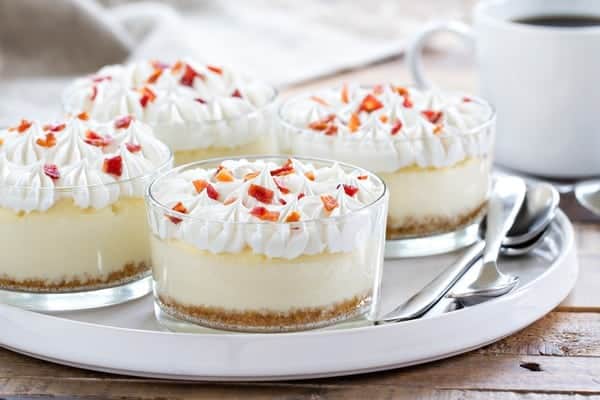 So one of the reasons I was really excited to work with Kettle Brand Chips is that we really like what the brand stands for. Did you know they have a commitment to sustainability?
They use wind power, solar power, green building, and biodiesel to make and ship their chips all over the place. Plus, they're just crazy tasty. Eric and I both prefer the crunch of a kettle-cooked chip, and every flavor we've tried we love.
I really like Sriracha too, but I thought that might be a little crazy for a cheesecake!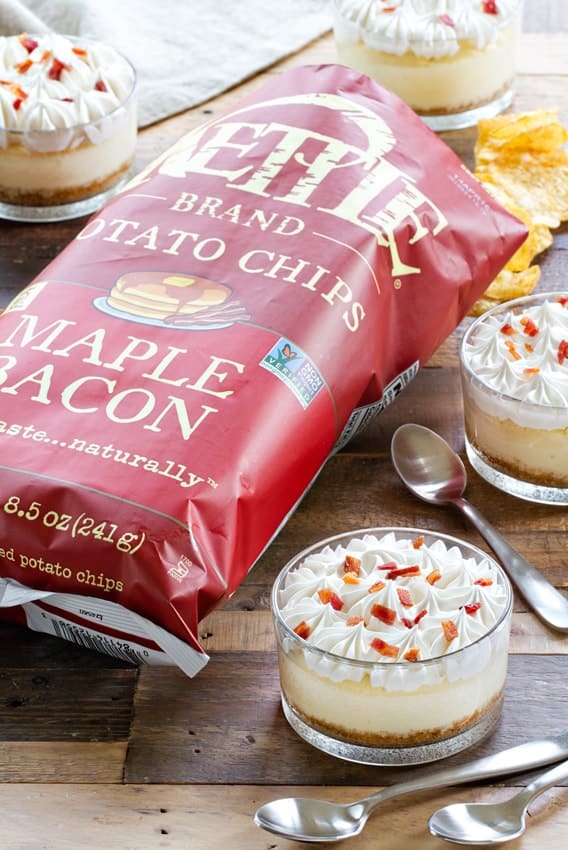 You can whip these mini cheesecakes up in mason jars for easy transport to your holiday party, or serve them in individual parfait cups like I did here. No matter what you do, you've got to try these mini Maple Bacon Cheesecakes. They're so darn good!
Looking for more delicious cheesecake recipes? Be sure to check out my Salted Caramel Cheesecake, No Bake Cranberry Cheesecake and these Cherry Cheesecake Cookies!