Mini Salted Caramel Chocolate Pies are decadent little bites that are perfect for any holiday cocktail party.
I have to admit, going full time at this blogging thing has been awesome and terrifying, but almost entirely awesome. I've gotten the chance to do some amazing things since not tied to a desk and place of work that's more than 10 steps outside my bedroom. (Having your workplace be 10 steps outside your bedroom ain't half bad either.)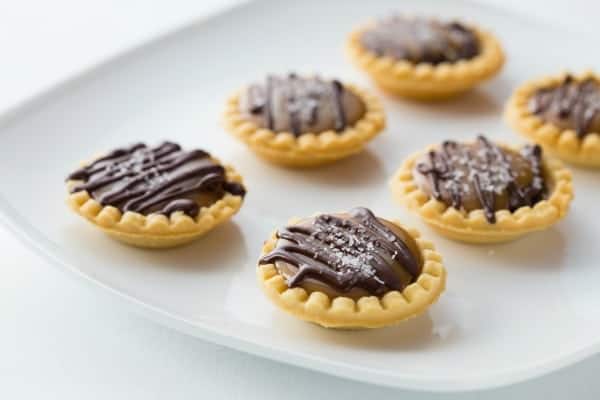 One of the most fun things I've gotten to do this year is a whole suite of recipes for Ghirardelli. From Turtle Pretzel Candy Clusters to Sweet and Salty No Bake Peanut Butter Bars, Emily and I created some truly amazing recipes that cover every kind of party dessert or sweet snack you might need.
But my most favorite of them all are these Mini Salted Caramel Chocolate Pies. I mean, just look at them! Every bite as buttery as you imagine, caramel combined with its favorite partners in crime; crisp shortbread and decadent chocolate. They're topped with just a little bit of kosher salt, which brings out both flavors with true intensity.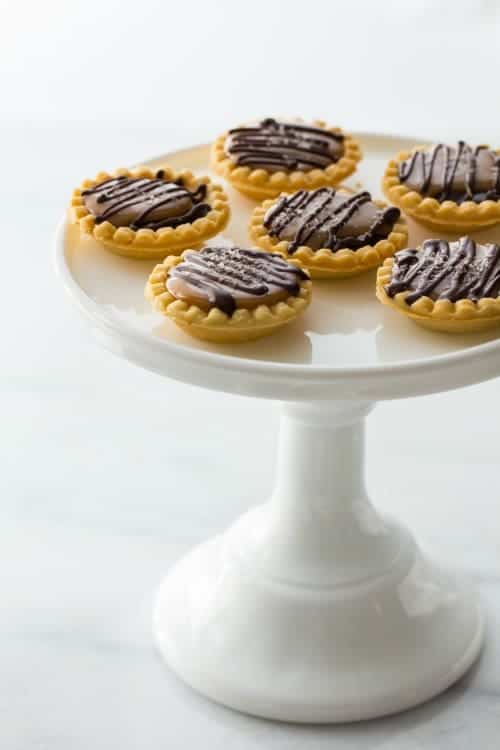 I can imagine these gorgeous little pies displayed on a lovely silver tray and passed around your holiday party for everyone to enjoy. Make a few of these Small Bite desserts from the Ghirardelli site for a fun themed party.
All you need are a few appetizers, some excellent cocktails, and don't forget the rockin' carols! If you were feeling especially festive, you could drop a few holiday sprinkles on top of each pie along with that kosher salt. Because, sprinkles.
Have a holly jolly one, guys!
While I was compensated by Ghirardelli for recipe development, this post was not requested or required. I simply love these mini pies, and wanted to share them with you.