Mini Vanilla Bean Cakes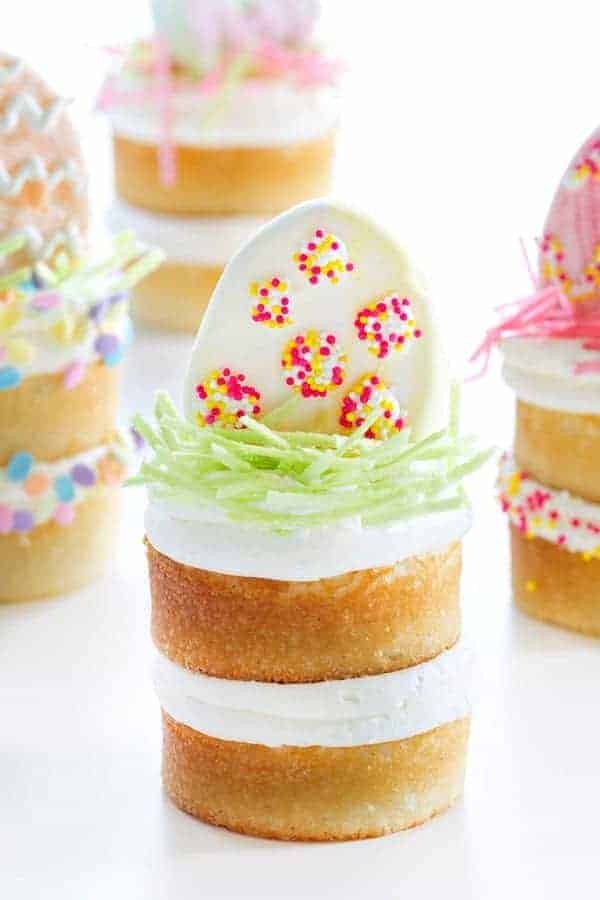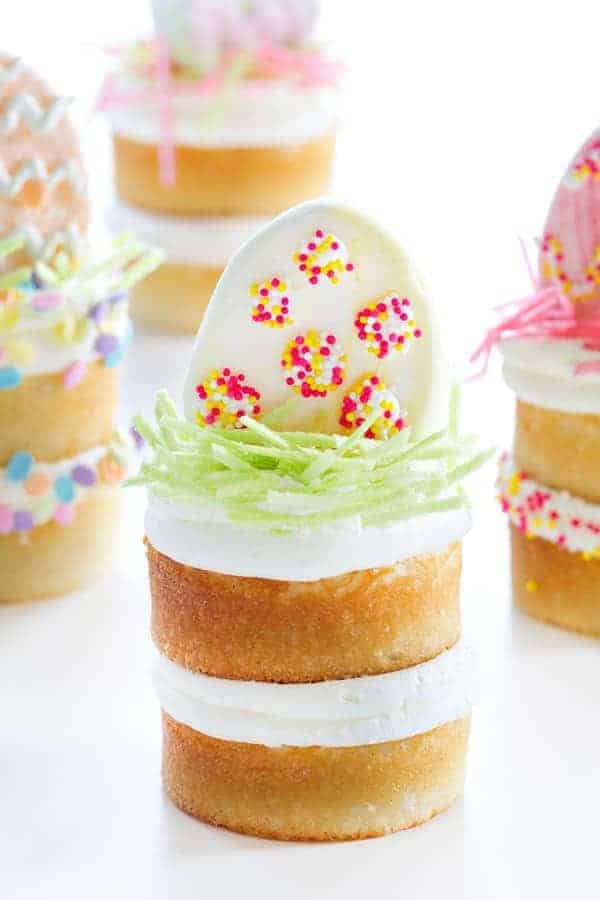 Mini Vanilla Bean Cakes are topped with edible Easter grass, pastel sprinkles, and an egg shaped marshmallow. So fun!
This is a sponsored post on behalf of Campfire® Marshmallows. All opinions are my own. Thank you for supporting the brands that continue to make My Baking Addiction possible.
I don't know about you, but I feel like Easter kind of snuck up on me this year. Maybe it's the fact that it falls in March this year, or that it's still hovering around 32 degrees here Ohio. I'm kinda thinking it's a combination of both.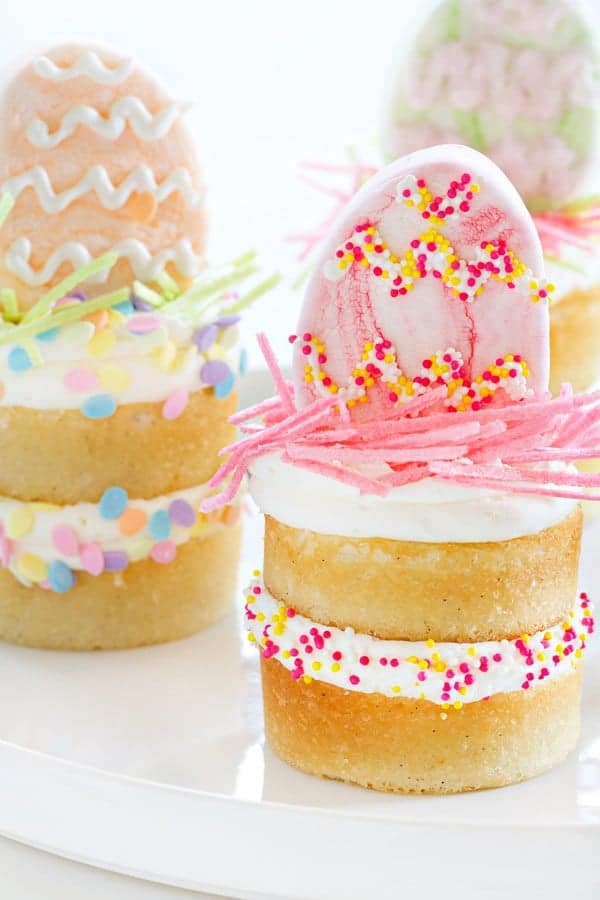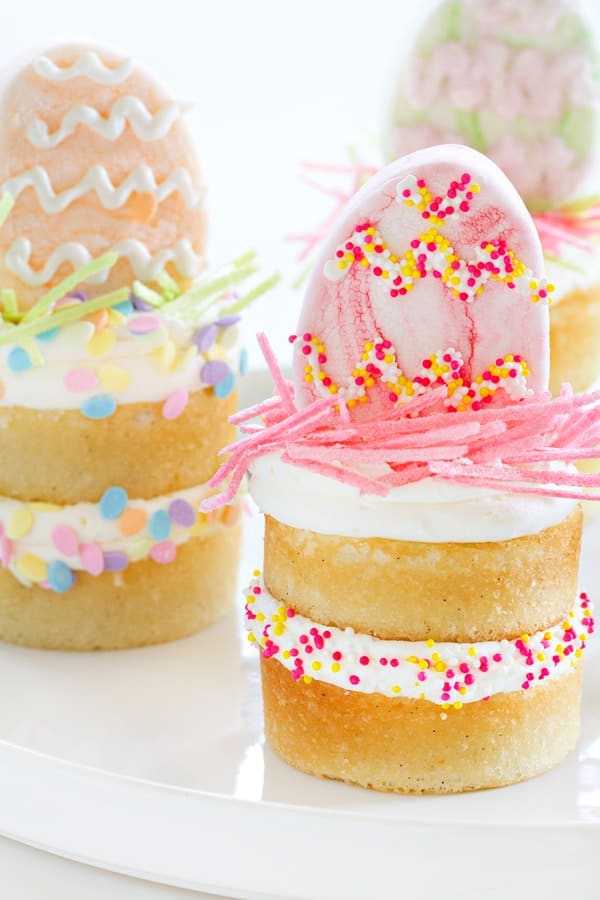 Elle is actually super excited about Easter this year due to her love of plastic Easter eggs. If you have a toddler, you may have come across the whole toy-stuffed-inside-plastic-egg videos on YouTube. And if you haven't, consider yourself lucky. She's been stuffing her little Peppa Pig figurines inside eggs for a solid week now and hasn't tired of it yet.
Clearly Elle has a thing for eggs considering she absolutely adores Campfire® EggSwirlers. They're super cute, egg-shaped, fruit flavored marshmallows that are fun to snack on – orange is my fave, – and decorate Easter desserts like these Mini Vanilla Bean Cakes and these adorable Marshmallow Easter Eggs from Jelly Toast.
Cute little layers vanilla bean flecked cake are sandwiched together with vanilla buttercream and topped with festive Easter decorations. Edible Easter grass, pastel sprinkles and Campfire® EggSwirlers make them as fun and festive as they are delicious.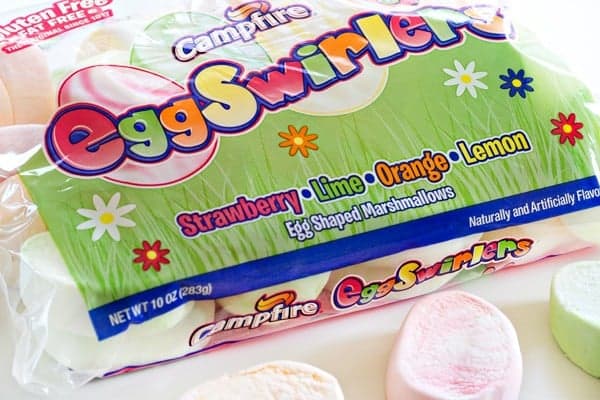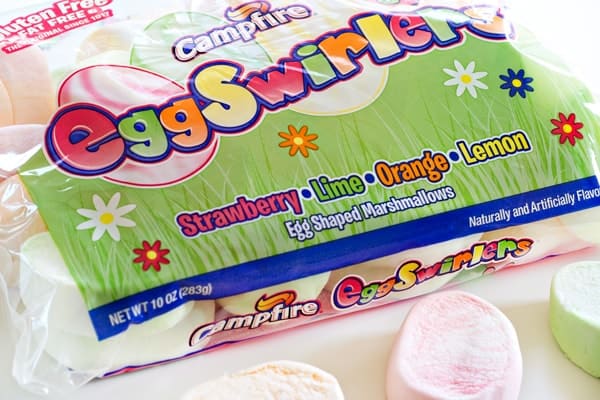 I've partnered with Emily from Jelly Toast and Campfire® Marshmallows to create recipes to share with you throughout the entire year. If you're a marshmallow lover, you'll definitely want to stay tuned for loads of ooey-gooey goodness!
We even created a Marshmallow Madness Pinterest board where we've pinning loads of delicious marshmallow recipes that are perfect for any occasion. Like these S'mores Cookie Cups and No Bake S'mores Cheesecake.
Mini Vanilla Bean Cakes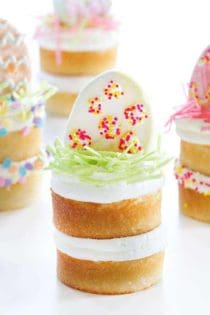 Ingredients:
For the Cupcakes
2 1/4 cups cake flour (I used Swan's Down brand)
1 tablespoon baking powder
1/2 teaspoon salt
1 1/4 cups whole milk, room temperature
4 large egg whites, room temperature
1 stick (8 tablespoons) unsalted butter, at room temperature
1 1/2 cups sugar
seeds scraped from one vanilla bean
2 teaspoons pure vanilla extract
For the Buttercream
2 sticks unsalted butter, softened
1 pound (16 ounces) powdered sugar, sifted
2 teaspoons clear vanilla extract (this helps maintain the bright white color)
2-4 tablespoons heavy cream or milk
For Topping
edible Easter grass
pastel sprinkles
12 Campfire® EggSwirlers
Directions:
For the Cupcakes
Center a rack in the oven to 350°F. Spray a nonstick cupcake pan or mini cake pan with nonstick cooking spray.
In a large bowl, sift together the flour, baking powder and salt.
In a medium bowl, whisk together the milk and egg whites.
In the bowl of a stand mixer fitted with the paddle attachment, or with a hand mixer, beat the butter, sugar and vanilla bean seeds at medium speed for 3 minutes, or until the butter and sugar are very light.
Add in the vanilla extract and one third of the flour mixture, still beating on medium speed. Beat in half of the milk-egg mixture, then beat in half of the remaining dry ingredients until well incorporated. Add the rest of the milk and eggs, beating until the batter fully incorporated and smooth, then add the last of the dry ingredients.
Once ingredients are thoroughly incorporated, give the batter a good 2-minute beating to ensure that it is thoroughly mixed and well aerated. Using a large scoop (about 3 tablespoons), distribute the batter between 24 cupcake wells, filling each well 2/3 full.
Bake for 18-22 minutes, or until a toothpick inserted into the centers come out clean. Cool on wire rack.
For the Buttercream
In the bowl of a stand mixer fitted with the paddle attachment, cream the butter on medium speed until light and fluffy; about 5 minutes. With the mixer on low speed, slowly add in the powdered sugar, and continue beating until well blended.
Add in vanilla, and 1 tablespoon of heavy cream or milk. Blend on low speed until moistened.
Beat at high speed until frosting is smooth and fluffy; about 5 minutes. If desired, add in additional milk or heavy cream, one teaspoon at a time, until you reach the desired consistency.
To Assemble the Mini Cakes
Use a knife to cut the domed portion off of each cupcake to create a flat surface. These scraps can be used to snack on or make cake balls.
Pipe prepared frosting onto the cut surfaces of 12 of the mini cakes. Place another mini cake directly onto the frosting to create 12 mini layered cakes.
Top with additional frosting and decorations such as edible Easter grass, pastel sprinkles and Campfire® EggSwirlers.
Notes:
I used melted candy melts and sprinkles to add a little dimension to my Campfire® EggSwirlers, but of course, they're still super cute if you omit that step.
I used this Wilton Spool Cake Pan, but any cupcake pan will work.
Mini Cake recipes is adapted from Dorie Greenspan's Perfect Party Cake. Inspired by these Easter Peep Cupcakes from Freutcake.
All images and text ©
Follow Jamie on Instagram. We love to see what you're baking from MBA! Be sure to tag @jamiemba and use the hashtag #mbarecipes!
This post may contain affiliate links. We are a participant in the Amazon Services LLC Associates Program, an affiliate advertising program designed to provide a means for us to earn fees by linking to Amazon.com and affiliated sites.