Nutella Chocolate Chip Pumpkin Bread
Nutella Chocolate Chip Pumpkin Bread is filled with fall flavours and melt in your mouth chocolate chips! With just a handful of ingredients, this is THE bread of the season the whole family will love!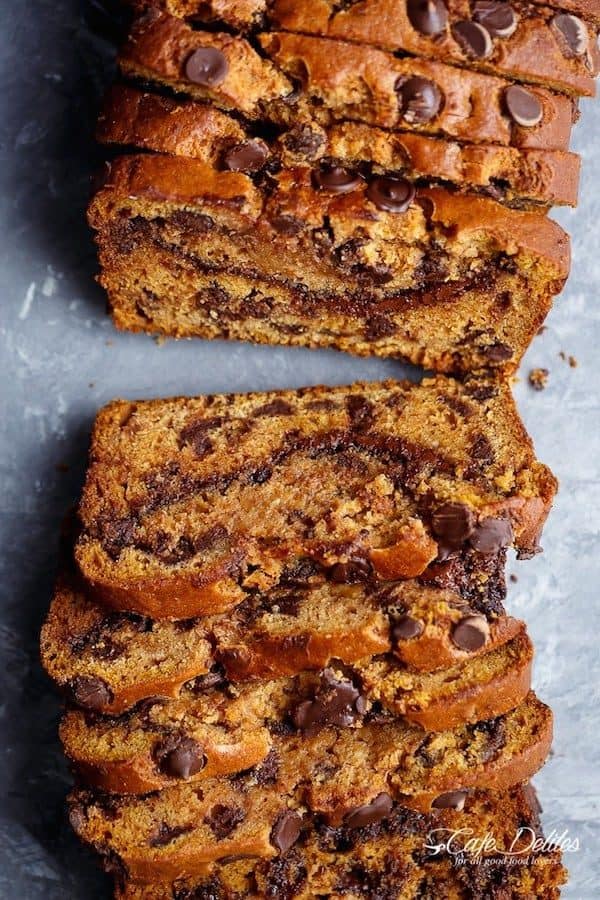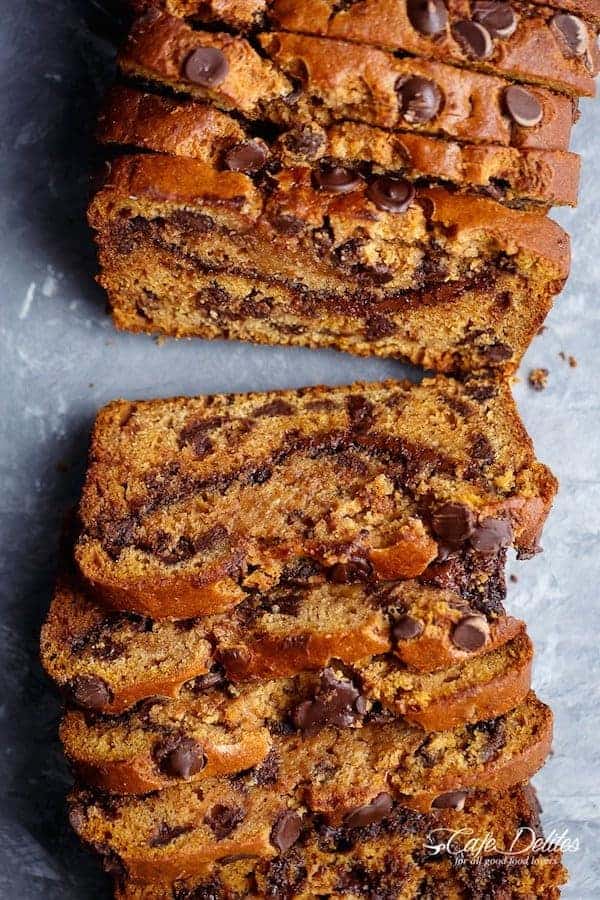 Hello! I am Karina from Cafe Delites and I'm here today to share this delicious recipe for Nutella Chocolate Chip Pumpkin Bread with you.
When Jamie asked if I'd like to share a recipe on her beautiful blog My Baking Addiction, I straight away pictured this incredible Pumpkin loaf / cake / bread situation. In my heart of hearts, Nutella stuffed in desserts is a game changer, so what better way to celebrate fall than with a Nutella Stuffed Pumpkin Bread that is soft and fluffy like a cake, but a dense and moist bread at the same time. Plus, filled with chocolate chips, this bread is a family favourite. Hands down.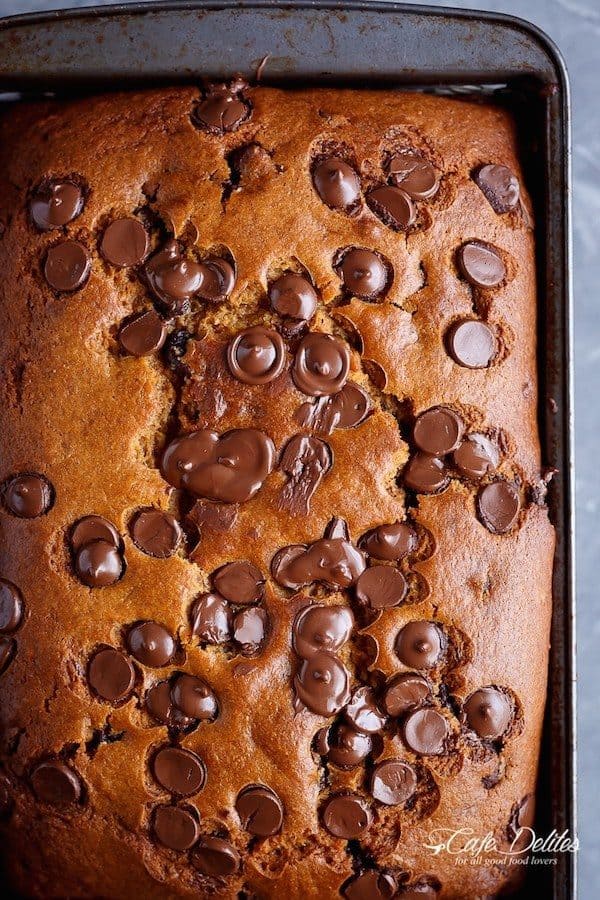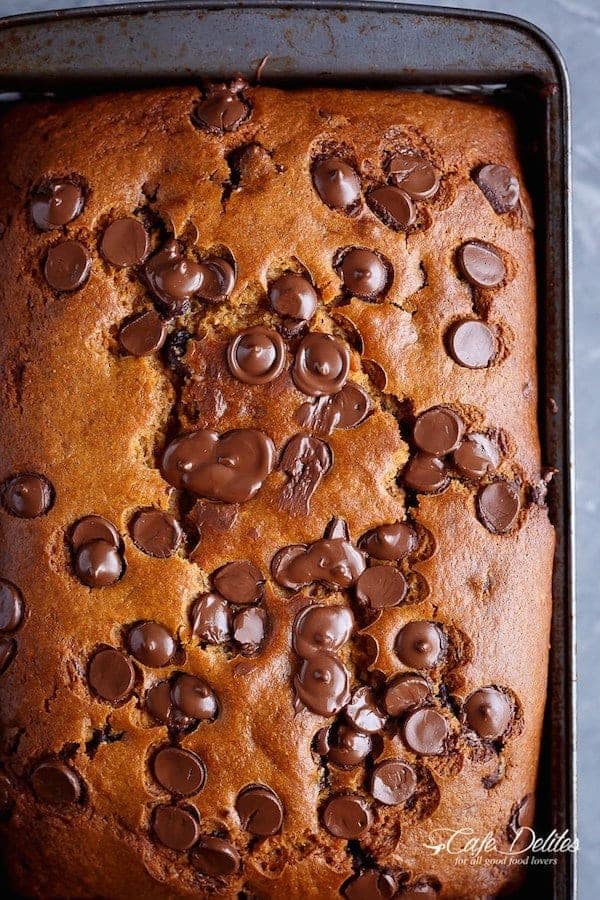 After getting a taste of these Soft Pumpkin Chocolate Chip Cookies, this bread was a given, and I'm so excited to share it here with you! All you need is one bowl — no mixer or beaters! Just a bowl and a good old fashioned whisk and spatula. Throw all that together with super simple ingredients, and your bread is ready in less time it takes to go to a store and buy one with HALF of the flavours in this one.
The best part? That layer of glorious gooey Nutella, right there 👇.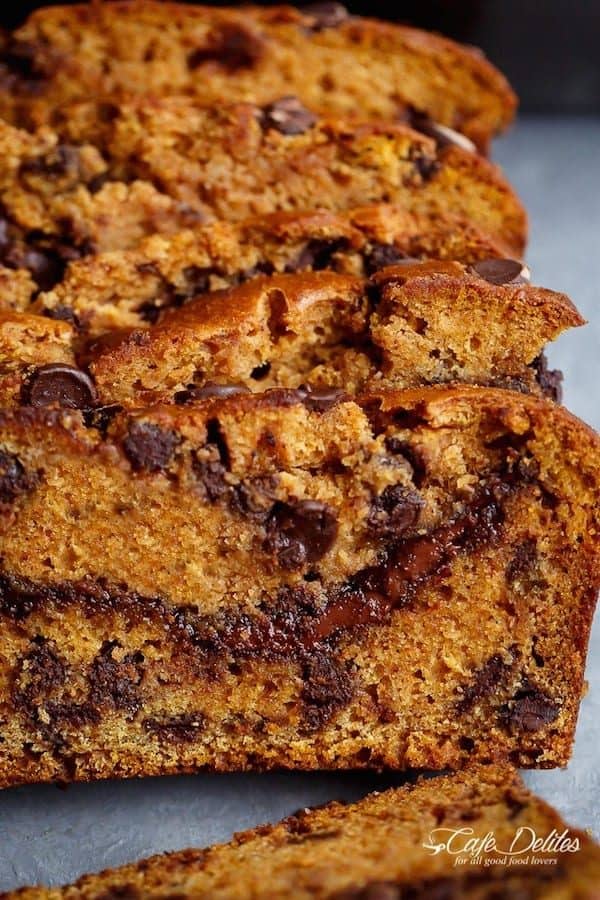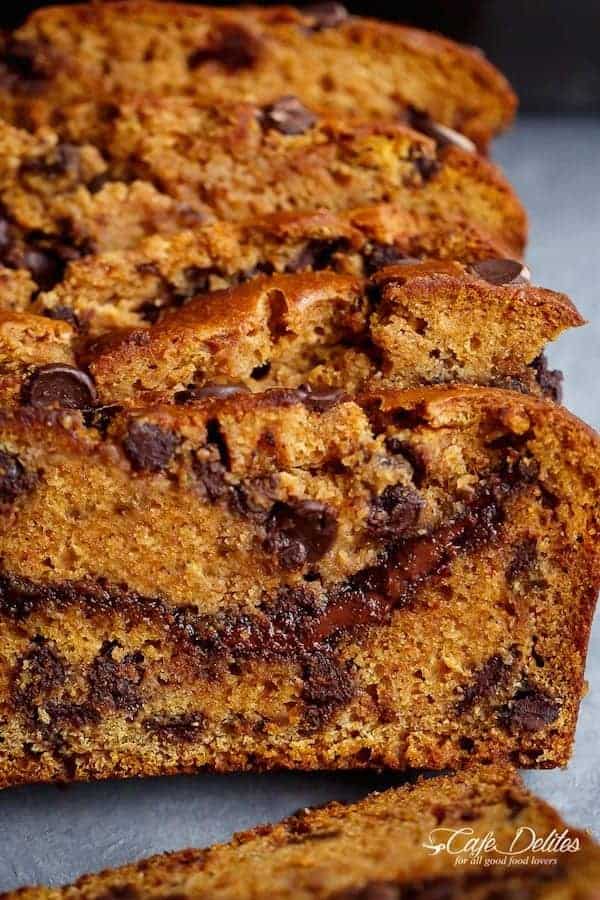 Ladies and gentlemen….. Nutella Chocolate Chip Pumpkin Bread ready for your pleasure.
For more delicious Nutella desserts, be sure to check out the Nutella Brownies and Mini Nutella Cheesecakes.
Nutella Chocolate Chip Pumpkin Bread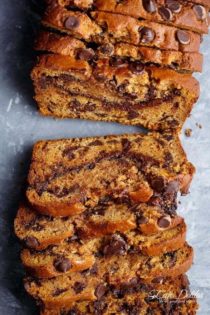 Ingredients:
1 3/4 cups all-purpose flour
1 cup sugar
1 teaspoon baking soda
1 teaspoon baking powder
1/2 teaspoon salt
1 teaspoon ground ground cinnamon
1/2 teaspoon ground nutmeg
1/2 teaspoon ground cloves
2 large eggs
1 cup pumpkin puree (not pumpkin pie filling)*
½ cup butter, melted and slightly cooled
⅓ cup milk
2 teaspoons pure vanilla extract
1/2 cup semi sweet chocolate chips (or milk or dark)
½ cup Nutella, melted
Directions:
Preheat oven to 350°F | 175°C. Line a 9 x5-inch loaf pan with parchment or baking paper; set aside.
In a large bowl, combine together flour, sugar, baking soda baking powder, salt, cinnamon, nutmeg, and cloves. Mix well.
Make a well in the center of the dry ingredients. Add the eggs, pumpkin, melted butter, milk and vanilla, Whisk the wet ingredients together FIRST for about 30 seconds (or until combined), then fold them into the dry ingredients using a plastic spatula, until just combined and a batter is formed. Fold in chocolate chips.
Pour half the batter into the pan. Pour the Nutella over the batter in the pan and spread evenly over the top with the back of a metal spoon. Pour the remaining batter over the Nutella to evenly coat. Top with extra chocolate chips if you wish (optional).
Bake for 60-70 minutes, or until a toothpick inserted in the center of the bread comes out clean.
Notes:
*If you don't have access to pumpkin puree, you can make your own. To make pumpkin purée, halve a small pumpkin horizontally. Scrape out the seeds and stringy parts with a large metal spoon. Place the pumpkin halves, sliced side down, on a foil lined baking sheet lightly sprayed with plain cooking oil spray. Bake at 350°F | 175°C until soft, (about 45 minutes to an hour). Allow to cool, then scoop out the flesh. Use a food processor for a smooth puree, adding a couple tablespoons of water to get the blade going, if needed.
All images and text ©
Follow Jamie on Instagram. We love to see what you're baking from MBA! Be sure to tag @jamiemba and use the hashtag #mbarecipes!
This post may contain affiliate links. We are a participant in the Amazon Services LLC Associates Program, an affiliate advertising program designed to provide a means for us to earn fees by linking to Amazon.com and affiliated sites.